Yves here. Perhaps most of you know the term derecho, but it's new to me, and a sign at least some of us are having to bone up on our extreme weather vocabulary. And as I infer, this is a real term of art, and not a Weather Channel sensationalism, like "bomb cyclone" (I gather there is a term of art, explosive cyclogenesis, that does not slip trippingly from the tongue).
By Bob Henson and Jeff Masters. Originally published at Yale Climate Connections
Record-warm air sweeping unusually far north for May provided the fuel for a multi-day barrage of severe weather across eastern North America. The standout events included a deadly tornado in Gaylord, Michigan, on Friday and a massive derecho that brought destructive thunderstorm-driven winds across Canada's most populated region on Saturday.
Michigan's First Deadly Tornado in 12 Years
A powerful EF3 tornado with winds of 150 mph ripped through the northern Michigan town of Gaylord (population 3,600) on Friday afternoon, May 20, killing two and injuring 44. The two fatalities occurred in a mobile home park that was 95% destroyed. According to the Detroit Free Press, the toll could have been far more catastrophic, as the tornado came within 100 yards of a retirement home and a housing development for homeless veterans.
Breaking: a #tornado just hit Gaylord, Michigan, and remains on the ground.

NWS office in Gaylord calling it "large and extremely dangerous." It was spotted by an NWS meteorologist.

Classic hook echo visible on the @MyRadarWX app with debris being lofted. pic.twitter.com/PyLPU4L8xo

— Matthew Cappucci (@MatthewCappucci) May 20, 2022
Only four other Michigan EF3 tornadoes have been documented to occur farther north than the May 20, 2022, Gaylord tornado; three of these EF3s were in the Upper Peninsula. Graphic courtesy of https://t.co/TucgSPTV9c https://t.co/y7mXb1GYQj pic.twitter.com/rAz2spcxBG

— Jeff Masters (@DrJeffMasters) May 21, 2022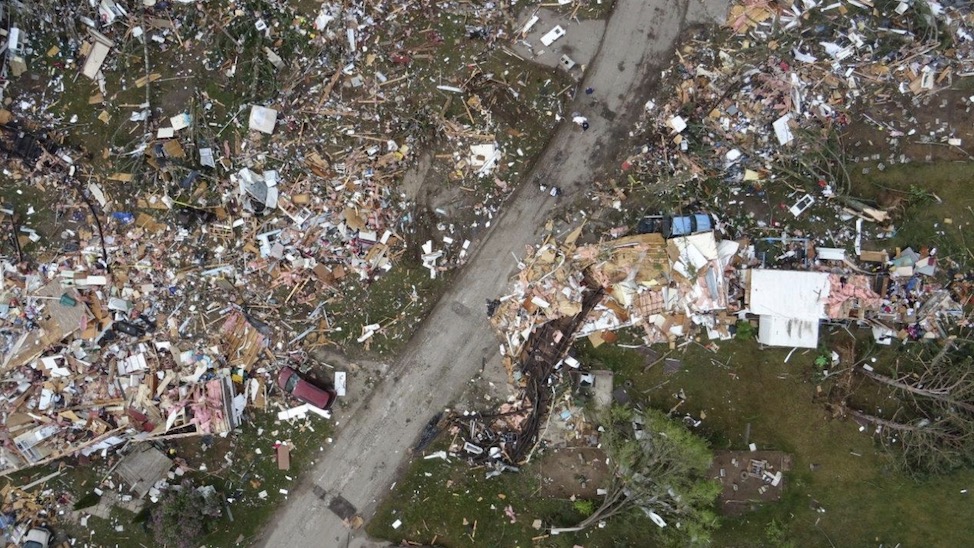 A Rare Location for a Strong Tornado
Strong killer tornadoes are uncommon in Michigan. The Gaylord tornado was the state's first EF3 twister since the 2012 Dexter tornado, and Michigan's first deadly twister since 2010. Michigan last experienced a deadlier tornado in 1980, when five died in an EF3 that hit Kalamazoo.
Northern Michigan very rarely experiences strong tornadoes: Only four other Michigan EF3 tornadoes have been documented to occur farther north than the Gaylord tornado. The only deadly Michigan tornado on record to occur farther to the north was an EF1 that hit Longrie in the Upper Peninsula on June 8, 1985, killing one person. The Gaylord tornado is just the fifth deadly tornado to hit northern Lower Michigan; the deadliest was an EF2 that passed just northwest of Tawas City on June 8, 1953, killing four. (Further south on that same day, the Flint tornado took 116 lives, making it the state's deadliest on record.)
Since accurate tornado records began in 1950, no tornado had come closer than eight miles from Gaylord. Because of the rarity of tornadoes, the city does not have tornado sirens, and tornado awareness is a concern (check out the astonishing disinterest this man displays while walking through the tornado). Gaylord is a popular stop along the busy I-75 route to the vacation destinations of northern Michigan, but as of Monday, May 23, the I-75 exits into the city's main business were still closed.
Millions of Canadians Experienced Saturday's Derecho
An intense derecho-generating thunderstorm complex formed just northeast of Detroit late Saturday morning and tracked northeast, bringing high winds to most of the large Canadian cities from Toronto to Quebec City.
"Derechos of similar intensity have occurred before in this part of Canada, but never has one had a track like this that followed the length of the most densely populated corridor in the country," said Chris Scott, chief meteorologist at the Weather Network, in a Monday analysis.
Notable wind reports on Saturday, as compiled by the Weather Network:
Toronto (Pearson International Airport):  120 km/hr (75 mph), the strongest on record for May and the fifth highest wind gust on record;
Ottawa International Airport: 120 km/hr (75 mph), second strongest for May and fourth strongest on record;
Quebec City (Jean Lesage International Airport):  100 km/hr (62 mph);
Lake Memphremagog, Quebec (north of QB/VT border):  144 km/hr (89 mph).
Trees being knocked down and cars being pushed over #ONstorm #ottnews @weathernetwork pic.twitter.com/zCP0ljHNhL

— Adam Safaoui (@adam_safaoui) May 21, 2022
The derecho in Canada on Saturday took at least nine lives, one of the largest derecho-related death tolls in North America in recent memory. The derecho also brought down countless trees and cut power to more than 950,000 customers, likely representing well over one million residents. Given Canada's population of around 38 million, it's a fair bet that around 3-4% of Canada's entire population was hit by power loss, a huge percentage for any natural disaster. (A comparable loss in the U.S. would be roughly 9 million customers.)
According to a Columbia University plotting tool, yesterday's derecho impacted approximately 15.6 million people- 41% of Canada's population.

For a progressive derecho to hit 41% of the US population, it would have to impact 135 million, which I've attempted here. @JackSillin https://t.co/NFtOJBA66l pic.twitter.com/tyZLaKi5ug

— Jacob Feuerstein (@Jacob_Feuer) May 22, 2022

Any strong thunderstorm can produce localized high winds, but a derecho is a much more organized and persistent zone of high winds, typically produced by a large thunderstorm cluster called a mesoscale convective system. Based on the most recent definition from experts at the NOAA/NWS Storm Prediction Center, a derecho includes:
a swath of wind damage at least 60 miles wide and 400 miles long
gusts of at least 58 mph along most of its length
several gusts of at least 75 mph, well separated along the path
radar features consistent with a derecho, such as a bow echo
learned today what a derecho is and gotta say, one was enough to last quite a while 😅 (yes, that is my work's metal bike hut on our roof.) @Ptbo_Canada #Ptbo #ONStorm pic.twitter.com/116SJvT5Nc

— 🌞🌻 sash 🌻🌞 (@sasha_cresswell) May 21, 2022

No tornadoes had yet been identified in association with the derecho and parent thunderstorms, although some may be documented in post-storm analysis.
NTP teams surveyed 2 locations in ON yesterday that had localized swaths of enhanced damage: Uxbridge and southern Ottawa. Given the complexity of the damage due to the derecho, it will require thorough analysis in order to classify / rate the event. Work continues. #ONStorm 1/2 pic.twitter.com/35NA20jGUE

— Northern Tornadoes Project 🇨🇦 (@westernuNTP) May 23, 2022
North America's most recent derecho of this intensity and scope tore from Nebraska to Indiana on August 10, 2020, killing four people. Together with 25 weak tornadoes, that severe weather event caused more than $12 billion in damage (2022 USD), the largest inflation-adjusted toll from any derecho-dominated event in U.S. records dating back to 1980.
"The best way to meteorologically describe the EF3 in Gaylord, MI and the derecho in Canada would be 'anomalous but not unprecedented'," said Steve Bowen, head of catastrophe insight at Aon. "The humanitarian impacts to life and property were, however, significant and will lead to a long period of recovery for the hardest-hit communities."
You can hear the case studies furiously opening up: a perfect storm with a unique, max-impact track. Big difference comparing to the latest notable #derecho events from the 1990's. Purple region highlights +40% of Canada's entire population #ONStorm #ONwx pic.twitter.com/t1SssoVs3D

— Rachel Modestino TWN (@ThatMetGirl) May 23, 2022
Is Climate Change Nudging Severe Weather BNorthward?< Given the events of the past few months, it's understandable to wonder whether North America's severe weather is pushing northward and/or shifting toward normally cooler months. For example, near the end of 2021, the U.S. suffered through its two worst December tornado outbreaks on record, including the deadliest (December 10-11, with at least 89 fatalities, mainly in Kentucky) and the most prolific (December 15, with 120 tornadoes observed over an eight-hour span from Nebraska to Wisconsin).
Derechoes are not unheard of in the spring and fall, or even in winter (the bizarre tornado outbreak of December 15 included a widespread derecho). But the type that buzzsawed across Canada is most common in summertime, fueled by hot, humid air to the south of a surface front and strong upper-level winds that can mix down within thunderstorms.
As it turns out, the U.S. Midwest and Northeast were swaddled in unusually sultry air in the second week of May and again late last week, helping set the stage for both the Michigan tornado and the Canada derecho. Record daily highs of 90°F or higherreached as far north as Montpelier, Vermont, on Saturday.
While Canada has long been known for intense hailstorms in Alberta, Bowen notes that the last few years have produced notable wind and tornado events from Manitoba to Quebec, with Canadian wind damage now topping $1 billion USD in some years.
Thus far, the examples of major severe weather in North America occurring unusually far north and/or unusually early or late in the year haven't added up to a robust, documented trend. Research results so far on early-season tornado trends have been scant and inconsistent, as discussed in this explainer "Tornadoes and climate change: Any connection?" Derechoes are far less frequent than individual tornadoes, so it's even tougher to confirm long-term trends. And it's unclear how the entire constellation of ingredients that can drive derechoes and tornadic thunderstorms (including upper-level wind shear and "capping" layers of warm, dry mid-level air) will evolve as the climate warms.
Still, any time unseasonably warm, moist air migrates far to the north of its usual locale during the normally cooler months of the year, it's wise to watch for potential severe weather and to expect the unexpected.