Russia published its initial list of parties subject to its "retaliatory special economic measures." Putin established the program by decree on May 3, designed to address the unlawful taking of property and property rights by unfriendly parties. The order tasked officials to come up with targets in ten days and develop additional criteria.
We speculated that Germany's seizure of Gazprom operations, which included storage facilities, would be a prime initial target. We were correct. We've embedded a machine translation1 of the May 11 document describing the implementation measures at the end of the post. TASS gives an overview:
The list includes 31 companies from Germany, France and other European countries, as well as from the USA and Singapore. In particular, it includes former European subsidiaries of Gazprom, traders and operators of underground gas storage facilities.

In particular, Russian authorities, legal entities and citizens will not be able to conclude transactions with the sanctioned entities and organizations under their control, fulfill obligations to them under completed transactions, and conduct financial transactions in their favor. This includes the concluded foreign trade contracts. These bans were earlier established by a decree of Russian President Vladimir Putin.

The resolution sets additional criteria for transactions that are prohibited from being performed with companies from the sanctions list. These are transactions concluded in favor of the sanctioned persons, or providing for the making of payments, transactions with securities with the participation or in favor of such companies, or transactions involving the entry of ships owned or chartered by sanctioned persons, in their interest or on their behalf, into the Russian ports.
If you look at the list, 12 of the 31 entities bear the Gazprom name. TASS lists some of the others:
Gazprom Germania is an international group of companies that, through its subsidiary Gazprom Marketing & Trading, is engaged in natural gas trading in the UK spot markets, as well as the sale of liquefied natural gas in Southeast Asia. Through its subsidiary Gazprom Schweiz AG, it trades natural gas in countries Central Asia and the former Soviet Union, as well as in Austria, Italy and Serbia. Natural gas is traded in Germany mainly through Wingas and in the Czech Republic and Slovakia through Vemex Gazprom Germania.

Gazprom Germania is also the operator of several large gas storage facilities in Germany and has several projects in Serbia, Austria and the Czech Republic.

EuRoPol GAZ is a joint venture between Gazprom and Poland's PGNiG, which owns the Polish section of the Yamal-Europe gas pipeline.
So even though the first paragraph in the extract above is ambiguous, one can assume that Wingas entities, along with Vemex (per Vemex Gazprom Germania) and EuRoPol, are Gazprom ventures. Adding all those names brings the list of Gazrpom-related businesses to 21.
One has to assume the other ten were stolen or stolen from. They include:
astora GmbH, "one of Europe´s largest operators of natural gas storage facilities"

Industrickraftwerk Greifs wald GinbH in the electricity generation and distribution business
But others are a mystery, at least to web searches, like IMUK AG (Switzerland), ZGG Zarubezhneftgazehim Trading (Austria) and PremiumGas SpA (Italy)
Further digging shows that Gazprom had entered into a long term supply contract with WIEE (three more listed entities), which operated in the eastern EU. See this tidbit from Russian Energy Strategy in the European Union, the Former Soviet Union by Stylianos A. Sotiriou (if I ever have time, I may have to buy this books and read it rather than rely on serendipity via Google Books):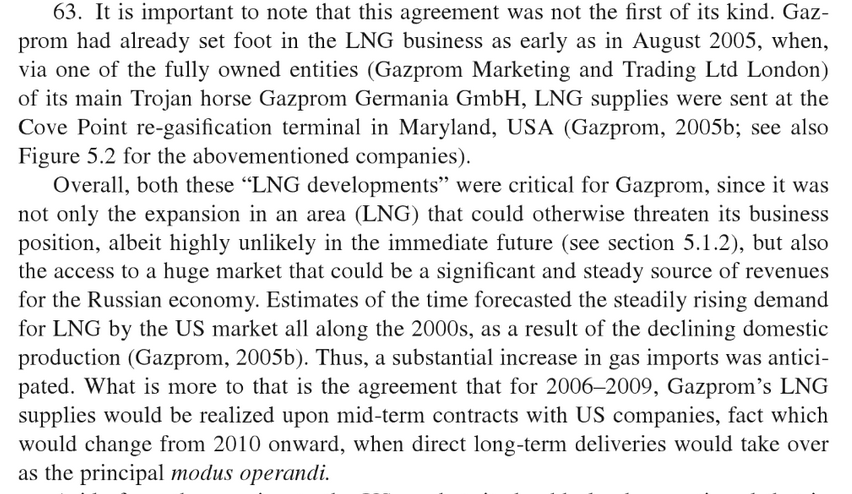 Now so far this is all very entertaining, but what does it mean? It appears Europeans in the gas and possibly also electricity business won't know for sure until Russia counterparties tell them their contracts are cancelled or they otherwise won't be doing business with them. Remember that the sanctions are sweeping in terms of subjecting all Russian individuals and legal persons to them. And their application goes beyond the entities listed to include "organizations under their control."
Note that we aren't the only people wondering what this means in practice. From a later story in TASS:
The Federal Network Agency of Germany took note of energy companies, including ex-subsidiary of Gazprom, Gazprom Germania, being included in the retaliatory sanctions list of Russia, but does not yet know the details, representative of the regulator told TASS.

"We still do not have information on the type of sanctions. The government and the Federal Network Agency, as the trustee of Gazprom Germania, are taking the necessary measures and are preparing for various scenarios," the statement said.

"We are analyzing these announcements. We don't have details yet," the German Economy Ministry said in a separate statement.
Not that Russia cares much about the tender feelings of Germany, but they got lucky by virtue of Ukraine cutting gas supplies to Germany first. From Al Jazeera yesterday:
Russian gas flows to Europe via Ukraine fell by a quarter after Kyiv halted use of a major transit route blaming interference by occupying Russian forces, the first time exports via Ukraine have been disrupted since the invasion….

The transit point Ukraine shut usually handles about 8 percent of Russian gas flows to Europe, although European states said they were still receiving supplies. The Ukraine corridor mostly sends gas to Austria, Italy, Slovakia and other east European states.

Kremlin-controlled Gazprom, which has a monopoly on Russian gas exports by pipeline, said it was still shipping gas to Europe via Ukraine, but volumes were seen at 72 million cubic metres (mcm) on Wednesday, down from 95.8 mcm on Tuesday.

GTSOU, which operates Ukraine's gas system, said on Tuesday it would suspend flows through the Sokhranovka transit point, which it said delivered almost a third of fuel piped from Russia to Europe via Ukraine.
Note that when Ukraine first said it was going to cut gas supplies on this section of the network because reasons (the reason being the Donbass militias and Russian forces are about to take all of Lugansk), Gazprom said they didn't see any problem and hadn't got a force majeure notice, which Ukraine then sent in.
The priceless or cheeky part, depending on your point of view, is that Ukraine's excuse for shutting off the pipes is that Russian forces were allegedly stealing gas and sending it to the separatists in Donbass. First, Ukraine has been syphoning transiting gas forevah, so pilfering was never an obstacle to transit, as long as they were the ones pilfering. Second, as Al Jazeera pointed out, Ukraine provide no evidence of the theft.2
Given that Germany appears to have heisted Gazprom's storage operations in Germany, and potentially in other countries, along with related trading businesses, Russia could take the view that any gas that could be delivered to the former Gazprom storage (and through any related pipelines) will not longer be supplied. We'll see soon enough how sweeping a view Russian officials take.
In the mean time, this is bad news for Germany and potentially other countries who played along with gas operations heist. As of early May, Germany's vice chancellor Robert Habeck said Germany had reduced the Russian share of its gas to 35%. The wee problem is that Germany was well on its way to filling up all of its gas storage facilities, and estimated that that supply would last to the winter. But since then, Germany has been providing some of its stored gas to neighbors Poland and Bulgaria, who are refusing to pay for gas in roubles, which has led Gazprom to reduce its supply to Europe. That is interfering with Germany's stockpiling. So if Russia cuts supply on top of Ukraine's reduction, Germany could face a gas crisis months ahead of schedule.
This is a long-winded way of asking our eagle-eyed readers to pipe up in comments when they learn who in Russia is doing what to whom with respect to these retaliatory sanctions. And for those of you who read Russian, it would be helpful to compare Western accounts to the Russian version.
_____
1 One oddity is the capitalized "RESPONSIBLE" special economic measures, when even the Kremlin's English translation of the President's May 3 executive order repeatedly called them "retaliatory special economic measures". The Russian is ОТВЕТНЫХ, which my Yandex translator says is "response" which I take in context to mean "responsive". Here's the implementation paper in Russian, for those of you able to and interested in having a look.
2 Gazprom did say it would be "technically possible" to redirect the interrupted supply to the Sudzha route, as Gazprom had done in 2020 to allow for repairs. But it isn't clear how quickly that might happen.
00 May 11 iniital retaliatory sanctions list