In this post, I'm going to do a rapid round-up of what I can find out about the monkeypox outbreak. Fortunately, from our experience with Covid, the relevant conceptual categories for potential pandemic come readily to hand, and will form the rapid-fire post headings: Symptoms and Progression, Spread, Clades, Mortality, R, Community Spread, and Mode(s) of Transmission. After taking a brief detour through Summer Festivals, I will ask "What to Do?" and conclude.
Here, however, is what Biden had to say (which gets slightly misquoted):
BIDEN: But [monkeypox] is a concern in the sense that if it were to spread, it's consequential. That's all they have told me.
"That's all they have told me" doesn't exactly inspire confidence if Klain, Walensky, and Jha are the "they," but Biden isn't exactly the President we want wrapped up in detail, either.
Symptoms and Progression
CDC — sorry, but what can I do? — describes the symptoms and the course of the disease:
You can recognize potential monkeypox infection based on the similarity of its clinical course to that of ordinary discrete smallpox.

After infection, there is . The development of initial symptoms (e.g., fever, malaise, headache, weakness, etc.) marks the beginning of the prodromal period.

A feature that distinguishes infection with monkeypox from that of smallpox is the development of swollen lymph nodes (lymphadenopathy). Swelling of the lymph nodes may be generalized (involving many different locations on the body) or localized to several areas (e.g., neck and armpit).

Shortly after the prodrome [initial symptoms[, a rash appears. Lesions typically begin to develop simultaneously and evolve together on any given part of the body. The evolution of lesions progresses through four stages—macular, papular, vesicular, to pustular—before scabbing over and resolving.

This process happens over a period of . The severity of illness can depend upon the initial health of the individual, the route of exposure, and the strain of the infecting virus.
Here is an image of some lesions. You've probably seen some virtually pornographic sensational images, but here is a medical texbook-ish one that shows their evolution: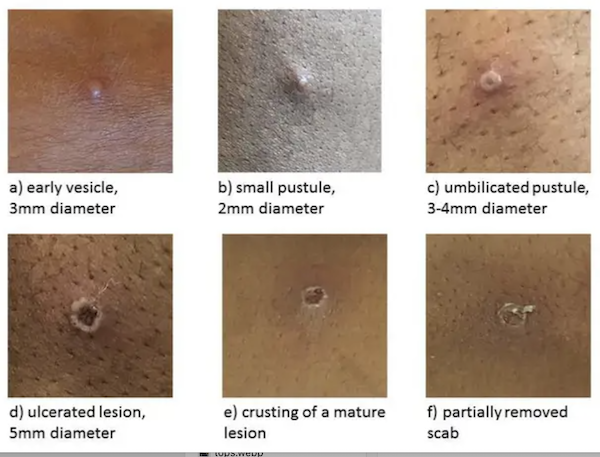 Note that the lesions on their own are not sufficient to diagnose monkeypox:
Nurses and doctors are being advised to stay 'alert' to patients who present with a new rash.

Monkeypox is often mistaken for more common rash illnesses like chickenpox, measles, scabies and syphilis, which makes it difficult to diagnose early.
In other words, conclusive diagnosis of monkeypox requires a test, but sadly:
Diagnostic testing for Orthopoxviruses (which includes monkeypox virus) is available at LRN [CDC Laboratory Response Network] laboratories located throughout the United States and abroad. .

Hospitals should contact their local or state health departments to inquire about monkeypox virus testing before contacting CDC.
Well, let's hope that doesn't turn out to be a problem. (But won't this introduce severe time lags into contact tracing, if at any scale at all?)
Spread
Here is the current (and often updated) case count as of this writing: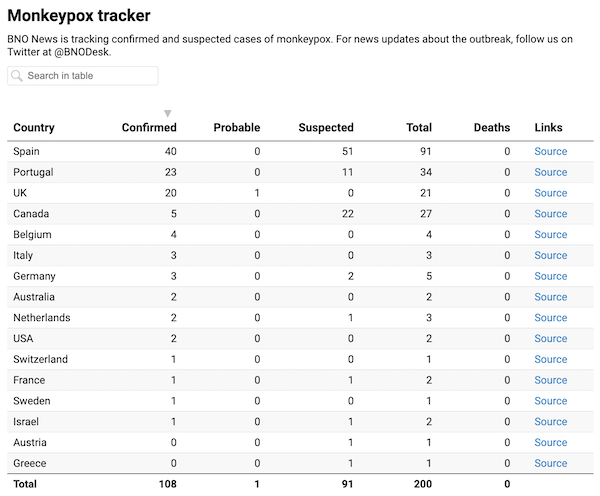 Small, but from little acorns…
Clades
What is a clade, you ask. A clade (from Ancient Greek κλάδος (kládos) 'branch') is a group of organisms that is composed of a common ancestor and all its lineal descendants; as the name suggests, clades are generally represented as trees. ("SARS-CoV-2 is itself a clade within the family coronaviridae and the genus betacoronavirus.") Here is WHO on monkeypox clades:
To date, all cases whose samples were confirmed by PCR have been identified as being infected with the West African clade.

Monkeypox is usually self-limiting but may be severe in some individuals, such as children, pregnant women or persons with immune suppression due to other health conditions. Human infections with the West African clade appear to cause less severe disease compared to the Congo Basin clade, with a case fatality rate of 3.6% compared to 10.6% for the Congo Basin clade.
Genomic sequencing of monkeypox samples is taking place, but infinite are the arguments of mages. With time, the genomics will no doubt settle out. When that happens, we'll have a better handle on the situation:
The current outbreak has raised alarms for several reasons. For one, as countries up their surveillance efforts, more are reporting cases of the virus, which is rarely seen outside Central and West Africa. The pattern of infections indicates that the virus has been spreading undetected. It's also not clear, for example, if the U.S. case is related to the cases in Europe. Genomic sequencing can help answer that question.
Mortality
From WHO (supported by this meta-study):
Human infections with the West African clade appear to cause less severe disease compared to the Congo Basin clade, with a case fatality rate of 3.6% compared to 10.6% for the Congo Basin clade.
So far, we've detected only the West African clade (see above), which is good news. In practice, the death rate could be even lower:
During a 2003 outbreak in the U.S., for example, 26% of cases were hospitalized and 15% had severe disease, but none died. Interestingly, during this outbreak, scientists found previous smallpox vaccination was not associated with severity. Also, children were more likely to be hospitalized in an ICU than adults.
On the other hand, in 2003 the general population hadn't been weakened by a pandemic. Nor had the health care system attained it's current level of grotesque inequity.
R
From the Daily Mail (sorry not sorry; their science coverage is generally good):
A World Health Organization report last year suggested the natural R rate of the virus – the number of people each patient would infect if they lived normally while sick – is two.

But the real rate is likely much lower because 'distinctive symptoms greatly aid in its early detection and containment,' the team said, meaning it's easy to spot cases and isolate them.
It would be nice if monkeypox were infectious only when the lesions appeared. I don't see how we can be sure about that yet, in the absence of the sort of epidemiology we've seen for Covid; the monkeypox equivalent of the Skagit Valley choir case, for example. So I'm a tad dubious on the containment argument.
Community Spread
There has most certainly been community spread:
"Now that there's been community spread, it may be hard to fully snub [sic] this out. I don't think it's going to become a major epidemic because this is a virus that's difficult to spread," Gottlieb said on "Squawk Box."

Gottlieb added that there have been numerous disconnected cases, indicating that the spread in the community is 'pretty wide.' He said there might be a lot more infection than what health officials have found since it has such a long incubation period and 'doctors don't know to look for it yet.'

He noted that the virus is endemic [yay!] in some countries, with the Democratic Republic of the Congo reporting anywhere from five to 10,000 cases a year.
Contact tracing ought to be easy:
A WHO report in 2020 explained that human-to-human transmission of the virus is rare and that before it ended.

The report said: 'The epidemic risk for humans is considered to be small.'
But perhaps the geography of "communities" has changed:
Some experts hypothesized that the loosening of international travel restrictions may have contributed to the spread.

"It kind of looks like the virus always had this potential capacity" for human-to-human transmission, McFadden said. 'It just never had the opportunity in the past — or if it did, it quickly petered out and we never really saw it as an event. Whereas now with people being able to travel all over the world, it's entirely possible we're actually seeing it for the first time in a larger context."
A chain of cases with only six links is certainly "petering out." But past performance is no guarantee of future results.
Mode(s) of Transmission
Here is CDC on monkeypox's mode of transmission:
A combination of standard, contact, and droplet precautions should be applied in all healthcare settings when a patient presents with fever and vesicular/pustular rash.

In addition, because of the of monkeypox virus, airborne precautions should be applied whenever possible.If a patient presenting for care at a hospital or other health care facility is suspected of having monkeypox, infection control personnel should be notified immediately.
I'm going to delve into aerosols just a little because with Covid, CDC butchered droplet v. aerosol tranmission so badly, once bitten, twice shy[1]. For example, UK Health Security Agency (UKHSA) treats monkeypox as airborne:
Yes, it's an airborne HCID according to UKHSAhttps://t.co/25Z8KeQQtc pic.twitter.com/Nbei8ZoYvc

— Tom Andrews💙 (@0bj3ctivity) May 21, 2022
So, at one point, did WHO:
Does the @WHO consider airborne transmission and therefore the use of respirators? In 1980 WHO did recommend respirators for Monkeypox. Why not now?https://t.co/yzXow2EhiX pic.twitter.com/tS3ACwcewP

— Lara 😷 #𝙲𝙾𝚅𝙸𝙳𝚒𝚜𝙰𝚒𝚛𝚋𝚘𝚛𝚗𝚎 (@Iamgoingtosleep) May 21, 2022
However, the aerosol community, so far, thinks not:
Chad Roy, an aerobiologist at Tulane University School of Medicine who led that study, told me that compared to the SARS-CoV-2 coronavirus, monkeypox is "an altogether different virus and the risk of natural transmission by aerosol far less likely." And the fact remains that past monkeypox outbreaks have been inconsistent with a virus that travels as easily as the coronavirus. "Monkeypox does not scream 'airborne' at me; COVID-19 did," Linsey Marr, an aerosol expert at Virginia Tech, told me.

Then again, Marr is less certain about monkeypox than she was about COVID. And Titanji notes that our knowledge of monkeypox is based on just 1,500 or so recorded cases, as of 2018. "I've seen a lot of people writing as if everything we know about monkeypox is definitive and finalized, but the reality is that it is still a rare zoonotic infection," she said. For that reason, "I'm in Team Cautious," she said. "We can't use what happened with previous monkeypox outbreaks to make sweeping statements. If we've learned anything from COVID, it's to have humility."
Disconcertingly for droplet and close contact advocates, we have one example of tranmission on a plane:
Currently, the CDC is monitoring six people in the United States for possible monkeypox infections after they sat near an infected traveler who had symptoms while on a flight from Nigeria to the United Kingdom in early May.
However, I'm not seeing any epidemiology, like a seat diagram, as we did see for examples of plane tranmission with Covid, and we know nothing about the six people. Team Cautious is a good team to be on, as long as one plays on Team Precaution as well.
Summer Festivals
WHO has expressed concern MR SUBLIMINAL Extroverts are gonna kill us all over mass gatherings in the summer:
"As we enter the summer season in the European region, with mass gatherings, festivals and parties, I am concerned that transmission could accelerate, as the cases currently being detected are among those engaging in sexual activity, and the symptoms are unfamiliar to many," WHO regional director for Europe Hans Kluge said in a statement.
WHO's concern is reasonable, given events in Spain, Belgium and Quebec. Let's take them in order, starting with Spain, the largest. From El Pais (here, but online only here):
A massive party in the town of Maspalomas, on the island of Gran Canaria, Held between May 5 and 15 and attended by nearly 80,000 people, it has become the second focus of the monkeypox outbreak in Spain, have confirmed health sources. The event was attended by several of the positive cases diagnosed in recent days in Madrid, two or three young Italian men whose infection has been confirmed in Rome and at least one case investigated on the island itself, according to these sources.

This is the second major focus of the Moorish smallpox outbreak located in Spain in recent days. The first is a place called Sauna Paraíso, located in the Malasaña neighborhood of Madrid, which was closed yesterday by the Ministry of Health.

Maspalomas Gay Pride is one of the prominent events on the gay community calendar and thousands of people from all over Spain and many European countries attend it every year —except during the forced break caused by the coronavirus pandemic. According to health sources, "among the thirty or so diagnosed in Madrid, there are several who attended the event, although it is not yet possible to know if one of them is patient zero of this outbreak or if they all got infected there." Research has revealed that the virus began to circulate in the city during the second half of April, although most of the infections known so far occurred around the weekend of May 7 and 8.
Now Belgium:
Oganizers of a fetish festival in Belgium are warning attendees of possible exposure to monkeypox after public health officials linked three cases to the event that recently concluded in Antwerp….

Darklands is a four-day event catered toward gay men that includes a daytime festival, several nighttime parties, as well as education and shopping that features "an extraordinary selection for fetish retailers at the gear market," according to its website. The festival concluded on May 9.

"There's reason to assume that the virus has been brought in by visitors from abroad to the festival after recent cases in other countries," festival organizers said in the post.<./p>
And Quebec, or rather, Montréal:
Dr. Réjean Thomas runs Clinique médicale l'Actuel, a clinic in Montreal's gay village that specializes in caring for people with HIV and other sexually transmitted diseases.

He says he's seen up to six patients with symptoms associated with monkeypox, such as lesions on their genitals, within the past two weeks….

"It [likely] started in the gay community in the U.K., and in the gay community people travelled — Portugal, Spain — and Montreal has a large gay community. Gay men like to come to Montreal."

When asked about stigma on Friday, Dr. Theresa Tam, Canada's chief public health officer, cautioned against associating the disease with any one group.

"Certainly we will provide support and information … but I think people should understand that [transmission is through] close contact and that could happen in different ways," she said, pointing to cases in the U.K., two involving people who lived in the same household.
Hence CDC's advisory:
However, a high index of suspicion for monkeypox is warranted when evaluating people with the characteristic rash, particularly for the following groups: men who report sexual contact with other men and who present with lesions in the genital/perianal area, people reporting a significant travel history in the month before illness onset or people reporting contact with people who have a similar rash or have received a diagnosis of suspected or confirmed monkeypox.
And WHO:
Reported cases thus far have no established travel links to an endemic area. Based on currently available information, cases have mainly but not exclusively been identified amongst men who have sex with men (MSM) seeking care in primary care and sexual health clinics.
However, there are going to be a lot of festivals and mass gatherings during this coming "Hot Pox Summer," and with no agreed mode of transmission, little information on how prevalent community spread really is, and that really long incubation period, it would be foolish to focus too narrowly on "men who have sex with men" (think again of that example of airplane transmission). It would be super-nice if monkeypox didn't end up being characterized as a "gay plague," which would be a bad faith interpretation of what CDC and WHO wrote, but since that's the stupidest possible outcome, no doubt it will happen.
What to Do?
One thing to do is something you may already have done: Gotten vaccinated for smallpox. From CDC:
Because monkeypox virus is closely related to the virus that causes smallpox, the smallpox vaccine can protect people from getting monkeypox. Past data from Africa suggests that the smallpox vaccine is at least 85% effective in preventing monkeypox.
However, we stopped routine vaccination for smallpox in 1972, so this only applies if you are an old codger like me. Still, you can get vaccinated for smallpox today:
Vaccines: We have a full stock of smallpox vaccines, thanks to bioterrorism preparation. Smallpox vaccines work on monkeypox, especially if the vaccine was recent. In fact, the CDC reports that smallpox vaccination within 3 years is 85% effective at preventing monkeypox disease. The sooner the person received the vaccine, the more effective it will be.
There is also treatment:
Treatment: Effective therapeutics have already been developed but not widely available. The antiviral ST-246 (tercovirimat), for example, was developed specifically for smallpox but works for all orthopoxviruses including monkeypox.
Finally, there are non-pharmaceutical interventions (NPIs):
Other mitigation measures: COVID-19 mitigation measures, like masks and improved ventilation and filtration, will help with reducing spread. In fact, in 2021, a monkeypox case landed in Dallas from Nigeria. It's largely hypothesized that the mask mandate helped contain the virus.
For myself, I'm going take precautions and assume, for now, that monkeypox is airborne. I'll continue my current Covid regimen: masking, avoiding crowds, staying in the open air when possible, and in well-ventilated spaces if not. I will also go back to what I did before we all understood aerosol transmission, and work to prevent fomite transmission: Lots of handwashing. Little touching of handles and elevator buttons. And no touching of lesions or scabs! (I don't know if medicines like Betadine, zinc, IVM, and vitamins have any effect on monkeypox at all, so if they are part of my regimen, it won't be because of monkeypox.) And for me, the question of festivals and mass gatherings does not arise; I don't enjoy them. If I did, I would consider sacrificing them. Ditto air travel.
Conclusion
The whole monkeypox outbreak is more than a little unsettling. Bloomberg:
London (AP) — Scientists who have monitored numerous outbreaks of monkeypox in Africa say they are baffled by the disease's recent spread in Europe and North America.

"I'm stunned by this. Every day I wake up and there are more countries infected," said Oyewale Tomori, a virologist who formerly headed the Nigerian Academy of Science and who sits on several WHO advisory boards..

"This is not the kind of spread we've seen in West Africa, so there may be something new happening in the West," he said.
One new thing that might be happening: Covid. In addition to Long Covid, vascular damage, and neurological damage, all of which are surely more prevalent than we think, our immune systems are probably out of whack at a population level, and monkeypox may be taking advantage.
Or perhaps the new thing is evolution at work:
The last case of natural smallpox was recorded in October, 1977. It took humanity almost 20 years to achieve that feat after the World Health Organization had approved the global smallpox eradication program. Vaccination against smallpox was abolished, and, during the past 40 years, the human population has managed to lose immunity not only to smallpox, but to other zoonotic orthopoxvirus infections as well. As a result, multiple outbreaks of orthopoxvirus infections in humans in several continents have been reported over the past decades. The threat of smallpox reemergence as a result of evolutionary transformations of these zoonotic orthopoxviruses exists.
Of course, we should be able to contain monkeypox:
Several outbreaks of monkey pox in Africa have been contained during the COVID pandemic while the world's attention was elsewhere, and outbreaks in Europe and the United States are a concern, Africa's top public health agency said on Thursday.

"During this pandemic, we have had several outbreaks of monkey pox on the continent … We also expect that other outbreaks will come and we'll handle it in the usual way," Ahmed Ogwell Ouma told a weekly news briefing./p>

"We are in close contact with our counterparts at the European CDC to try and understand where that did come from because when you see monkey pox in environments that are far away from a forested area then for sure as far as public health is concerned it raises a lot of questions."
Then again, another new thing might be the destruction of the public health system under the Trump and Biden administrations. We were never able to do contact tracing with Covid, for example. Or mask mandates. Or quarantines. So it looks like we're going to confront monkey pox with no settled theory of transmission, and vax + pharma once more. Perhaps doing the same thing will have a different result.
NOTES
[1] Interestingly, the mode of transmission for smallpox could be aerosols as well: