Wolf Richter noted a week ago that applications for new home purchases fell 21% from year earlier levels. The Wall Street Journal and Financial Times today are handwringing that the rise in mortgage interest rates, the most sudden in the last 35 years, is suddenly taking a lot of air out of a housing market that had gotten very bubbly due to a decade plus of super low interest rates.
A housing correction is going to be another big whammy on top of high energy and food prices and increasing numbers of shortages. We've warned that above all, these problems are due to supply side issues: the blowback of the Russian sanctions, the continuing impact of Covid (diminished workforce due to early retirements and long Covid, some workers foregoing high-risk employers, plus supply chain interruptions out of China), and pre-existing supply problems (jammed ports, a chronic trucker shortage, a diesel crunch). The US and advanced economics have gotten accustomed to artificially low mortgage rates due not just to ZIRP-y policies but also the Fed specifically seeking to lower mortgages spreads over Treasuries by buying Freddie and Fannie bonds as part of QE. When I was younger, 6% was mighty cheap for mortgage. It now looks catastrophically high: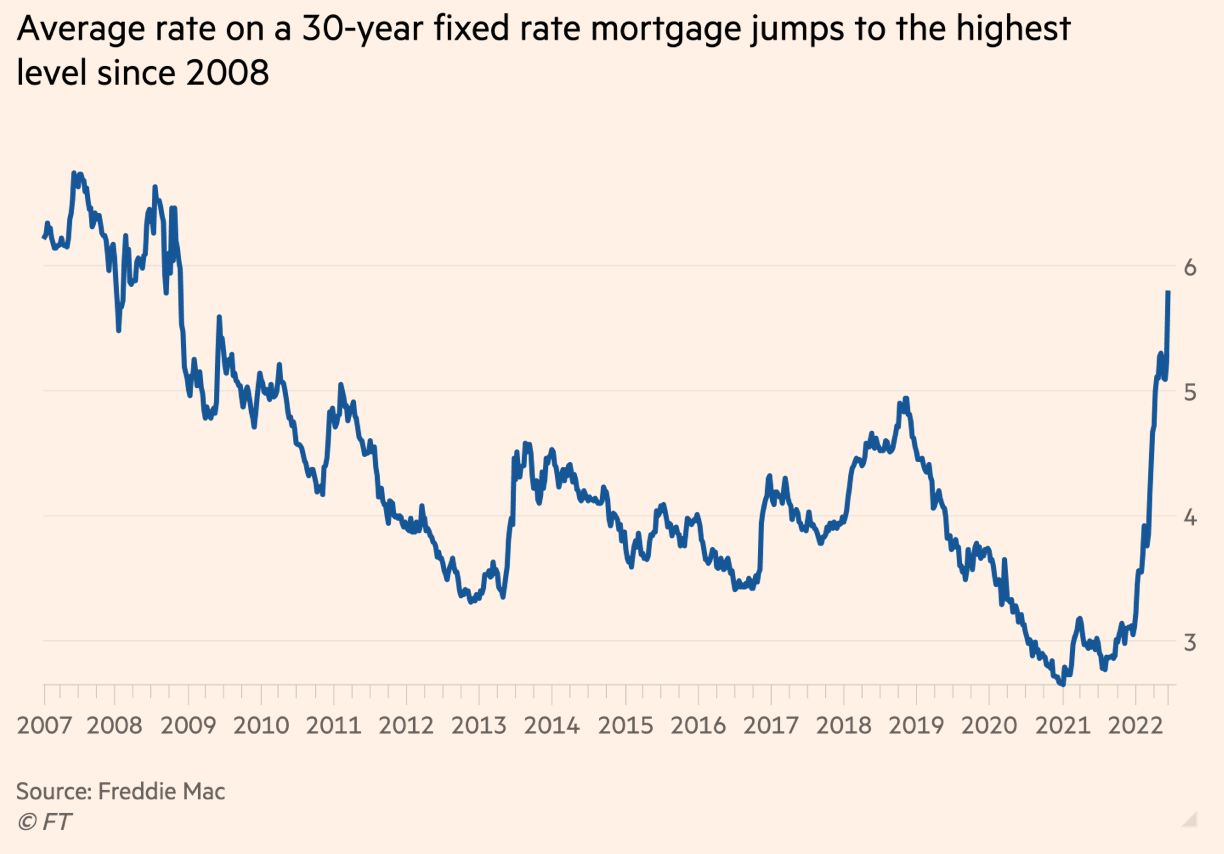 The average thirty-year fixed rate last week rose to 5.78%. That was before the Fed's 75 basis point interest rate increase this week.
Remember that the Fed was keenly interested in goosing the housing market after the crisis to boost housing prices, which would reduce the number of underwater mortgages and help rescue big banks' second mortgage portfolios. The other motivation was to stimulate "wealth effect" related spending. Increases in residential real estate prices have a much bigger impact than stock price gains.
And of course, the direct impact of housing sales, both new and existing, are important for the economy: home construction and renovation, new furnishings, moving costs, broker and bank fees…lots of money moving around!
So the rending of garments is understandable. From the Financial Times:
Moderation is already starting to show up in the data: the rate of US new home construction fell in May to the slowest pace since April 2021.

US housing starts fell 14.4 per cent month on month to an annualised pace of 1.5mn, according to the commerce department. Building permits, considered a leading indicator of the housing market, fell 7 per cent from the previous month to an annualised pace of 1.69mn.

Sentiment among homebuilders declined for the sixth consecutive month in June, as inflation and higher mortgage rates weakened demand for new homes.

Sellers have also started to take note, with Redfin on Thursday reporting that the number of for sale homes with price drops reached a record 22. 4 per cent in the four weeks that ended June 12.
An optimist argued that the Fed's 75 basis point rise might not be reflected fully in mortgage price increases, since they are priced off "the belly of the curve" as in ten year Treasuries. A Wall Street Journal reader in its comments section said that Mortgage Daily News was quoting 6.05%, which so far is less of an increase than the Fed rise.
The Journal gave more color to the impact of higher interest rates:
Mortgage rates don't move automatically when the Fed raises rates, but they are heavily influenced by it. The short-term rate that the Fed directly controls has risen by 1.5 percentage points this year. The average mortgage rate has risen nearly 2.7 percentage points, the steepest such increase in decades.

Mortgage rates are tied closely to the 10-year U.S. Treasury yield, which tends to move in tandem with expectations for the Fed's benchmark rate. The 10-year yield this week hit its highest level since 2011, having more than doubled this year due to escalating bets on rate increases….

Home buyers in May paid about $740 more a month to finance a median-priced U.S. home than they did in May 2021, when rates were closer to 3% and prices were lower, according to Realtor.com.
Note that the Journal continues with an oversimplified account:
Sales of existing homes fell to their weakest pace in nearly two years in April. But with so many buyers competing for so few homes, prices continued to rise.
That's not entirely correct. Wolf Richter showed that the bigger reason for average prices going up was the bottom dropping out of the market. A sudden shrinkage in sales of cheaper homes versus higher priced homes will move up the average. Having said that, in this 'hood, prices continue to appreciate. The current Zestimate for this house is up 1% over last week and 29% over January. Admittedly, there's been a long-standing shortage of inventory here and a lot of demand for this suburb, since it has the best school district in the state.
With retail sales unexpectedly down in May, the Fed might slow its pace of increases if it sees other signs of economic weakness. But if their aim is to slow the economy enough to bring down gas and energy prices, it's going to take a lot of "demand destruction" as in killing of incomes, to accomplish that.