Lambert and I, and many readers, agree that Ukraine has prompted the worst informational environment ever. We hope readers will collaborate in mitigating the fog of war — both real fog and stage fog — in comments. None of us need more cheerleading and link-free repetition of memes; there are platforms for that. Low-value, link-free pom pom-wavers will be summarily whacked.
And for those who are new here, this is not a mere polite request. We have written site Policies and those who comment have accepted those terms. To prevent having to resort to the nuclear option of shutting comments down entirely until more sanity prevails, as we did during the 2015 Greek bailout negotiations and shortly after the 2020 election, we are going to be ruthless about moderating and blacklisting offenders.
–Yves
P.S. Also, before further stressing our already stressed moderators, read our site policies:
Please do not write us to ask why a comment has not appeared. We do not have the bandwidth to investigate and reply. Using the comments section to complain about moderation decisions/tripwires earns that commenter troll points. Please don't do it. Those comments will also be removed if we encounter them.
* * *
Nature: Visit to bald eagle nest reveals a different kind of 'family' Columbus Dispatch (furzy)
'An Immense World' Review: Where Beasts Have Us Beat Wall Street Journal (Anthony L)
World's largest freshwater fish found in Mekong, scientists say BBC (resilc)
Nepal to move Everest base camp from melting glacier BBC. Micael T: "'For instance, we found that people urinate around 4,000 litres at the base camp every day,' he said."
Nonsense on Stilts: No, LaMDA is not sentient. Not even slightly Gary Marcus (Anthony L)
Anthropomorphization and beyond: conceptualizing humanwashing of AI‐enabled machines Springer (David L)
Google Insider Claims Company's "Sentient" AI Has Hired an Attorney Futurism (Dr. Kevin)
Antibiotic resistant Gonorrhea 'super clap' found to be in Europe (with cases already reported in the UK)—US CDC considers this bacteria to be an 'urgent risk' of antibiotics resistance. https://t.co/zDu4emE2Ll

— Chris Turnbull (@EnemyInAState) June 17, 2022
No #COVID-19 today! First time since early 2020! Not because not warranted but because I got my nose in too deep in geopolitics to forage for Covid stories. So please feel free to make up for this omission in comments.
Climate/Environment
L.A. needs 90,000 trees to battle extreme heat. Will residents step up to plant them? Los Angeles Times (David L)

Vietnam Imprisons Leading Environmentalist on Tax Evasion Charges The Diplomat (dk)
China?
India
In Assam's worst-hit district, floods have meant food is running out – and so is drinking water Scroll
Commission president calls to end unanimity in EU foreign policy decisions Politico (Kevin W). Mind you, this is to facilitate the entry of Ukraine and Moldova and Lord only knows who else….
Brexit
The deafening silence over Brexit's economic fallout Financial Times (David L)

Ex-Northern Ireland secretary accuses Boris Johnson of 'Putinesque tactics' Guardian (resilc)
Old Blighty
Biggest Rail Strike in 30 Years Brings UK to Standstill Reuters

. @GBNEWS were setting up this taxi driver to slag off the rail unions about this week's strikes. Watch what happens next. Not surprised the questions stopped there! pic.twitter.com/dqPHa9z9ps

— Aaron Bastani (@AaronBastani) June 20, 2022

Whenever Johnson has a problem, he calls Zelenskiy – and the bill is rapidly mounting Guardian (Kevin W)
1/ We cannot underestimate the fact that for the first time Colombia will have a president who is regarded as a Left. Others have been killed before for daring to defy the oligarchy (Gaitán, Jaramillo, etc). This is also a defeat for US imperialism.

— Jorge Martin (@marxistJorge) June 19, 2022
New Not-So-Cold War
When The Lies Come Home Douglas MacGregor, American Conservative

UKRAINE UPDATE (June 18, 2022) – with Scott Ritter and Ray McGovern Garland Nixon, YouTube. Good discussion of China and Iran as well.

Some hard thoughts about post Ukraine Graham Fuller (Moon of Alabama)

Ukraine minister Kuleba accuses critics of being 'enablers of Putin' Responsible Statecraft. Resilc flags this part:

There is a great desire to help the Ukrainian people defend themselves from the illegal and brutal invasion. But the President of the United States is elected by American citizens, and has sworn an oath to defend them and their interests, too. That includes protecting the U.S. economy and keeping America out of conflicts that are not in the vital security interests of the United States, or confrontations that will lead to senseless devastation and killing overseas.

* * *

Anger as Lithuania bans transit of goods to Russia exclave Kaliningrad Euronews (furzy)

Russia warns it will 'take actions' against NATO member Lithuania after blocking sanctioned goods Daily Mail (resilc)

Russia reveals number of victims from drilling rig strikes RT. Kevin W: "I think that this story is important. If nothing else, it will convince the Russians that they cannot leave the Ukrainians with any coastline at all."

Arestovich is a Ukraine spokescritter:

🚨⚠️ 🇷🇺 The Russian fleet has lined up for a massive strike, the Russian Federation is preparing an attack "on decision-making centers in Kiev" in response to a strike on gas drilling rigs, – Arestovich⚠️🚨

— AZ OSINT (@AZmilitary1) June 20, 2022

* * *

EU warns against fossil fuel 'backsliding' as coal replaces Russian gas Financial Times. Empty exhortations as an attempt to cover for lack of planning.

Netherlands To Burn More Coal To Conserve Gas OilPrice (Kevin W)

* * *

Right between the eyes: Putin to the West at the St Petersburg Economic forum Gilbert Doctorow (guurst)

Dmitry Medvedev on the Strategic Arms Reduction Treaty pic.twitter.com/DaxLjqgRBu

— Russians With Attitude (@RWApodcast) June 20, 2022

Key Points From DPR Leader Denis Pushilin's Speech St Petersburg International Economic Forum 2022 YouTube. Remarkable that this has gotten little notice. Watch at 1.25x

MONEY & DEATH IN UKRAINE – POLES LEAD IN TOTAL MERCENARY COUNT (26%),THEN CANADIANS (9%)– AMERICANS, AUSTRALIANS. LITHUANIANS, KOSOVARS LEAD IN DEATH RATES (41,43,39,39%)– AMERICANS, GERMANS LEAD RUNAWAYS (43%, 34%). https://t.co/qGmGV9lR4G pic.twitter.com/OAca9hbI3D

— Dances_with_Bears (@bears_with) June 21, 2022

Ukrainian Students Are Taking Haunting Grad Photos in Rubble Created by the War MyModernMet (David L)
Syraqistan
The Insane 'Option' of Attacking Iran Daniel Larison (resilc). Is it just me, or do most of the US geopolitics pieces of late seem to be written by people with brain worms?

Israel heading to elections, Knesset to disband, Yair Lapid to become PM Jerusalem Post (resilc)

Later: Early election poll shows: No 61-seat majority for either side Jerusalem Post (resilc)

This 13 year old girl, accused of having a knife, says she doesn't have anything so the soldier says "you're coming with me". She tells him "no get lost" and he smugly calls for her to be zip-tied. Big men harassing children. https://t.co/JFSkAAcsw9

— Dana El Kurd دانا الكرد (@danaelkurd) June 20, 2022
Imperial Collapse Watch
https://rusi.org/explore-our-research/publications/commentary/return-industrial-warfare

The Return of Industrial Warfare Royal United Services Institute. PlutoniumKun: "Short version – the west has destroyed its own ability to wage war."

Why are States we don't like 'Regimes' while friendly ones have 'Governments'? Juan Cole (resilc)

The United States leads the world in incarceration. Why? Vox (resilc)
1/6
Exclusive: Trump's Team Setting Up Eastman to Take Blame for Jan. 6 Rolling Stone (David L)
Trump
Trump ratchets up attacks amid questions about his presidential viability The Hill
Biden
Biden Taps Anti-Social Security Ideologue To Oversee Program The Lever

Biden says he's nearing decisions on gas tax holiday and student loans as he tries to tame costs CNN
'We Were Felons' The Tyee (Dr. Kevin)
Our No Longer Free Press
"Terminated" Susie Bright (Paul R). If you weren't concerned about Google, this might change your mind.
The Rich Get Richer Jed S. Rakoff, New York Review of Books (J-LS)
He's the first buyer of the electric F-150. Why he's the future of the car industry NPR (David L)
Trump ratchets up attacks amid questions about his presidential viability Bloomberg
Elon Musk Has Gone Off The Rails, Will He Take Tesla & SpaceX With Him? CleanTechnica (Paul R)
Class Warfare
Antidote du jour (Stephen T):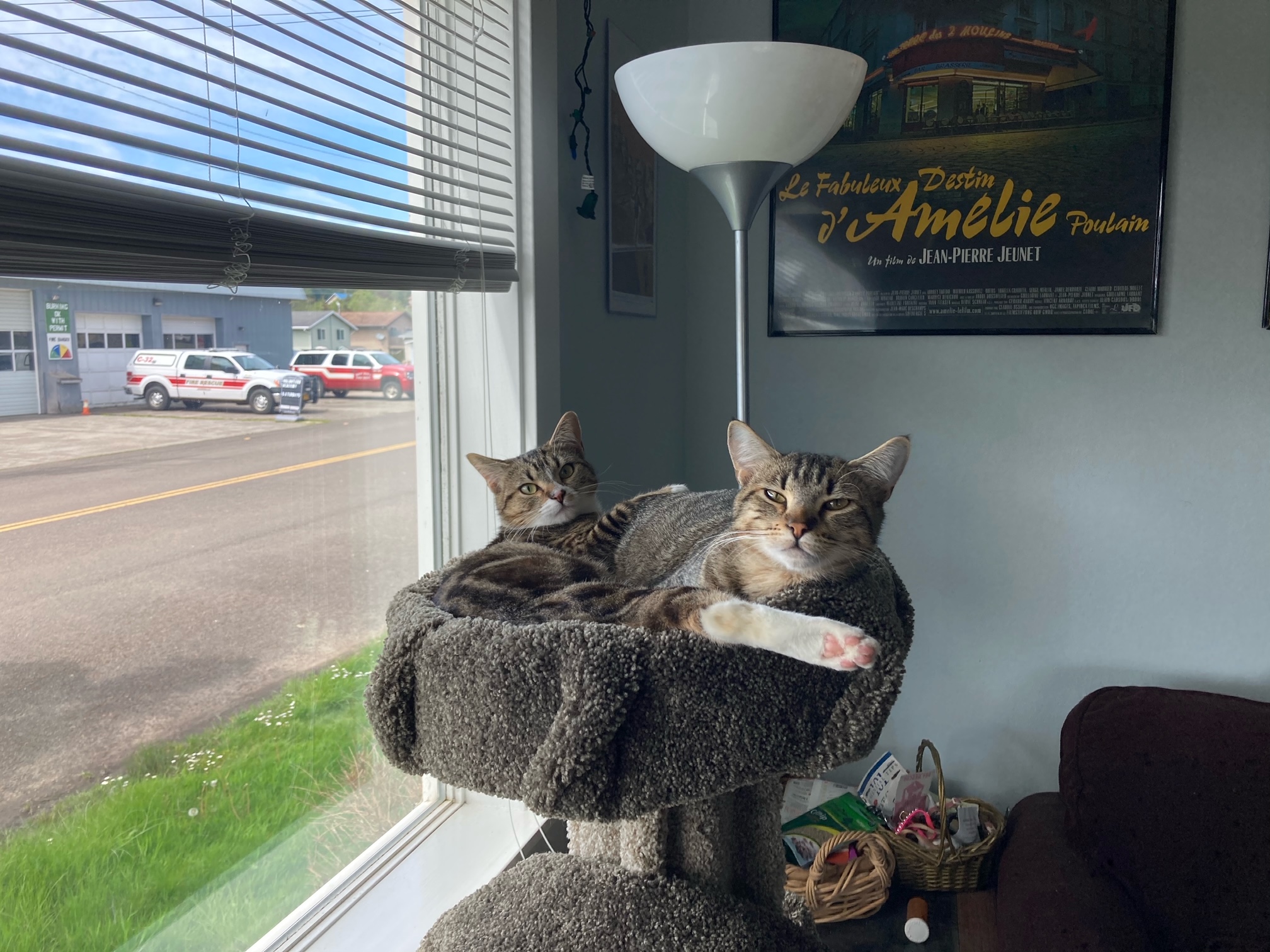 See yesterday's Links and Antidote du Jour here.