Although UK readers are likely suffering from Boris-Johnson-on-the-ropes overload, forgive me for attempting to step back and give context for readers in other parts of the world. Feel free to correct any errors or omissions.
The short version is that after two senior Cabinet ministers, Rishi Sunak and Sajid Javid resigned (letters here and here), four Parliamentary Private secretaries plus the deputy party chair and trade envoy for Morocco followed.
Despite these blows, a YouGov snap poll shows that even though 69% of British voters and 54% of Tories, think Johnson should go, only 21% of respondents believe Johnson will resign soon. A quick look at Twitter confirms that the mainstream press is broadcasting these results. See also:
'Johnson on the brink': what the papers said about Boris Johnson's cabinet resignations https://t.co/LUoIJiDrdP

— The Guardian (@guardian) July 6, 2022
Recall that Boris Johnson swept into office, first based on democratically dubious vote of a small number of paying Tory party members, but then seemingly confirmed by a landslide win in the 2019 contest, with the Tories winning by the biggest margin since 1987, when Margaret Thatcher was prime minister. More careful analysts pointed out that the Labour popular vote result was not terrible in historical terms, and Labour lost votes much more to other parties than the Tories. But it didn't matter much whether the great performance of the SNP was important in breaching the famed Labour "red wall". Johnson, riding the wave of Brexit dominating the news and Labour's voter-alienating ambivalence (compounded by effective smearing of Jeremy Corbyn as an anti-Semite).
However, even though voters chose their MP and not their Prime Minister, it was still clear that Tory voters would be getting Johnson. And Johnson was a known quantity, in not a good way: an aristocratic, charming liar with no interest or acumen in governing.1 In the old days when the UK had a strong civil service, Johnson could conceivably had a successful-seeming time in office, with the experts preventing at least some of the worst outcomes of bad policies. But Johnson and his unimpressive ministers have had little in the way of private sanity checks.
Johnson has been a dead man walking since he was badly bloodied in a June 7 vote of no confidence, with the immediate trigger the "Partygate" scandal. Even though Johnson on paper looked to score a solid win, at 211 v. 148, the reality is that the Prime Minister is assured the 100+ votes of MPs serving in government (and getting stipends). Anyone in Government who opposes the Prime Minister should resign and only then cast a no-confidence vote. So Johnson got less than half the votes of the backbenchers. Prime Ministers who've gotten similarly low votes have not lasted long.
The current row is the scandal over Dickensianly-named Charles Pincher. But Johnson had already taken another hit when and both seats they had held, one previously considered safe, the other snatched from Labour in 2019. It didn't help that Johnson seemed more interested in bolstering Zelensky than fellow MPs, or that he was in Rwanda the day of the special elections.
Pincher resigned from the post of deputy chief whip on June 30 due to allegations of sexual misconduct. No. 10 claimed that Johnson had not known Pincher had faced charges of similar impropriety in 2019, at the Foreign Office. That story blew up over the weekend. From the BBC:
Following the resignation, No 10 – and a series of government ministers – initially denied that Boris Johnson was aware of specific complaints against Mr Pincher before appointing him as deputy chief whip. (No 10 is the prime minister's office and briefs journalists on his behalf).

But Lord McDonald – a former top civil servant in the Foreign Office – accused No 10 of not telling the truth and stated that Mr Johnson was briefed "in person" about a "formal complaint" into Mr Pincher's conduct in 2019, when Mr Pincher was a Foreign Office minister.

The government now says the prime minister was indeed briefed at the time but could not "recall this" when the latest allegations emerged last week. Mr Johnson has confirmed this and says he "bitterly regrets" not acting on the information….

By 12:30 on Monday, No 10 had changed its line. The prime minister's official spokesperson said Mr Johnson knew of "allegations that were either resolved or did not progress to a formal complaint" adding that "it was deemed not appropriate to stop an appointment simply because of unsubstantiated allegations".

That evening, BBC political correspondent Ione Wells revealed that Boris Johnson was made aware of a formal complaint about Chris Pincher's "inappropriate behaviour" while Mr Pincher was a Foreign Office minister from 2019-20.

The complaint led to a disciplinary process which confirmed his misconduct.
Leading civil servants at Downing St. are officially unable to comment, of course. pic.twitter.com/IaliUooKuD

— Richard M. Nixon (@dick_nixon) July 5, 2022
While we are keeping count:
Alleged & admitted Tory sexual predators:

Boris Johnson – groped female staff
Chris Pincher – groped men (twice)
Charles Elphicke – jailed for sexual assault
James Grundy – exposed himself in pub
Rob Roberts – sexual harassment
David Warburton – sexual assault#r4today #bbcaq

— Incorrigible FCA (@ImIncorrigible) July 1, 2022
I would rather see Johnson held to account for more destructive actions, starting with sabotaging the Ukraine-Russia peace talks in Istanbul at the end of March. But at a minimum, this mini-history shows that "toxic masculinity" is something about which Johnson knows a great deal.
The problem, as we said at the time of the June no-confidence vote, is the big reason Johnson may soldier on for a while is the replacement pickings are so poor. ConservativeHome had posted the results of its periodic poll on potential Tory leaders on July 3, so before the Javid-Sunak resignations: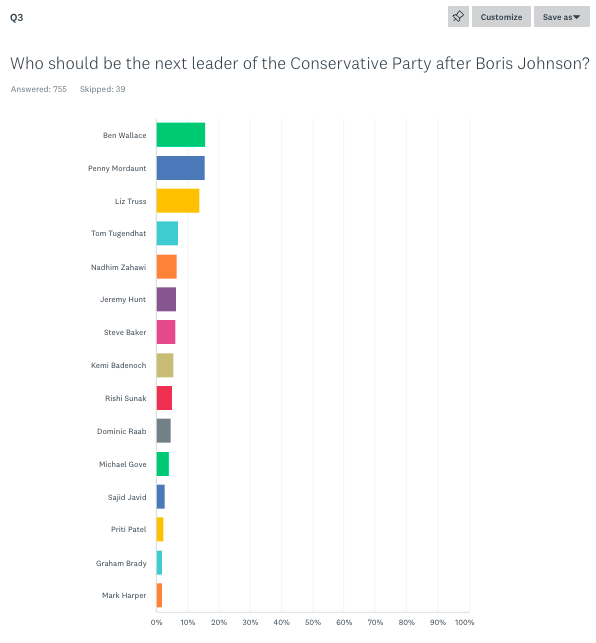 Far from licking our lips at the prospect of a leadership election, ConservativeHome hasn't asked this question for over six months.

When we did, Liz Truss led Rishi Sunak by 20 votes – 181 to 161; 23 per cent to 20 per cent.

Since then, the Chancellor has been engulfed by the controversy about his wife's former non-dom status and his previous possession of a U.S green card.

He is now ninth in the table on five per cent.

Ben Wallace, who wasn't even named in the December question, comes top in this survey. He has 119 votes and is on 16 per cent.

Penny Mordaunt is second by only a sliver. She has 117 votes and is on the same percentage.

The Defence Secretary has topped our Cabinet League Table since February, so that he also leads our Next Leader Survey is perhaps unsurprising.

Mordaunt's second place, above seven Cabinet members, is more startling.

It's very hard for a non-Cabinet Minister to gain the profile of a Cabinet Minister – or of a prominent backbencher either, who will be free to say what he thinks.

But the Trade Minister is somehow managing a bit of both.

She makes no pretence of having backed Boris Johnson in the recent leadership ballot, operates in the Government as a semi-independent, and has a way of pushing populist buttons – on tax cuts, for example.

The Prime Minister may not be in a strong enough position to fire her, and either way she is making hay while the sun shines.

Truss is third with 14 per cent. It may be that the association of the top Cabinet members with Johnson is tarnishing their brand among some members of the panel.

On the other hand, 39 panel members have refused to answer the question.

This is a higher refusenik total than elsewhere in the survey, and these will be the Prime Ministerial loyalists – believing that there is no vacancy and that the question is premature.
Accordingly, the Times reports that Johnson has found replacements: Nadhim Zahawi as Chancellor, Steve Barclay as Health Secretary and Michelle Donelan as Education Secretary.
The knives are very much out. Johnson appeared to be trying to position Liz Truss as his successor, which is logical since she's the most likely to make Johnson look good by comparison. But the worm may finally have turned:
Just seen a tweet saying Johnson wants to makes Liz Truss chancellor, and it's utterly fucking staggering how a person with all the personality of a well-used bog brush and the intelligence of a half-eaten bag of chips can fail upwards so repeatedly, and to such dizzying heights.

— Fancy Brenda 🏳️‍🌈🏳️‍⚧️ (they/them) (@SpillerOfTea) July 5, 2022
#r4today Nadhim Zahawi didn't 'agree to be promoted to Chancellor'. Boris Johnson wanted Liz Truss but Zahawi threatened to resign if he didn't get the gig! Effectively securing a promotion by blackmailing a Prime Minister so weak he can't even choose his own Cabinet!

— Stephen McBarron (@ambridge2020) July 6, 2022
Ben Wallace and Liz Truss currently keeping their heads so low they're at risk of going full ostrich.

Both are clearly hopeful of pinching the Johnson rump vote in a leadership battle. If they sniff the wind has entirely turned they'll jump.

— John Bull (@garius) July 6, 2022
But….
Liz Truss has made a grave error standing 100% with Boris Johnson,

She will now never be leader.

— MimiJ (@MimiJ9) July 5, 2022
Maybe I'm missing something, but Theresa May looks better than the choices on offer.
____
1 One of many examples. Boris and his Brexiteering allies took almost no interest in what Brexit would mean in practice, above all for traders. Had the Tories operated responsibly, they would have made considerable effort in preparing businesses for the upcoming major changes and provided them with considerable assistance, at a minimum detailed guides and help lines. But that sort of preparation would have been contrary to the "Glorious Brexit" narrative.