Medical experts and some pundits are raising alarm about the spread of monkeypox, a far more containable disease than Covid. But apparently because the public has been told to get used to endemic Covid, it's supposed to resign itself to endemic Covid. A fresh report from IM Doc illustrates how appalling state of public health in America.
A little background courtesy Twitter:
1470 cases of monkeypox. No longer any point in comparing to the outbreak 19 years ago when we were able to contain it after 47 cases.
Is it time to say the quiet part out loud? Our individualized perspective to public health ruined our ability to control diseases.

— Dr. Theresa Chapple (@Theresa_Chapple) July 15, 2022
MONKEYPOX IS NOT AN STI. MONKEYPOX IS NOT AN STI. MONKEYPOX IS NOT AN STI.

modes of transmission:
skin contact
bodily fluids
large respiratory droplets
fomites (particularly clothes n bedding)
infected animals

— ☼ (@livelaughlmao) July 19, 2022
From IM Doc at the start of the week:
Today a gay patient in his 30s showed up in the office. He is healthy and very athletic. He is a "boy" to another older gay man.

They travel the world and are into serious gay fetish play. Spanking, bondage, discipline etc.

Patient has had fever and chills and horrible headache for 3 days. A reticulonodular rash has developed but no vesicles yet. They have been playing in clubs, parties, and orgies in 4 major cities the past 2 weeks.

There are so many things in that diagnostic differential but of course monkeypox is right up there.

And of course NO TESTING IS AVAILABLE. I called all levels of health department and even CDC today. The CDC is voice mail hell. Never talked to a human. It took several hours for a health dept human but by then the patient was already gone potentially spreading the wealth everywhere. They are acting as if I was talking about the Martian Flu. Again, we have known about this two months now, and it was like I was asking for the Holy Grail. Testing? "I need to call so and so……not sure…..but I'll get right back to you……..". And don't get me started about their handling of the quarantine.

I have no idea if he is really a case. Multiple tests are pending. But not monkeypox. There is apparently no blood test for that. You have to swab the vesicles. But what if we do not have vesicles yet? Or if a patient may be past the vesicular stage? Crickets.

I would like to think there is a baseline competence. But that is too much an ask right now.

Again two months all over the news and this is what we have.

We are a completely unserious nation.
Remember that IM Doc is in a wealthy destination in Flyover. Apparently the local public health officials not only think that monkeypox is exclusively a gay STD, but also that they can't have it locally because there are no gay men in their part of the world. Did they miss Brokeback Mountain? Or the private jet landing schedule?
On top of that, the local public health officials appear unable to use a search engine. In fact, there are monkeypox tests, but as IM Doc did correctly infer, they can't be used before the vesicles stage, which is 2-4+ days after lesions start forming. Oh, and monkeypox patients are contagious as soon as they start having lesions and potentially also during the prodome period, before rash starts.
Persons with monkeypox will develop an early set of symptoms (prodrome). A person may sometimes be contagious during this period.

The first symptoms include fever, malaise, headache, sometimes sore throat and cough, and lymphadenopathy (swollen lymph nodes).
Lymphadenopathy is a distinguishing feature of monkeypox from smallpox.

This typically occurs with fever onset, 1–2 days before rash onset, or rarely with rash onset.
Lymph nodes may swell in the neck (submandibular & cervical), armpits (axillary), or groin (inguinal) and occur on both sides of the body or just one.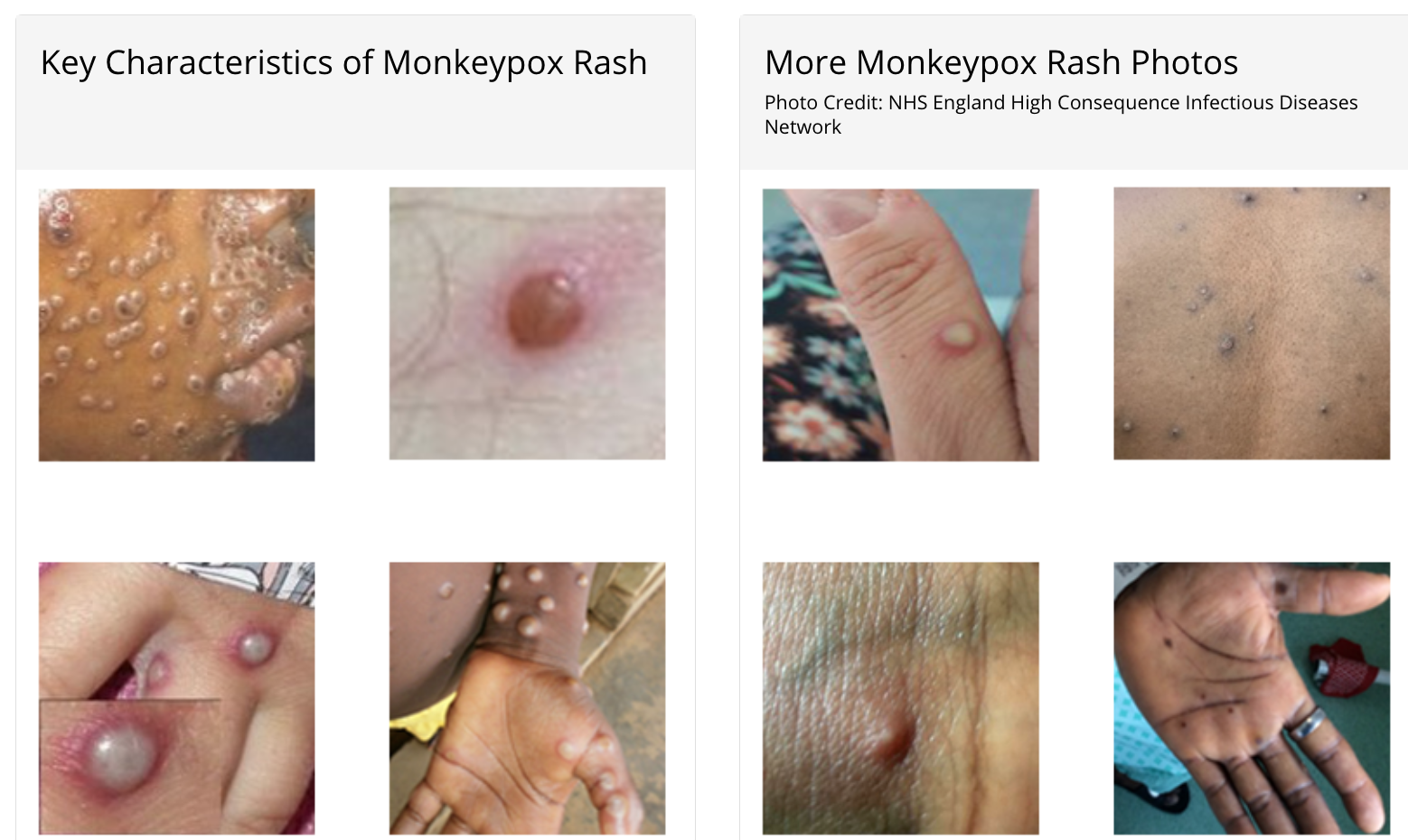 And the disease progression: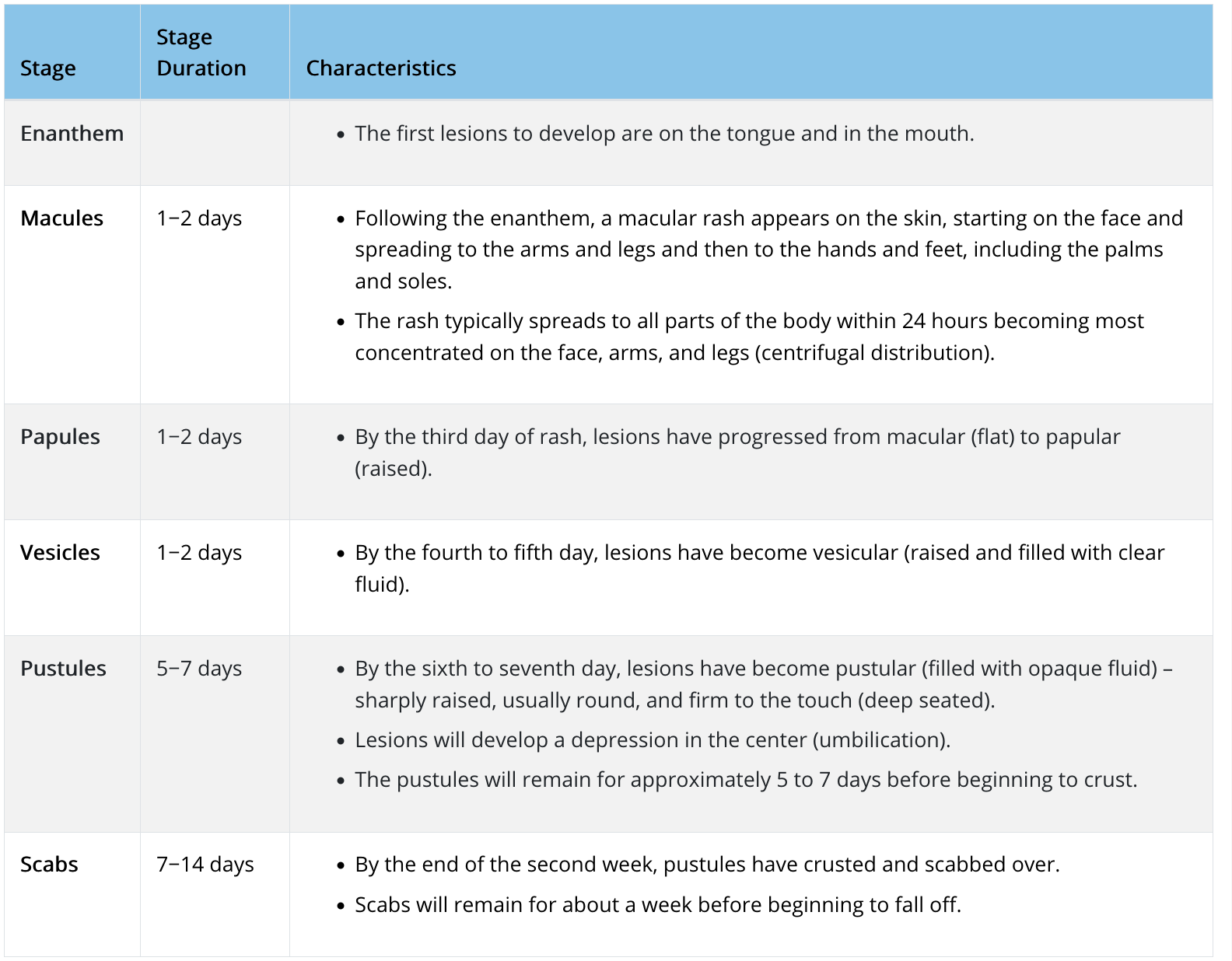 So let us return to IM Doc's predicament. Yes, the CDC has been announcing that various labs are now testing for monkeypox. For instance, from a July 13 press release:
Starting today, Quest Diagnostics will begin testing for monkeypox. The company has developed a real-time polymerase chain reaction (PCR) test that uses patient swab specimens to qualitatively detect non-variola orthpoxviruses and monkeypox virus DNA. The test is now available to healthcare providers nationwide (except in New York)*….

Quest will offer monkeypox virus testing at the company's advanced laboratory in San Juan Capistrano, Calif. and can accept specimens from anywhere in the country.* Quest's testing will continue to increase the current capacity provided through CDC's Laboratory Response Network (LRN), Labcorp, and Mayo Clinic Laboratories, providing testing capacity of up to 60,000 specimens per week by the end of July.

On June 22, HHS announced that five commercial laboratory companies would soon begin offering monkeypox testing. Since then, CDC has shipped the tests to the laboratories and their employees have been trained on their administration, among other steps.

Anyone with a rash that should talk to their healthcare provider about whether they need to get tested, even if they don't think they had contact with someone who has monkeypox. Healthcare providers can order monkeypox virus testing from Quest as they normally would order other tests. People seeking testing for monkeypox must consult with their healthcare provider first; they cannot separately go to a Quest lab, submit a specimen, and request testing
This sounds easy-peasy, right? Except it isn't. From the CDC Monkeypox: Preparation and Collection of Specimens (boldface ours):
Effective communication and precautionary measures between specimen collection teams and laboratory staff are essential to maximizing safety when manipulating specimens suspected to contain monkeypox virus….

Procedures and materials used for collecting specimens may vary depending on the phase of the rash (i.e., swab of lesion surface or crust from healing lesion).

For initial laboratory testing of monkeypox virus specimens at Laboratory Response Network (LRN) laboratories or authorized commercial laboratories, the recommended specimen type is skin lesion material. Specifics on the acceptable specimen type accepted within these laboratories may vary.Please contact the appropriate public health department or commercial laboratory to determine acceptable specimens.

For further characterization of the specimen at CDC, dry swabs of lesion material, swabs of lesion material in VTM, or crusts are acceptable. To ensure specimens are stored and shipped within the required timeframe, consultation with the CDC is suggested.

Personnel who collect specimens should use personal protective equipment (PPE) in accordance with recommendations for healthcare settings. Specimens should be collected in the manner outlined below. When possible, use a plastic, sterile, leak-proof container rather than glass materials for specimen collection.

Two swabs from each lesion should be collected for testing. Using two sterile synthetic swabs (including, but not limited to polyester, nylon, or Dacron) with a plastic, wood, or thin aluminum shaft, swab the lesion vigorously to collect adequate DNA. Do not use cotton swabs. It is not necessary to de-roof the lesion before swabbing. Break off the end of each swab's applicator into a 1.5-or 2-mL screw-capped tube with O-ring or place the entire swab in a sterile container that has a gasket seal and is able to be shipped under the required conditions. Two swabs from each lesion should be collected, preferably from different locations on the body or from lesions which differ in appearance. Swabs and other specimens should each be placed in different containers. If using transport media, only VTM is accepted at CDC at this time; do not use universal or other transport media.

Specimen collection, storage, and shipping of human specimens is subject to CLIA restrictions. Specimens being sent to CDC for testing should be stored refrigerated (2-8°C) or frozen (-20°C or lower) within an hour of collection. CDC 50.34 form must be included for each specimen. When possible, ship specimens on dry ice. Specimens received outside of acceptable temperature ranges will be rejected.

Laboratory testing has indicated that the current monkeypox outbreak is associated with the West African clade of monkeypox virus. The U.S. government does not consider the West African clade of monkeypox virus as meeting the definition of Category A infectious substance under the Hazardous Materials Regulations (HMR). Therefore, specimens and material suspected or confirmed to contain the West African clade of monkeypox virus can be shipped as UN 3373 Biological Substance, Category B. See U.S. Department of Transportation's (DOT) Transporting Infectious Substances Safely and Managing Solid Waste Contaminated with a Category A Infectious Substance (pg. 94) for further guidance.

Refer to the Poxvirus Serology test on the CDC Test Directory for further specimen storage, packaging, and shipping instructions.

For current information on the Molecular Detection test, please contact the CDC at poxvirus@cdc.gov for details on collection, storage, packaging, and shipping of specimens.
Now perhaps this sort of specimen collection and shipment is routine for many small hospitals like IM Doc's. But the repeated "Call the CDC for instruction" suggests otherwise. So even if IM Doc's patient had monkeypox-looking pustules that could have been sampled and tested, neither the CDC nor the local health department did a damned thing to help.
From a later message, after I had informed IM Doc that there were monkeypox tests, but only of vesicles (as he'd inferred):
Is it not a sad state of affairs that you are able to find this and the public health dept did not know the first thing about this?

I am thinking they are probably able to assist now after this incident yesterday, but it is the total lack of preparedness that is very disturbing. They did not know the first thing about testing.

And from what I am told this PCR testing is on the vesicle swabs only. My questions remain. What if the patient is in a prodrome of fever and rash but no vesicles? What if the patient has already convalesced through the vesicles? What do we swab in those instances? Are we certain that every single monkeypox patient will have vesicles? What do we do when this is highly suspected and the patient is already having a high fever and pain and rash but no vesicles? And most importantly, should any of the examples above be placed into quarantine until further notice? The fact that none of these questions could be answered and still are not today, especially the quarantine of highly suspected patients, is of the most concern to me. These are simple obvious issues that any clinician would raise and it is as if they have never been thought of before.

The patient from yesterday, for example, has been reported. Multiple blood tests for many other things done. Most of which are pending. I still do not know for sure his diagnosis, and he has no vesicles when I followed up with him today. And there is no quarantine at all.

This just does not jive well in my opinion with the level of fear they are exhibiting about this getting out of control.

This is what I have been talking about for the past two years. In the past, the CDC would have been all over making sure every primary care doctor in the USA knew exactly what the protocol was. I have heard or seen nothing. I go over my email daily. I have found nothing on their website that is more than simple platitudes. Certainly nothing that would guide me through the above questions. And to my disappointment, the health department personnel were in no better shape than I was. Just like Ebola, COVID, and West Nile virus, monkeypox is something no one of us has ever handled. I would have expected after two months for the entire system to be on the ball, and after our first scare in my area, it is clear we are nowhere near prepared. Acute public health issues like this are only as strong as the weakest link, and we failed yesterday.

This departure from past behavior from the CDC has been the most difficult for us old docs to stomach.
And to add an additional point: the fact that there is a monkeypox test of some sort suggests that the CDC is in mission accomplished mode and isn't pushing for the development of a blood test, which would enable clinicians to find the infection earlier (and perhaps later) than the skin-sampling ones do, and would also be less nasty to administer from the patient and practitioner perspective.
So we are well on the way to having monkeypox be as bad as it could be. Scientist GM added:
We actually have no idea how bad monkeypox is right now.

Notice that there are no statistics released on how many of the cases are hospitalized, how many in ICU, etc. We had that reporting system fairly quickly with COVID back in 2020. And it is being rolled back now, with the move to weekly reporting in many places, likely to be followed by no reporting at all eventually (other than some quarterly or annual retrospective summaries)

So the lessons – that if you don't control infections, you need to control information – have been learned.

And it is very much possible that people have died of monkeypox in the West but it is not reported yet.

So far 3 people have officially died of monkeypox in the last two months, all in Africa. And Africa has reported very few cases in that period, i.e. the CFR there is in line with what it has been historically.

Now it is certain that they have always missed cases there, but I also have doubts it is the same undercount ratio that it is for COVID, as monkeypox is a rather visible disease that drags for longer than COVID and the pain is serious.

Which means that we have the following possibilities:

1) Mortality is low in western hospitals but high in Africa where hospitals are less well equipped. That sounds attractive on the surface, but if you think about it, it doesn't really make that much sense – it would if there were a lot of people in ICU on their death bed and we in the West are doing miracles to save them that they don't have the resources for in Africa. But we are not hearing about that.

2) The people it is hitting right now are a lot less susceptible to dying. I doubt that though, as this isn't a disease known to exhibit drastic differences in CFR across different populations….

3) The virus has mutated on its way to the growing pandemic outside Africa and is less pathogenic now. Meanwhile those 3 people who died in Africa got the ancestral Nigerian strain (with the 3-4% CFR, while the Congo strain with the 10% CFR hasn't been exported at all) and this is why they died

4) We aren't told the truth.

We will unfortunately know more in the coming months. Once schools reopen and community-wide transmission has ramped up even more, there should be massive outbreaks in children, from where it will infect parents, etc. And then there will be serious pressure on hospitals. This will likely coincide with yet another major COVID wave and your guess is as good as mine about what will happen then…
Remember that GM's gloomy-seeming calls on Covid most of the time weren't pessimistic enough. So take that as a warning.
And while we are at it, CDC delanda est.
–