By Lambert Strether of Corrente
Bird Song of the Day
Black-throated Bobwhite, Celestún, Yucatán, Mexico. This is only three stars, but I think people take points off for things I like, like lots of other birds and atmospherics. But you can hear the Bobwhite. I think the migration season is coming up, so if you, dear readers, have any suggestions on birds leaving (or moving in) to the neighborhood, please leave them in comments.
• "How a COVID lockdown changed bird behaviour" [Nature]. "Because people spent more time at home and in parks than before March 2020, the analysis found that 20 of the 25 bird species examined behaved differently during lockdown. Parks — which were flooded with visitors — saw an an uptick in the numbers of corvids and gulls, whereas smaller birds, such as Eurasian blue tits (Cyanistes caeruleus) and house sparrows (Passer domesticus), were spotted less frequently than in previous years. And because people spent more time at home, the number of avian species that visited domestic gardens also dropped, by around one-quarter, compared with previous years.Other species, including rock pigeons (Columba livia), didn't react to the lockdown at all. Warrington found this surprising, because pigeons are city dwellers, so she thought they would be affected by the changes in people's behaviour. 'But they don't give a crap about what we do,' she says."
* * *
Politics
"But what is government itself, but the greatest of all reflections on human nature?" –James Madison, Federalist 51
"Here's food for thought, had Ahab time to think; but Ahab never thinks; he only feels, feels, feels" –Herman Melville, Moby Dick
"The logic of the insult and the logic of scientific classification represent the two extreme poles of what a classification may be in the social world." –Pierre Bourdieu, Classification Struggles
Biden Administration
"Treasury moves forward with database on corporate ownership" [Associated Press]. "Tens of millions of small U.S. companies will be required to provide the government with details on their owners and others who benefit from them under a regulation finalized Thursday that's intended to peel back the layers of ownership that can hide unlawfully obtained assets. The Treasury Department said it was moving to create a database that will contain personal information on the owners of at least 32 million U.S. businesses as part of an effort to combat illicit finance. Treasury officials said the new rule represents a sea change in the world of corporate transparency. The regulation comes in the midst of U.S. and Western allies' ongoing attempts to sanction Russian oligarchs and wealthy friends of Russian President Vladimir Putin since the start of his invasion of Ukraine. The wealthy Russians are accused of hiding stolen money and assets in the U.S. and around the world."
2022
* * *

"Two Dem stars struggle to recapture the magic" [Politico]. "Just a few short years ago, Beto O'Rourke and Stacey Abrams were among the Democratic Party's shiniest stars, two youthful candidates who electrified their parties even in defeat. While they came up just short in their longshot 2018 bids to win statewide office in Texas and Georgia, respectively, their promise was such that each sparked talk of their prospects on the national stage…. Both have consistently trailed their opponents in the polls. O'Rourke hasn't led in a single survey since he announced his candidacy last November, and Abrams is barely doing better." • Those candidates aren't for electing; they're for fundraising. (Also, stars shine, but they are not "shiny." "Brightest stars," or "most brightly shining stars.")

"A Choice Election, but an Uncertain One" [Charles Cook, Cook Political Report]. "Here's another factor working against overly confident prognosticators: 'Toss-Up' House, Senate, and gubernatorial races have a tendency to break in a common direction rather than evenly. Two years ago everyone was whipsawed in the last six weeks. Things seemed to collapse on Republicans after then-President Trump's hideously bad performance in the Sept. 29 debate. Down-ballot Republican candidates' numbers plunged as well, triggering speculation of an impending "blue wave." But after several weeks of conversation about the implications of such a massive victory for Democrats, a last-minute gust shifted in the opposite direction, turning the blue wave into a Dead Sea as independents decided to hedge their bets. In the House, every single race rated as a toss-up going into Election Day went Republican. But this is not only a House or a 2020 phenomenon. Over the last 12 elections, an average of 77 percent of the Senate races rated in the toss-up column going into Election Day broke in the same direction. Democrats won eight out of nine toss-ups in 2006, Republicans eight out of nine in 2014. In 1998, Democrats won six out of seven toss-ups. Democrats won eight out of 12 in both 2008 and 2012, and seven out of nine in 2000. The trend is even a bit streaky: Toss-ups broke in favor of Republicans in the last four elections (2014-2020), but for Democrats in the previous four (2006-2012)." • Cook points to the mostest of the first-past-the-post-ness….

* * *

PA: "OnPolitics: Pennsylvania's Senate race heats up" [USA Today]. "From being trolled by Fetterman on social media over referring to a supermarket veggie tray as 'crudités,' Oz has now attracted millions of dollars from national political action committees. He has a barrage of ads running against his opponent, has the media joining him in asking for the Democrat's health records and has effectively cut Fetterman's lead to a few points – within the margin of error. Early in the summer, Fetterman held a nearly double-digit lead over his Republican opponent and was on track to help Senate Democrats secure their majority. But in the last month, Oz has surged in spending and favorability and eroded Fetterman's lead to 3 points, according to a new Franklin & Marshall Poll out Thursday. 'It was like Fetterman was running unopposed over the summer,' said Berwood Yost, director of Franklin & Marshall's Center for Opinion Research. 'That has changed. Oz is challenging his crime record, and the messaging is working.'" • If the key moment turns out to be the debate, that's not good news for Fetterman, who is not a good debater.

PA: "John Fetterman Offers Voters Medical Transparency By Ripping Heart Out Of Chest" [The Onion]. "'It's essential that we address any worries voters have about their candidate's fitness for office, which is why the lieutenant governor chose to tear out his still-beating heart and hold it out for all to see,' said campaign manager Brendan McPhillips…."

WI: No means no:

"Amazing Democrats"…. That's quite an act. What do you call it?
2024
"More Democrats want Biden to run in 2024; Harris top choice if he doesn't: poll" [The Hill]. "A new Morning Consult-Politico poll found that 59 percent Democrat voters think Biden should make another run for the Oval Office, up from 53 percent in August." • Let's just hope Biden isn't counting on becoming a "wartime leader" as an October Surprise. Say with a nuclear strike.

Grateful to The Hill's photo editor for leaving me some space for a value-add.

"Newsom signs UFW bill aimed at helping California farmworkers organize" [Los Angeles Times]. "After previously indicating he might veto the measure, Gov. Gavin Newsom signed a new law Wednesday that will make it easier for agricultural laborers to join unions, a hard-fought win for the United Farm Workers.

The signature came after union members and their supporters made a 335-mile pilgrimage from Delano, Calif., to Sacramento and then camped out in front of the state Capitol for weeks as dignitaries visited — a vivid and theatrical display of political heft. Adding to the pressure, President Biden took the unusual step of inserting himself into state politics, releasing a statement over Labor Day weekend urging Newsom to enact the law, known as Assembly Bill 2183. Vice President Kamala Harris and House Speaker Nancy Pelosi (D-San Francisco) also joined the chorus."

"Judge overrules special master order for Trump to give 'final' objections on FBI search inventory" [FOX]. "U.S. District Judge Aileen M. Cannon on Thursday overruled an order by Special Master Raymond Dearie that said former President Donald Trump needed to provide any 'final' objections or disputes regarding the items seized by the FBI during its unprecedented raid on Mar-a-Lago last month. Last week, Dearie asked the Trump team that by no later than Sept. 30 to provide a declaration of affidavit that includes a list of any specific items in the property inventory that they assert were not seized from the premises; a list of items that were seized but to which the description of the contents or the location of the item was incorrect; and a list and description of any item that Trump's legal team asserts was seized but is not listed in the property receipt. 'This submission shall be plaintiff's final opportunity to raise any factual dispute as to the completeness and accuracy of the Detailed property inventory,' Dearie wrote in the filing last week. Cannon, who appointed Dearie as special master, reviewed his order and on Thursday said there 'shall be no separate requirement' for Trump 'at this stage, prior to the review of the Seized Materials, to lodge ex ante final objections to the accuracy of Defendant's Inventory, its descriptions, or its contents.'"
Democrats en Déshabillé
Patient readers, it seems that people are actually reading the back-dated post! But I have not updated it, and there are many updates. So I will have to do that. –lambert

I have moved my standing remarks on the Democrat Party ("the Democrat Party is a rotting corpse that can't bury itself") to a separate, back-dated post, to which I will periodically add material, summarizing the addition here in a "live" Water Cooler. (Hopefully, some Bourdieu.) It turns out that defining the Democrat Party is, in fact, a hard problem. I do think the paragraph that follows is on point all the way back to 2016, if not before:

The Democrat Party is the political expression of the class power of PMC, their base (lucidly explained by Thomas Frank in Listen, Liberal!). ; if the Democrat Party did not exist, the PMC would have to invent it. . ("PMC" modulo "class expatriates," of course.) Second, all the working parts of the Party reinforce each other. Leave aside characterizing the relationships between elements of the Party (ka-ching, but not entirely) those elements comprise a network — a Flex Net? An iron octagon? — of funders, vendors, apparatchiks, electeds, NGOs, and miscellaneous mercenaries, with assets in the press and the intelligence community.

Note, of course, that the class power of the PMC both expresses and is limited by other classes; oligarchs and American gentry (see 'industrial model' of Ferguson, Jorgensen, and Jie) and the working class spring to mind. Suck up, kick down.

* * *

"Registered Democrats are sick of the radical left—and some are switching sides" [New York Post]. • This is the post, so take with a dose of salts. Interesting interviews, though.

Sullying the name of Occupy, as they have for many years:

the dudes who run @OccupyDemocrats are under fire right now for allegedly pocketing PAC funds and i'm screaming at the owners (now deleted) response pic.twitter.com/dO7cah9whF

— shoe (@shoe0nhead) September 26, 2022
RussiaGate
"Durham Prosecutes FBI Informants, While Protecting Their Handlers" [RealClearPolitics]. "Since being named special counsel in October 2020, John Durham has investigated or indicted several unscrupulous anti-Trump informants. But he has spared the FBI agents who handled them, raising suspicions he's letting investigators off the hook in his waning investigation of misconduct in the Russiagate probe. In recent court filings, Durham has portrayed the G-men as naive recipients of bad information, tricked into opening improper investigations targeting Donald Trump and obtaining invalid warrants to spy on one of his advisers."
Realignment and Legitimacy
"The Problem with Polling Might Be Unfixable" [Richard Hanania's Newsletter]. "Taking the data together, I think there's a decent amount of evidence for a trend in which the polls started out relatively unbiased, but have been getting more biased towards Democrats over time. It's not very strong evidence, but the problem with hoping for anything better is that the longer you wait in order to gain more observations, the more the world changes. It therefore wouldn't be appropriate to say "let's wait until 2050 so we have a decent sample size," because by that time the two major parties, and in all likelihood American society itself, will be unrecognizable to us today. This is a problem with political science more generally – findings can be historically contingent and it is always open to interpretation how much they can help in forecasting the future." • Very interesting article. If polls are broken, and nobody does exit polls any more, then we don't have a cross-check on election resujlts. Not that this would ever be a problem….

Live-tweeting jury selection in DC for the Proud Boys:

Side note: The Oath Keepers' out-of-town lawyers seem baffled by the politically oriented DC jury pool. One jokingly asked during a break if it was "mandatory" for D.C. residents to attend political marches, after a string noted they had gone to BLM protests and the Women's March

— Kyle Cheney (@kyledcheney) September 29, 2022

There's your sans culottes, right there….
#COVID19
• If you wonder why I'm still watching the charts like a cat watching a mousehoke, here's why:
A wave that combines a maskless, uninformed, under-boosted population with a primarily indoor fall season, upcoming major holidays, no indoor ventilation/filtration standards, a potentially high flu season, and new more evasive variant(s) is a high-risk mass experiment. #covid19

— Bill Comeau 🇨🇦🇺🇦 (@Billius27) September 29, 2022
• "New Infectious Threats Are Coming. The U.S. Probably Won't Contain Them" [New York Times]. "If it wasn't clear enough during the Covid-19 pandemic, it has become obvious during the monkeypox outbreak: The United States, among the richest, most advanced nations in the world, remains wholly unprepared to combat new pathogens. The coronavirus was a sly, unexpected adversary. Monkeypox was a familiar foe, and tests, vaccines and treatments were already at hand. But the response to both threats sputtered and stumbled at every step. The United States spends between 300 to 500 times more on its military defense than on its health systems, and yet "no war has killed a million Americans," noted Dr. Thomas R. Frieden, who led the C.D.C. under former President Barack Obama."
* * *
• "Long COVID risk falls only slightly after vaccination, huge study shows" [Nature]. "Vaccination against SARS-CoV-2 lowers the risk of long COVID after infection by only about 15%, according to a study of more than 13 million people1. That's the largest cohort that has yet been used to examine how much vaccines protect against the condition, but it is unlikely to end the uncertainty. The authors of the latest study also compared symptoms such as brain fog and fatigue in vaccinated and unvaccinated people for up to six months after they tested positive for SARS-CoV-2. The team found no difference in type or severity of symptoms between those who had been vaccinated and those who had not. 'Those same fingerprints we see in people who have breakthrough infections,' Al-Aly says." • Well, I guess we can see who nobody in the Adminisration or CDC or Big Pharma wants to talk about Long Covid.
• "New guidance released on diagnosing, treating long COVID symptoms" [ABC]. "Citing concerns about the lingering and sometimes debilitating long-term impacts of COVID-19 on the body — and observed inequities amongst minority patients suffering disproportionately from the virus — medical experts on "long COVID" issued the first guidance of its kind to diagnose and treat the mysterious illness. Experts at the American Academy of Physical Medicine and Rehabilitation said they hope the guidance will help other doctors leverage their experience with patients to help address and mitigate their symptoms. The guidance is indicative of widespread concern among medical experts that even months after resolving the initial infection, COVID is still causing serious health concerns amongst many Americans. At least 9 million long COVID patients are grappling with a range of symptoms, but experts said that number could be as high as 28 million people." • In my understanding, only governmental entities like CDC can issue "guidance." Not NGOs like the American Academy of Physical Medicine and Rehabilitation.
* * *
• When they say "personal risk assessment" they mean just that:
And what's typically missing from people's risk assessments is the likelihood of onward transmission.

This isn't a trivial omission. It's hard to claim any moral high ground when you're creating a pathway for viral evolution, death, and disability for those around you.

— Adrian Malong (@apmalong) September 28, 2022
So I don't see the issue here….
• And speaking of the moral high ground:
"If you let COVID rip like this you'll kill people like me."
"…"
"…"
"…"
Oh. He's dead. https://t.co/eNDbNYUuNk

— Dr David Berger, aBsuRdiSTe cROnickLeR (@YouAreLobbyLud) September 29, 2022
* * *
• "COVID-19 pandemic changed our personalities, claims study" [Sky News]. "The study assessed the personality of 7,109 people, between the ages of 18 and 109, and participants were given a test measuring neuroticism, extraversion, openness, agreeableness and conscientiousness. The first tests during the start of the pandemic, December 2019 to March 2020, showed people's personality to be relatively stable with just a small decline in neuroticism. In the second half of the pandemic, there were declines in how extroverted people were, how open people were to new experiences and how agreeable and conscientious they were."
* * *
• "Oregon to cover health-related climate change expenses under Medicaid" [Seattle Times]. "Oregon is set to become the first state in the nation to cover climate change expenses for certain low-income patients under its Medicaid program as the normally temperate Pacific Northwest region sees longer heat waves and more intense wildfires. The new initiative, slated to take effect in 2024, will cover payment for devices such as air conditioners and air filters for Medicaid members with health conditions who live in an area where an emergency due to extreme weather has been declared by the federal government or the governor's office, according to the Oregon Health Authority." • But not Covid?! Still, since Corsi-Rosenthal boxes can be used for both Covid and wildfire smoke, perhaps other devices may as well.
* * *
• More on "mild":
And it all goes back to Dr Angelique Coetzee in South Africa saying she'd seen a couple of patients with it in November 2021 and it wasn't that bad. https://t.co/1oGOjemafN

— Dr David Berger, aBsuRdiSTe cROnickLeR (@YouAreLobbyLud) September 29, 2022
I remember that video and that moment. "Mild" spread round the world instantly
Case Count
Case count for the United States: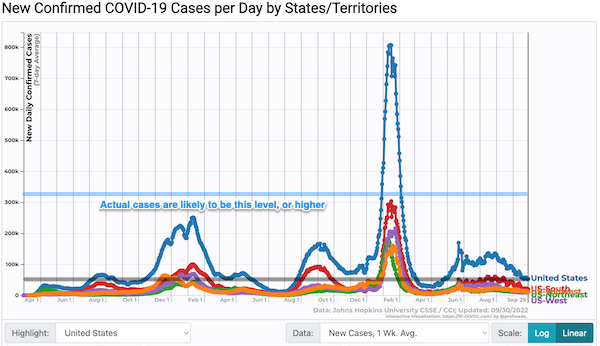 Cases are undercounted, one source saying by a factor of six, Gottlieb thinking we only pick up one in seven or eight.) Hence, I take the nominal case count and multiply it by six to approximate the real level of cases, and draw the DNC-blue "Biden Line" at that point. The previous count was ~60,000. Today, it's ~53,100 and 53,100 * 6 = a Biden line at 318,600. (Remember these data points are weekly averages, so daily fluctuations are smoothed out.) The black "Fauci Line" is a counter to triumphalism, since it compares current levels to past crises. If you look at the Fauci line, you will see that despite the bleating and yammering about Covid being "over," we have only just recently reached the (nominal) case level of the first surge in New York, in the spring of 2020 (after which the Times printed the images of the 100,000 who died, considering that a large number, as it was at the time).
Lambert here: The fall in case count looks impressive enough. What the Fauci Line shows, however, is that we have at last achieved the level of the initial peak, when New York was storing the bodies in refrigerator trucks. So the endzone celebrations are, to my mind, premature. Not that anyone will throw a flag. Of course, the real story is in the charts for California and the South. See below.
Regional case count for four weeks: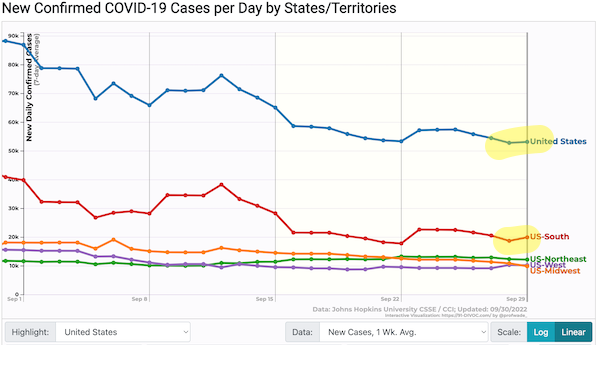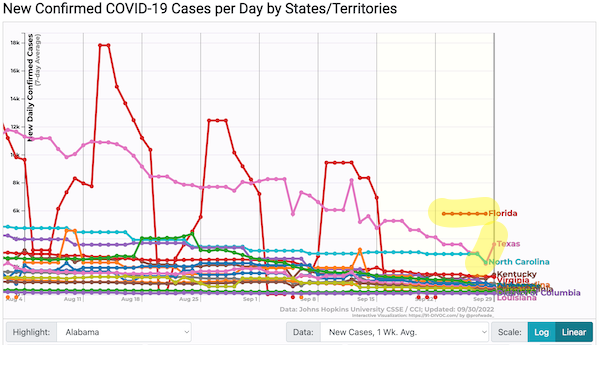 The South (minus Texas and Florida):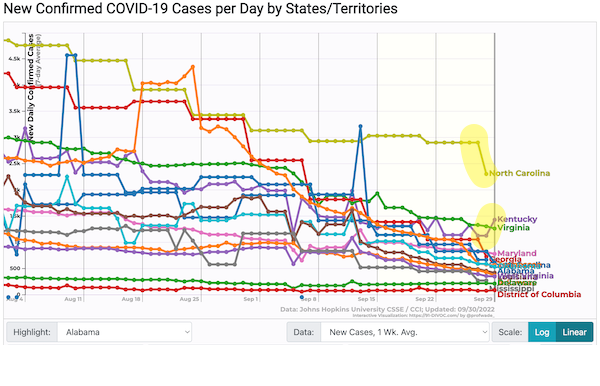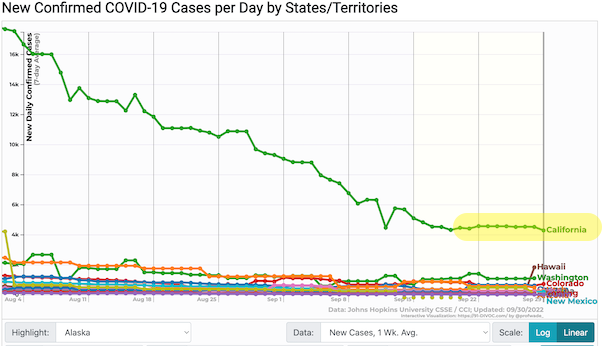 California dug its cases out of that drawer.
Wastewater
Wastewater data (CDC), September 26: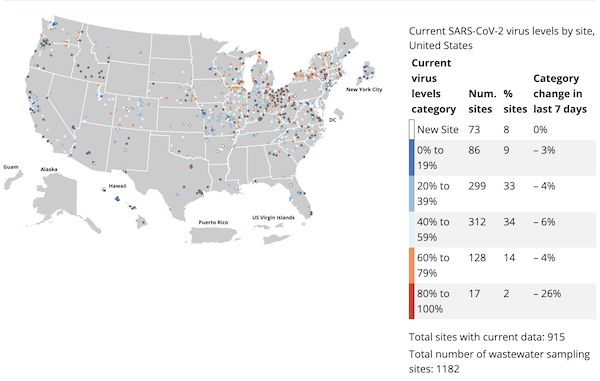 Lambert here: I'm pleased to see that there are now some live sites in New York City.
For grins, September 25: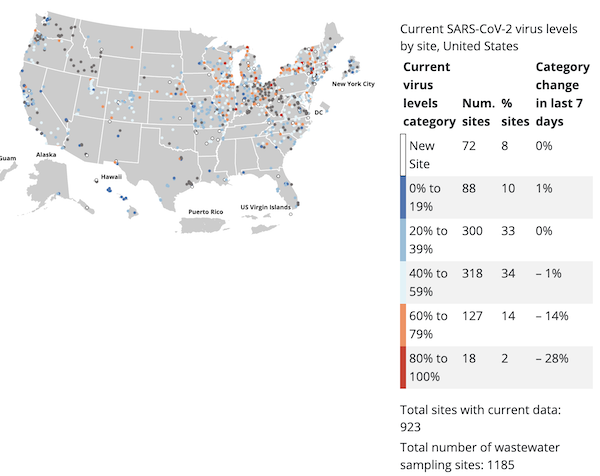 NOTE To get the CDC data pages to load, I have to turn off my VPN. Thanks for the security breach, CDC.
An alert reader suggested taking a look at the MWRA data from the Boston area, and lo and behold: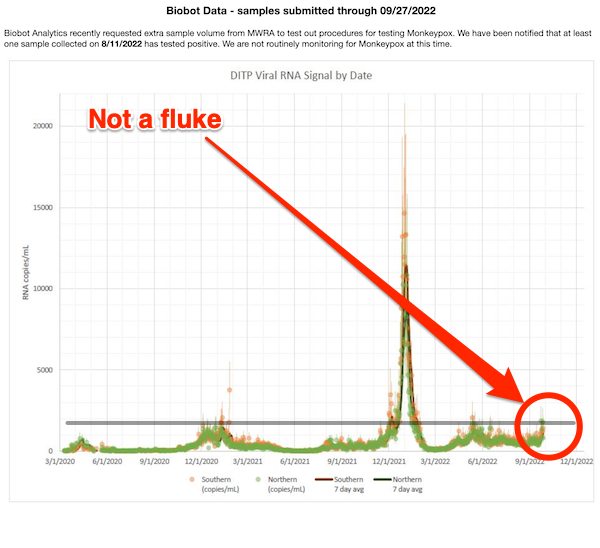 Still vertical. This is a seven-day average, mind you, so the rise is no fluke. Let us also remember that the Boston area is not only the home of many, many students, it's also a PMC center, and we have already seen one ginormous superspreader event from the conference in Boston. Boston also has a major international airport, another cause of spread.
Positivity
SITE DOWN From the Walgreen's test positivity tracker, September 21: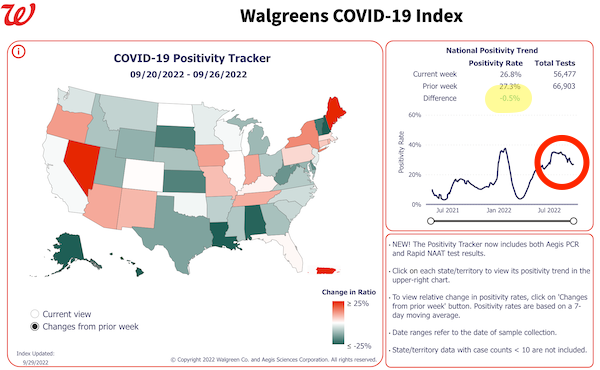 -0.5%. Not so much down, as fluky. Something seems to have nuked the layout.
Transmission
NOTE: I shall most certainly not be using the CDC's new "Community Level" metric. Because CDC has combined a leading indicator (cases) with a lagging one (hospitalization) their new metric is a poor warning sign of a surge, and a poor way to assess personal risk. In addition, Covid is a disease you don't want to get. Even if you are not hospitalized, you can suffer from Long Covid, vascular issues, and neurological issues. For these reasons, case counts — known to be underestimated, due to home test kits — deserve to stand alone as a number to be tracked, no matter how much the political operatives in CDC leadership would like to obfuscate it. That the "green map" (which Topol calls a "capitulation" and a "deception") is still up and being taken seriously verges on the criminal. Use the community transmission immediately below.
Here is CDC's interactive map by county set to community transmission. (This is the map CDC wants only hospitals to look at, not you.)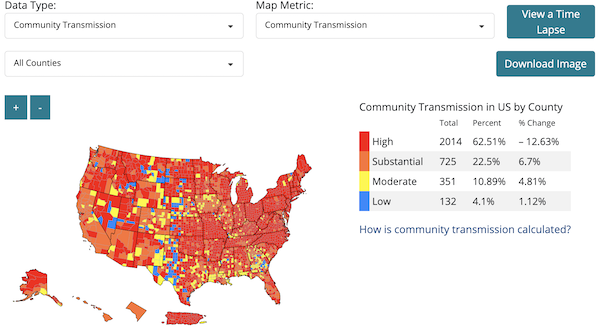 Lambert here: I have to say, I'm seeing more yellow, which continues to please.
NOT UPDATED FFS Rapid Riser data, by county (CDC), September 23: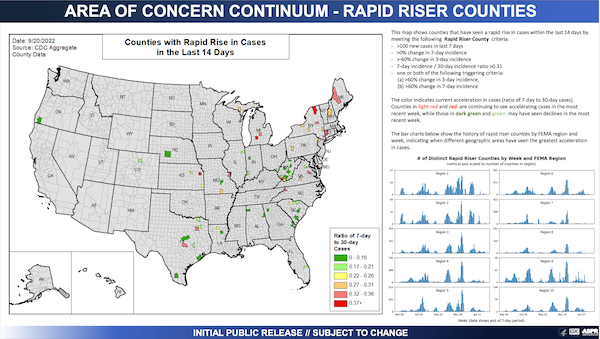 I suppose that if case counts are indeed level, it's likely there would be few rapid risers. Those two red areas in Northern Maine and upstate New York are both on the way to Quebec, Canada.
Previous Rapid Riser data: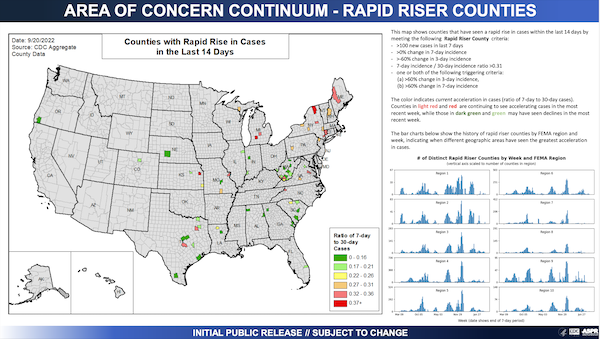 NOT UPDATED FFS Hospitalization data, by state (CDC), September 23: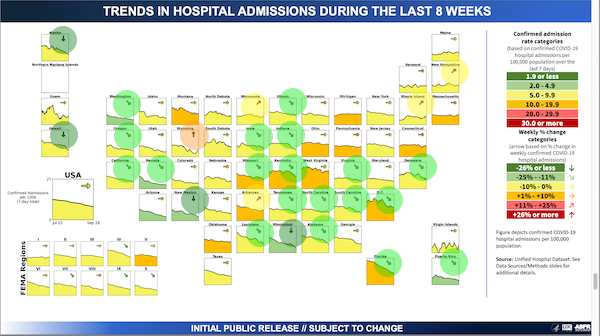 Not a sea of green.
NOTE: Rapid Riser and Hospitalization data are updated Wednesdays and Fridays. Not this week, though! Mr Covid's on vacation? So the boys and girls don't have to come into the office?
Variants
Lambert here: It's beyond frustrating how slow the variant data is. I looked for more charts: California doesn't to a BA.4/BA.5 breakdown. New York does but it, too, is on a molasses-like two-week cycle. Does nobody in the public health establishment get a promotion for tracking variants? Are there no grants? Is there a single lab that does this work, and everybody gets the results from them? Additional sources from readers welcome [grinds teeth, bangs head on desk].
SITE DOWN Variant data, national (Walgreens), September 10: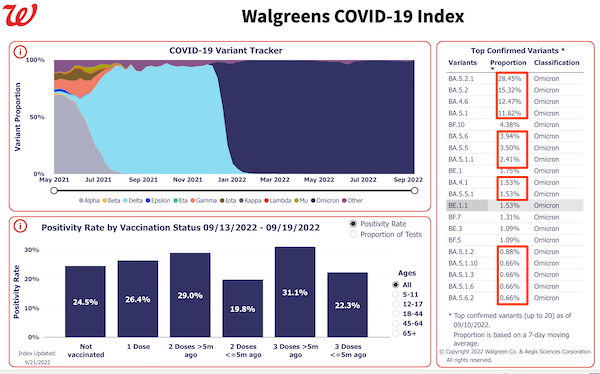 Still no sign of BA.2.75 at Walgreens, despite its appearance in CDC data below.
Variant data, national (CDC), September 10 (Nowcast off):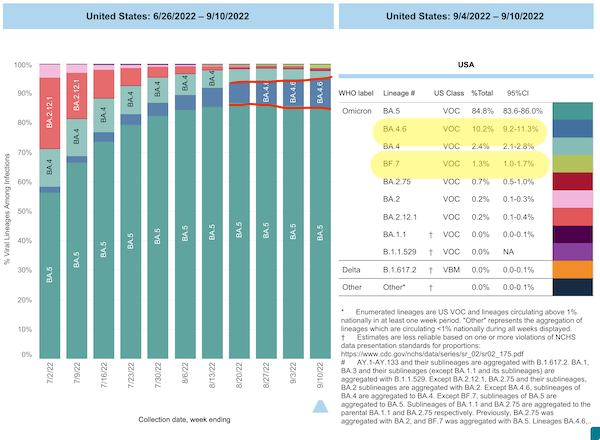 Since BA.2.75 seems neglible besides BA.4.6 and our new friend BF.7, I'm going to abandon updating the table I made for it (though I may recycle it later).
• "COVID Variant Tracker Shows BA.4.6, BF.7 on the Rise as BA.5 Cases Slowly Decrease" [NBC]. "New York is seeing nearly 15% of its COVID cases tied to the BA.4.6 subvariant, while an area of New England that includes Vermont, New Hampshire, Maine, Massachusetts, Connecticut and Rhode Island is seeing more than 3.9% of its cases caused by the BF.7 subvariant."
• "Big COVID-19 waves may be coming, new Omicron strains suggest" [Science]. "Nearly 3 years into the pandemic, SARS-CoV-2 faces a formidable challenge: finding new ways around the immunity humans have built up through vaccines and countless infections. Worrisome new data show it is up to the challenge. Several new and highly immune-evasive strains of the virus have caught scientists' attention in recent weeks; one or more may well cause big, new COVID-19 waves this fall and winter. 'We can say with certainty that something is coming. Probably multiple things are coming,' says Cornelius Roemer, who studies viral evolution at the University of Basel. Whether they will also lead to many hospitalizations and deaths is the big question. 'It's not surprising that we're seeing changes that yet again help the virus to evade immune responses,' says molecular epidemiologist Emma Hodcroft of the University of Bern, who notes that SARS-CoV-2 faces 'the same challenge that things like the common cold and influenza face every year—how to make a comeback.'" • Here's the video that goes with this story:
I didn't hear ventilation mentioned by the newscaster or the "health equity consultant." Or masks….
LEGEND: Previous CDC variant release shown in parentheses, (thus).
Not encouraging. Of course, the absolute numbers are small, but we've seen that movie before. I especially don't like the jump in Region 2, because the New York area is "spready," based on past history. Region 1, on the other hand, dropped.
Deaths
Death rate (Our World in Data):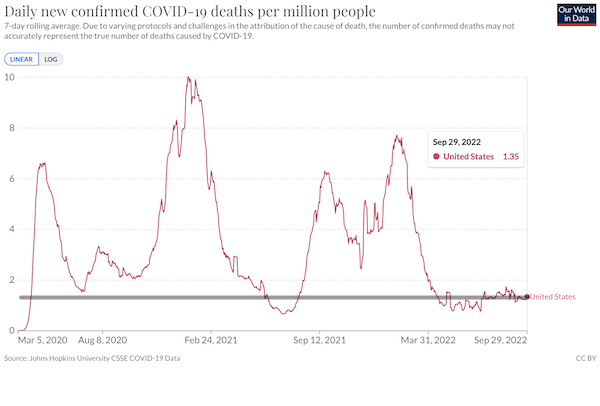 Total: 1,084,282 – 1,083,798 = 484 (484 * 365 = 176,660, which is today's LivingWith™* number (quite a bit higher than the minimizers would like, though they can talk themselves into anything. Fluctuates quite a bit, but even the low numbers are bad). I have added an anti-triumphalist black Fauci Line.
It's nice that for deaths I have a simple, daily chart that just keeps chugging along, unlike everything else CDC and the White House are screwing up or letting go dark, good job.
Stats Watch
There are no stats of enough interest today and I am in a rush.
* * *
Tech: "Google Broke Image Search for Creative Commons and Hardly Anyone Noticed/Cares" [CogDogBlog]. "Except me. As of one minute ago I confirmed what I noticed last Wednesday. According to the all seeing Google, on the entire world wide web there are but three Creative Commons licensed images of a dog." • Yikes!
* * *
Today's Fear & Greed Index: 17 Extreme Fear (previous close: 14 Extreme Fear) [CNN]. One week ago: 24 (Extreme Fear). (0 is Extreme Fear; 100 is Extreme Greed). Last updated Sep 30 at 2:15 PM EDT.
Sports Desk
"World Cup 2022: These are the COVID requirements to enter Qatar" [Al Jazeera]. "Football fans heading to Qatar for the World Cup, due to start on November 20, must show a negative COVID-19 test to enter the country, organisers have confirmed. All visitors over the age of 18 must also download Ehteraz, a contact-tracing, government-run phone application that tracks people's movements and infection status." • Let the whinging begin!
The Gallery
I love the flattened surfaces (if that's how you would describe them). Like the lamp. Almost cubist:
Horace Pippin, Sleepers, 1943 #museumarchive #themet https://t.co/TDRuqcq6r8 pic.twitter.com/xS86oQ3a8R

— Horace Pippin (@HoracePippin) September 29, 2022
Also the kid nearest the stove doesn't have a blanket.
Health Care
"Medical Debt Makes the Sick Sicker" [MedPage Today]. "We found that more than one in 10 U.S. adults — and nearly one in five households — incurred a medical debt they couldn't pay… While the uninsured had the highest rate (15.3%) of medical indebtedness, 10.5% of individuals with private coverage had medical debts — presumably due to high copayments, deductibles, and coverage denials — with Medicare Advantage enrollees having a particularly high rate. And the debts weren't trivial: they averaged $21,687 per debtor in 2018." Medicare Advantage working as designed, I see. More: " Because the Census Bureau repeatedly surveyed the same individuals over 3 years, we, unlike previous analysts (who used one-time surveys), could assess the consequences of newly acquiring medical debt. Among individuals with no medical debts in 2017, those who newly incurred such debt in subsequent years were more than twice as likely to newly become food insecure or unable to pay their rent, mortgage, or utility bill, and to be evicted or suffer foreclosure in subsequent years."
"Biogen pays $900M to settle doctor kickback allegations" [Associated Press]. "Biogen has agreed to pay $900 million to resolve allegations that it violated federal law by paying kickbacks to doctors to persuade them to prescribe its multiple sclerosis drugs, federal prosecutors said. The agreement announced Monday settles a whistleblower lawsuit brought by former Biogen employee Michael Bawduniak, according to a statement from the office of U.S. attorney for Massachusetts, Rachael Rollins. Under the terms of the settlement, Biogen will pay more than $843 million to the federal government and more than $56 million to 15 states for overbilling Medicare and Medicaid insurance programs. Bawduniak will receive a portion of the federal recovery. The Cambridge, Massachusetts-based pharmaceutical company in a statement said it settled so it can focus on 'our patients and strategic priorities' and said the settlement does not include an admission of liability." • I think these people should start admitting liability.
Guillotine Watch
CEOs behaving badly:
Disturbing audio of a pizza chain CEO ejecting a worker from a restaurant after she questions his anti-union talking points.

"You're not letting me speak," the worker says. "You're right, I'm not," responds the CEO of the Austin-based Via 313 chain. Then he escalates. pic.twitter.com/CEFNZqYk5m

— More Perfect Union (@MorePerfectUS) September 29, 2022
"Dr. Fauci and wife's wealth 'skyrocketed' by $5 million during pandemic: analysis" [New York Post]. "The couple's wealth boost was due in part to major salary increases, cash awards and royalties, according to the report. 'Fauci's soaring net worth was based on career-end salary spiking, lucrative cash prizes awarded by non-profit organizations around the world and an ever-larger investment portfolio,' [OpenTheBooks CEO Adam Andrzejewsk] said. 'He is the top-paid federal employee, his first-year golden parachute retirement pension is the largest in federal history, and he's accepting $1 million prizes from foreign non-profits, he added." • Ka-ching….
Class Warfare
 "My Family's Slave" [The Atlantic] "To our American neighbors, we were model immigrants, a poster family. They told us so. My father had a law degree, my mother was on her way to becoming a doctor, and my siblings and I got good grades and always said "please" and "thank you." We never talked about Lola. Our secret went to the core of who we were and, at least for us kids, who we wanted to be. After my mother died of leukemia, in 1999, Lola came to live with me in a small town north of Seattle. I had a family, a career, a house in the suburbs—the American dream. And then I had a slave." • "The human eye is a wonderful device. With a little effort, it can fail to see even the most glaring injustice." –Richard Morgan, Woken Furies. Well worth a read.
"How Revolutionary were the Bourgeois Revolutions?" [Reviews in History]. "The gentry and nobility who led the long English struggle for a constitutionalism to hem in the Crown – climaxing with the Civil wars of 1640s and more durably with the 1688 Glorious Revolution – may well have been capitalist, in so far as their income derived from farming organised for exchange and profit – but they were in no more a 'bourgeoisie' than the nineteenth-century Prussian Junkers who likewise organised their estates on a commercial basis. Honour, status, and politicking remained their primary determinants of existence. As for the bourgeoisie proper, unless engaged in the American trade most merchants supported the royalists in the Civil Wars. The intentions of the Roundheads in the English Civil War did not differ so radically from the aristocrat-led rebels of the Fronde. We can legitimately see the English Civil Wars as part of a general crisis of the 17th-century world. The French Revolution, in contrast, certainly was made by a bourgeoisie, but not a particularly capitalist one. Many were tax-farmers, lawyers, civil servants, and so on, and those few engaged in living by commerce or industry generally had little time for subversion. Karl Kautsky [of blessed memory], the chief theorist of Marxism in the generation after Marx and Engels, made just this point in a book published for the Revolution's centenary: those pre-1789 French bourgeoisie most directly engaged in capitalist enterprise were the least likely to be anti-royalist revolutionaries. Bourgeois modernity, therefore, was not usually an outcome of the middle classes taking over the state. It might be seen as emerging somewhat adventitiously from a conflict between two established social forces. The aristocracy tended to favour a representative parliamentarianism that would inhibit the executive state from interfering with the laws, privileges and rights of the propertied. The crown, for its part, struggled to subordinate over-mighty magnates, open landed estates to the law of the realm, and encourage the prosperity of taxable commerce and trade." • In a way, it's too bad that Capital started from (presumed) first principles, and not at the end (where the classes turn out to be bourgeioisie, rentiers, petty bourgeiosie (on whom the Bearded One really punts), and the working class. (And no peasants?) Anyhow, this 800+ page tome really does look interesting…
News of the Wired
"Hurricane Ian uproots Dali Museum's Wish Tree" [Florida Politics]. "The St. Petersburg Dali Museum's beloved Wish Tree has fallen victim to the powerful winds brought by Hurricane Ian on Wednesday. The tree, woven with over 20,000 handwritten wishes, has stood in the museum's Avant-garden for nearly 11 years. The tree holds wishes among visitors of the museum, written by guests on wristbands tied to the branches. Although Hurricane Ian was the ultimate force behind the tree's uprooting, the museum had already been planning on replacing it, according to the Tampa Bay Times. Hurricane Irma also took its toll on the tree in 2017, leaving it reliant on support crutches and anchors." • From the headline, I thought the tree has something to do with Dali. One hesitates to imagine what kind of wishes he would have written.
* * *
Contact information for plants: Readers, feel free to contact me at lambert [UNDERSCORE] strether [DOT] corrente [AT] yahoo [DOT] com, to (a) find out how to send me a check if you are allergic to PayPal and (b) to find out how to send me images of plants. Vegetables are fine! Fungi and coral are deemed to be honorary plants! If you want your handle to appear as a credit, please place it at the start of your mail in parentheses: (thus). Otherwise, I will anonymize by using your initials. See the previous Water Cooler (with plant) here. From CF: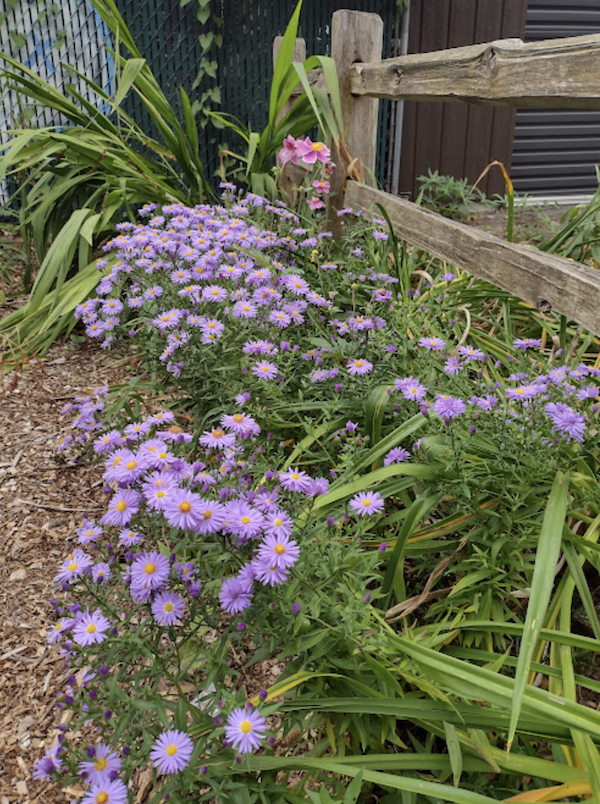 CF writes: "These asters just started blooming, very last gasp of summer, at the butterfly patch in our local community garden. It's been another very confusing year for the plants."
* * *
Readers: Water Cooler is a standalone entity not covered by the annual NC fundraiser. So if you see a link you especially like, or an item you wouldn't see anywhere else, please do not hesitate to express your appreciation in tangible form. Remember, a tip jar is for tipping! Regular positive feedback both makes me feel good and lets me know I'm on the right track with coverage. When I get no donations for five or ten days I get worried. More tangibly, a constant trickle of donations helps me with expenses, and I factor in that trickle when setting fundraising goals:
Here is the screen that will appear, which I have helpfully annotated: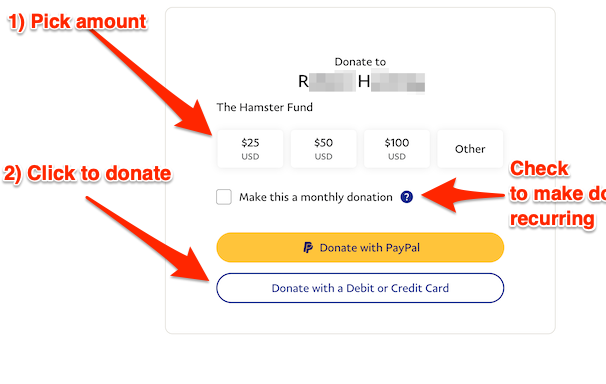 If you hate PayPal, you can email me at lambert [UNDERSCORE] strether [DOT] corrente [AT] yahoo [DOT] com, and I will give you directions on how to send a check. Thank you!