This is Naked Capitalism fundraising week. 573 donors have already invested in our efforts to combat corruption and predatory conduct, particularly in the financial realm. Please join us and participate via our donation page, which shows how to give via check, credit card, debit card, or PayPal. Read about why we're doing this fundraiser, what we've accomplished in the last year,, and our current goal, rewarding our guest bloggers.
As we've said, the freight train of energy shortages is bearing down on Europe. Most of its leaders seem in denial about how bad the impact will be. Mind you, some do understand:
"A few weeks like this and the European economy will just go into a full stop," Belgian Prime Minister Alexander De Croo said in an interview with Bloomberg News.

"The risk of that is de-industrialization and severe risk of fundamental social unrest."https://t.co/4dXkgOGqMX

— Javier Blas (@JavierBlas) September 8, 2022
'
But you wouldn't get it from the tone and expected substance of an emergency EU energy meeting set for Friday. Politico reported yesterday on the main proposals from the European Commission. Some countries were miffed, since this leak was obviously intended to give EU Commission President Ursula von der Leyen more control over the debate. From EU countries split on von der Leyen's energy crisis ideas in Politico:
Von der Leyen proposed five "immediate" moves to help tame Europe's energy emergency:

— Setting a price cap on Russian gas;

— Mandatory measures to reduce electricity demand during peak hours;

— A cap on the "enormous revenues" some companies are making by generating electricity from lower cost sources than gas. These "unexpected profits" would be redirected to help consumers;

— A solidarity tax on fossil fuel companies making big profits, again with the funds sent to help ease the pain for consumers and businesses

— Facilitating funding support for ailing utility companies struggling to pay for supplies on the market.
The article said only two measures had broad support. The first was funding support for utility companies. The excuse is that they are having to pay " sky-high collateral cash needed to trade on energy exchanges." That conveniently omits that many of these utilities are in serious trouble, as we wrote a few days ago, due to bad derivative bets. Generally, the problem was they went short, as in bet prices would fall, and instead they went to the moon. It's hardly a secret that this is the big reason they are in financial pain:
European governments are patching together emergency measures to support utilities amid fears that companies will buckle under the weight of growing margin calls https://t.co/76OjR4Gr98

— Bloomberg Markets (@markets) September 6, 2022
These utilities are too big to fail entities. European officials can't let them collapse in the middle of a crisis. As we predicted, the energy company rescues would be first in the bailout line, ahead of support to households and businesses.
The second proposal that looks set to secure easy agreement is what amounts to an excess profits tax on energy companies that are low cost providers.
However, when the EU's priority should be to avert a disaster, it remains fixated on hurting itself to try to hurt Russia:
The most controversial issue is the Russian price cap — largely aimed at punishing the Kremlin financially for the war in Ukraine — with capitals having "very contradictory views," one EU diplomat said.

Germany has said it is "skeptical" about the idea. Hungary, Russia's closest EU ally, is against it, as is Slovakia and at least two other countries, diplomats said.

Others, including Poland and Italy, want the Commission to go further and cap the price of all gas imported into the EU. Von der Leyen said this was something the Commission was "looking at" — but Brussels has broadly been against the idea in its assessments so far, which would be much more complex than singling out Russian gas.
The Financial Times, in a later report, explains the logic, such as it is, of a full bore price gas price cap:
Brussels is facing pressure from at least 10 EU countries to implement a cap on gas prices for all suppliers, with some governments warning that singling out Russia could push President Vladimir Putin to cut supplies to Europe completely.
Now this may be a bureaucratically clever way of stopping the Russian price cap by taking the idea to an internally-consistent-looking conclusion. Or they could be dead serious.
We hate to have to keep repeating the obvious. First, Russia has said it will not sell gas or oil to any countries that try to impose non-market prices. Second, the EU's earlier plans to cut Russian gas use by 2/3 by year end were deemed to be pie in the sky. From CNBC in June:
The EU plans to replace two-thirds of Russian gas imports by the end of the year, as Russia's war in Ukraine continues to wage on….

However, the EU's current plan to replace Russian gas looks to fall short.

In 2021, the EU imported around 155 billion cubic meters (bcm) of natural gas from Russia. The bloc's proposed gas replacements by the end of 2022 – which include LNG (liquefied natural gas) diversification, renewables, heating efficiency, pipeline diversification, biomethane, solar rooftops and heat pumps – amount to around 102 bcm annually, according to data from the EU Commission's REPowerEU, aggregated in a recent report from economic consultancy TS Lombard.

Christopher Granville, managing director for EMEA and global political research at TS Lombard, said in the report that the European Commission's aims to replace Gazprom's gas this year look "wildly optimistic."

"Apart from implementation timings of commissioning German LNG-receiving terminals, Russia is also an important supplier of LNG, underlining the challenge for Europe of sourcing adequate LNG supplies," Granville said.
Let us also remember that Europe came up largely empty-handed in its LNG appeals to Qatar and Canada, and the US has been quietly undersupplying Europe to keep prices in the US down.
By way of an update, Alex Christoforu provided this screenshot (at 14:25) showing the EU was currently getting 37.2% of its former Russian gas levels.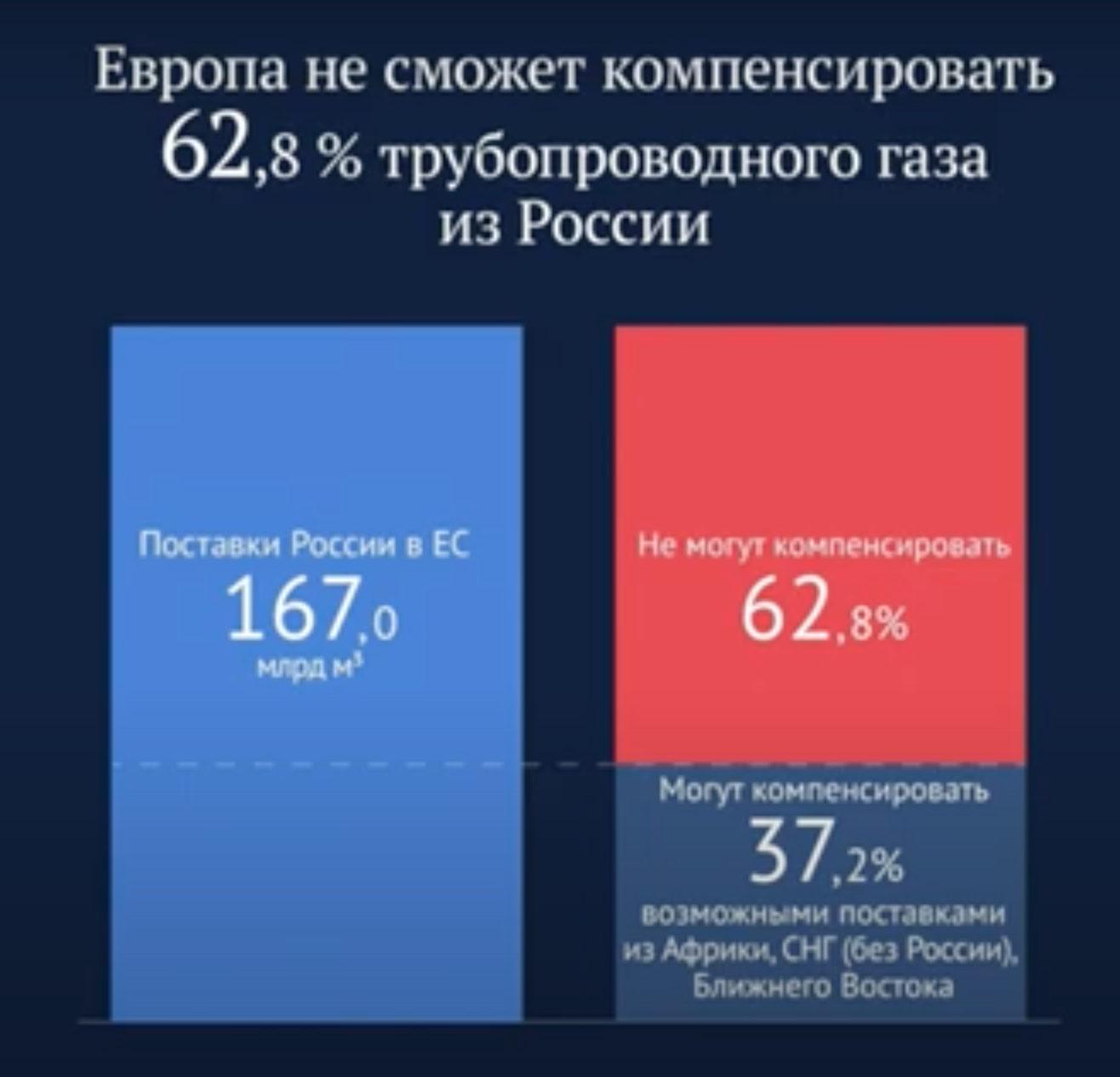 The Financial Times story above makes an unsourced claim that Russian gas supplies are down 80%. The difference between the two estimates may depend on the baseline used, since I've seen some marked differences.
And remember massive stockpiling was also part of the EU scheme.
Third, Russia keeps reminding the EU that this mess is their doing, but the press and Twitterati dutifully repeat the party line that it's the evil Putin who is strangling Europe. Putin again offered to open Nord Stream 2 to supply Europe with gas. From a machine translation of Putin's answer in the Q&A after his speech at Eastern Economic Conference:
Vladimir Putin: Nord Stream 1 is practically closed now, and everyone is saying: "Russia is using this energy weapon." Another nonsense and nonsense. What weapon do we use? We supply as much as our partners need, as much as they place an order – we fulfill as much. We do not deliver somewhere in the air, but on demand. The application has been submitted – we are executing.

What happened? Two strings of the gas pipeline across Ukraine, Ukraine, on its own initiative, took and turned off one thread under the far-fetched pretext of lack of control over it. They closed themselves. We didn't close it, Ukraine closed it. Once.

The second pipeline system "Yamal – Europe" through Poland. Poland took and put this gas pipeline under sanctions, and closed it. Have we done this? The Poles closed. The Ukrainians closed, the Poles closed.

Nord Stream 1. Our German partners have subordinated the entire technical side of Nord Stream 1, the maintenance of gas-compressor turbine units, to British law, because it turns out – I didn't know this myself, Alexei Borisovich [Miller] reported to me – the contract for servicing these units produced by the company Siemens Gazprom was forced to conclude not with the central office of Siemens, but with a subsidiary in the UK, which put Gazprom under sanctions, and it was agreed to repair these turbines at the Siemens plant in Canada.

And what are we doing here? Canada took, in the end, at the numerous requests of Germany, gave it to Germany, and under an agreement with a daughter of Siemens in the UK, the turbines should be sent directly to St. Petersburg. Logistics has changed – you need to make changes to the contract. The British subsidiary of Siemens does not even respond to requests from Gazprom.

Here you can take as many pictures as you like against the background of this turbine, but give me the documents, in the end. This is our property. We must understand the legal status of this property and its technical condition. They give nothing but general conversations.

The last turbine is now out of order, and Siemens representatives came and looked, an oil leak is taking place there, an explosive situation, a fire hazard. Of course, the turbine cannot work like that. Give us turbines, we will turn on Nord Stream 1 tomorrow. They don't give anything. They say they use it as a weapon. What weapon? They themselves have done things, now they do not know what to do with it. They drove themselves into the so-called sanctions impasse.

Exit one. In Germany, we now see demonstrations going around demanding the inclusion of Nord Stream 2. We share these demands of consumers in Germany, we are ready to do it tomorrow, all you need to do is press a button, but we did not impose sanctions on Nord Stream 2. They did it under pressure from the Americans, and why are they pressing? Because they want to sell themselves, at exorbitant prices. We know the position of the previous [American] administration as well. They said: "Yes, we sell more expensive. Let them buy because we protect them." Let them buy if they want. We will sell our product.
It has also not been widely acknowledged that Gazprom has increased shipments via the one open Ukraine pipeline to partly offset the Nord Stream 1 reduction.
Back to the von der Leyen proposals. One was "Mandatory measures to reduce electricity demand during peak hours." But at least four countries are opposed to having the cuts be mandatory. And even if that measure is forced through, how will it be enforced? I doubt that smart meters are common enough in the EU for utilities to limit how much users consume at peak times.
This site and others pointed out that the EU electricity pricing/trading system was making this bad situation worse, but we doubted there was a simple remedy, and an overhaul would be difficult and time consuming even in ordinary circumstances. The idea was shot down, but without an official explanation. Again from Politico:
Poland's call to reform the Emissions Trading System, which it blames for jacking up energy prices, was a non-starter for Luxembourg, Ireland, Germany, Finland and Sweden, said a senior diplomat.
Again, absent Europe relenting and taking up the Russia Nord Stream 2 offer, there's no way out of a huge economic crisis even before winter is in full swing. Another example of unforeseen consequences: Important chemicals for water purification could soon be missing in Germany from Germany Detail Zero, a transcription and rough translation of a Die Welt podcast:
Due to high energy costs, the so-called precipitating agents are also becoming scarce: iron or aluminum salts, which are urgently needed in sewage treatment plants. In some federal states, the environment ministers are already allowing limit values ​​to be exceeded.

Due to the energy crisis, sewage treatment plants nationwide lack the means to clean the wastewater – with possibly fatal consequences for rivers, reports the magazine "Spiegel". Chemical companies can therefore currently hardly supply precipitants.

During chemical water purification, the iron or aluminum salts bind dissolved phosphates in the waste water and prevent these nutrients from getting into rivers and canals in excessive concentrations with the treated waste water. Without any precipitants, municipal sewage treatment plants are forced to discharge wastewater with a high phosphate content and exceed limit values.

This could endanger the stressed German waters in some places after the dry summer and trigger uncontrolled growth of algae. Phosphates are fertilizers for algae. If there is a strong algal bloom, waters tip over due to insufficient oxygen content and living beings die, the magazine continues.
And we don't see European official even remotely grasping that energy will be rationed, either by prices (with resulting business failures and cutbacks constituting a large part of lowering demand to match supply) or explicit schemes, like hard usage caps and setting priorities among customers. We're already seeing some ugly measures starting:
first shock therapy move in Romania, applauded by Western Europe – liberalise imported energy prices and liberalise exchange rates, deadly combo for local state-owned industries. https://t.co/r2rTAtWdeH

— Daniela Gabor (@DanielaGabor) September 9, 2022
The fact that the EU isn't even close to discussing hard choices in a serious way shows how far behind the eight ball they are.