Generous readers:
Yves is wrapped around the axle on estate matters, along with posting on Putin's partial mobilization speech, and asks me to tell you that this year's fundraiser is now over — although, for extreme procrastinators, the Tip Jar is still to your right — and to think you for the contributions that alone make Naked Capitalism possible. Yves will express her thanks more gracefully and completely at a less fraught time. –lambert
* * *
Lambert and I, and many readers, agree that Ukraine has prompted the worst informational environment ever. We hope readers will collaborate in mitigating the fog of war — both real fog and stage fog — in comments. None of us need more cheerleading and link-free repetition of memes; there are platforms for that. Low-value, link-free pom pom-wavers will be summarily whacked.
And for those who are new here, this is not a mere polite request. We have written site Policies and those who comment have accepted those terms. To prevent having to resort to the nuclear option of shutting comments down entirely until more sanity prevails, as we did during the 2015 Greek bailout negotiations and shortly after the 2020 election, we are going to be ruthless about moderating and blacklisting offenders.
–Yves
P.S. Also, before further stressing our already stressed moderators, read our site policies:
Please do not write us to ask why a comment has not appeared. We do not have the bandwidth to investigate and reply. Using the comments section to complain about moderation decisions/tripwires earns that commenter troll points. Please don't do it. Those comments will also be removed if we encounter them.
* * *
Earth's ant population of 20 quadrillion outnumbers humans by 2.5 million times, study finds NBC
Bees may feel pain Science
How Do Fireflies Flash in Sync? Studies Suggest a New Answer Quanta. Interesting! This photo is so beautiful I must run it: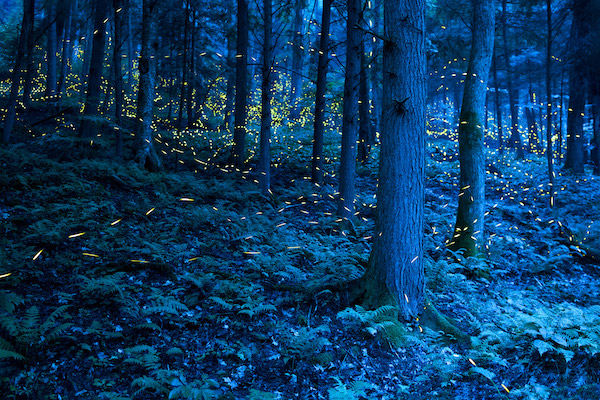 (Credit: Jason Gambone Photography)
Private equity may become a 'pyramid scheme', warns Danish pension fund FT
Climate
Shell's Internal Emails Show Just How Cynical Oil Companies' Emissions Promises Are The New Republic

How oil companies endlessly avoid cleanup costs High Country News

* * *

Clearing Pollution Helps Clear the Fog of Aging — And May Cut the Risk of Dementia KHN

The US Is Measuring Extreme Heat Wrong Wired

How a Quebec Lithium Mine May Help Make Electric Cars Affordable NYT

Vultures Prevent Tens of Millions of Metric Tons of Carbon Emissions Each Year Scientific American

* * *

Meanwhile, at the World Bank:

🌎🔥 Today I asked World Bank president @DavidMalpassWBG if he believed in the scientific consensus that the man made burning of fossil fuels is rapidly and dangerously warming the planet.

"I'm not a scientist," he said.

Here's a thread about the remarkable exchange. 🧵 1/ pic.twitter.com/t0nQheybzi

— David Gelles (@dgelles) September 20, 2022

Water

Jackson, Mississippi, residents sue officials over water crisis ABC

#COVID19

Three myths about COVID-19 — and the biggest challenge that lies ahead ABC. "As an immunologist with four decades of research on antibodies under my belt, I always felt like I had a pretty good handle on COVID-19. But when I caught the virus in May, my hubris quickly turned into humility." Well worth a read.

China?

China's extreme weather challenges scientists trying to study it Nature

China and United Arab Emirates agree on joint lunar rover mission South China Morning Post

Shanghai Cooperation Organization meeting in Samarkand: first conclusions Gilbert Doctorow

The SCO's Clumsy Push to Disrupt the World Order Walter Russell Mead, WSJ

Myanmar

Witnesses: Myanmar air attack kills 13, including 7 children AP

The End of Kleptocracy in Malaysia? Center for International and Stategic Studies

India

How the Pandemic Exacerbated Identity-Based Discrimination in India's Labour Market The Wire

Syraqistan

How Israeli media reported a 'lynching' that never happened +972

Israeli Forces Deliberately Killed Palestinian American Journalist, Report Show The Intercept

Old Blighty

And now our queue is ended:

i've been taking some notes pic.twitter.com/AHRF8OO8zf

— thomas 🍌 (@perfectsweeties) September 19, 2022

* * *

Leicester shows Hindu nationalism is no longer confined to India The New Statesman

European Disunion

Putin's Energy War Is Crushing Europe Foreign Policy. Makes you wonder "Why now?" on partial mobilization.

In Germany, energy price shock triggers fears of insolvency wave Reuters

Szijjarto: Brussels position on Ukraine war not shared by most countries The Budapest Times

New Not So Cold War

* * *

Biden Administration

Biden declared the pandemic 'over.' His Covid team says it's more complicated. Politico. "When the White House reviewed a transcript of [Biden's] comments after the interview, which was taped earlier in the week, it did not alert its Covid team — leaving the administration without a coordinated response for the immediate aftermath." West Wing Brain Fog?

Stoller live-blogging Kahn's testimony before the Senate Judiciary Committee:

Khan: "There has been a problem of companies taking FTC orders as suggestions."

— Matt Stoller (@matthewstoller) September 20, 2022

Judge signs off on UnitedHealth-Change deal, rejects DOJ challenge Becker's Hospital Review (Otis B Driftwood). Commentary:

The United Healthcare-Change merger trial is little noticed, but it's critical to block it to protect independent pharmacies and rural health. Matt Seiler of the National Community Pharmacists Association and I wrote this piece on the threat. https://t.co/c7mnO2Uu4a

— Matt Stoller (@matthewstoller) September 1, 2022

Intelligence Community

America's Open Wound Ed Snowden, Continuing Ed. Well worth a read.

Secret Documents Have Exposed the CIA's Julian Assange Obsession Jacobin

Big Brother Is Watching You

MTA to install 2 surveillance cameras on every subway car Gothamist

Tracked: How colleges use AI to monitor student protests Dallas Morning News

Supply Chain

Shipping: liners swimming in money but supply chains sinking Hellenic Shipping News

Video: Two Massive Fires Hit Refinery Complex in Venezuela Maritime Executive. Odd.

The Bezzle

Human Trafficking's Newest Abuse: Forcing Victims Into Cyberscamming Pro Publica

Imperial Collapse Watch

Toward a Phenomenology of the U.S. Alliance System: Boon or a Scourge on America's National Interest? Institute for Peace and Diplomacy

US is becoming a 'developing country' on global rankings that measure democracy, inequality The Conversation

Nation's field grades begin annual fiscal year migration away from food Duffel Blog

Class Warfare

* * *

The 32nd First Annual Ig Nobel Prize Ceremony Improbable Research

Antidote du jour (via):

See yesterday's Links and Antidote du Jour here.