By Lambert Strether of Corrente
Bird Song of the Day
Philadelphia Vireo, Massawepie Boy Scout Camp, St. Lawrence, New York, United States. "Other Behaviors: Be Displaced, Emit Agonistic Call." I originally read "agonistic" as "agnostic." Anyhow, makes me feel like rain is coming.
* * *
Politics
"But what is government itself, but the greatest of all reflections on human nature?" –James Madison, Federalist 51
"Here's food for thought, had Ahab time to think; but Ahab never thinks; he only feels, feels, feels" –Herman Melville, Moby Dick
"The logic of the insult and the logic of scientific classification represent the two extreme poles of what a classification may be in the social world." –Pierre Bourdieu, Classification Struggles
Biden Administration
"Biden officials worry pandemic exhaustion could lead to bad covid winter" [WaPo]. How can people be "exhausted" with something that's already over? "[T]he administration is bracing for 30,000 to 70,000 additional casualties despite public health experts' insistence that most of those deaths can be avoided with vaccinations and antiviral treatments." • Not if BQ.1* takes over….

"Scoop: White House prepares for post-midterm turnover" [Axios]. ": White House Chief of Staff Ron Klain has tapped former administration officials Jeff Zients and Natalie Quillian to help oversee a wide talent search effort outside the administration to bring in new talent, an administration official told Axios." • "Jeff Zeints… bring in new talent." To quote the twisted Mentat Piter De Vries from Dune: "Oh, my! This is almost too rich!"
2022
* * *

"A second railroad union votes down Biden's tentative agreement" [NPR]. "A second railroad union voted on Wednesday against ratifying the tentative agreement brokered between the railroad managers, unions and members of President Joe Biden's administration. The move increases the possibility of a strike in November that would endanger the national supply chain if a deal is not reached. The Brotherhood of Railroad Signalmen, which represents over 6,000 workers in the United States, announced that its members voted to reject the tentative agreement, sending the union back to the bargaining table with management. In a statement, union president Michael Baldwin notes that it's the first time the union has voted against ratifying an agreement. Sick leave policies continue to be at the center of talks. Unions argue current policies don't allow workers to take personal or sick time off. While the presidential emergency board (PEB) appointed by President Biden negotiated increases in wages, it did not address the leave policies." • Big opportunity for Biden to do the right thing here. But since this is the stupidest timeline…

"Fundamentals Favor Republicans" [Amy Walter, Cook Political Report]. "[W]ith less than two weeks until Election Day, it looks as if the fundamentals — an unpopular president, deep frustration with the status quo, and stubborn inflation — are ultimately going to define this midterm. For Democrats, voter opinions about the economy are the most challenging to overcome. Not only are voters expressing frustration and pessimism with the state of the economy, but they give Biden low marks on his handling of the issue and see Republicans as better able to tackle inflation. The recent CNBC All-America Economic survey found that while voters were slightly less negative than they were earlier this summer in their perceptions of both the president and the economy, a significant majority (61 percent), remain pessimistic about the current state of the economy and doubt it will improve over the next year. Regarding who voters trusted to 'bring down inflation,' Republicans had a 15-point advantage (42-27 percent). Moreover, the CNBC poll found that while 'threats to democracy' is the No. 1 issue for Democrats, and 'immigration and border security' is top for Republicans, 'for independents, inflation is the leading concern, and little else registers.' In other words, Democrats may be mobilizing their voters with calls to protect democracy and abortion rights, but independent voters are much more focused on their cost of living concerns. There's little that Democrats can do between now and Election Day to make that economic squeeze feel less significant. At the same time, we also know that our deeply polarized electorate has limited the shape and the scope of the political playing field. Getting a huge 'wave' is harder when there are few partisan defectors and even fewer swing districts. In other words, one Democratic pollster told me the other day; things look merely 'dire' for Democrats instead of 'catastrophic.' Dire, this person told me, means a GOP gain of up to 20 House seats, but continued Democratic control of the Senate." • In my more optimistic moments, I've thought that a House loss would at last clean out the Pelosis of this world. Unfortunately, since the Progressive Caucus just showed itself to be completely useless, indeed not only cowardly but throwing its staff members under the bus, I'm not sure how much difference that would make.

"Biden vows 'breathing room' for families going into midterms" [ABC]. • "Breathing room"? That's it? This is the Democrat pivot to an economic message? Really?

* * *

GA: "New Woman Alleges Herschel Walker Urged Her to Have Abortion" [Daily Beast]. • I would bet voters have priced this in.

PA: Post-debate, mind you:

Today I'm grateful to receive the endorsement of the Pennsylvania Professional Fire Fighters Association, representing our brave firefighters + first responders

I look forward to partnering with their members to protect the Union Way of Life in the U.S. Senate 💪

— John Fetterman (@JohnFetterman) October 26, 2022

People love the firefighters….

PA: "John Fetterman's TV debate was disastrous – but he can still beat Dr Oz" [Guardian]. "ohn Fetterman can still become the next senator from Pennsylvania, the Democrat who safeguards their fragile majority. He is effectively tied or leads in many reputable polls, and he's been a prodigious fundraiser throughout the race. Few left-leaning Democrats, in such foreboding terrain, have engineered a coalition this formidable. All of this must be stated outright because Fetterman's lone televised debate performance was disastrous. In May, he suffered a stroke, and he could not speak consistently and coherently on Tuesday against his Republican opponent, Dr Mehmet Oz. While partisans online defended his speaking style and pleaded for empathy – all victims of health calamities certainly deserve it – it was inarguable that Fetterman struggled, and even sympathetic observers acknowledged a debate format was a steep challenge. Fetterman is simply not the candidate he was before his stroke. But he can recover, and probably will – with a strong medical team, a well-heeled politician can regain the functions he lost. Fetterman's speech and auditory processing are impaired, but not his cognition. Staff can certainly assist him with his Senate duties if he manages to get to Washington next year." • I suppose it could matter what your baseline for "cognition" might be. DiFi? (I find it hard to comment on this story because the dog I have in this right is not Fetterman but his "every county" campaign strategy. Also I have strong defenses against symbol manipulation, in the forms of (1) never trusting video (as opposed to transcripts) and (2) not making armchair diagnoses (based on the long-forgotten Terry Schiavo controversy). However, my defenses may be working against me in this particular case.

PA: "Framing Disability as Disqualification in Fetterman/Oz Debate" [FAIR]. "In one of the most cringe-worthy examples of post-debate punditry, CNN Tonight (10/25/22) spent its entire panel on the debate critiquing Fetterman's performance and questioning his mental capacities, with virtually no discussion of the two candidates' actual policy positions and how well they align with voters' interests." • I think ableism is a silly frame, since (say) being wheelchair-bound isn't the same as having lost cognitive function. I mean, we don't vote for DiFi because she has, well, bad days, but for other reasons.

TX: "As early voting begins, pressure is on for Beto O'Rourke to close the gap with Greg Abbott" [Texas Tribune]. "The Democratic nominee for governor is entering the final stretch of his third campaign in six years with the odds stacked against him. As early voting begins Monday, Republicans are salivating at the prospect of delivering a knockout punch to his political career, while Democrats are hoping they can prove the polls wrong by turning out a new electorate aligned against GOP Gov. Greg Abbott…. While O'Rourke has worked to energize Democrats on issues like abortion access and broken fundraising records, he has trailed Abbott by at least mid-single digits in almost every likely voter poll in recent months, including the latest survey released Friday in which the gap widened to 11 points. O'Rourke has shrugged off the deficits, saying polling does not fully capture new voters — and that polling underestimated him in his 2018 race against U.S. Sen. Ted Cruz anyway. But Abbott's lead has proven more consistent than Cruz's — one of several differences with the near-miss loss in 2018 that made O'Rourke a star." • A "near-miss" loss made Stacey Abrams a star, too…

TX: "How Years of Organizing Put Drug Reform and Diversion on the Ballot in Central Texas" [BOLTS]. "Organizing by Mano Amiga since last summer has helped turn this November's elections into a referendum on both marijuana decriminalization and pretrial diversion in Hays County. Activists with Mano Amiga gathered enough signatures to put a measure on the ballot this year that would end citations and arrests for possession of up to four ounces of marijuana in the city of San Marcos, the county seat and home to one of the state's largest public universities. This politically competitive county is also voting for a new DA. Mau is retiring, and the race to replace him could pave the way for the kind of pretrial diversion program that local activists have demanded, and officials have promised, for years. While GOP nominee David Puryear echoes the anti-reform, tough-on-crime rhetoric of state and national Republicans, Democratic nominee Kelly Higgins vows a 'sea change' in the county. He has promised to decline prosecution of cannabis possession and at last implement a cite-and-divert program for other low-level charges. Higgins would also add to the growing roster of reform-minded officials in Hays County, the fastest growing county in the nation—a reflection of the larger population boom in the I-35 corridor between San Antonio and Austin. Some of those officials attended and spoke at a 'Reeferendum Fest' Mano Amiga activists threw earlier this month to drum up attention to the ballot measure in San Marcos—including County Judge Ruben Becerra, a Democrat first elected to lead the county in 2018 on a platform of criminal justice reforms and who is seeking re-election this year."

* * *
2024
"Trump to rally in Iowa ahead of Nov. 8 as he teases 2024" [Associated Press]. "The event, set for Nov. 3 in Sioux City, the hub of Iowa's conservative northwest, comes as Trump has continued to tease interest in a White House comeback campaign as he has campaigned around the country for Republican candidates. Returning to Iowa, where the 2024 Republican presidential caucuses are scheduled to launch the GOP nominating sequence, would likely further stoke speculation of Trump's future. 'In order to make our country successful, safe and glorious again, I will probably have to do it again,' Trump said in Robstown, Texas, on Oct. 22. The Iowa event is part of Trump's rally tour in the home stretch of the 2022 campaign. It is also expected to include stops in Pennsylvania and Ohio." • Glorious? I'd settle for mere functionality.
Democrats en Déshabillé
Patient readers, it seems that people are actually reading the back-dated post! But I have not updated it, and there are many updates. So I will have to do that. –lambert

I have moved my standing remarks on the Democrat Party ("the Democrat Party is a rotting corpse that can't bury itself") to a separate, back-dated post, to which I will periodically add material, summarizing the addition here in a "live" Water Cooler. (Hopefully, some Bourdieu.) It turns out that defining the Democrat Party is, in fact, a hard problem. I do think the paragraph that follows is on point all the way back to 2016, if not before:

The Democrat Party is the political expression of the class power of PMC, their base (lucidly explained by Thomas Frank in Listen, Liberal!). ; if the Democrat Party did not exist, the PMC would have to invent it. . ("PMC" modulo "class expatriates," of course.) Second, all the working parts of the Party reinforce each other. Leave aside characterizing the relationships between elements of the Party (ka-ching, but not entirely) those elements comprise a network — a Flex Net? An iron octagon? — of funders, vendors, apparatchiks, electeds, NGOs, and miscellaneous mercenaries, with assets in the press and the intelligence community.

Note, of course, that the class power of the PMC both expresses and is limited by other classes; oligarchs and American gentry (see 'industrial model' of Ferguson, Jorgensen, and Jie) and the working class spring to mind. Suck up, kick down.

* * *

"Democrats Debate Themselves: Why Do We Suck?" [Politico]. "Twelve days before the election, Democrats have yet to lose the House or Senate, or confront the dire, your-lab-results-are-back-and-the-doctor-needs-to-see-you implications for a progressive agenda. Plenty of prominent party voices, however, believe it's best to prepare in advance. It is one of the more notable features of the 2022 midterms — the readiness to perform an autopsy on a living patient. Many Democrats believe there is already sufficient evidence to make the question unavoidable: What the hell is our problem?" • As I write above: "[T]he Democrat Party is as 'unreformable' as the PMC is unreformable."

Gabbard nails it on the "sternly worded letter" the Progressive Caucus wrote on Ukraine, after which, like puppies, they promptly rolled on their backs, exposed their bellies, and widdled:

It's now clear to everyone that the so-called "progressive" wing of the Democratic Party lacks the courage and compassion required to stand up to the warmongers who own/control the Dem Party. Indeed, they too have become warmongers in order to advance their political careers. pic.twitter.com/NFExPD6lDF

— Tulsi Gabbard 🌺 (@TulsiGabbard) October 27, 2022
Realignment and Legitimacy
"Adidas ends partnership with Ye over antisemitic remarks" [Associated Press]. • Anyone who watched Parliamentar Labour combine with the intelligence community and the press to defenestrate Corbyn over false charges of anti-semitism can see where this well end up.
#COVID19
• "Press Briefing by Press Secretary Karine Jean-Pierre and COVID-⁠19 Response Coordinator Dr. Ashish Jha" (transcript) [Whitehouse.gov (antidlc)]. "You know, , with RSV, a lot of it is surface transmission. And therefore, washing hands turns out to be actually quite a good thing for RSV." • Let's see if Jha walks this back. (Thanks to antidlc for a transcript, not a video clip.)
• "National Strategy for Improving Indoor Air Quality" (PDF) [Johns Hopkins Center for Health Security]. From the Executive Summary:
Several themes stood out during the conference, including the need to:

• establish an easily measurable set of factors to determine IAQ


• improve minimum IAQ requirements


• set performance standards for building operation and maintenance


• incentivize building owners to improve IAQ.


Notably, participants highlighted the urgency of enacting major changes, before the COVID-19 pandemic fades from the public eye.
All this should have been put in motion two years ago.
• "Reducing Transmission Of Covid-19 Through Improvements To Indoor Air Quality: A Checklist For Community Spaces" (PDF) "This checklist is designed for community spaces and congregate settings such as drop-ins, community health centres and shelters.
It is not designed for other types of workplaces, health care settings, individual homes or multi-unit apartment buildings. This document was created based on local context and experience with community spaces in Toronto. Please carefully consider local context when using this checklist." • Still, very handy. I defer to HVAC experts in the readership, but they have a checklist for you right up front, and it looks sensible to me. They also have a whole section on CO2 monitoring.
* * *
• "For those still trying to duck covid, the isolation is worse than ever" [WaPo]. "Duck" Covid? Like it was my responsbility to get sick? What sociopathic editor wrote that headline? Then the deck: "Some members of the masked minority have reorganized their lives indefinitely." The "masked minority"? Wowsers. (I think I'd prefer "remnant" to "minority," but wev. Cf. Romans 11:5.) The bullying gets worse in the body: "People who are still taking all available precautions largely fall into two groups: those with underlying health conditions for whom contracting the covid-19 virus — or, in some cases, even getting the vaccine — could be very dangerous; and those who just don't want to get this virus, either because they fear acute illness or long term deleterious effects. Both camps have largely given up waiting for a light at the end of the tunnel. They view covid as here to stay, and have reordered their lives accordingly." • I don't view Covid as here to stay, if only because I can't bring myself to believe that #CovidIsAirborne will not, ultimately, win out (as, ironically enough, handwashing did, in its time).
* * *
• Mastravaganza: Dear Abby: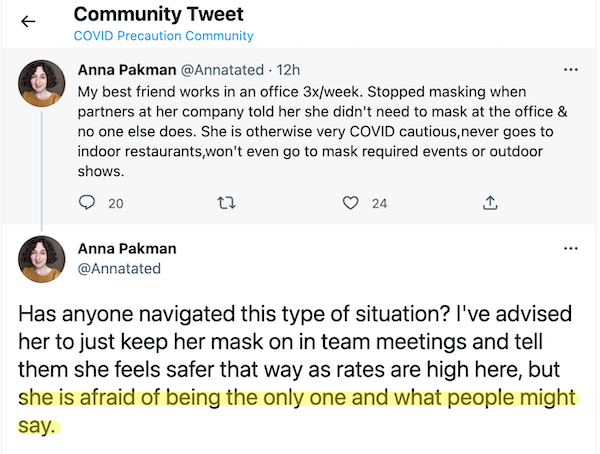 I don't suppose many NC readers have this problem, but maybe not?
• Maskstravaganza:
Other than me, have yet to see a single other person wearing a mask on the Acela, Amtrak's train that shuttles professionals between Boston, NY and DC.

This…is not the case on buses and subways full of working class people.

— Dr. Thrasher (@thrasherxy) October 27, 2022
Those pesky essential workers! Why won't they get with the program?
• Maskstravaganza: the arithmetic of air travel:
If this figure approx true for other airports, then it is likely that there is at least one passenger infected with covid on most planes.

Any reason to think it would be much lower at other airports?

So wear a mask when travelling. After all, you might be the infected person. https://t.co/Hijvb3Qljg

— Prof. Christina Pagel 🇺🇦 (@chrischirp) October 27, 2022
Probably worse in the United States, especially on domestic flights.
• Maskstravaganza: The real estate developers weigh in:
I am outraged. This signage by @TheWharfDC says NO MASKS—a critical and lifesaving public health intervention—are allowed on Wharf property. Meanwhile, we are still experiencing a pandemic of COVID-19, an airborne virus. @_DCHealth @MayorBowser pic.twitter.com/qHLCWoGrae

— Madeline T. Morcelle (@MadelineinDC) October 26, 2022
"The Wharf is a multi-billion dollar mixed-use development on the Southwest Waterfront in Washington, D.C." Used to be part of Anacostia before it got rebranded, apparently. From their About page: "At The Wharf, 'community' has always had a larger meaning. From the start, it was the foundation this development was built on, the idea that informed every decision made." Because what kind of community is it, where I don't share your air with you?
* * *
* * *
Transmission
Here is CDC's interactive map by county set to community transmission. (This is the map CDC wants only hospitals to look at, not you.)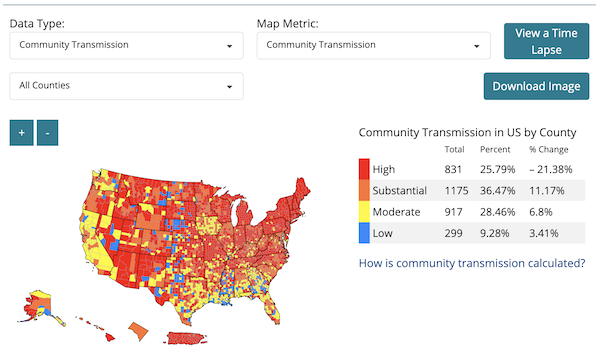 Lambert here: I have to say, I'm seeing more and more yellow and more blue, which continues to please. But is the pandemic "over"? Well….
Positivity
From the Walgreen's test positivity tracker, October 24: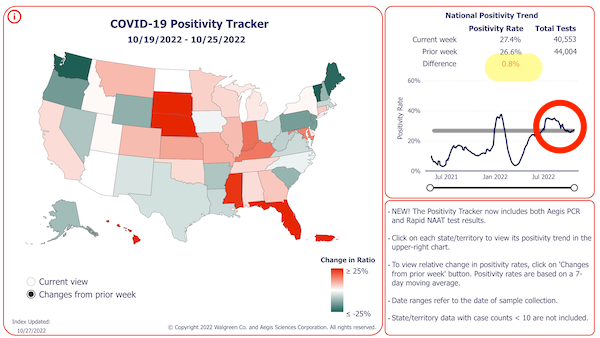 0.8%. Faster increase.
Readers, please click through on this, if you have a minute. Since Walgreens did the right thing, let's give this project some stats.
Wastewater
Wastewater data (CDC), October 23: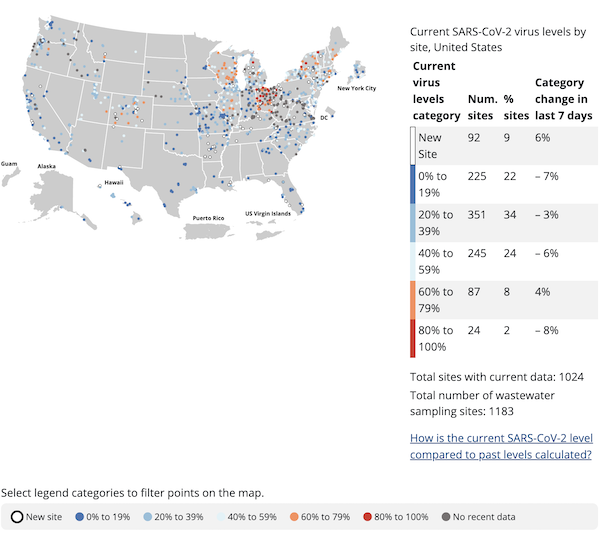 October 22: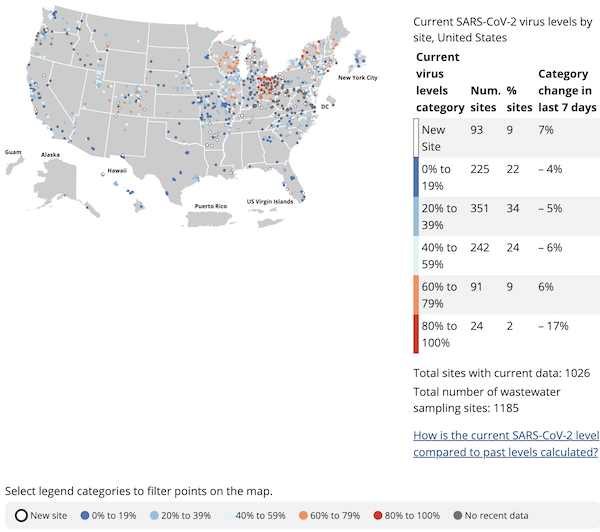 The latest MWRA data from the Boston area: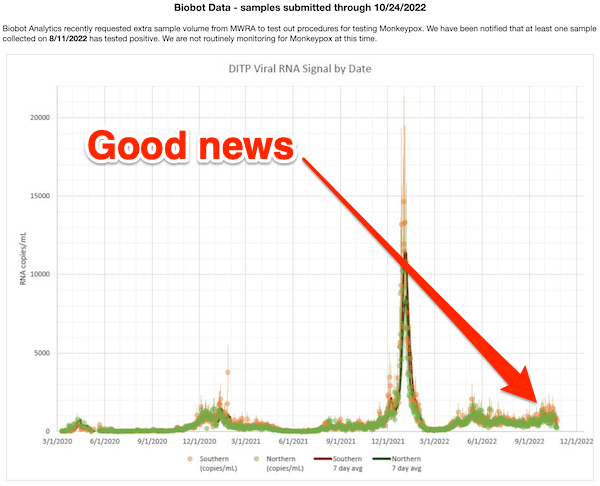 Lambert here: So far, I don't think we have a signal of winter's onslaught.
Variants
Lambert here: It's beyond frustrating how slow the variant data is. Does nobody in the public health establishment get a promotion for tracking variants? Are there no grants? Is there a single lab that does this work, and everybody gets the results from them? Additional sources from readers welcome [grinds teeth, bangs head on desk].
Variant data, national (Walgreens), October 7: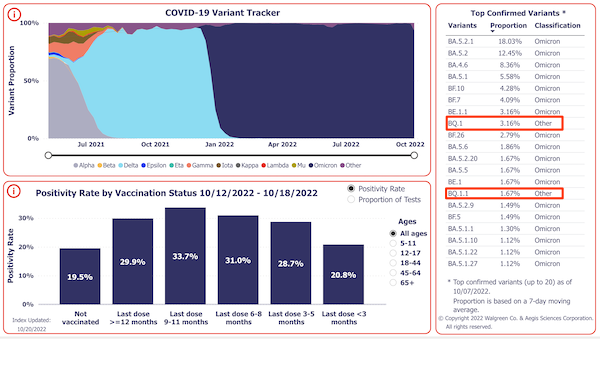 Lambert here: BQ.1*, out of nowhere. So awesome.
Variant data, national (CDC), October 1 (Nowcast off):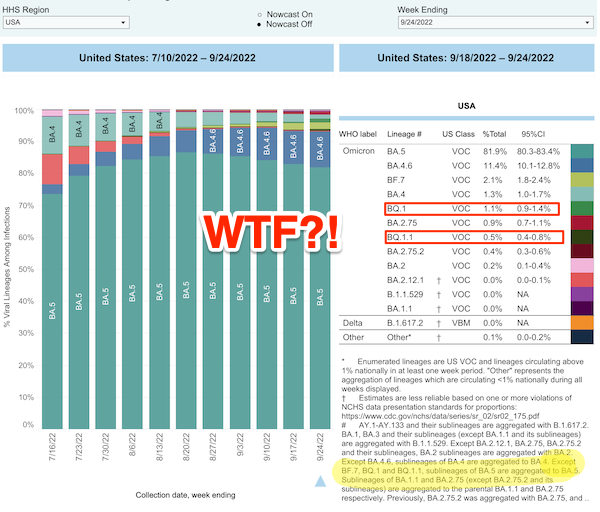 Deaths
Death rate (Our World in Data):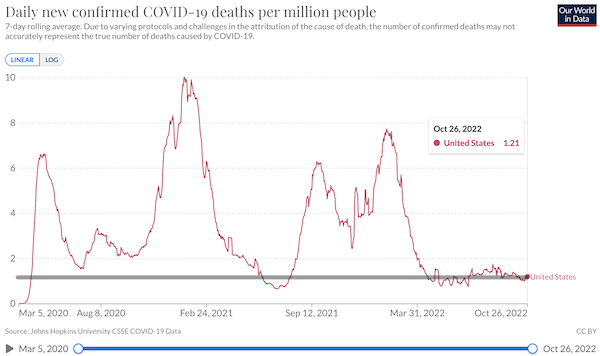 Total: 1,094,163 – 1,093,338 = 825 (825 * 365 = 301,125, which is today's LivingWith™ number (quite a bit higher than the minimizers would like, though they can talk themselves into anything. If the LivingWith™ metric keeps chugging along like this, I may just have to decide this is what the powers-that-be consider "mission accomplished" for this particular tranche of death and disease.
It's nice that for deaths I have a simple, daily chart that just keeps chugging along, unlike everything else CDC and the White House are screwing up or letting go dark, good job.
Stats Watch
GDP: "United States GDP Growth Rate" [Trading Economics]. "The US economy grew an annualized 2.6% on quarter in Q3 2022, beating forecasts of a 2.4% rise and rebounding from a contraction in the first half of the year. The biggest positive contribution came from net trade (2.77 pp vs 1.16 pp in Q2), as the trade gap narrowed. Imports sank 6.9% (vs +2.2%) while exports were up 14.4% (vs 13.8%), led by petroleum products, nonautomotive capital goods, and financial services. At the same time, nonresidential investment jumped 3.7% (vs 0.1%), boosted by increases in equipment and intellectual property."
Employment Situation: "United States Initial Jobless Claims" [Trading Economics]. "The number of Americans filing new claims for unemployment benefits rose by 3,000 to 217,000 on the week ending October 20th, below market forecasts of 220,000. The results halted expectations of a loosening labor market that emerged with previous releases in October, challenging recent rhetoric of a dovish pivot along with the stronger than expected GDP growth data for Q3."
Manufacturing: "United States Durable Goods Orders" [Trading Economics]. "New orders for the US manufactured durable goods increased 0.4% mom in September of 2022, following an upwardly revised 0.2% gain in August and beating market expectations for a 0.2% advance. New orders were up six of the last seven months."
Manufacturing: "United States Kansas Fed Manufacturing Index" [Trading Economics]. "The Kansas City Fed's Manufacturing Production Index fell to -22 in October of 2022 from 2 in the previous month, the lowest since April of 2020. The slower pace in factory growth in October was driven by decreased activity in computer and electronic, wood, primary metals, and plastics and rubber manufacturing. Most month-over-month indexes decreased in October, except for supplier delivery time and finished goods inventories."
* * *
The Bezzle: "Ford-VW driverless car venture folds in face of tech challenges" [Financial Times (KLG25)]. "Argo AI, a self-driving vehicle group jointly backed by Ford and Volkswagen, is abruptly shutting down operations after six years of development. Establishing fully driverless technology that is profitable and scalable would cost billions of dollars and take at least half a decade, John Lawler, chief financial officer at Ford, said as the company reported results on Wednesday. 'We've looked at this every way you can,' he said. 'And we just see the profitability . . . a long way out.' The shutdown follows years of consolidation as Uber, Lyft and others have thrown in the towel upon realising that the dream of robotaxis is more distant than the industry had envisioned five years ago, when big sums of money flowed to small start-ups, and major automakers feared that their business model was at risk. Tens of billions of dollars have been spent on driverless technology since Google launched its self-driving project in 2009, but no meaningful revenue has emerged and the vast majority of projects are in some stage of pilot mode overseen by engineers." • This will come as no surprise to NC readers. The implication: Whatever AI can do is simpler than driving a car, something virtually every human adult can do. So, sorry squillionaires. No robot slaves for you after The Jackpot!
* * *
Today's Fear & Greed Index: 58 Greed (previous close: 55 Neutral) [CNN]. One week ago: 40 (Fear). (0 is Extreme Fear; 100 is Extreme Greed). Last updated Oct 27 at 2:06 PM EDT. A swing to greed? Weird. Honestly, if it means Mr. Market thinks there won't be a nuclear war, I'm a happy camper. But still…
Sports Desk
"We Could All Learn a Thing or Two From Fans of Lousy Sports Teams" [The Atlantic]. "Being an NBA fan who loves the Wizards is a little like being a foodie who adores turnips: It just doesn't make sense…. Anyone can root for a winner. That's easy."
Zeitgeist Watch
As Twitter's rendezvous with Elon approaches, people post the tweets and threads that never be forgotten:
A thread, technically pic.twitter.com/iirCkfkmsH

— Ben Hartman (@Benhartman) October 27, 2022
"Buddhism and this newsletter" [Nonzero Newsletter]. "One reason these are natural questions is that most Americans who evangelize on behalf of Buddhist practice—like, meditation teachers you encounter at retreat centers—seem to shy away from politics and geopolitics…. here is a bedrock belief of mine, a belief that also has a firm grounding in Buddhist teaching: The relationship between affect and cognition is in urgent need of recalibration! Some of the world's biggest problems result from the way affect and cognition naturally interact, when we don't subject their relationship to reflection and adjustment. For example: During a war—any war—people on both sides tend to notice and embrace and amplify information that reflects favorably on their side or reflects unfavorably on the other side, and they tend to ignore or dismiss or minimize information that reflects unfavorably on their side or favorably on the other side. This dynamic not only helps sustain wars but helps start them in the first place. And this dynamic depends on natural patterns of interaction between feelings and thoughts…. One way to put one of Buddhism's central claims is like this: The reason we suffer, and the reason we make other people suffer, is that we don't see the world clearly." • Hmm.
Our Famously Free Press
"'Media literacy' advocates push to create savvier consumers of news and information" [Los Angeles Times]. • Oh noes! "Savvy consumers"!
Class Warfare
Starbucks managers all seem to have gotten the same memo (1):
8:58 Starbucks & Littler walked in
8:59 Their position 'hasn't changed' 9:00 Gone pic.twitter.com/bDouV3DESz

— MN Sbux Workers United (@MNSbuxUnited) October 27, 2022
Starbucks managers all seem to have gotten the same memo (2):
here's a progression of my bargaining notes from tuesday-today 🥰 @starbucks do better pic.twitter.com/1DLY3Wfh19

— bryce harper stan account (@magic_madozo) October 27, 2022
Minutes. Good. I like minutes.
Starbucks managers all seem to have gotten the same memo (3):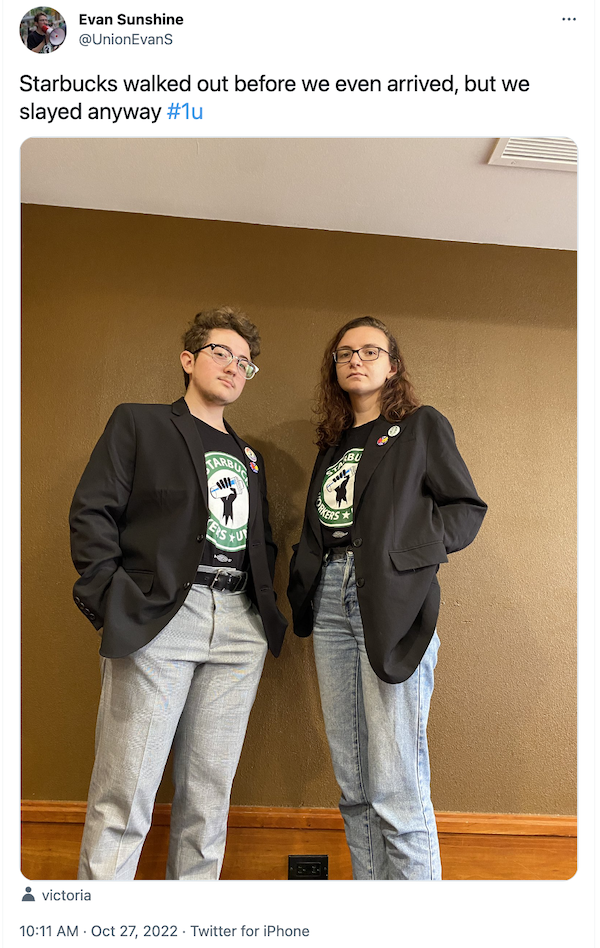 * * *
"Gender Blur" [The Baffler]. "In an essay for The Cut about their relationship to nonbinary identity earlier this year, Brock Colyar, the magazine's party reporter, bemoans how they/them pronouns have become 'just another dead end.' Like so many others, Colyar initially gravitated to a nonbinary identity out of a desire to disrupt the gender binary and assert a distinct personhood; what they were left with was disappointment and ambivalence. The scenes they describe are familiar, and familiarly off-putting: anyone who's ever participated in a group pronoun-sharing exercise or read "she/her" in their extremely cisgender boss's email signature can attest to how silly and patronizing the whole process often feels, especially if you're the only trans person in the room. 'If this is a step toward some other utopic, gender-blurred society,' Colyar writes, 'when did it start to alienate me?' It's a good question, and I share Colyar's irritation with how nonbinary identity feels like it has become little more than grist for human resource exercises and marketing decks. But Colyar's impulse to pin these shortcomings on the very concept of pronouns themselves, on the campus social justice warriors who championed them, or even on conservatives, misses the mark. We got stuck with this particular version of nonbinary identity—singularly focused on pronouns, clumsy corporate integration, and iconoclastic affect—because nonbinary identity has become a brand. It is both a way of being in the world and an empty signifier, one that companies, advertisers, and influencers alike can take on and off at will in order to pantomime radicalism, even while remaining largely uninvested in material political change. The disenchantment arises from the dissonance between these idealistic aspirations and these limited political demands." • Yes, it's certainly extremely odd that young, photogenic, and courageous Starbucks organzers don't get to become brands. Why would that be?
News of the Wired
More water pr0n:
if you're wondering how insanely low the Mississippi River is right now here's me on a massive sand dune in the middle of it near rosedale, mississippi pic.twitter.com/Iw2Asky7Qv

— Virginia Hanusik (@virginiahanusik) October 25, 2022
"Walking (and busing) San Antonio" [Chris Arnade walks the world]. "San Antonio's historic downtown is steps away, just beyond an elevated expressway that encircles it. Eight elevated lanes of pillars and fumes. A modern day gated city — with the stench of urine as its moat, and solitary men, some barking inner thoughts, others throwing garbage at pillars, as the sentries. Inside that gate of cement pillars is history and tourist. But they are confined to a river-walk. A sliver of the good life — cafes, bars, speciality shops — sold by its proximity to one US's few foundational folk myths…. Outside of that sliver, it all goes downhill fast. History can't put a shine on whats a stereotypical struggling US town. A place where the energy pulsates from the outer beltway, and the center's on life support — one failed urban renewal project after another. Like an archaeological strata of past bulwarks against the decline. Those cities are a dime a dozen in the US, so it makes sense San Antonio embraces its history as a source of pride. As a way to distinguish itself. Baltimore with the Alamo. But the Alamo is a quirk, a notable one. A small building in a very big city. What really distinguishes San Antonio is its Mexican-American culture. To show that my cartoonish description isn't entirely fair. That San Antonio isn't just an outer ring of suburban sprawl with a hollowed out center. That between the two is mile after mile of functional working class Mexican-American neighborhoods. Simple homes festooned with American flags, crosses, and yards of ceramic frogs. Fathers playing soccer with their kids. Mothers juggling babies. Families heading off in minivans and F150s to Sunday mass. The American dream, written in Spanish." • As usual, absolutely terrific photos.
* * *
Contact information for plants: Readers, feel free to contact me at lambert [UNDERSCORE] strether [DOT] corrente [AT] yahoo [DOT] com, to (a) find out how to send me a check if you are allergic to PayPal and (b) to find out how to send me images of plants. Vegetables are fine! Fungi and coral are deemed to be honorary plants! If you want your handle to appear as a credit, please place it at the start of your mail in parentheses: (thus). Otherwise, I will anonymize by using your initials. See the previous Water Cooler (with plant) here. From JJD: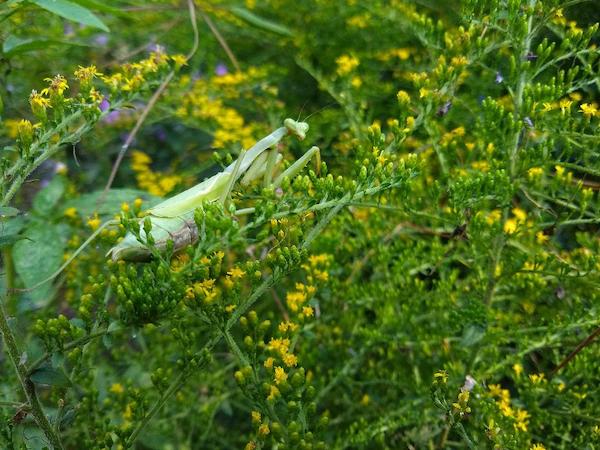 JJD writes: "It's the season for goldenrod in the Piedmont of North Carolina, Praying mantises especially like hanging out in it."
* * *
Readers: Water Cooler is a standalone entity not covered by the annual NC fundraiser. So if you see a link you especially like, or an item you wouldn't see anywhere else, please do not hesitate to express your appreciation in tangible form. Remember, a tip jar is for tipping! Regular positive feedback both makes me feel good and lets me know I'm on the right track with coverage. When I get no donations for five or ten days I get worried. More tangibly, a constant trickle of donations helps me with expenses, and I factor in that trickle when setting fundraising goals:
Here is the screen that will appear, which I have helpfully annotated: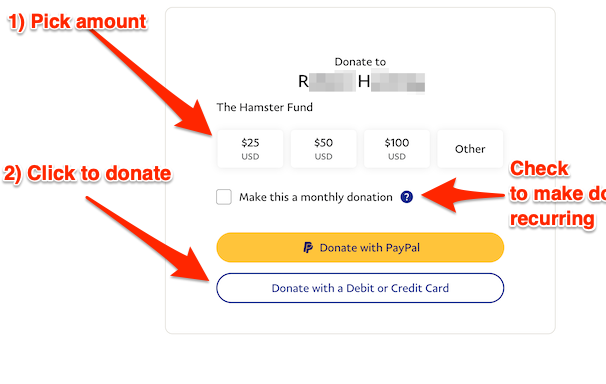 If you hate PayPal, you can email me at lambert [UNDERSCORE] strether [DOT] corrente [AT] yahoo [DOT] com, and I will give you directions on how to send a check. Thank you!