The ongoing Western self-immolation via poorly-thought-through sanctions becomes more bizarre as the US and its allies keep piling on. The Biden Administration looks to have a contagious version of Dunning-Kreuger Effect as the press and punditocracy for the most part cheer the collective West going full Black Knight:
A fresh example is on the China front, where the Administration is moving to bar the export of advanced chips and related services to cripple China's military and tech advancement generally. The Financial Times provides the orthodox view (for a full blown technical discussion, see this write up courtesy Covington & Burling).
The US has introduced sweeping export controls that will severely complicate efforts by Chinese companies to develop cutting-edge technologies with military applications, in one of the toughest actions President Joe Biden has taken against China.

The commerce department on Friday announced restrictions that will make it extremely hard for Chinese companies to obtain or manufacture advanced computer chips and will slow their progress in artificial intelligence.

The measures are also designed to make it much tougher for China to develop supercomputers with military applications that range from modelling nuclear weapons to developing hypersonic weapons….

Underscoring the scope of the controls, the US is using a far-reaching mechanism called the "foreign direct product rule" to make it harder for China to develop and maintain supercomputers and AI technology.

The rule — which was first used by the administration of Donald Trump against Chinese technology group Huawei — in effect bars any US or non-US company from supplying targeted Chinese entities with hardware or software whose supply chain contains American technology….

Analysts said China's memory chipmakers, including YMTC and ChangXin Memory, would feel the most immediate blow…

But the ban on the export of semiconductor tools could significantly hurt Chinese chipmakers more broadly because US equipment makers have a stranglehold in a few crucial niches.

Triolo said there would be "many losers", including US chip design leaders such as Nvidia and AMD, and tool makers including Applied Materials and Lam Research. He said the rules would also hit non-US players, including ASML, the Dutch company that produces the most advanced semiconductor tools, and TSMC, the Taiwanese contract foundry company.

One chip industry executive said the US was attacking China "from all angles".

"The stunning thing about this move is that they have assembled a whole array of tools," the executive said. "They are not just targeting military applications, they are trying to block the development of China's technology power by any means."
This salvo against China sounds devastating, particularly since the Trump measures against Huawei did diminish its global competitiveness.
But consider a contrary reading from Asia Times, which argues that these sanctions will so badly blow back to key US players that in due course, China will wind up net ahead. This article also points out that these various sanctions will not impede China's military, since it does not use the most advanced chips. From the story:
The Biden administration's unprecedented package of bans on chip and chip equipment sales to China announced on October 7 could not have come at a worse moment for the global semiconductor industry.

The damage to capital investment and R&D in the Western semiconductor industry will exceed Washington's modest subsidies for the chip industry by a factor of five or more.

The US measures won't affect China's sensors, satellite surveillance, military guidance and other strategic systems because the vast majority of military applications use older chips that China can produce at home. But it may postpone autonomous driving, cloud computing and other efforts to digitize China's economy.

It will also elicit an all-out Chinese effort to replace American chip-making and design technology. CapEx and R&D will shrink drastically in the US semiconductor industry while China allocates a massive budget to the sector.

On a five- or ten-year horizon, America's technological edge in semiconductor design and fabrication is likely to vanish. As capital budgets collapse in the Western semiconductor industry, the damage to the US and other Western economies is likely to be greater than the harm inflicted on China…

The incipient global recession turned the chip shortage of 2021 into a glut, reflected in a collapse of the Philadelphia index of semiconductor stocks (PHLX) by nearly half during 2022. NVIDIA, the leading US chip designer, has lost 68% of its market capitalization so far this year.

The industry had already cut capital investment plans from about US$200 billion to $160 billion for 2022. US restrictions on exports of semiconductor equipment, design tools and high-end chips to China will shrink revenues further, putting an air pocket into R&D and capital expansion. The world's dominant chip fabricator, Taiwan's TSMC, planned $44 billion in CapEx just six months ago but on Wednesday announced a cut to $36 billion….

Smaller American fabricators like GlobalFoundries and SkyWater Technology, who make chips for the US military several generations behind the present state of the art, will benefit from the Biden subsidies. But companies with the most advanced technology have the most to lose, including American manufacturers of chipmaking equipment.
Some comments at the Financial Times article quoted earlier were also skeptical:
Michael Power
As it is, SMIC already produces 7nm chips and does so without embargoed EUV lithography: ironically these were developed to manufacture the MinerVa Bitcoin Miner system…before cryptocurrency mining was banned in China! SMIC are now developing the 5nm chip and expect it to be available within 18-24 months.

Meanwhile Chinese foundries are flooding the market with 14nm+ chips, commodizing this segment. The only measure that seems to be falling faster than these chip prices is Intel's share price!

So this may simply be a case of the US shutting the door after "the silk worms are already in Constantinople"?

Danny Barro
Nowhere does the article explain why the US is doing this, in the sense of how they feel they can justify this action. I don't criticise the FT here (though they could do more) but it is interesting that there is an assumption, even looking at the comments below, that this is somehow a "good thing". The ultimate result will be the acceleration of the Chinese semi-conductor industry and that will give the world more choice.
For the purpose of keeping the post to a manageable length, we'll skip over the risk that China might retaliate, and the pressure points it could choose.
The next item on the sanctions front is a Biden Administration scheme, admittedly still under debate, to sanction Russian aluminum. As if our previous sanctions of Russian commodities and companies have been such resounding successes. The Administration looks desperate to be seen to be Doing Something. From Bloomberg:
A complete US ban on Russian aluminum threatens to upend a global market already reeling from multiple disruptions, throwing a spotlight on how China could fill any supply gap.

The Biden administration is considering options including sanctions on Russia's top producer of the metal…
The biggest aluminum and aluminum product exporters in 2020 in billions of dollars, per Statista: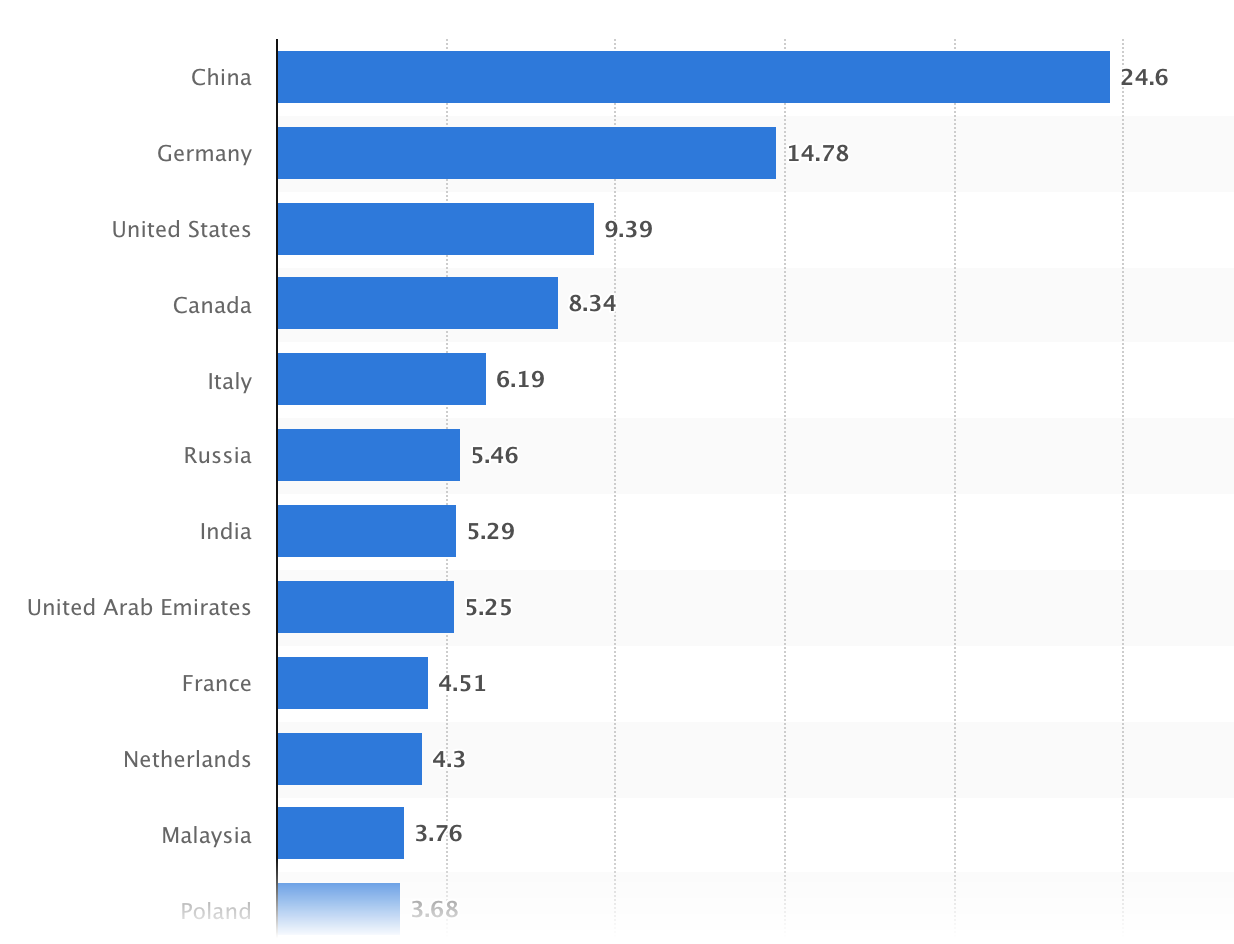 Keep in mind that aluminum smelting is extremely energy-intensive, so it seems likely that production in Europe will fall dramatically and/or become uncompetitive for export.
So the "worst" outcome, which seems likely if the Biden Administration proceeds, is that prices rise globally, Russia sells ore and semi-finished product at lower than new normal prices, but probably not much lower (and potentially even higher) while China, and potentially India, the UAE and Malaysia happily buy from Russia and sell to the US at a markup. Continuing from Bloomberg:
"The worst scenario is Europe and the US will block Russian aluminum," Shanghai-based Chaos Ternary Research Institute wrote in an emailed note. "Stranded Russian aluminum will most likely flow to China, India and elsewhere, followed by China's exports of aluminum products into Europe and the US to fill the gap."

China is by far both the world's biggest producer and consumer of aluminum. Under a reconfiguration of trade flows, metal from Russia could potentially be used by its domestic industries, with China then boosting overseas sales of its own metal along its well-established export routes.
Finally, Bloomberg broke the story yesterday that it has finally dawned on Biden Administration officials that the oil price cap idea could backfire. For some bizarre reason, it appears that the OPEC+ production cut triggered the recognition that Russia could deliver on the repeatedly-made Putin promise not to sell oil subject to a price limit. Perhaps it was seeing that Russia didn't participate in the planned 2 million barrel reduction because it is already producing below its current quota. From Business Insider:
Officials in the Biden administration are signaling the plan to cap Russian oil prices could backfire, according to a report from Bloomberg.

OPEC+'s cut to its production quota last week could end up undermining the effort to cap prices, sources told Bloomberg. The cartel's move has already added to volatility in markets, and a price cap on Russian oil could trigger a spike in crude, they said.

Officials also noted concern that Russian President Vladimir Putin could retaliate by slashing more supplies, sending prices higher. Putin has already signaled that the Kremlin will not sell oil to countries that participate in the price cap effort.
Mind you, I see no sign in these stories or on Twitter that the Administration is considering how to walk back this barmy idea. It apparently sees itself as beyond the point of no return.