Lambert and I, and many readers, agree that Ukraine has prompted the worst informational environment ever. We hope readers will collaborate in mitigating the fog of war — both real fog and stage fog — in comments. None of us need more cheerleading and link-free repetition of memes; there are platforms for that. Low-value, link-free pom pom-wavers will be summarily whacked.
And for those who are new here, this is not a mere polite request. We have written site Policies and those who comment have accepted those terms. To prevent having to resort to the nuclear option of shutting comments down entirely until more sanity prevails, as we did during the 2015 Greek bailout negotiations and shortly after the 2020 election, we are going to be ruthless about moderating and blacklisting offenders.
–Yves
P.S. Also, before further stressing our already stressed moderators, read our site policies:
Please do not write us to ask why a comment has not appeared. We do not have the bandwidth to investigate and reply. Using the comments section to complain about moderation decisions/tripwires earns that commenter troll points. Please don't do it. Those comments will also be removed if we encounter them.
* * *
Humans and parrots battle in an 'arms race' over trash in Australia Science
Inside the war on urban coyotes in Southern California LA Times
Despite Everything, Private Equity Dealmaking Is Still Going Strong Institutional Investor
With Just 26 Days of Heating Oil, US Households Face Costliest Winter in Decades Bloomberg
Meet Kastle Systems, the Covid-Era Kings of Back-to-Work Data Bloomberg
Climate
First Martian life likely broke the planet with climate change, made themselves extinct Live Science

Chevron chief blames western governments for energy crunch FT. Cheveron CEO Mike Wirth: "The reality is, [fossil fuel] is what runs the world today. It's going to run the world tomorrow and five years from now, 10 years from now, 20 years from now." Ah, reality.

Like Manchin, Obama tried to fast-track transmission. Nope. E&E News
Water
Los Angeles is running out of water, and time. Are leaders willing to act? LA Times

Florida water "looks like root beer, smells like dead fish rolled into compost" as environment reels from Hurricane Ian CBS
#COVID19
Missing science: A scoping study of COVID-19 epidemiological data in the United States PLOS One. From the Abstract: "While we found authoritative estimates for most expected transmission and disease severity parameters, some were lacking, and others had significant uncertainties. Moreover, ." And: "We identified 283 published epidemiological reports authored by investigators affiliated with U.S. governmental public health entities. Most reported on descriptive studies. . Unsurprisingly, since that's not the CDC's goal. More: "The existence of epidemiological data gaps 18 months after the declaration of the COVID-19 pandemic underscores the need for more timely standardization of data collection practices and for anticipatory research priorities and protocols for emerging infectious disease epidemics." Just the Centers for Disease, doing its job.

Alpha to Omicron: Disease Severity and Clinical Outcomes of Major SARS-CoV-2 Variants Journal of Infectious Diseases. n = 2779. "Disease severity associated with alpha, gamma, and delta variants is comparable while omicron infections are significantly less severe. Breakthrough disease is significantly more common in patients with omicron infection." "Frequency of hospitalization, ICU admission, and death" are the metrics for "disease severity."

Remember, do no harm? Science

Medium COVID Could Be the Most Dangerous COVID The Atlantic

Who's Left Out of the Learning-Loss Debate The New Yorker
Air and surface sampling for monkeypox virus in a UK hospital: an observational study The Lancet. From the Abstract: "These data show contamination in isolation facilities and during specific activities. PPE contamination was observed after clinical contact and . Contamination of hard surfaces in doffing areas supports the importance of cleaning protocols, PPE use, and doffing procedures." Note that CDC's bias against airborne transmission is so extreme that its monkeypox case collection form doesn't even include a field for changing bedding (let alone other, less obvious transmission pathways).
China?
The Party Elders Who May Challenge Xi Foreign Policy

China 'under pressure' like never before after Joe Biden unveils national security strategy, analysts say South China Morning Post
HCMC's Gasoline Market Mess Vietnam Weekly. Ho Chi Minh City.
Southeast Asia's delivery 'riders' brave dangerous roads with limited insurance protection Globe_
India
Globalisation & Greco-Buddhist Art Madras Courier
Syraqistan
Saudi Arabia Swings Toward Russia Project Syndicate
Dear Old Blighty
Liz Truss 'has 17 days to save her job': Chancellor jets back early from US trip for crunch U-turn talks with PM as mutinous Tory MPs round on her over mini-Budget debacle and 'line up Rishi Sunak and Penny Mordaunt as a joint ticket to replace her' Daily Mail

Former independence strategist Stephen Noon questions de facto referendum plan Holyrood. I see "national conversation" was leaped across The Pond.
European Disunion
Europe is still quietly importing Russian nuclear energy CNBC. Oh.

With Leaps and Bounds, Parkour Athletes Turn Off the Lights in Paris NYT
New Not-So-Cold War
Kyiv hit by Iranian drones as Russia targets dozens of Ukrainian cities Axios

Russia to evacuate Kherson residents as Ukrainian forces advance Al Jazeera. Except, so far as I can tell from Dima's Russian and Western sources, the Ukrainians are not advancing,

France to supply air defence systems to Ukraine after wave of Russian strikes France24. But:

⚡️ Macron: France won't strike Russia if it nukes Ukraine.

"Our doctrine is based on the fundamental interests of (our) nation, and they are clearly defined. If there were a nuclear ballistic attack in Ukraine, these interests would not be called into question," said Macron.

— The Kyiv Independent (@KyivIndependent) October 13, 2022

* * *

Exclusive: Musk's SpaceX says it can no longer pay for critical satellite services in Ukraine, asks Pentagon to pick up the tab CNN. Commentary:

We're just following his recommendation 🤷‍♂️

— Elon Musk (@elonmusk) October 14, 2022

Ukraine's Starlink problems show the dangers of digital dependency Gillian Tett, FT

* * *

Does the United States Have a Plan in Ukraine? (excerpt) Matt Taibbi, TK News:

Like the Times, the Post moved back and forth between reporting information in its own voice and attributing information to anonymous sources. It seemed odd when they noted "recent events have only added to the sense that the war will be a long slog," and "all of this adds up to a war that looks increasingly open-ended." However, much of the rest described White House efforts to keep other nations backing Ukraine, which seemed uncontroversial enough. Then the paper dropped a stunner:

Privately, U.S. officials say neither Russia nor Ukraine is capable of winning the war outright, but they have ruled out the idea of pushing or even nudging Ukraine to the negotiating table. They say they do not know what the end of the war looks like, or how it might end or when, insisting that is up to Kyiv.

What??? If the White House doesn't think the war can be won, but also refuses to negotiate itself, or "nudge" others to do it for them, what exactly is its end strategy? Waiting for things to get worse and then reassessing?

How did we avoid a Cuban Missile 'Armageddon'? Strategic empathy. Responsible Statecraft. Know your enemy and know yourself….

How Russia Views America Philip Pilkington, American Affairs (Amfortas the Hippie). Review by former NCer Pilkington of Andrei Martyanov's Disintegration: Indicators of the Coming American Collapse. Well worth a read.
Biden Administration
U.S. extends Covid public health emergency even though Biden says pandemic is over CNBC

Biden to Gig Economy: Stop Stealing Wages The New Republic
Capitol Seizure
The Trump Subpoena Will Be the Headline, But the Real Washington News Was Elsewhere Politico. And:

The remarkable benefits of having the Speaker's daughter — herself an accomplished film maker and documentarian — in the Capital with her mother on that day. (not to mention her instinct to film it) https://t.co/d0uu2qcxU2

— Sam Stein (@samstein) October 13, 2022

Wait. The FBI knew something was up. The Secret Service knew. The Capitol Police knew. And Pelosi had her own videographer — her daughter (!) — on site on the day? Something's not right….

The Inevitable Indictment of Donald Trump Franklin Foer, The Atlantic
Police State Watch
Hot pursuit Searchlight New Mexico
Iowa to dramatically cut back on some restaurant inspections Iowa Capital Dispatch. What could go wrong?
Healthcare
Gabor Maté: Capitalist Society Is Making Us Physically and Mentally Unwell Jacobin

U.S. Experts Weigh In on Colonoscopy Status in Wake of European Trial MedPage Today. "European trial" is not Ukraine, obviously.
Shortages
FDA confirms Adderall shortage as largest manufacturer warns of delays through end of the year NBC
Tech
Team of flying robots builds structures using 3D printing Physics World

My Weekend with the Martians Astra. Curtis Yarvin's metaverse.
Class Warfare
Apple to Withhold Latest Employee Perks From Unionized Store Bloomberg. Just like Starbucks.

In the WWE, Wrestlers Say Labor Abuses Are Everywhere Jacobin

Medieval Times Sues Its Workers' Union Alleging 'Trademark Infringement' HuffPo.
There Are No 'Five Stages' of Grief The Atlantic
Antidote du jour (via):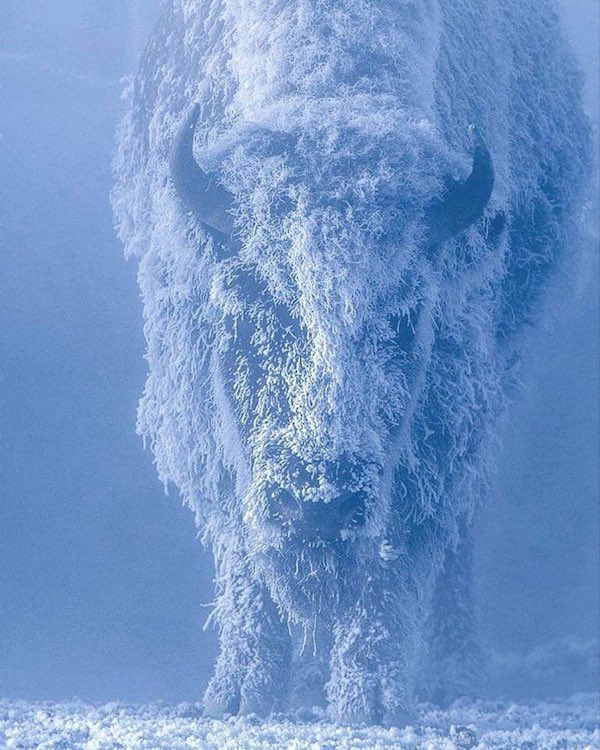 Winter is coming.
See yesterday's Links and Antidote du Jour here.