Lambert and I, and many readers, agree that Ukraine has prompted the worst informational environment ever. We hope readers will collaborate in mitigating the fog of war — both real fog and stage fog — in comments. None of us need more cheerleading and link-free repetition of memes; there are platforms for that. Low-value, link-free pom pom-wavers will be summarily whacked.
And for those who are new here, this is not a mere polite request. We have written site Policies and those who comment have accepted those terms. To prevent having to resort to the nuclear option of shutting comments down entirely until more sanity prevails, as we did during the 2015 Greek bailout negotiations and shortly after the 2020 election, we are going to be ruthless about moderating and blacklisting offenders.
–Yves
P.S. Also, before further stressing our already stressed moderators, read our site policies:
Please do not write us to ask why a comment has not appeared. We do not have the bandwidth to investigate and reply. Using the comments section to complain about moderation decisions/tripwires earns that commenter troll points. Please don't do it. Those comments will also be removed if we encounter them.
* * *
Fat Bear Week 2022: The voting has started CNN
The risks from derivatives have morphed FT
Bond Market Sees Once Easy Yield-Curve Bets Upended by Fed Path Bloomberg
Climate
The Air Force has released its first plan to reduce its carbon footprint and adapt to climate change NBC

Everyone Has the Wrong Idea About EV-Converted Classic Cars Road and Track. Interesting nugget: "Almost all conversions use Tesla powertrains and batteries. Why? Because people crash a LOT of Teslas, meaning the supply of batteries and motors is plentiful."
Micro molten salt reactor can fit on a truck, power 1k homes. When it's built The Register
Water
Wall Street Is Behind Jackson's Water Crisis Lever News
#COVID19
Molnupiravir plus usual care versus usual care alone as early treatment for adults with COVID-19 at increased risk of adverse outcomes (PANORAMIC): preliminary analysis from the United Kingdom randomised, controlled open-label, platform adaptive trial SSRN. From the Abstract: "In this preliminary analysis, we found that molnupiravir did not reduce already low hospitalisations/deaths among higher risk, vaccinated adults with COVID-19 in the community, but resulted in faster time to recovery, and reduced viral detection and load." Oversold, then. From the FT: Merck Covid antiviral pill did not cut hospitalisation risk, study finds (KLG). Commentary:

Thanks to @EricTopol for spreading the word on molnupiravir's poor efficacy, in this study zero.

MOV approval was a mistake; FDA's stated reasoning in the EUA was patently incorrect. Now that vaxxed CFR is lower than flu, it's well past time to revoke
https://t.co/UEhhUCLH8o pic.twitter.com/vOFmtO6KVd

— Michael Lin, MD PhD 🧬 (@michaelzlin) October 7, 2022

SARS-CoV-2 disrupts host epigenetic regulation via histone mimicry Nature. This one is so over my paygrade that I'm not even going to quote the Abstract. Nature helpfully paywalled the popularization. Here is a thread from the authors' lab:

Our lab's paper "SARS-CoV-2 disrupts host epigenetic regulation via histone mimicry" is out today in Nature! https://t.co/bLILj7BZw8 with a News and Views here https://t.co/QionZB5LW2 a 🧵

— KorbLab (@KorbLab) October 5, 2022

Popular among people for whom this sort of thing is popular. Readers?

Ocugen obtains exclusive license for nasal Covid-19 vaccine to complement Covaxin Philadelphia Business Journal

CDC to stop reporting daily COVID-19 cases, moving to weekly reports The Hill. "With smaller testing we would show fewer cases!" –Donald Trump, June 23, 2020.

CDC's Covid-19 Vaccine v-safe Data Released Pursuant to Court Order (press release) ICAN, via Business Insider. For pre-populated fields (e.g. dropdowns, i.e. within paradigm) but not text fields (out of paradigm, by definition).
CDC, WHO, Uganda to host regional meeting as Ebola spreads AP. Handy chart:
The #Ebola outbreak in Uganda, which was only declared 2 weeks ago, is already the 12th largest on record. There've been more than 20 other outbreaks with case counts in the single digits or 2-3 dozen case range. Worrisome situation, this.
(chart mine, from @CDCgov data) pic.twitter.com/vIJDYhjCIT

— Helen Branswell 🇺🇦 (@HelenBranswell) October 4, 2022
China?
Can Xi Jinping Reopen China? Foreign Affairs

Xinjiang's cotton harvest is here, but where is the frenzied buying? South China Morning Post
Why the Emerging-Markets Dog Didn't Bite Yet John Authers. Bloomberg
The Koreas
South Korean Defense Sources Express Concerns About Unreliable F-35 Fighters The Diplomat

South Korean missile fails during combined weapons test with US forces: Seoul NK News

Real Estate Price Dropping at Record Pace: Data The Blue Roof
Dear Old Blighty
Amazing line from guy on the BBC talking about the Tories, post-Boris: "The ringmaster has left the circus, and now the lions are eating the clowns."

— Caitlin Moran (@caitlinmoran) October 5, 2022
European Disunion
The Massive Gas Field That Europe Can't Use Bloomberg. Groningen, the Netherlands.

France's nuclear energy strategy — once its pride and joy — faces big problems this winter CNBC

There might be a metaphor here:

This Catalan tradition of building human towers is not for the faint of heart 😵‍💫 pic.twitter.com/o2QnnGHybl

— DW News (@dwnews) October 6, 2022
New Not-So-Cold War
[ZELENSKY:] But what is important, I once again appeal to the international community, as I did before February 24 – we need pre-emptive strikes, so that they'll know what will happen to them if they use nukes, and not the other way around

Don't wait for Russia's nuclear strikes, and then say, 'Oh, since you did this, take that from us!' Reconsider the way you apply pressure. This is what NATO should do – reconsider the order in which it applies pressure [on Russia]."

* * *

* * *

* * *
Nobel Peace Prize Jointly Awarded to Belarus Rights Activist, Russian and Ukrainian Groups Bloomberg
Biden Administration
US says 'nothing off table' in response to Opec+ oil cuts FT

The Radical Plans To Counter High Oil Prices OilPrice.com

Federal prosecutors weighing charges on two fronts in Hunter Biden investigation CNN
Healthcare
'Not an Easy Villain': Documentary Tackles Healthcare's Big Hospital Problem MedPage Today

Medicare open enrollment is on the horizon. Here's what 5 major payers have planned Fierce Healthcare
Police State Watch
The maddening irrelevance of Charlie Vaughn's innocence Radley Balko

The Court of Mass Incarceration (PDF) Rachel E. Barkow, CATO Institute. "One out of every 52 people in the United States is under some form of criminal justice supervision (such as probation or parole). In some states and communities, the rates are even higher. In Georgia, for example, one out of every 18 people is on probation or parole. We are now living in a country where one out of every three adults in America has a criminal record."

The Right Stuff users claim they were contacted by FBI after using the conservative dating app Independent
Supply Chain
Moody's revises outlook for global shipping industry to negative Hellenic Shipping News
Class Warfare
ATDA Members Ratify Freight Rail Agreement Railway Age. A small union.

IdPol passes everywhere (Rev Kev):

I can't think of a better recipe for inducing racial tension than having D.C. elites financed by Wall Street pushing offshoring and then saying that anyone who opposes having their community and livelihood destroyed is racist. https://t.co/2TBdkEqnRn

— Matt Stoller (@matthewstoller) October 6, 2022
McDonald's Workers Are Begging People To Stop Ordering Adult Happy Meals Kotaku
Antidote du jour (via):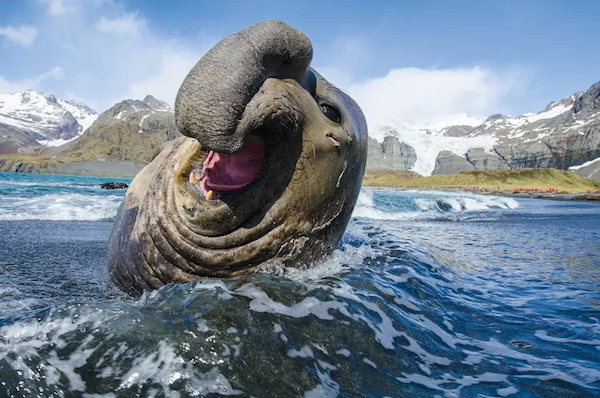 Bonus antidotes from AC: "Gray and Pearl wearing their orange coats during hunting season,
and the same dogs in the winter. Pearl really liked that coat":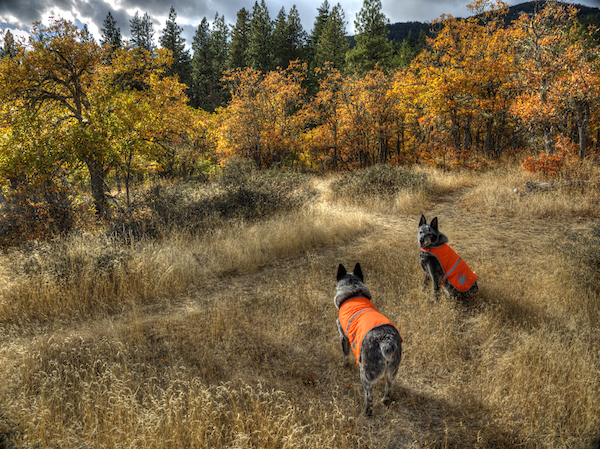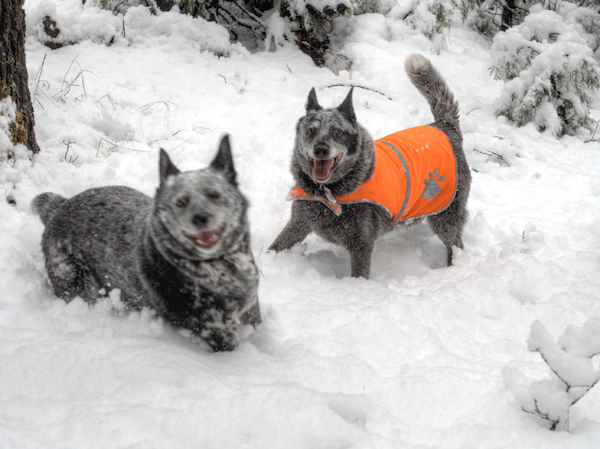 See yesterday's Links and Antidote du Jour here.