Even though Russian officials seemed to have calmed the nerves of their public over the unexpected but well-executed Kherson withdrawal, there's a surprisingly high level of upset among Western commentators. That may in part be due to use of the emotion-multiplier known as Russian Telegram. But is it particularly striking given the muted reaction from Ukraine, which had apparently lost an opportunity to push Russia out and claim a clear military victory
And as I'll get to shortly, all of the tearing of hair and rending of sackcloth about Kherson ignores the way the electrical grid damage is festering and set to become gangrenous.
Some commentators have been explicit that they are upset with the Russian military for going too slowly and therefore deem it to incompetent.
But the peanut gallery does not get to set the pace of this conflict. Russia has maintained from the get-go that they do not have a timetable. We've pointed out that Russia is running a multi-fronted war: geopolitical (where Russia has done extremely well in securing the tacit and even overt support of China, India, Saudi Arabia, and much of the Global South), economic, political, information, and of course military.
According to critics, Russia has been too leisurely and the Kherson retreat is one of the consequences. But Russia trying to conduct a limited campaign and spare civilians as the West piled on innocent-bystander-punishing sanctions helped win over much of the world. These quiet allies are critical from an economic perspective as Russia reorients away from the West.
Those shock and awe sanctions also constrained Russia early on. Its public was rattled, concerned about whether the war was necessary, where it was going, and whether jobs and even basic services would be gutted. An early large call-up of forces could have been seen as an admission that the Kremlin had miscalculated, on top of the miscalculation of the massive economic sanctions. Even in June, I doubt there would have been enough public support. It took time for the US/EU hatred of Russia to sink in, that Putin had been right about the inevitability of the conflict and the need for Russia to turn its back on Europe.
Time was also on Russia's side. The sanctions were doing ever-growing damage to the West, particularly Europe, while Russia was recovering. A slow, grinding war would conserve Russian forces as it ate through Western weapons stocks and increasingly, seasoned fighters. A longer conflict also drains US and European coffers directly now that the Ukraine economy has collapsed and is now needing billions a month to stay afloat, on top of the cost of the war effort.
Having said all that, both Western and some high-profile Russia-friendly commetators early on pumped the idea that Russia could or should be moving quickly. Those costly "big arrow" moves across Ukraine set expectations. And Dmitry Medvedev, former President and Deputy Chairman of the Security Council, didn't help by cheekily publishing his proposal for the end-game way back in July: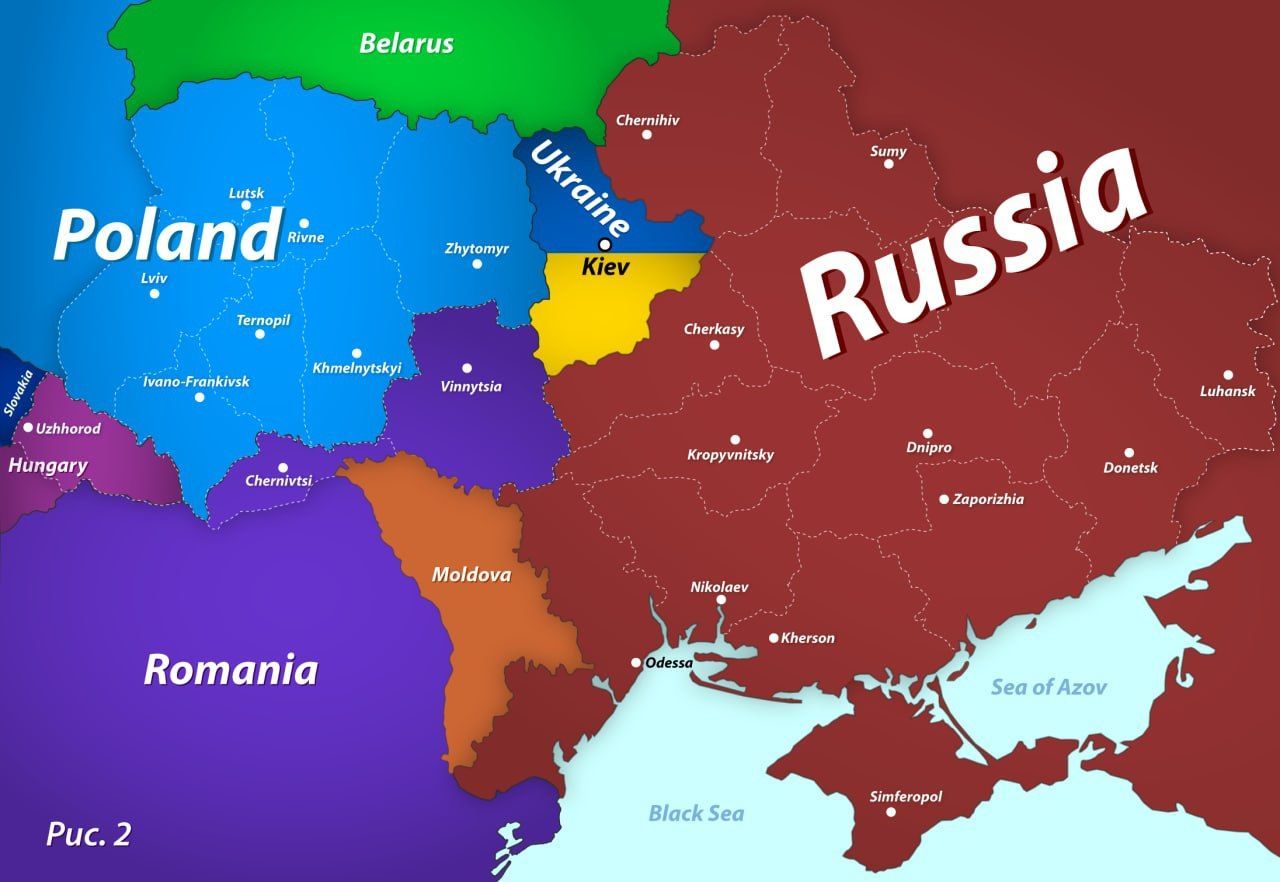 I will confess I did not appreciate how hard it would be to crack the layered fortifications constructed over eight years in Donbass. Brian Berletic gives a good explanation below, staring at 1:15:40:
Berletic says the way to speed up the process is, if possible, cutting supply lines. It's not apparent from his discussion that throwing more men at a bunkered area would necessarily clear it faster. There is likely a point of diminishing returns in a concentrated area. Some on Russian Telegram have claimed that most of the Russian casualties in Mariupol were from friendly fire!
Recall also that before the "liberated" territories were formally made part of Russia in the first week of October, Russia had a kludgey command structure: DPR and LPR militias as key coalition partners, Chechens and the Wagner group adding to on-the-ground muscle, Russian artillery and air support in the Donbass, and mainly Russian BTGs holding the line in the south. Until then, Russia was somewhat hostage to the wishes of the DPR and LPR. Recall defense chief Sergei Shoigu paid a visit to their political leaders and as a result, Russia moved more forces opposite Donetsk city, despite that being an exceptionally well-fortified area, and away from the campaign to retake the Sloviansk-Kramatorsk area.
So why did so many commentators, including yours truly, wrong-foot Kherson despite newly-appointed theater commander Sergey Surovkin mentioning the possible need to make "difficult decisions" and most analysts taking that to mean a possible Kherson pullout?
On a high level, an issue is cognitive dissonance. Even though Putin described one of the three objectives of the Special Military Operation as demilitarization plus Russia having a long history of being willing to cede territory if it better enables them to hurt the enemy (whether via encirclement, falling back to a better position, or merely not wasting manpower in a poor spot to fight), that's not how wars are reported. They are about who owns what on a map and who is hoisting their flag over a captured government building. You can't very readily tell which side is inflicting more deaths and casualties. However, we can see that a mere nine months into the conflict, that Russia is severely depleting not just Ukraine but even US/NATO weapons caches, as attested by the lower and lower resupply numbers of everything from tanks and armored vehicles to 155 mm shells.
I accepted the logic of the Kharkiv withdrawal, that it was strategically unimportant and not worth keeping, maybe because it too clearly resembled the Upper Peninsula of Michigan.
I didn't examine the situation in Kherson carefully enough till after the retreat. Despite accepting the "military necessities take priority over politics," and "if you destroy the army, the terrain will follow," I didn't look at the military necessity part other than casually. Kherson is a Black Sea port, albeit not a big one. Kherson is on a rail line going to Nickolaev, then Odessa. Presumably roads run that way too. Seems mighty important!
But it turned out with the Antonovsky Bridge being largely disabled, supplying even a Kherson force of 20,000ish using pontoon bridges and ferries was almost untenably hard. That meant building up the fighting force needed to move further west of 3 to 5 times that size was a non-starter. Surovkin points that out in passing in his staged conversation with Shoigu:
Note Surovkin mentioning that the Kherson city troops were in a "restricted" area, hinting that offensive operations would be difficult. In addition, even if Russia could have staged an attack force in Kherson, it would have been vulnerable to attacks on its flank as it moved parallel to the Black Sea coast.
Finally, I had accepted the views of some commentators who had argued that dams and bridges are hard to destroy. However, the Russian seemed mighty worried about the possibility of Ukraine eventually succeeding in blowing up the Nova Kakhovka dam, which would then flood Kherson city, killing civilians and making Russian troops sitting ducks for a Urkaine attack. Taleb warned against this sort of thing:
The best summary of my central idea. https://t.co/HmcqsuWNcs

— Nassim Nicholas Taleb (@nntaleb) November 11, 2018
Finally, Russia is very carefully playing a trump card, which is the destruction of big sections of Ukraine's electrical grid. Russia has been framing this campaign as taking out dual use infrastructure, which means "It's OK if it serves civilians if it also has a meaningful military use." So far, Russia has been focusing on transmission lines, junctions, and transformers, and sparing generating capacity. However, if Russia continues to balkanize the grid, some areas near major power plants will be more or less OK while others will become desperate.
Russia has been saying very little about it. The Ministry of Defense does not include these attacks in its daily "clobber list". For the most part, these attacks get only a passing mention from regular commentators and sites like Rybar. But there was a round of strikes last Wednesday morning and overnight Saturday into Sunday, so they seem to be proceeding at a pace of at least twice a week. And if Ukraine pulls a stunt like its attack on Sevastopol, whether successful or not, Russia is sure to use that as an excuse for a big set of strikes on the grid, with license to be not so sparing of civilian-ish targets.
Thus given the relative silence about this campaign, it's hard to see what Russia's aims are. Will these 2x a week attacks keep the Ukraine grid at a reduction of 40% of capacity, or is it intended to keep degrading it from there? Note that General Winter is also effectively taking out even more juice. From Kiev Novyny on the 13th, via machine translation:
In Kyiv, they may start turning off electricity for a longer period of time. The reason is a decrease in air temperature.

This was announced by the executive director of DTEK Dmytro Sakharuk during the telethon

"When the temperature drops in our country, consumption will increase. Every 5-7 degrees of temperature decrease is 10% of consumption on the territory of Ukraine on average," Sakharuk said.

According to him, if specialists do not have time to repair and increase the amount of electricity that can be supplied to the capital, the periods of power outages may increase.
Mathematically guesstimating, if Ukraine is at 60% of regular output, if we generously take 10% of that level (as opposed to 10% of the original 100%), that would mean 54% effective output at colder temperatures. And it's only going to get colder.
In addition, there's been remarkably little discussion of the impact on Ukraine businesses. How many can function with frequent blackouts? Ukraine's economy is already in desperate shape. The power shortages will only intensify its crisis. That also means the West will have to provide even more dough if it hopes to stave off collapse.
Ukraine and the West are oddly quiet too, which seems odd given that mothers and babies shivering in the dark is great grist for yet more Russia demonization. However, the Ukraine paper Stana reports that some officials are encouraging Kiev residents to leave:
If the people of Kiev have the opportunity to spend the winter "in more comfortable conditions," "then it can be done," said Andriy Vitrenko, a member of the Kyiv City Council, referring to the problems with energy that many predict in winter.

That is, he hinted that it was better to leave the capital if possible.
There is the wee question of where they go, particularly given that Kiev has (or had) about 3 million residents. It's not likely that nearby areas will be all that much better situated. That means, as John Helmer pointed out early on, Russia has enormous leverage via its ability to trigger a mass exodus of refugees, with Poland likely the biggest recipient.
So is the Russia "go slowly" approach to have plausible deniability? Or in hope that the West recognizes this source of leverage and reacts accordingly as more Ukrainians cross the borders?
The problem is, of course, that the US is driving this train and has perilous concern for the costs inflicted on Europe, as we can infer from its almost certain endorsement of/participation in the Nord Stream pipeline attacks.
Like those half a million dead Iraqi babies, millions of suffering Europeans is not too high a price for achieving US ends, since we aren't the ones who pay.