For some time, this site has predicted the inevitability of a European economic crisis due to the loss of cheap Russian gas and the delay and much higher cost in securing replacement energy sources, primarily LNG.
Mainstream press coverage, likely reflecting European leadership's "kick the can" reflexes, has touted that Europe has decent odds of having its stored Russian gas (along with other sources, like wind and nuclear power) carry Europe through the winter. And in fairness, gas prices in Europe have dropped since late summer peaks:
But despite higher consumption, prices have still dropped in December

Here we show the front month contract (down a lot the last week) pic.twitter.com/a6ttDupkSb

— Jens Nordvig 🇩🇰🇺🇸🇺🇦 (@jnordvig) December 18, 2022
But looking at current and near term price expectations ignores the cost at which this relief has been achieved, namely, deindustrailization. Energy-intensive businesses, from aluminum, glass, chemical, and paper makers to greenhouse operators are cutting back, suspending, or even shuttering operations. Even with energy subsidies in place, many households are cutting back because they can't afford the higher prices. Needless to say, budget-squeezed consumers are a further drag on business activity. Germany and the UK have been particularly noisy in warning citizens about possible rolling blackouts over the winter.
We weren't alone in warning about the prospect of continued hardship. From Forbes back in September:
With natural gas prices over $100 more per megawatt hour than they were a year ago, the Western European economies are heading to the Middle Ages.

Forests are being cut for firewood as Russia retaliates with its own Ukraine war sanctions by shutting off the trickle of natural gas it was still piping into Europe….

Corporate investment goes where money goes farthest. It used to be taxes and labor and environmental costs they looked at. Now European companies will add electricity to the mix. None of this bodes well for European businesses….

For this reason, new UK Prime Minister Liz Truss has given up listening to the climate lobby and said the country would end its fracking ban. Britain is in the same boat as the EU…

"We now expect a deeper prolonged recession and more persistent elevated inflation due to the impact of higher energy prices, a more decisive European Central Bank tightening cycle and weaker…demand," says Barclays Capital economists led by Silvia Ardagna.
Similarly:
Germany will fall far from its throne in the Eurozone economy…and will not be able to return, as current energy triggered industrial shutdowns add to hollowing out that was already under way as big manufacturers redeployed, now hastened by need to decouple with China https://t.co/xRINsoMy7Y

— Harald Malmgren (@Halsrethink) September 9, 2022
We will skip over the tearing of hair and rending of sackcloth as various EU officials realized that the US is perfectly happy to prey on a weakened Europe via selling them pricey US LNG and then, to make matters worse, passing an Inflation Reduction Act that subsidizes only American green energy companies, reducing the competitiveness of foreign players:
Biden's 'Inflation Reduction Act' prioritises domestic renewables industry by cutting off subsidies for foreign players. An exemption to Canada has been given but not for the EU. Macron has called for retaliatory measures but the satellite states of Europe are unlikely to do so.

— Vivek Shukla (@tweetfromVivek) December 17, 2022
Given that the short-term relief in European gas prices means a lot of people who know better will nevertheless try not to think much about Europe's sorry prospects, Bloomberg surprisingly published a blunt, fact-filled assessment: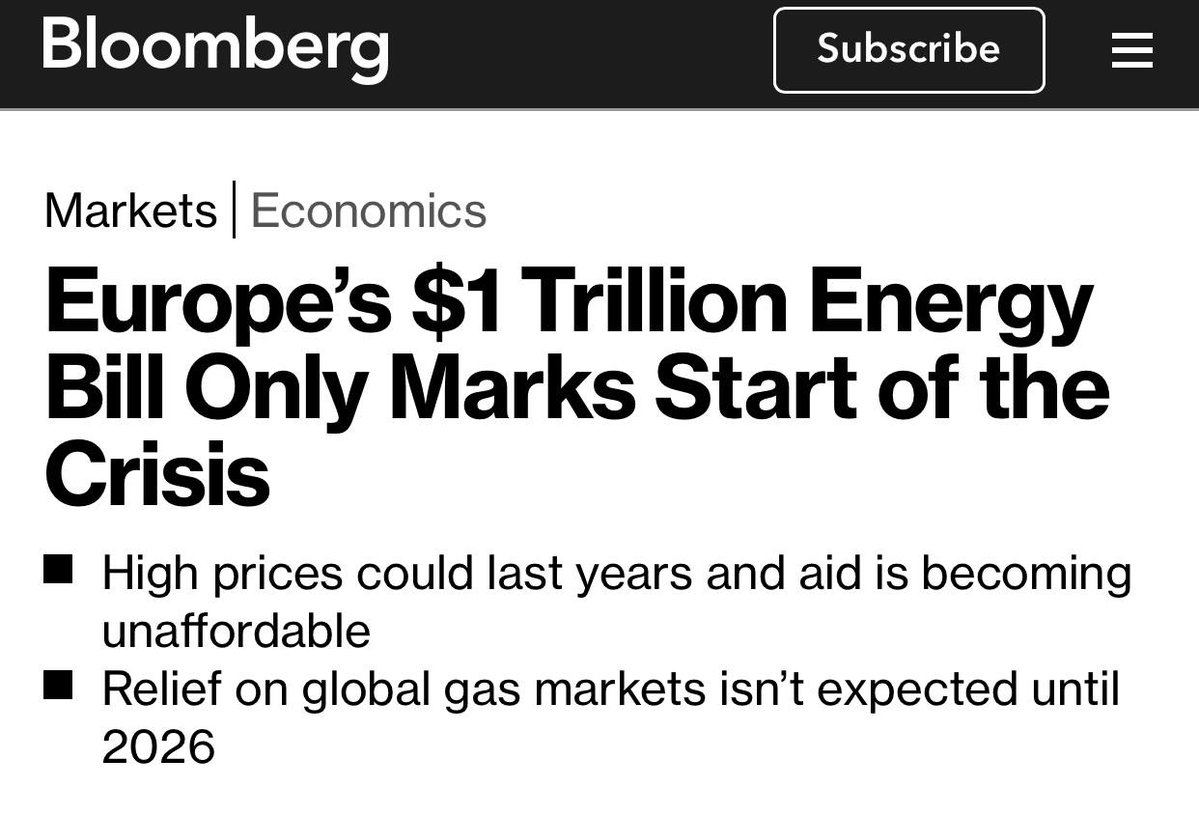 One minor quibble: $1 trillion is total EU energy consumption. I believe the increase is only half that, which is still a hefty number. However, it anticipates, as experts have, that Europe's energy shortfall will persist until 2026. How will it have any industry left by then?
After this winter, the region will have to refill gas reserves with little to no deliveries from Russia, intensifying competition for tankers of the fuel. Even with more facilities to import liquefied natural gas coming online, the market is expected to remain tight until 2026….

While governments were able to help companies and consumers absorb much of the blow with more than $700 billion in aid, according to the Brussels-based think tank Bruegel, a state of emergency could last for years. With interest rates rising and economies likely already in recession, the support that cushioned the blow for millions of households and businesses is looking increasingly unaffordable….
And the EU has competition:
Chinese gas imports are likely to be 7% higher in 2023 than this year, according to China National Offshore Oil Corp.'s Energy Economics Institute. The state-owned company has started securing LNG supplies for next year, putting it in direct competition with Europe for spare shipments. China's historic drop in demand this year was equivalent to about 5% of global supply.

China isn't Europe's only problem. Other Asian countries are moving to procure more gas. Japan, the world's top LNG importer this year, is even considering setting up a strategic reserve, with the government also looking to subsidize purchases.

European gas futures have averaged about €135 a megawatt-hour this year after peaking at €345 in July. If prices go back up to €210, import costs could reach 5% of GDP, according to Jamie Rush, chief European economist at Bloomberg Economics. That could tip the shallow recession being forecast into a deep downturn, and governments will likely have to scale back programs in response.
So a sustained 50% increase over current electricity price levels would push Europe into an actual or borderline depression. Recall Europe also did not get its banks out of the sovereign lending business. With some banks and many countries wobbly, a deep downturn could trigger a financial crisis, particularly since governments are going into more debt to soften the energy blow, something they simply can't keep up until 2026.
Now Europe may get lucky. China dropping Zero Covid looks to be hurting its workforce even more than Zero Covid did. That is likely to lead to yet more supply chain disruption and lower demand within China, both of which will dampen demand for LNG and therefore hopefully alleviate price pressure. Europe may get lucky with the weather, both temperature and wind generation. But even if it limps through the winter, it will still have a structural problem in 2023 even in warmer weather. Electricity won't get to be cheap enough to bring back those energy-hogging businesses. The loss of jobs and industrial demand will eat into tax revenues, making energy subsidies even more costly in budget terms. Demand for social services will rise.
And we haven't factored in wild card of a mass influx of Ukraine refugees. Directly they are not likely to add all that much to energy demand. But they will add to government expenditures at a time when funding is scarce.
So while the profile of the decay path is still uncertain, an ugly ending seems almost baked in. Some communities and regions will find a way to adapt (particularly ones in temperate areas), but the average standard of living is destined to fall further.