By Lambert Strether of Corrente.
Dmytro Kozatsky was the press officer of Ukraine's Azov Battalion, which makes him a fascist (Colonel Douglas MacGregor: "[T]hese so-called Azov Nazis and their supporters are not only murdering Russians, they're murdering their own people, and as we saw recently, they actually set out to kill Polish troops that were serving in Ukrainian uniform in Ukraine." For more on the Azovs, see Appendix A. For more on Kozatsky, see Appendix B).[1] Kozatsky is also a photographer. His most recent project was photographing from inside the Azovstal iron and steel works at Mariupol, with the Azovs, until his capture by Russian forces and ultimate release in a prisoner exchange. He is now touring the United States, apparently to support a movie in which he stars (as himself), and his Azovstal photobook. The main purpose of this post is to show a Nazi insinuating himself — and rather easily — into the upper reaches of our culture industry (fashion, film, books) through such examples as I can glean from Google in its currrent state. The culture industry being primarily PMC and Democrat, the same people defending and applauding Kozatsky are also the ones with "In This House" signs on their lawns, who decry "hate" wherever they feel they encounter it. It's a funny old world. But let's look first at Kozatsky's war.
The seige of Azovstal made Kozatsky's career as a photographer (and he is a good photographer, much as Leni Riefenstahl was a brilliant cinematographer). Let's look at three images: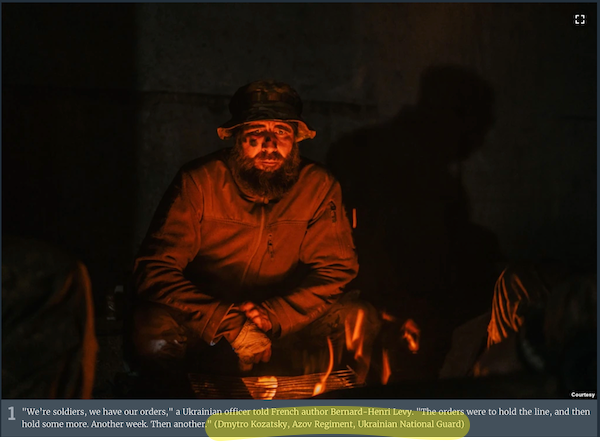 (From the VOA.) Note the caption: "Azov regiment."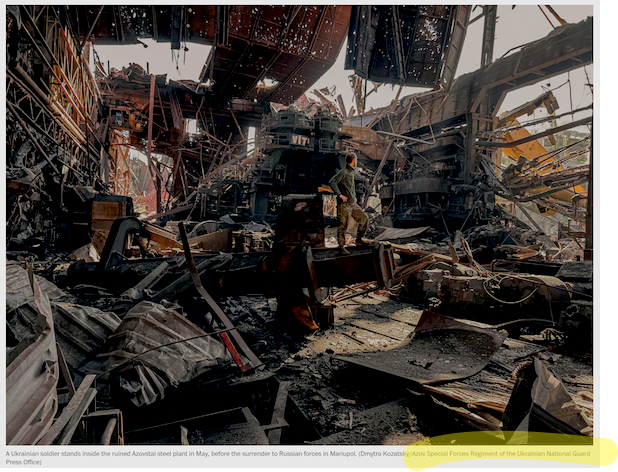 (From WaPo.) The caption: "Azov special forces regiment" (whatever that means).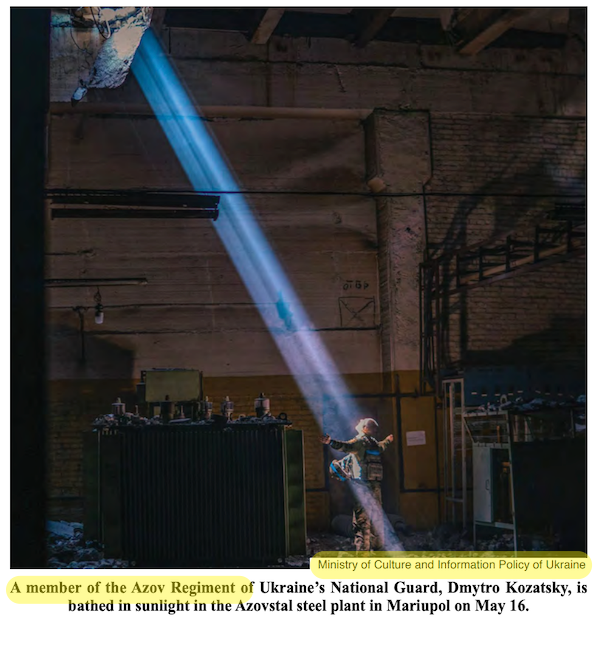 (From Ukrainian Weekly.) The caption sources the photo to "the Ministry of Culture and Information Policy of Ukraine," suggesting an official connection. This one seems to be of Kozatsky, rather than by him. (The first two photos, not being openly manipulative, are more appealing to me than this one. I mean, a shaft of light striking a performative Jesus? Really? At least it's an ethos.)
When Russian forces took Azovstal, Kozatsky was captured (along with, according to Russian estimates, 2,439 other prisoners of war). Moon of Alabama discovered this curious incident which took place while Kozatsky was in captivity:
On July 28 the Russians published a video of an interview with Azov nazi soldier Dmytro Kozatsky, call sign Orest, who directly accused Zelenski advisor [Oleksii ] Arestovich of ordering the killing of Russian soldiers who had been taken prisoners.

Kozatsky was running the public relation side for his Azov unit. Even before the war started, Kozatsky says, Arestovich was preparing an information campaign with shock videos that were supposed to show the torture and killing of Russian soldiers taken prisoners. Kozatsky received such an order and passed it on. He later noted that such shock videos were indeed made and published on social media sides.
Negotiations took place between Russia and Ukraine, and of the 2,439 Ukrainian POWs, Russia released 200, one of whom was Kozatsky. From Ukrainska Pravda:
"It is very difficult to negotiate about people who are well known in the media. The fewer people know you, the easier it is to release you [from captivity]. When you are famous, your value increases many times over. The most difficult thing was to talk about the commanders, about Ptashka [renowned female army paramedic – ed.], or about the photographer known as Orest," another interlocutor in President Zelenskyy's circle explained.
Clearly, for whatever reason, Kozatsky was a high-value prisoner (and not least because throwing Zekensky advisor Arestovich under the bus — if that's what really happened — didn't affect his release in any way). Kozatsky describes his war to EuroNews:
"That's it. I am thankful to Azovstal for shelter – the place of my death and my life," Dmytro 'Orest' Kozatsky said in his Instagram post, published on Friday.

The Azov regiment fighter[2] made his photography from the sieged Azovstal steel plant available for free, asking for it to be shared as much as possible. Some of these photographs have already gone viral revealing the situation of Azov regiment fighters, notably the injured personnel.

"By the way, while I will be in captivity, I leave you my photos, apply to all the journalist awards and photography competitions for me. If I get something, I will be really pleased to learn about it after I am released. Thank you all for your support. See you", he wrote.
And now Kozatsky is on tour! First, I'll look at what happened to Kozatsky in Spain (where they know what fascism is all about, having been ruled by Franco). After that, I'll work though cases in the United States: Vogue magazine, Ukrainian National Womens League Of America (Philadelphia), the School Of Visual Arts (New York), and (drumroll) MSNBC[3].
Catalonia. Here's what happened at the Polytechnic University of Catalonia. From Hyperallergic:
Several of [Kozatsky's Azovstal] photos were on display at the Polytechnic University of Catalonia (UPC) since mid-October, but on November 13, the institution announced it was prematurely ending the show, claiming that it "wasn't aware of the artist's ideology."

"The UPC radically rejects Nazism and regrets the situation created," the UPC said in a statement.

Earlier that day, pro-Russian Ukrainian journalist Anatoly Shariy had shared multiple screenshots of Kozatsky's social media posts on Telegram, all of which contained far-right and neo-Nazi hate symbols. A swastika tattoo appears on Kozatsky's leg, with another drawn in ketchup on a homemade pizza. Meanwhile, a selfie of Kozatsky shows his sweatshirt emblazoned with the numbers 14/88, a combination of two white supremacist symbols, and a Ukrainian coat of arms.
(To be fair, Kozatsky issued a non-apology apology. For more, see Appendix B.)
Vogue Magazine
From Dmytro Kozatsky's listing as a Vogue photographer:
The Azov regiment fighter made his photography from the sieged Azovstal steel plant available for free, asking for it to be shared as much as possible. Some of these photographs have already gone viral revealing the situation of Azov regiment fighters, notably the injured personnel.

Dmytro and other fighters of Azovstal in Mariupol were defending the city for 82 days with limited supplies of food and water, they also saved more than 1000 civilians (mostly women and children) that found shelter, food and water at the plant and later were evacuated.
"Fighters," again. Have we learned nothing from Coco Chanel? Apparently ***cough*** Balenciaga ***cough*** not.
Ukrainian National Womens League Of America (Philadelphia)
From the events listing:
UNWLA, Branch 10, is hosting a photo exhibition displaying the reality of war in Ukraine through the eyes of four amazing photographers. Free admission and refreshments. Prints available for purchase.

The exhibit will feature some of the most beautiful and heartfelt works of:

1. Dmytro Kozatsky – the photographer who took the most famous photos from Azov
Entirely unexceptional. Which is the problem. (I also wonder how many other branches of the UNWLA Kozatsky will visit, and whether he will visit Canada as well.
School Of Visual Arts (New York)
Again from HyperAllergic:
Protests erupted at DOC NYC's premiere of the film Freedom on Fire (2022) at the School of Visual Arts (SVA) Theatre in Manhattan, which hosted Kozatsky as a guest speaker. Audience members who raised the accusations during a Q&A were forcibly removed from the event. One attendee, student and organizer Kayla Popuchet, said she was attacked by fellow audience members, some of whom called her a 'bitch' and 'Kremlin shill.'
"Kremlin shill." Carrying a "Vote Blue No Matter Who" tote-bag, no doubt. From Popuchet:
So I was just kicked out by @DOCNYCfest for pointing out their "special guest speaker" Dymtro Kozatsky is a Neo-Nazi in the openly Nazi Azov Regiment who participated in the attacks on Donbass civilians. DocNYC tried to hide his affiliations, why? pic.twitter.com/INgzFaLUMa — Kayla (@kaylapop_) November 14, 2022

"I even heard someone call me Russian, which is funny because I am an Afro-Latin American with zero relation to Russia," Popuchet told Hyperallergic.
Obviously, Popuchet was from an out-group, so anything goes:
As journalist Moss Robeson noted on Twitter, the SVA Theatre removed all mention of Kozatsky's name from its event description after Shariy's Telegram messages surfaced earlier that morning. SVA declined Hyperallergic's multiple requests for comment, and DOC NYC has not yet responded.
Does make you wonder where DSA — and heck, AOC! — was on this, doesn't it?
MSNBC
From MSNBC itself:
Ukrainian Ambassador to the United States Oksana Markarova, Pulitzer Prize-winning photojournalist Carol Guzy, and , a Ukrainian soldier and photographer who was held in the Mariupol steel plant, join Andrea Mitchell to discuss "Relentless Courage: Ukraine and the World at War," a new book featuring a collection of images capturing Ukrainians' enduring fight. Ambassador Markarova, who writes in the book about a journalist lost to the war, tells Mitchell: "He was a very beautiful human being, full of light," and Russia's targeting of civilians "shows how inhumane this aggressive regime is, and how this war is about the values, democracy." She adds, "We will not stop until there is accountability."
* * *
I'm afraid I don't have an earth-quake of a conclusion here; what stuns me is the ease with which Kozatsky is penetrating our cultural institutions. Booking agents, facilities managers, press agents, board members who organize such things, fashion editors, network anchors: All combining their efforts to service a Nazi professionally, as if it were the most normal thing in the world, which at this point perhaps it is. It would also be nice to know if how many other Ukrainian efforts like this are going on, and if they are… facilitated by anyone "in government."
NOTES
[1] OK, I said "Nazi" in the headline, and the (more accurate) "fascist" in the text, because "Normalizing Nazis" is euphonious. But I don't want to get into the fine points, here. One of Terry Pratchett's more entertaining villains, Mr. Pin, has "Not a Nice Person at All" done in pokerwork on his wallet. "I wonder kind of person would put that on a wallet?" "Somebody who wasn't a very nice person." So I will not be debating styles of pokerwork at this time. I could have said "Banderite," I suppose, but then nobody would know what I meant.
[2] Azov "fighters," I love it. Seems to be the most frequent euphemism.
[3] Moss Robeson has a vivid but entirely unlinked description of Kozatsky's appearance at the Taras Shevchenko School of Ukrainian Studies of Greater Washington, in the facilities of Westland Middle School in Bethesda, Maryland (i.e., in the heart of PMC territory, where everybody "works in government," and the fifth wealthiest city in the United States). Sadly, I can't source the photo of the event, I can't find the event on any school calendar or newsletter. That's a shame, because Irena Chalupa, former editor of the Atlantic Council's UkraineAlert blog and DNC oppo researcher (!), is said to have organized and photographed the event. Perhaps readers can do better?
APPENDIX A: The Azovs are Fascists
Before February 2022: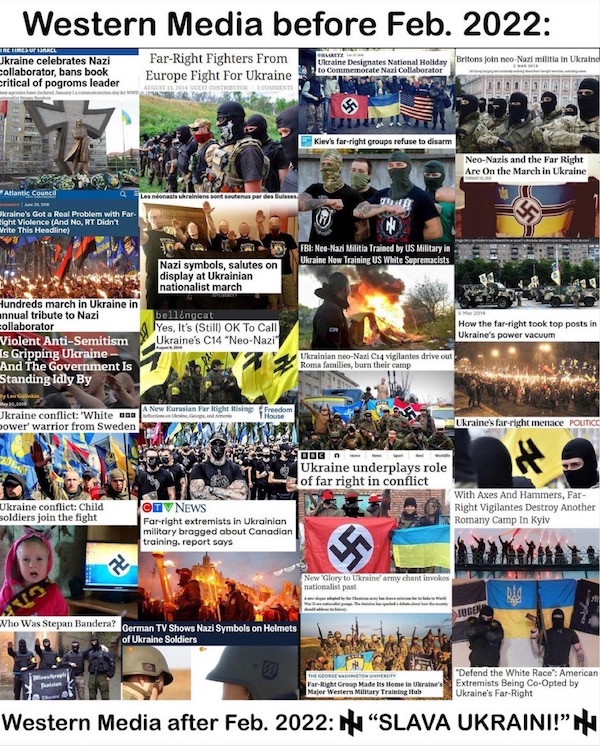 Atlantic Council (2018):
Since the beginning of 2018, C14 and other far-right groups such as the Azov-affiliated National Militia, Right Sector, Karpatska Sich, and others have attacked Roma groups several times, as well as anti-fascist demonstrations, city council meetings, an event hosted by Amnesty International, art exhibitions, LGBT events, and environmental activists. On March 8, violent groups launched attacks against International Women's Day marchers in cities across Ukraine. In only a few of these cases did police do anything to prevent the attacks, and in some they even arrested peaceful demonstrators rather than the actual perpetrators…

To be clear, far-right parties like Svoboda perform poorly in Ukraine's polls and elections, and Ukrainians evince no desire to be ruled by them. But this argument is a bit of "red herring." It's not extremists' electoral prospects that should concern Ukraine's friends, but rather the state's unwillingness or inability to confront violent groups and end their impunity. Whether this is due to a continuing sense of indebtedness to some of these groups for fighting the Russians or fear they might turn on the state itself, it's a real problem and we do no service to Ukraine by sweeping it under the rug.
Of course, it's not a problem any more!
Al Jazeera (2022):
The far-right neo-Nazi group has expanded to become part of Ukraine's armed forces, a street militia and a political party….

The unit was initially formed as a volunteer group in May 2014 out of the ultra-nationalist Patriot of Ukraine gang, and the neo-Nazi Social National Assembly (SNA) group. Both groups engaged in xenophobic and neo-Nazi ideals and physically assaulted migrants, the Roma community and people opposing their views.A few months after recapturing the strategic port city of Mariupol from the Russian-backed separatists, the unit was officially integrated into the National Guard of Ukraine on November 12, 2014, and exacted high praise from then-President Petro Poroshenko.

"These are our best warriors," he said at an awards ceremony in 2014. "Our best volunteers."
Cato (2022):
An especially egregious performance has occurred with respect to the role of the Azov battalion (now the Azov regiment) in Ukraine's defense effort. The Azov battalion was notorious for years before the Russian invasion as a bastion of extreme nationalists and outright Nazis. That aspect proved to be more than just a source of embarrassment for Ukraine's supporters when the unit became a crucial player in the battle for the city of Mariupol. The Western (especially US) press sought to portray Ukraine's resistance to the Russian siege as a heroic effort similar to battle of Stalingrad in World War II.

The prominence of the Azov regiment among the defenders certainly should have complicated that media portrayal. Yet most accounts simply focused on the suffering of Mariupol's population, the heartless villainy of the Russian aggressors, and the tenacity of the city's brave defenders. Such accounts typically ignored the presence of Azov fighters among the defenders or failed to disclose their ideological pedigree. A Washington Post story, for example, merely described the Azov regiment as "a nationalist outfit." Other news accounts referred to the Azov forces in a similar vague manner, occasionally with a perfunctory acknowledgment that the regiment was controversial.

….However, the coverage of the Ukraine war threatens to achieve a new low in media integrity and credibility. When the establishment press whitewashes the behavior of outright neo‐​Nazis, something is terribly amiss.
CNN (2022):
Azov's military and political wings formally separated in 2016, when the far-right National Corps party was founded. The Azov battalion had by then been integrated into the Ukrainian National Guard.

An effective fighting force that's very much involved in the current conflict, the battalion has a history of neo-Nazi leanings, which have not been entirely extinguished by its integration into the Ukrainian military. ​

In its heyday as an autonomous militia, the Azov Battalion was associated with White supremacists and neo-Nazi ideology and insignia. It was especially active in and around Mariupol in 2014 and 2015. CNN teams in the area at the time reported Azov's embrace of neo-Nazi emblems and paraphernalia.

After its integration into the Ukrainian National Guard, amid discussions in the US Congress about designating the Azov Movement a foreign terrorist organization, Ukraine's then minister of internal affairs, Arsen Avakov, defended the unit. "The shameful information campaign about the alleged spread of Nazi ideology (among Azov members) is a deliberate attempt to discredit the 'Azov' unit and the National Guard of Ukraine," he told the online newspaper Ukrayinska Pravda in 2019.

The battalion still operates as a relatively autonomous entity. It has been prominent in defending Mariupol in recent weeks, and its resistance has been widely praised by members of the government.
Fair (2022):
The outsized influence of neo-Nazi groups in Ukrainian society (Human Rights Watch, 6/14/18)—including the the Azov Regiment, the explicitly neo-Nazi branch of Ukraine's National Guard—is another fact that has been dismissed as disinformation. Western outlets once understood far-right extremism as a festering issue (Haaretz, 12/27/18) that Ukraine's government "underplayed" (BBC, 12/13/14).

The Financial Times (3/29/22) and London Times (3/30/22) attempted to rehabilitate the Azov regiment's reputation, using the disinformation label to downplay the influence of extremism in the national guard unit. Quoting Azov's founder Andriy Biletsky as well as an unnamed Azov commander, the Financial Times cast Azov's members as "patriots" who "shrug off the neo-Nazi label as 'Russian propaganda.'" Alex Kovzhun, a "consultant" who helped draft the political program of the National Corps, Azov's political wing, added a lighthearted human interest perspective, saying Azov was "made up of historians, football hooligans and men with military experience."

That the Financial Times would take Biletsky at his word on the issue of Azov's Nazi-free character, a man who once declared that the National Corps would "lead the white races of the world in a final crusade…against Semite-led Untermenschen [subhumans]" (Guardian, 3/13/18), is a prime example of how Western media have engaged in information war at the expense of their most basic journalistic duties and ethics.
APPENDIX B: Kozatsky is a Fascist
In addition to the Nazi paraphernalia described by Shariy above, we have Twitter likes:
On Twitter, the Azov press spokesperson [Kozatsky] has "liked" many horrendous posts, including an image of a symbol associated with the Nazi SS which largely administered the Holocaust. The Totenkopf was captioned: "Your face when you read news about gypsies." That year, in 2018, the U.S. Helsinki Commission warned, "attacks on Roma in Ukraine have escalated dramatically." Earlier that spring, Kozatsky liked an image of the KKK and another tweet that said "Heil Hitler!" on the Nazi dictator's birthday. In January 2019, Kozatsky liked an image of Amon Göth, an Austrian Nazi who commanded the Plaszow concentration camp and was portrayed in Schindler's List as the main antagonist of the film. In March 2020, not long after the first confirmed case of Covid-19 in his country, Kozatsky liked an image of Ukrainian graffiti that said "Death to Yids" with an SS symbol. Two days before he surrendered in Mariupol, someone on Twitter mocked Kozatsky for his ankle tattoos: "I'm not a nazi." He responded, "I want to disappoint you and tell you that the swastika is not only Nazi. Here is your homework, young investigator…" There are plenty of more examples of him being a Nazi on the internet.

As seen above, Dmytro Kozatsky obviously gets a big kick out of the neo-Nazi code 1488, and he appears to be fond of the white supremacist Ukrainian brands SvaStone and "White Print." According to Reporting Radicalism, a website created by the US-funded Freedom House in Ukraine, "The brand name SvaStone alludes to the swastika. Its logo is a stylized swastika… The logo and name are exclusively used as a brand that targets far-right consumers." White Print is more obscure and overtly neo-Nazi. This Azov-associated brand, which apparently operates exclusively on the Russian social media network VK, made Kozatsky's 1488 tshirt, and perhaps another featuring a sun cross swastika. Kozatsky expressed interest in another one of their shirts glorifying the "Galicia Division" — the Ukrainian Waffen-SS unit — in addition to the shirt he already has emblazoned with the Nazi formation's Ukrainian emblem.
Not a nice person at all.