Yves here. It's COLD here. 12 degrees and windy! But no snow and just a little rain before the 40 degree temperature drop in a bit over 6 hours. And you?
By Bob Henson and Jeff Masters. Originally published at Yale Climate Connections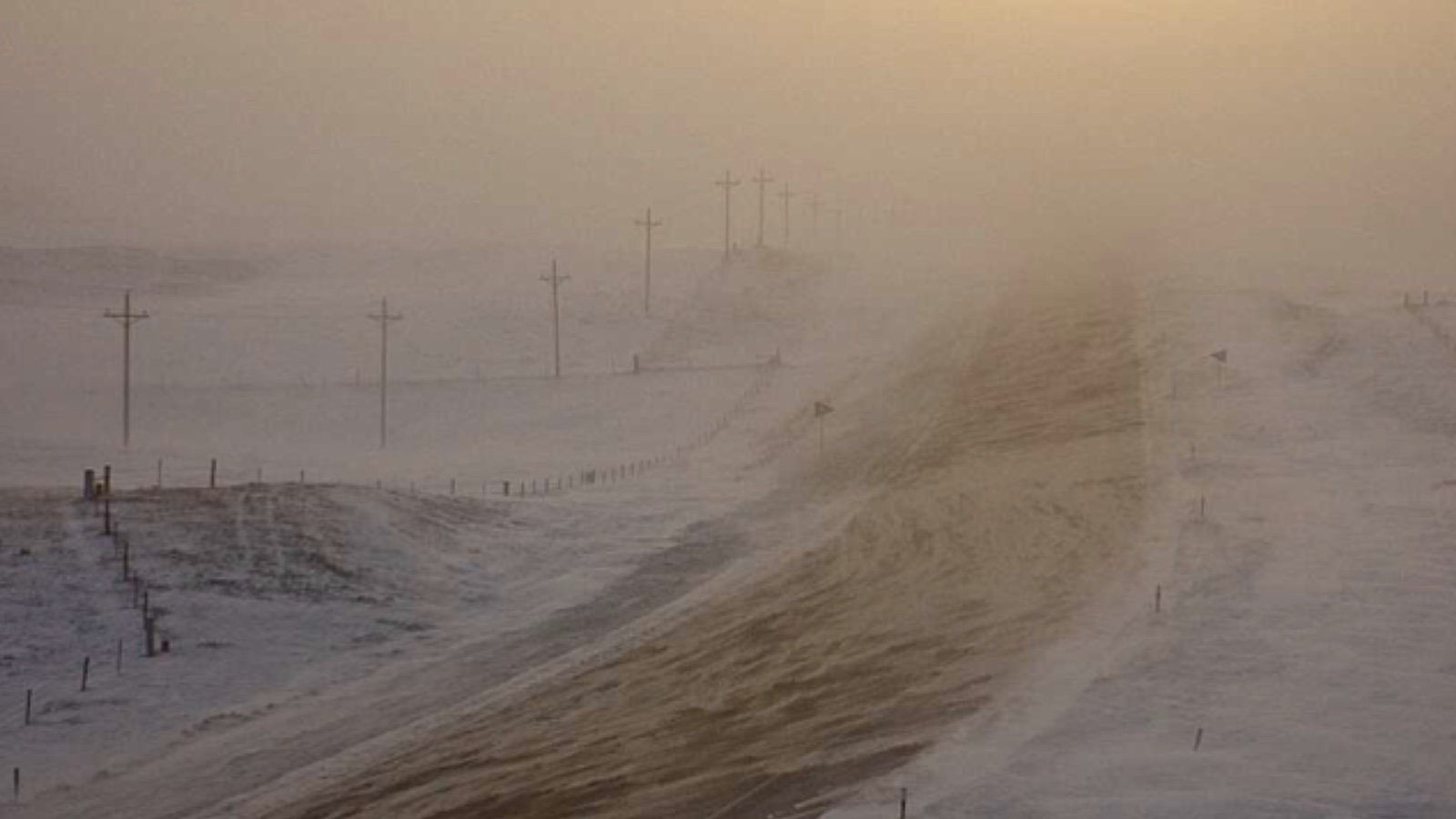 Life-threatening situation on I-25 between Wellington Colorado and Cheyenne Wyoming as a blinding whiteout grinds the interstate to a standstill in -30 to -40 windchills. If you are stuck in this absolutely do not turn your car off! Stay warm! @NWSCheyenne @NWSBoulder #cowx #wywx pic.twitter.com/SW98Vha8nB
— Michael Charnick (@charnick_wx) December 22, 2022

Along the cold front, a powerful low-pressure center will intensify over southern Ontario and Quebec from Friday into Saturday. The circulation around this "bomb" cyclone will lead to massive lake-effect snow and lakeshore flooding in New York and will help drive what could be the worst coastal flooding in 40-plus years in parts of Maine (see below).
Southeasterly wind gusts of 100 to 150 mph are expected on Friday at the summit of famously weather-beaten Mount Washington, New Hampshire.
When the Bottom Drops out of the Thermometer
Stunning temperature falls – in some areas exceeding 40°F in an hour and 70°F in 24 hours – swept through the High Plains late Tuesday.
How much did the temperature change in an hour or less as the cold front passed? Here is a graphical depiction using the real-time mesoscale analysis grids. The grid showed max drop was near -47 degrees in NE Colorado. Included is the actual record drop trace at Cheyenne, WY. pic.twitter.com/ct47GE2ppo

— NWS Weather Prediction Center (@NWSWPC) December 22, 2022

At least two National Weather Service offices reported their largest one-hour drops on record:  Cheyenne, Wyoming (at least 41 degrees Fahrenheit, from 43°F to 2°F between 1:05 and 1:53 p.m. MST) and Denver, Colorado (at least 37 degrees Fahrenheit, from 42°F to 5°F between 4:53 and 5:53 p.m. MST). Both records are apparently based on 5-minute data from automated stations going back only several decades, whereas weather has been observed on at least a daily basis in both cities since 1872.
Denver bottomed out at -22°F on Wednesday morning, the city's coldest reading on any date since -25°F on December 22, 1990. It's also the coldest ever measured at Denver International Airport, which became Denver's official reporting site with its opening in 1995.
Less dramatic but still impressive short-term temperature crashes were spreading across the Southern Plains on Wednesday. The Dallas-Fort Worth International Airport went from 42°F at 8 a.m. CST to 20°F with light snow at 11 a.m. CST.
Good morning from a bitterly cold and snowy #okc #oklahoma this morning. #okwx pic.twitter.com/KHgXcGrNqo

— Bobby Johnson (@wx_okla) December 22, 2022
Has an Arctic cold front ever looked this fascinating from space? I think not. pic.twitter.com/rOsrtebXxu

— Andrew Freedman (@afreedma) December 22, 2022
#Snow forecast for Lower Great Lakes. Combine this with 50+mph wind gusts and temps dropping into the single numbers, this becomes a dangerous #blizzard for #Buffalo and #Watertown Friday through Saturday. Please stay home if you can until conditions improve. #weather pic.twitter.com/lVwRIIaDV5

— Tom Niziol (@TomNiziol) December 22, 2022
Buffalo Braces for a Blizzard with Near-Record Lake Erie flooding
The ferocious winds of the blizzard will create huge waves of 15-20 feet on all of the Great Lakes, causing damaging shoreline flooding and dangerous conditions for shipping. The highest danger of flooding lies on New York's east shore of Lake Erie in Buffalo. The mighty winds of the blizzard are predicted to blow at 35-55 mph from the southwest along the length of Lake Erie on Friday and Saturday, causing waves on the lake to peak Friday afternoon through Saturday morning at 15-20 feet.
The incredible Significant Wave Height forecasts for all of the Great Lakes over the next few days are driven by the strong and persistent winds from the developing winter storm. Pink colors are significant wave heights approaching 20+ ft.

Link to maps:https://t.co/eXiO9Gi8Ef pic.twitter.com/uYju0DfC0l

— Dr. Alicia M Bentley (@AliciaMBentley) December 22, 2022

Not only will these winds deliver heavy lake-effect snow, they will also pile up Lake Erie's waters along the eastern shore and cause major flood problems in Buffalo and Niagara Falls. According to the Buffalo National Weather Service, water levels in Buffalo are expected to reach 12 feet above the normal low water level sometime between Friday afternoon and Friday night, challenging the record of 12.08 feet set on December 2, 1985.
Model forecast for Lake Erie Water Level for Friday at 4PM. Note, the seiche level exceeds the key. Buffalo will rise above 10 feet and #Toledo will drop ~ 5 feet. Hard to imagine a 15 foot difference from one end to the other. #winter @NWSBUFFALO @NWSCLE pic.twitter.com/6Ox69a6Rz5

— Tom Niziol (@TomNiziol) December 22, 2022

High winds with gusts of 55-70 mph will be accompanied by heavy snow of up to three feet, wind chills of 10 to 20 below zero, and near white-out conditions, making travel difficult to impossible. Power outages will be a major concern.
Coastal flooding and big waves for the Northeast U.S. and Nova Scotia
A coastal flood warning is up for the coasts of New Hampshire and western Maine, where southeasterly storm-force winds of 60-65 mph are expected on Friday and Saturday, bringing waves of 15-20 feet and a storm surge of about three feet to the coast.
Water levels at the coast are expected to approach the highest levels of all time, set during the Blizzard of 1978. The National Weather Service is warning of moderate coastal flooding, with a few pockets of major flooding. This will cause a significant threat to property, with many coastal communities experiencing damage and flood waters extending well inland in riverine tidal areas. A few evacuations may be needed in the most vulnerable areas. Communities with a southeast exposure such as Hampton, New Hampshire, may be particularly hard-hit with the potential for up to three feet of water.
Portland, ME predicted to get a 3′ storm surge near the time of high tide Fri morning, with moderate flooding and some pockets of major flooding. This would be the 3rd-highest water level on record behind the Blizzard of '78 (Feb) and a Jan 1978 nor'easter. Records since 1912. pic.twitter.com/yZS8niAPUP

— Jeff Masters (@DrJeffMasters) December 22, 2022

A coastal flood warning is also in effect for portions of Rhode Island and Massachusetts, where water levels 1-2 feet above ground level will cause mostly minor flooding during the Friday morning high tide. Waves 15-20 feet high are predicted for the offshore waters of Nova Scotia, Canada, on Saturday, when the potential for damaging storm surge flooding is expected during the high tide cycles.
On the east shore of Chesapeake Bay, Maryland, one tide gauge is predicted to exceed the major flood threshold during the Friday afternoon high-tide cycle. Minor to moderate coastal flooding is predicted along the shores of Delaware, New Jersey, New York, and Connecticut during the Friday morning high-tide cycle.
Records Won't Do Justice to This Cold Wave
Given the startling intensity of this Arctic blast, it's counterintuitive that it might end up generating only a modest number of record lows. Here's why: At many locations east of the Rockies, the most intense pre-Christmas cold wave on record peaked during this same time period in 1983. Driven by the strongest high-pressure center ever recorded in the contiguous U.S. (1064 mb at Miles City, Montana), that cold wave shattered daily and monthly records across the central and eastern United and helped make that month the coldest December in U.S. history, with an average temperature of 25.47 degrees Fahrenheit.
In contrast, temperatures averaged across the whole contiguous U.S. weren't running far from normal through December 21. A quick post-frontal warm-up should push most of the nation above average once again over the last few days of this month.
As noted at Eye on the Storm on Monday, the strength of this Arctic high could manage to produce a few all-time record lows in places where clear, calm conditions prevail overnight atop snow-covered land directly beneath the high. That's just what happened in Casper, Wyoming. Temperatures in Casper dipped to –42°F early Thursday, breaking the city's all-time record low of –41°F set on December 21, 1990. Records in Casper date back to 1939. (The airport at Riverton, Wyoming, also set its all-time low with -31°F, but that station database goes back only to 1995.)
The Casper reading is the year's first all-time low at any U.S. weather station with a long-term period of record, according to weather records expert Maximiliano Herrera (@extremetemps). In contrast, at least 14 long-term U.S. stations have set all-time highs this year.
Website visitors can comment on "Eye on the Storm" posts (see comments policybelow). Sign up to receive notices of new postings here. Please direct media inquiriesfor Eye on the Storm's Dr. Jeff Masters or Bob Henson here.