By Lambert Strether of Corrente.
I've been busy cleaning up the champagne corks after New Year's Eve, and this post was meant to be a light-hearted romp through a ubiquitous genre, but then I got thinking. I don't know who invented the "Year End List," but it's been ubiquitous since at least 2012, from back when Tumblr was a thing:
In recent years, actually, the list-as-article – blame the Internet – has elevated itself to a genre of its own, with sites like Buzzfeed, Complex, the Village Voice blog and Paste's list of the day helpfully totaling up the top cute-animal tumblrs, things you didn't know about Jay-Z and jazz albums to hear before you die, among many, many other things, with impressive frequency and breadth of topic. (For the best dogs in popular culture history, go here; alternately, the top ten Homer Simpson musical performances are here.)
(Note that the list-as-article is a different genre from the listicle, a mere sequences of screens to click though — "Idiotic New Year's Resolutions You'll Never Actually Keep" — although both genres share the pleasing characteristics of being clickbait and producible by interns.)
The end-of-year list is not a mere list, either. An example of the latter, from "52 things I learned in 2022":
Older travellers use airport toilets to hear flight announcements, because acoustics are much clearer. [Christopher DeWolf via Ben Terrett]
(Try not to do this, for obvious reasons.) In addition to being curated, end-of-year lists are classified and ranked. It follows that the commodities — or celebrities and politicians, assuming all these to be different — must be sufficiently differentiated for classification and ranking to occur; Monongahela steel ingots, for example, are unlikely to appear on any list, since an end-of-year steel ingots list is unlikely to be created. (Readers, feel free to provide counter-examples to this facile generalization.)
In practice, most of end-of-year lists aggregate music, movies and TV, and reading matter; all eminently classifiable and rankable. A list derived from my cursory sampling, starting with Music: TOP 100 Songs of 2022 Spotify, The 25 Best K-Pop Albums of 2022 (Billboard); Movies/TV: Best Movies of 2022 Ranked (Rotten Tomatoes), The 33 best films of 2022 TimeOut, The 10 Best TV Shows of 2022 (Esquire); Reading Matter: The Ultimate Best Books of 2022 List (Literary Hub), The Best Books of 2022 (Esquire), Best Opinion Pieces of 2022 (Teen Vogue), Top 25 Stories of 2022 (Rolling Stone), Our 10 favorite comics that captured 2022 (WaPo); Celebrities and Politicians: The Most Influential People of 2022 (TIME), This 'superstar loser' tops the list of 2022's biggest losers in politics (FOX); and Other: The 50 best video games of 2022 (Polygon), These 20 stocks were the biggest losers of 2022 (MarketWatch), Top 10 of 2022 (Wine Spectator), and Nick DePaula's Top Sneakers of 2022 (Boardroom).
I'm not recommending that you actually read any of this stuff; these are just the results I got from searching on "'end of year' list" for the last month. I got pages and pages, and everything was like this.
In indeed, the end-of-year list genre is so ubiquitous that it's spawned its own genre: The list-of-lists, the meta-list (for which, I imagine, the list of three items I am about to construct is itself a meta-list, hence a meta-meta-list). From one meta-list site, "Year-End Lists":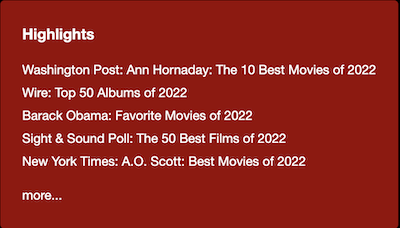 As you can see, the classifications for a hand-curated list ("Highlights") are much the same as that for my search.
From a second (!) meta-list site, "Make Lists, Not War," we see the same classification: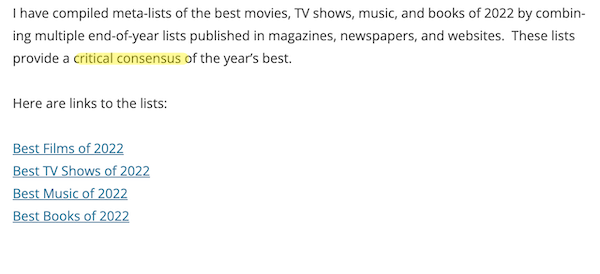 (We'll get to the highlighed "consensus" below).
And we have a third (!!) meta-list example, a post, if not site — it's an annual event — from Barack Obama himself. "My 2022 End of Year Lists." The classification is exactly as we would expect: Books, movies, music. It's possible that Obama's choices show more originality of mind than his classification; but somehow I doubt it.
From defining and considering the genre, let's look in a little detail at four end-of-year lists that at the very least weren't produced by interns. These lists are sophisticated enough to have a subtext beyond "the default subtext," which I will look at below. The four: WaPo ("In-Out"), the BBC ("Deaths"), Popular Science ("Innovations"), and the Associated Press ("notable quotes").
1) "The List: 2022" Washington Post. From the introduction:
Things have to get better eventually, right? Maybe we can look to the Ever Given's example: In mid-December, the ship returned to the Suez Canal, passing through without incident. Until we, too, can wriggle free of our impediments, join us for a booster dose of the List.

Story continues below advertisement.
(Love the plug for boosters, along with the jaunty meliorism.) This article is one of the ugliest and stupidest articles I've ever read. It's the old "hot or not" dichotomy, but made cellphone-friendly, so you've got to scroll for miles to stumble on a nugget of value. Here's one of the items, and there are many more like it, all equally… whatever the humor is. Sub-dad? Anyhow: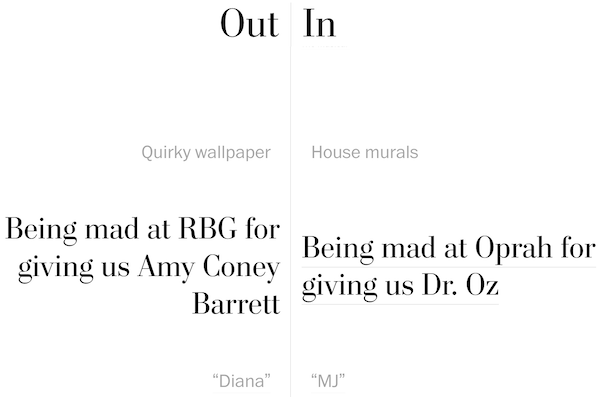 (The scrolled-from item is "quirky wallpaper"/"house murals"; the scroll-to item is "Diana"/"MJ".) You can see. This one should have been left to the interns, but no. The editors had to make it interactive. Don't interact. There's no reason to.
Subtext: Thinking is binary thinking.
2) "Notable deaths 2022″ BBC (and the most Brit headline ever[1]). The story is in the classes and their ordering, because — this being the UK — isn't it always. First come the deaths of Queen Elizabeth II and Pope Emeritus Benedict. Then comes, in this order, the following classification scheme:
A) Stage and Screen

B) Music

C) Politics

D) Writing, Journalism and Television

E) Comedy and Entertainment

F) Achievers and those who left their mark

G) Sport
Subtext: The commanding heights of the UK's political economy, as seen by its owners. The BBC begins by hammering home the primacy of the British class system, and then gives its own, more detailed version of familiar trilogy of music, movies and TV, plus celebrities. I love that "achievers" are below the salt at #6! (Oddly, one thing the UK is really good at — intelligence plus other clandestine imperial services and dirty tricks, like defenestrating Corbyn — isn't even mentioned. Unless it's comedy. Or sport. Or spooks are immortal, like ghouls.)
3) "The 100 greatest innovations of 2022" Popular Science. We need only look at two items under Health:
A) Paxlovid by Pfizer: The first take-home treatment for COVID-19

B) Bivalent COVID-19 vaccines by Moderna and Pfizer-BioNTech: A one-shot-fits-all approach
Here, as throughout the article, Popular Science uses the formula Innovation = Product ["Paxlovid"[2]] + Corporation ["Pfizer"] + Catchphrase ["The first take-home treatment for COVID-19"]. Obviously, something genuinely innovative like the Corsi-Rosenthal box wouldn't be classifified as an "innovation," because there's no corporation to fill that slot in the formula.
Subtext: Innovation is corporate innovation.
4) "Zelenskyy quip, Trump conspiracy top 2022 notable quote list" Associated Press. From the Introduction:
A tart retort by Ukrainian President Volodymyr Zelenskyy to a U.S. offer of help and a call by former U.S. President Donald Trump for the "termination" of parts of the Constitution top a Yale Law School librarian's list of the most notable quotations of 2022.

The list assembled by Shapiro is a supplement to The New Yale Book of Quotations, which is edited by Shapiro and published by Yale University Press.
There are two quotations from Trump, who apparently still lives rent-free in Shapiro's head. Here's #6:
6. "Jackie, are you here? Where's Jackie?" — U.S. President Joe Biden, calling out for deceased Congresswoman Jackie Walorski, White House conference on ending hunger, Sept. 28.
Personally, I would have put this at #1:
1. "This pandemic is over." — U.S. President Joe Biden, 60 Minutes, September 18, 2022.
But what do I know? I'm not from Yale.
Subtext: What Yale thinks it's not OK to talk about.
From defining the year-end-list genre, giving typical examples of it, and doing a closer reading of a few of the more egregious high-value cases, let's finally turn to the views of those who create these lists, who do the curation, the classification, and the ranking. Why, other than paying the rent, do they do it? Various theories are proffered. From Pop Matters: "In Defense 0f End-Of-Year Lists":
The art of compiling a set of things and ranking them in order from worst to best or best to worst is one of the most entertaining ways to incite discussion and analysis among both critics and fans alike. They assign quantity and judgement to things that are meant to be perceived as abstract and personalized. This, in turn, almost always calls for an awfully intriguing form of debate that is predicated on difference in taste. And as we all know by now, if there's one thing that we as human begins hate to hear, it's that our own interests and tastes are somehow wrongly conceived and inferior to another human being's interests and tastes.
("Taste" — the "consensus" spoken of above — and its origins, and why people might have different tastes, is considered entirely unproblematic.) "Discussion and analysis" translates readily to a business case for — at the baseline — clicks, but also time spent on the page, comments, recirculation through being quoted, etc. Circulation, in other words. Note that a unity of interest between reader and writer (or, as we say, "journalist") is presumed, in terms of advancing "taste." The New Statesman inverts this view, in "Why I Hate End of Year Lists":
Lists, I have decided, are bad.

We think of lists as a glimpse into a person's taste, but they're more revealing of how that person wants to be seen. They're less a way of sorting through and finding meaning in what we've consumed, and more about how we'd like a person to see our politics, our sense of humour, and where we locate beauty. The very act of list-making reorganises our personal encounters with art into a consumer guide for others.
For the New Statesman, end-of-year lists and the discussions swirling around them are, albeit taste-making, performance, and hence to be deplored.
Mashable, in "Our obsession with end-of-year lists is reining in again; is it even useful to us anymore?" marries taste-making (performative or not) to both keeping "the masses" in their place while enabling them to discover their "identities"
Humans tend to create chaos, but they also need to bring some order to the mayhem. As a result, the end-of-year lists by critics or connoisseurs weed out the average material for the masses. Speaking about this further, Susan A. Gelman, Professor of Psychology and Linguistics at the University of Michigan, says, "Year-end lists are one more manifestation of our deep urge to impose order on experience. But sorting out movies and albums does more than impose order on material goods; it also imposes order on the social world."

Gelman further adds the list helps many to conclude who we are. With each year, we discover a new trait or characteristic about ourselves, adding to the existing layers of our personality. So when we create a list of what we like or see the kind of music or movies we appreciate on someone else's list, we begin to form a sense of our identity.
For my part, I think French sociologist Pierre Bourdieu, in his absurdly obsessive detailed discussion of a similar genre, "hit parades," has the right of it:
Bourdieu, from Forms of Capital, pp 46-47…:

[B]ehind the apparent object of the ranking ["top ten" –lambert] list, the real object is the establishment as judges of those people who are listed.

That is, the point of the Bordieu's "top ten" list is not the philosophers at all, but who gets to be one of the experts picking them.

What I want to do is comment on the body of judges [I said "experts"–lambert] constituted. A constituent body is a body assembled aned named by an act of nomination; for example, the Conseil d'Etat [State Council]….. This constituent body is disguised by the product of its actions; . In other words, there is an operation of by the list drafters, and this, it seems to me, is the real issue… If we accept what they are doing, it is because there are ranking list drafters in other areas too (for example, they tell you: "These are the top ten films")

Or, in political journalism, the leading candidates.
Or, in end-of-year lists, the top N items in lists of music, movies, reading matter, etc.
.
Self-legitimation by the creator is, then, the default subtext in all end-of-year lists, tastemaking and other social functions being overlays. Self-legitimation is how you keep paying the rent. That also explains why we don't need to read end-of-year lists any more. Why do we want to help these people legitimate themselves?
But speaking of self-legitimation…. Recall that one example of an end-of-year list was sneakers. Well…
#ChatGPT the 2022 Top 10 sneaker of the list your bot just wrote, made me spit out my coffee with laughter. I'm about to see how it writes me an essay next. #YourSneakersAreDope #Snkrs #sneakers #2022SOTY pic.twitter.com/E90aOKJdEe

— Mike-a-Roni (@MikeAronius_Rex) January 1, 2023
Has ChatGPT[3] self-legitimized "itself" with this list? Sneaker mavens? And, if so, what does that say about the future of the genre?
* * *
Readers! What kind of lists would you make for the end of the year 2022?
NOTES
[1] Bourdieu would really make a meal out of "notable," because "notable" is, or was, one of the things you had to be to get a Blue Check on Twitter.
[2] "Why Not Everyone Should Take Paxlovid" Time. Not how the story started out!
[3] "List processing" in the headline is a joke: LISP, the original language for AI, stands for "list processing."