Normally, your humble blogger is of the school that the less attention given to "Davos," as in the annual World Economic Forum meeting in Davos, Switzerland, the better.
But the Financial Times wanted to make sure its readers knew damned well how important the mood of our billionaire wannabe masters is. This was the lead story for most of the day: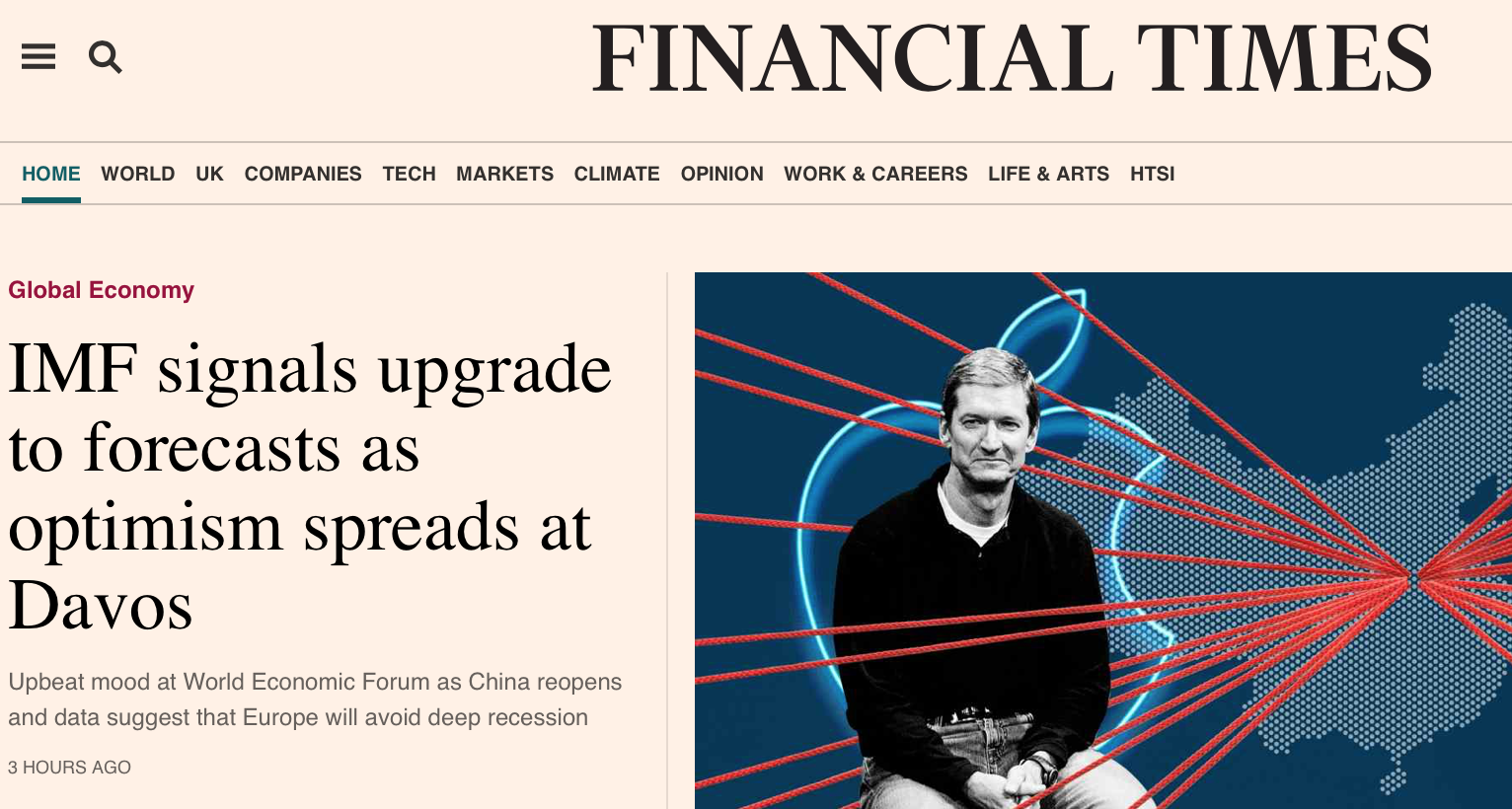 One reason for cheer might be that the top wealthy still see plenty of opportunities to loot the rest of us:
Welcome to 2030. I own nothing, have no privacy, and life has never been better @IdaAuken https://t.co/6BKymvbKB5 pic.twitter.com/YJjAkw8skS

— World Economic Forum (@wef) December 12, 2016
However, if you read the pink paper's Davos writeup, the happy talk is coming from the event's speakers, and include people like Ursuala von der Leyen and Olaf Sholz, who want you to believe that the war in Ukraine and Western sanctions on Russia are working out swimmingly, as well as Chinese officials who are selling the idea that the Chinese Covid mass infection plan will put China on a growth path….when for the US, which seems better able to shift a lot of work to home settings, the picture hasn't been been rosy. And that before getting to the serious risk of long-term damage to health and longevity, and resulting loss of labor contribution versus rises in medical costs. From the story:
Business leaders and top government officials have expressed optimism about the global economy as China drops coronavirus controls, the US embarks on a green investment boom and western Europe adjusts to the impact of Russia's war in Ukraine.

At the World Economic Forum in Davos, Gita Gopinath, deputy managing director of the IMF, signalled that the fund would upgrade its economic forecasts. Instead of predicting a "tougher" 2023, she now expected an "improvement" in the second half of the year and into 2024.

Positive data from Europe and the US in recent weeks have boosted hopes that the world's economy will avoid a recession this year.

Germany's chancellor, Olaf Scholz, told Bloomberg that the eurozone's largest economy would avoid a recession, while the Mannheim-based think-tank ZEW said its monthly gauge of investor sentiment had turned positive for the first time since Russia's invasion of Ukraine.
One could argue that the improved mood was due to the big fall in gas prices, which is due among other things to warm weather, stockpiling of Russian gas, big output cuts by energy intensive industries, and borderline recessionary conditions due to central bank bloodymindedness. A reduction in pain levels is not a strong platform for gains.
However, some outside the Davos bubble also see upbeat signs in the tea leaves. For instance, from Menzie Chinn: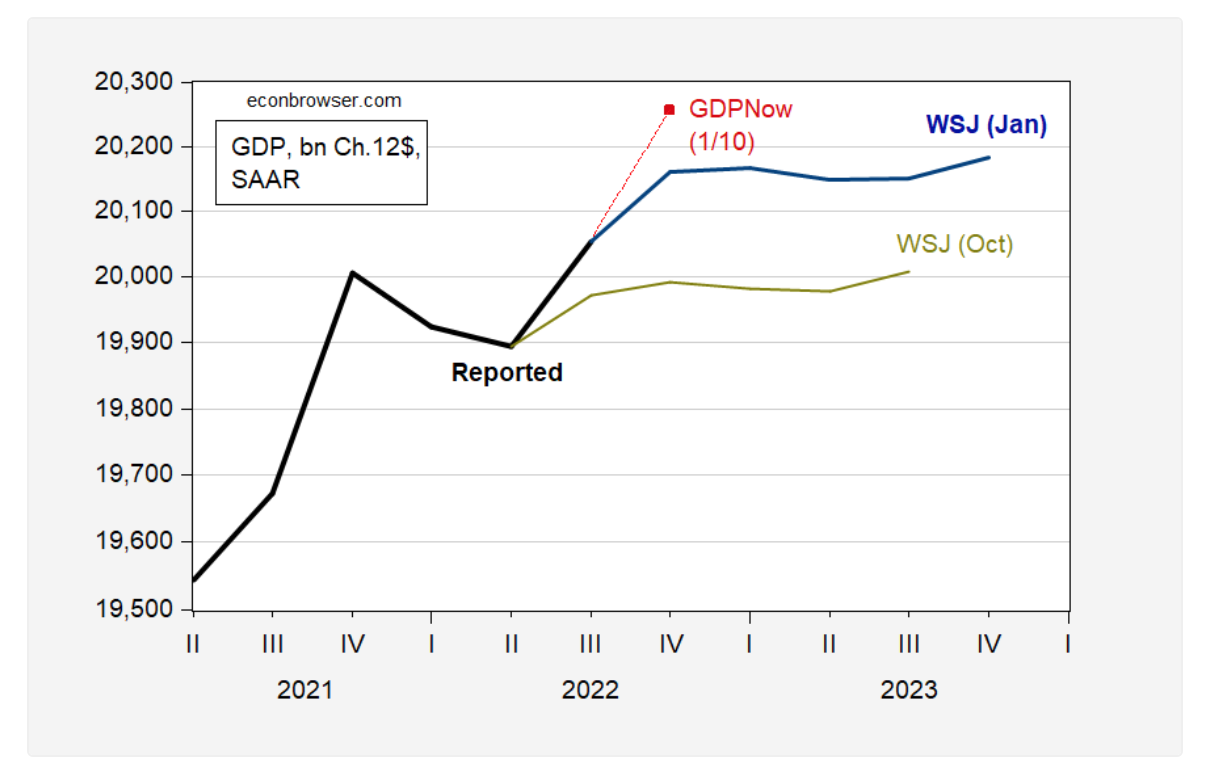 But it appears the Wall Street Journal attended a different conference than the Financial Times did:

It's easier than usual to reconcile these starkly opposed story lines. The Wall Street Journal focused on the mood of the participants, not the pep talk of the presenters.
A soccer fan recounted a saying from sports bars: "There's nothing wrong with your screen. Your team really is playing that badly."
That does not mean that the capitalist classes might not get lucky this year. But they don't expect to reach sunlit uplands any time soon. From the Journal:
The end of the free-money era has put a chill in the Swiss mountain air.

Business leaders and economists gathered here for the World Economic Forum's annual event say they see the world buffeted by high inflation—and high interest rates that central banks have pushed through to combat it. That has created a threat of recession, and led some of the world's biggest companies to hold their breath—and their spending—ahead of an uncertain year.

Yet, some see reasons to think rising inflation, sparked in part by Russia's invasion of Ukraine, has peaked. That could, as some business leaders hope, presage a soft economic landing. Alternatively, another rise in interest rates could lead to a more prolonged downturn.

Many businesses are slashing costs—and in some cases jobs—to be prudent, several business leaders said. But a number are also holding out hope that they won't need to cut too deeply to take advantage of what some expect could be a rebound this year if major economies skirt a recession.
Yours truly is not in the business of economic forecasting, although getting paid to be wrong nearly all the time is an unusually low risk gig. But the subdued mood does not point to a robust early 2023. And in my humble view, much depends on how China adapts to the reality of having a labor force diminished on an ongoing basis by Covid cases and then Long Covid. And the West is capable of finding ways to worsen Russian sanctions blowback, say by barring purchases of Russian nuclear fuel, which happens to be a critical and not readily replaced commodity.
But I have to confess to getting more pleasure than I should from the Davos attendees not getting much solace from their lavish spreads and potables. And perhaps even being made to suffer a wee bit for their safety:
#xundiLuft in allen Räumen durch mobile Luftreiniger und CO2 Reduktion mittels Frischluft, deshalb wohl die Jacken.

Aber die Pandemie für beendet erklären.

Ihre Eidgenössische Sanitätspolizei https://t.co/qAxA1Xrby1

— (L)eidgenössische Sanitätspolizei 🚨🚨🚨🚨🚨 (@EidgSanPol) January 18, 2023
So perhaps the short version, despite the exhortations of the Davos speakers, is that top businessmen find the environment is more uncertain than usual, with ample downside risk, and are therefore proceeding with caution.