The level of creative story-telling about Russia's progress in the Ukraine War has reached the point where the scenario below is not entirely impossible. Sadly yours truly lacks the literary skills to execute a Philip K. Dick rendering of this sketch:
A man in his late 30s, in mud-spattered combat gear at the outskirts of a Mitteleuropaish city, watches as six helicopters roar overhead. He stumbles after them and then steadies his gait. Eventually he runs into a county road and is able to determine which direction is not the way he came. He keeps walking.

Eventually, he flags down a truck. He succeeds in explaining in broken Polish that he's an American and asks if they can they drop him off closer to a military base or the US embassy….

In a bed in a VA hospital back home, Eric speaks to a visitor, his sister Sarah:

Cousin Harry has agreed to let me live with him for a few months while I look for work. But you have contacts in publishing. I have a story that needs to be told, even if there's no money in it. "The last American in Ukraine." The lowly soldier there during the dying days of the government in Kiev, who saw some of the final actions, including watching the official helicopters fly away to safety.

Do you think you can make some introductions? Do you know any magazine editors?

Sarah apparently had a word with the doctors. A series of men in white coats come to speak to Eric about what he thought he saw when he fancied he was in Lviv and hiked into Poland. It's not too long before he is committed.

In a testament to modern medicine, it takes only a year to free Eric of his delusions and return him to society.
As Lambert, a battle-scarred veteran of the War in Iraq information wars has repeatedly volunteered, the propaganda shrouding the Ukraine conflict is far more intense and truth-disengaged than anything has encountered. I agree. And as readers and colleagues have attested, it's also turned plenty of formerly-thinking people into narrative wind-up dolls.
A big reason for the orgy of hype has been that, as Alexander Vershinin pointed out in a recent article in Russia Matters, it is essential for Ukraine to maintain the appearance of success to keep aid flowing:
Ukraine's second constraint is the coalition nature of its warfare. Since running out of its own stocks, Ukraine is increasingly reliant on Western weaponry. Maintaining the Western coalition is crucial to the Ukrainian war effort. Without a constant string of victories, domestic economic concern may cause coalition members to defect. If Western support dries up due to depletion of stock or of political will, Ukraine's war effort collapses for lack of supplies. In some ways, Ukraine has no choice but to launch attacks no matter the human and material cost.
Mind you, the level of outside backing is greater than Vershinin suggests. The US and its allies are funding Ukraine's budget deficit. The West has also been providing more manpower support. Ursula von der Leyen had to try to walk back an end-of-November scripted remark that Russia had killed 100,000 Ukraine soldiers. More recently, Douglas Macgregor put the deaths in Ukraine forces at 150,000 and casualties at 450,000.1 Remember at the start of the war, Ukraine's total forces, including reservists, were roughly 600,000. So reports from Russian forces even as of a couple of months ago, based on radio chatter, that estimated some opposing units were as much as 70% foreign based on chatter in Polish, Romanian, and English seems entirely possible.
Remember also that at the beginning, most Western military experts expected Russia to quickly dispatch Ukraine and were surprised to work out that Russia had not only gone in with comparatively light forces but didn't have large reserved ready to go. Even so, independent experts often observe that Russia did dispatch most of Ukraine's initial equipment and much of its manpower.
Even so, the West, having spent decades fighting wars against insurgents, wasn't prepared for the burn rate of this conflict. So it has been imperative to keep thumping that Russia is being beaten to keep the money flowing long enough to make that a reality…as if the West's defense misspending could be solved by throwing more money at the problem.
Ukraine's Mighty Wurlitzer has been dutifully amplified by the Western media: the ghost of Kiev, Snake Island, the insinuations that Russia bombed itself at both the Zaporzhizhia nuclear plant and the Nord Stream pipelines and specific claims that Russia engaging in human wave tactics to horrific losses. We also see hoary old fables like Russia having primitive everything – equipment, technology, training, leadership – predisposing broad swathes of the public to accept derivative spin like the neverending, nevertrue claims that Russia was running out of artillery and missiles.
And we've seen an unrelenting deluge of Big Lies, like Putin's incredible roster of heath problems, his supposed weak hold on power and resulting paranoia, that feeds another oft-told tale, that Putin's ouster is just in sight by implication would lead to him being replaced by someone more tractable. And as a corollary "Russia is generally bad at everything" comes the claims that Russia's "conscript" army is suffering from terrible morale and desertions because they are losing so many men compared to the highly motivated, well-trained and equipped, and more blonde Ukrainians.
Russia has made errors, like initially conceptualizing the Special Military Operation as a way to bring Ukraine to the negotiating table, and not anticipating the ferocity of Collective West opposition, or optimistically assuming contract soldiers whose terms of duty ended in August would re-up for the good of Mother Russia. The latter miscalculation thinned out manning across a very long line of contact, setting up the strategically not very consequential but still very bad looking Kharkiv retreat. But they've typically recognized problems and made efforts to correct them.
Nevertheless, Soledar has fallen and the loss of Bakhmut looks baked in, absent horrific Russian errors. The so-called Zelensky line is breaking even before Russia has put its recently-mobilized forces to work in a serious way. Regular commentators are waiting for the Russian hammer to fall, although Russia may simply grind more forcefully by pressing harder at more points along the very long line of contact. Remember one concern on the Russian side is avoiding "winning" in a way that leads to NATO panic and desperate action…not that the Collective West's fragile emotional state can be readily managed.
With that context, you'd expect some members of the press to have worked out that things are not going very well for Ukraine and the classic cowboy movie rescue of the calvary riding over the hill (here in the form of tanks and artillery) will be too little, too late.
Instead, the media seems to be trying to integrate snippets of facts on the ground with the heroic tale of inevitable Ukraine victory. We'll stick to headlines since they have an impact regardless of whether the rest of the story gets read. Lambert and others flagged the Financial Times story below as an extreme form of flipping facts: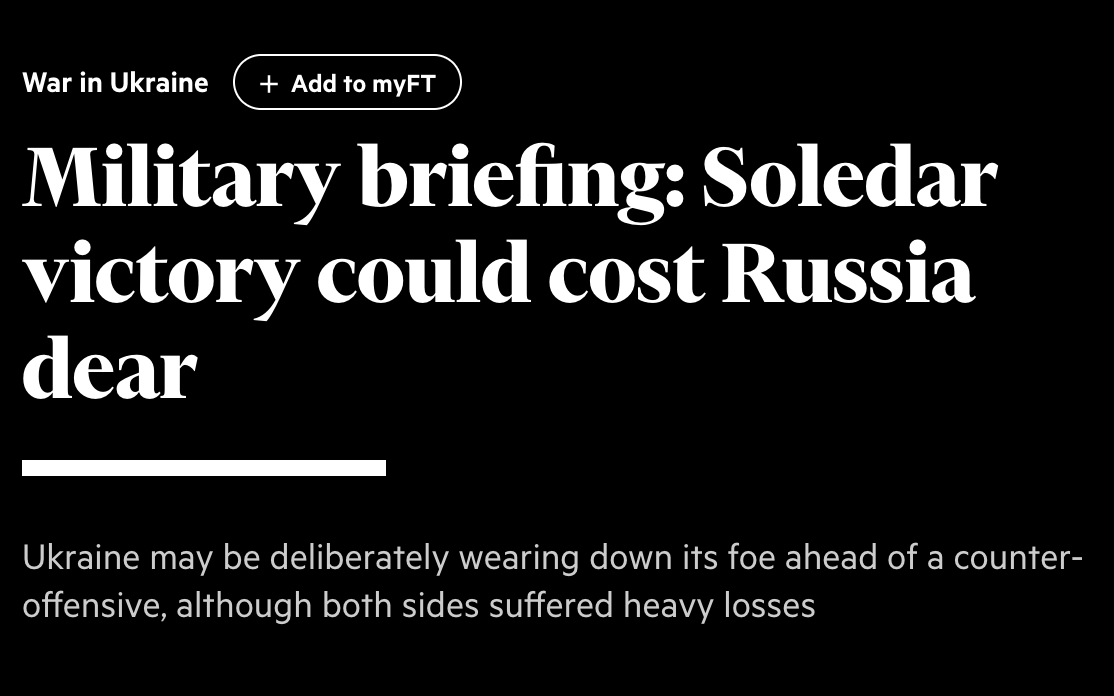 So instead of the common spin, that Soledar and Bakhumt are not consequential (despite Zelensky demonstrating the reverse by carting a flag from Bakhmut to present to Pelosi), the pink paper is doing that one better by depicting Ukraine as cleverly out attritting Russia.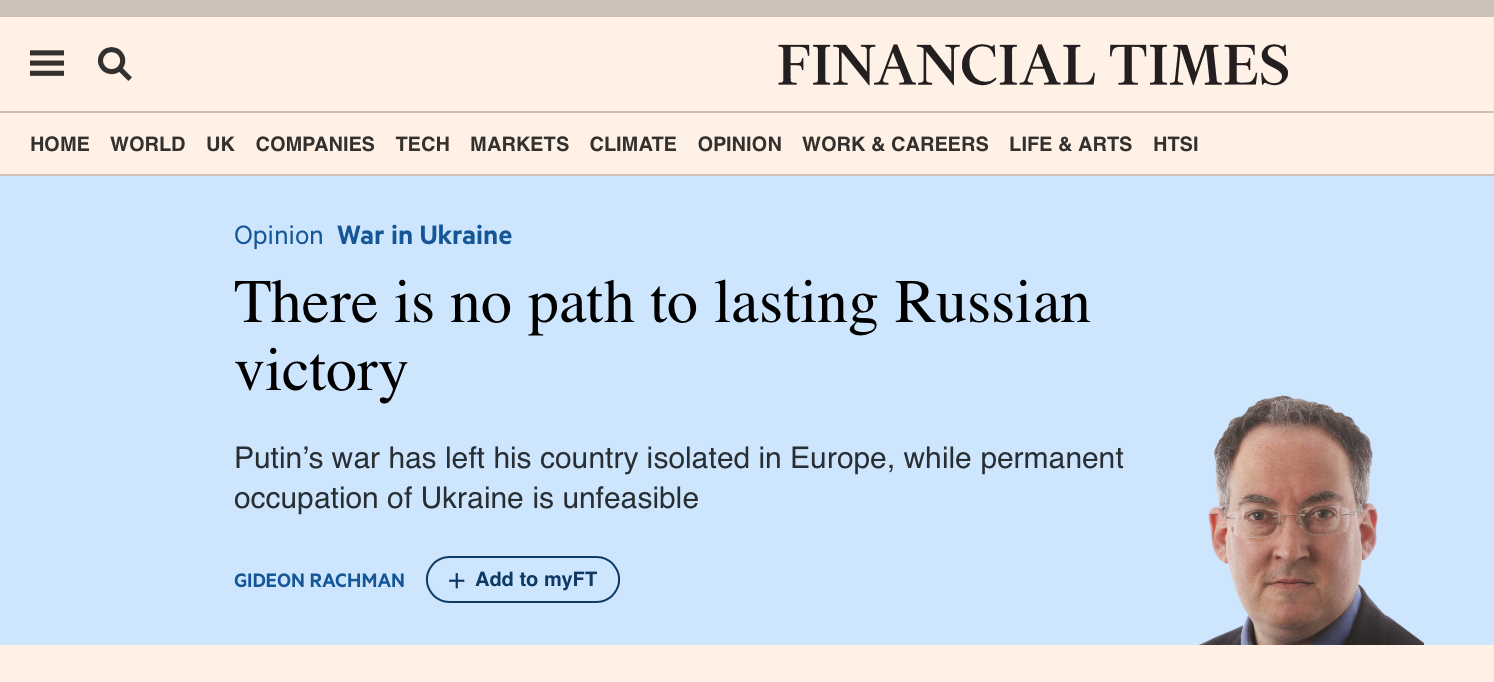 Confirming what we are seeing in the English language media:
Erich Vad, ex-brigadier General of Germany's army:

"To a large extent, we are witnessing a media conformity that I have never seen before in the Federal Republic of Germany. This is pure opinion mongering."#Germany #ukraine #ukrainerussiawar https://t.co/tADgQ0TPIp

— Dimitri Lascaris (@dimitrilascaris) January 14, 2023
Despite this being a holiday weekend, and hence international news often filling in for the domestic slow-down, my impression is that the Anglo press is averting its eyes from Ukraine. For instance, yesterday morning, there was not a single Ukraine story on Bloomberg's landing page. Ditto today. The only headline at the Journal is below the fold: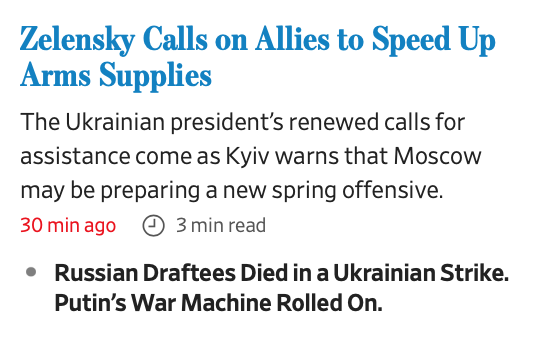 And the only story on the landing page of the BBC: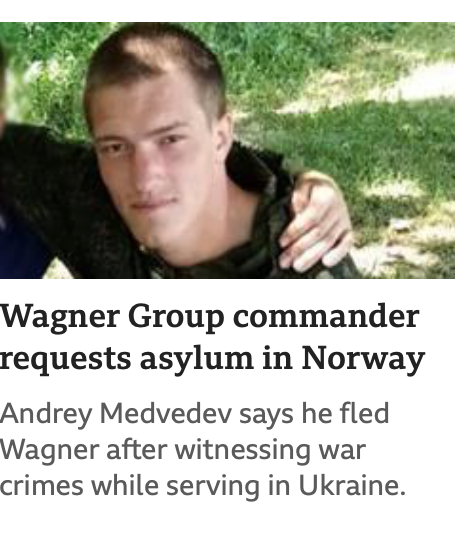 At the same time, we also see charges that Ukraine is plotting yet more stunts, like its Kerch Bridge attack, or its scary-seeming but ultimately ineffective drone attacks on Engels Air base, where Russia stations its nuclear bombers. Recall we'd predicted more terrorist attempts as Ukraine battlefield success looked more remote. From the Ministry of Defense's Telegram channel Monday morning:2

Finally, what is particularly disturbing is Ukraine nationals and their allies trying to silence opponents of Banderitism in the US, specifically Scott Ritter:
You'll note that Ritter had agreed to talk only about his experience as an weapons inspector and keep well away from current events. Yet Ukrainian loyalists vowed to put the restaurant out of business if the owner didn't cancel Ritter's appearance. (which I assume means somehow physically destroy it or threaten patrons).
This development followed hard on the heels of this presentation. I've sometimes watched Ritter talk to peaceniks and other local groups. They usually skew geriatric and follow instructions, as in ask questions in the Q&A (although there is often a garrulous exception who manages to wrap his query in an over-long anecdote.
In this talk, the first speaker, Dan Kovalik, had been to Donbass and showed photos of daily life, memorials to dead children, shelling damage, reconstruction, and victims of Ukraine torture, including one who'd had all his teeth broken off at the gum line to inflict maximum pain.
Ritter was second and used himself as a case example of how First Amendment rights were being restricted to stifle debate about the Ukraine conflict. He focuses on how his name was on the Ukraine hit list. Ritter was particularly upset that US tax dollars appear to be funding it: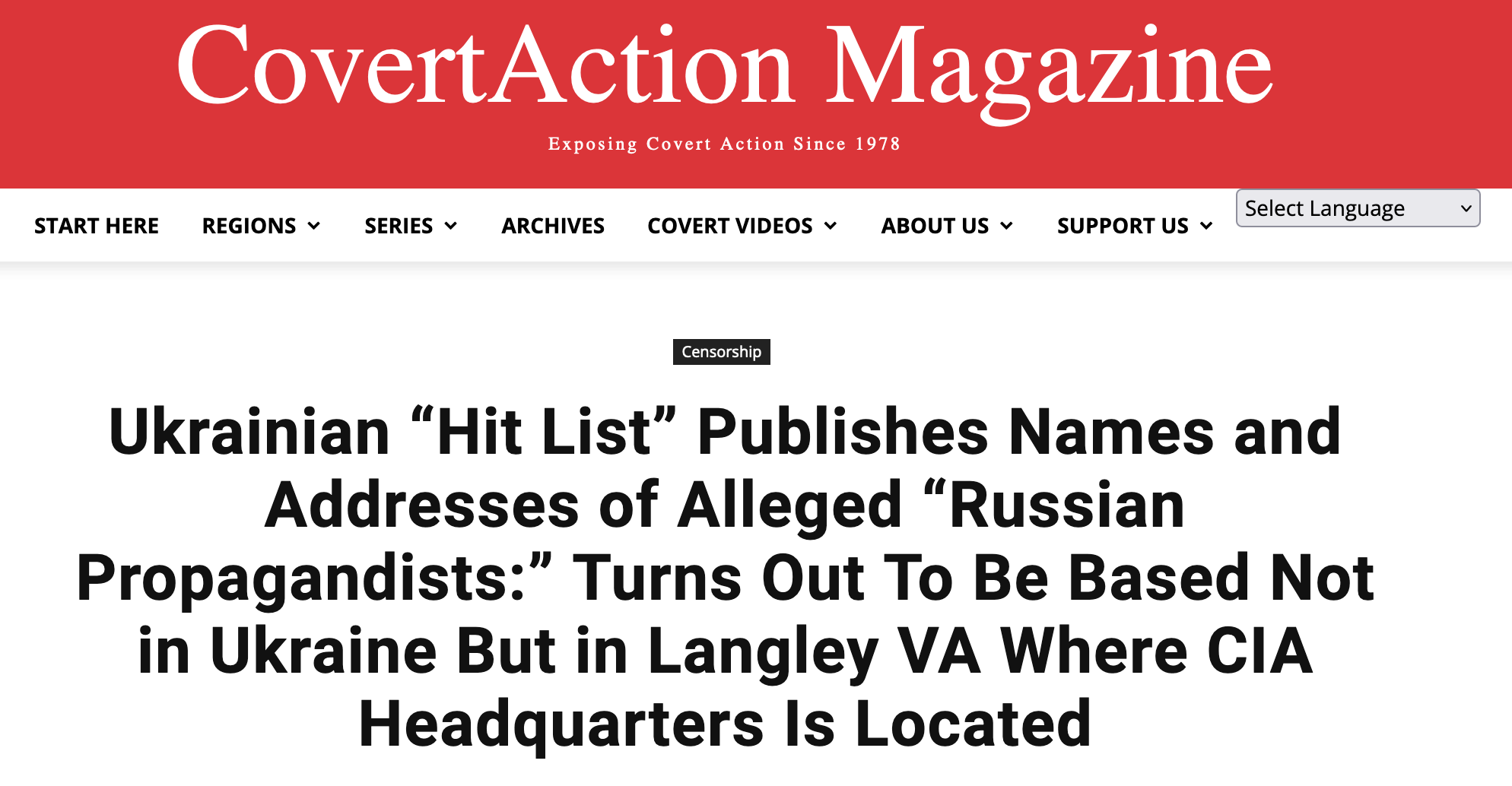 The Q&A section was a radical departure from the norm for these events. See in particular the woman who starts speaking at 1:06, charges Kovalik with offering propaganda, and loudly insists that Russian war crimes in Bucha and Kherson were investigated and confirmed by UN inspectors. Ritter didn't have the opportunity to say he'd called for that from the outset, in writing, and no such thing happened. She also tried to hijack the Q&A at several later points.
Another questioner at 1:16 presented himself as of Russian descent3 and proceeded to argue for "facts" that are false, like saying Russia blocked the implementation of the Minsk accord.4 He tried to talk over the moderator when the moderator corrected some of the ethnic Russian's "information".
Even though their actions may not have been coordinated, both these speakers hogged air time and stridently maintained they had "facts" that conclusively disproved what the speakers had said….even though those "facts" were falsehoods.
The start of in-person intimidation of anti-Ukraine war voices is a troubling development. This is harder to follow than big media stories but bears watching.
_____
1 Macgregor seems to be applying the classic rule of thumb in modern wars of 3 casualties for every death. But other reports about Ukraine suggest its ratio of dead to injured is way way high due to not having enough field hospitals close to the front so as to be able to treat the wounded in the crucial first hour. So I would assume that Macgregor's estimate of total Ukraine dead, at 150,000, is pretty good, but the casualties are much lower, at say 150,000. To put it another way, Ukraine's high level of deaths is due in part to not being prepared to accept the level of casualties it is suffering,
2 Douglas Macgregor dismissed the idea that Ukraine would become the ground for an insurgent war. He explained why the terrain and population distribution worked strongly against that.
3 Entirely possible. For instance, Victoria Nuland's paternal grandfather was a Russian Jew.
.4 To add: the Maidan coup was not in conformity with constitutional processes, for instance, there were too few votes in the legislature for the legal ouster of Yanukovich; the early 1930s Soviet famine did not target Ukraine even though Ukraine did suffer the most.