By Lambert Strether of Corrente.
Patient readers, this is a little light on politics. I must move along to a rant on smiling. –lambert
Bird Song of the Day
In honor of the tool-using Cockatoo:
Pink Cockatoo, Eyre Bird Observatory, Dundas, Western Australia, Australia. Perhaps I will find a more mellifluous sup-species as I go along!
• "Dinosaurs of the Sky: Consummate 19th-Century Scottish Natural History Illustrations of Birds" [Marginalian]. "To my eye, the most consummate drawings of birds in the history of natural history date back to the 1830s, but they are not Audubon's Birds of America — rather, they appeared on the other side of the Atlantic, in the first volume of The Edinburgh Journal of Natural History and of the Physical Sciences, with the Animal Kingdom of the Baron Cuvier, published in the wake of the pioneering paleontologist Georges Cuvier's death. Hundreds of different species of birds — some of them now endangered, some on the brink of extinction — populate the lavishly illustrated pages, clustered in kinship groups as living visual lists of dazzling biodiversity." • For example: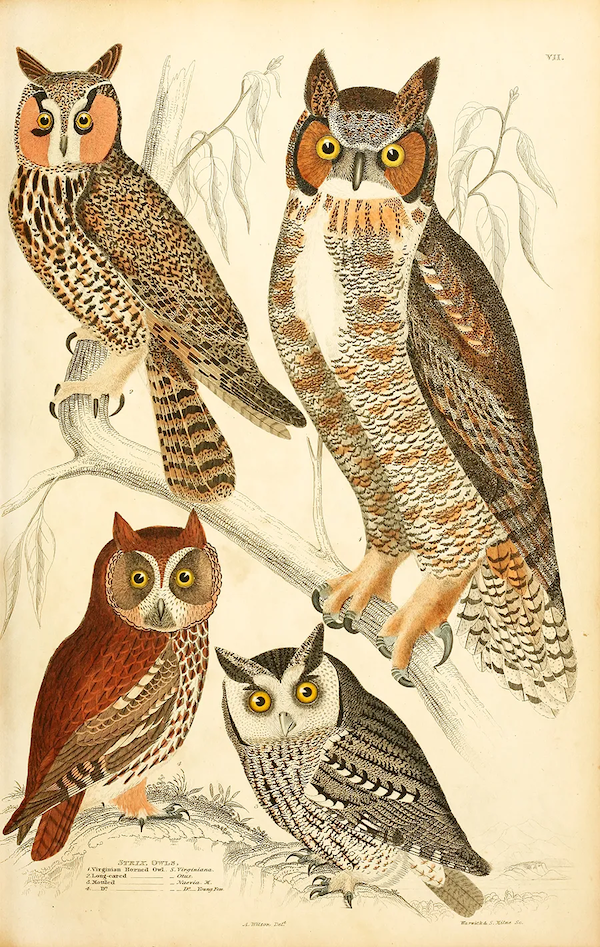 The dinosaur of Minerva hoots only at dusk….
* * *
Politics
"But what is government itself, but the greatest of all reflections on human nature?" –James Madison, Federalist 51
"Here's food for thought, had Ahab time to think; but Ahab never thinks; he only feels, feels, feels." –Herman Melville, Moby Dick
"So many of the social reactions that strike us as psychological are in fact a rational management of symbolic capital." –Pierre Bourdieu, Classification Struggles
Biden Administration
"Millions of people are about to get kicked off Medicaid" [Vox]. "Perhaps the greatest success of the American health care system these last few benighted years is this surprising fact: The uninsured rate has reached a historic low of about 8 percent. That's thanks in part to the pandemic — or, more precisely, the slew of emergency provisions that the government enacted in response to the Covid crisis. One policy was likely the single largest factor. Over the past three years, under an emergency pandemic measure, states have stopped double-checking if people who are enrolled in Medicaid are still eligible for its coverage. If you were enrolled in Medicaid in March 2020, or if you became eligible at any point during the pandemic, you have remained eligible the entire time no matter what, even if your income later went up. But in April, that will end — states will be re-checking every Medicaid enrollee's eligibility, an enormous administrative undertaking that will put health insurance coverage for millions of Americans at risk. The Biden administration estimates upward of 15 million people — one-sixth of the roughly 90 million Americans currently receiving Medicaid benefits — could lose coverage, a finding that independent analysts pretty much agree with. Those are coverage losses tantamount to a major economic downturn: By comparison, from 2007 to 2009, amid the worst economic downturn of most Americans' lifetimes, an estimated 9 million Americans lost their insurance." • That's not a bug. It's a feature.

"New emails raise questions if Secret Service 'protected' Biden family in Hunter gun probe" [New York Post]. Terrific lead: "A trove of new emails raises new questions about whether the Secret Service 'protected' the Biden family and obscured the agency's alleged involvement in a police probe after Hunter Biden's girlfriend ditched his gun in a trash can." • Huh? What?
2024
"Why Washington Tolerates the Trump Family's Saudi Corruption" [The Nation]. "Since Donald Trump's noisy exit from the presidency in January 2021, the former commander in chief and his family have made billions of dollars in business deals with Saudi Arabia's ruling elite. Jared Kushner, the former president's son-in-law who served as the de facto Middle Eastern viceroy during Trump's tenure in office, has been the biggest buck raker in the clan. As Michael Kranish details in an extensive report published in The Washington Post on Saturday, both Trump and Kushner faced financial difficulty in 2021 but found salvation thanks to a sovereign wealth fund headed by Saudi Crown Prince Mohammed bin Salman (popularly known as MBS)." • Stupid. Smart people use foundations as cutouts.

"Republican Sen. Tim Scott Prepares for Presidential Run" [Wall Street Journal]. "South Carolina Sen. Tim Scott is taking steps to run for president, people familiar with his plans said, adding to the stable of Republicans looking to wrest the party mantle from former President Donald Trump. Mr. Scott, the only Black Republican in the Senate, is testing a message with GOP voters in key early states focused on unity and optimism as some Republicans say it is time to move on from the Trump era. Mr. Trump has announced a bid for president in the 2024 election…. Mr. Scott has been discussed as a potential presidential candidate for several years. He was the 2021 Republican chosen to respond to President Biden's address to Congress and has proved to be a strong fundraiser. He pulled in over $51 million during his last term. Mr. Scott has also built goodwill within the party in 2022, when he campaigned for other candidates and donated money to their campaigns. 'He truly believes that God is great and America is great and we are provided with incredible opportunities. So I think a Ronald Reagan 'Morning in America' hopeful America vision is one that Tim has, lives and breathes and is really needed in our country,' and Sen. John Barrasso (R., Wyo.), who is the GOP Senate conference chair." • I dunno. One thing I will say: If Republicans really want to own the libs, running a Black man for President would certainly do it.
Democrats en Déshabillé
Patient readers, it seems that people are actually reading the back-dated post! But I have not updated it, and there are many updates. So I will have to do that. –lambert

I have moved my standing remarks on the Democrat Party ("the Democrat Party is a rotting corpse that can't bury itself") to a separate, back-dated post, to which I will periodically add material, summarizing the addition here in a "live" Water Cooler. (Hopefully, some Bourdieu.) It turns out that defining the Democrat Party is, in fact, a hard problem. I do think the paragraph that follows is on point all the way back to 2016, if not before:

The Democrat Party is the political expression of the class power of PMC, their base (lucidly explained by Thomas Frank in Listen, Liberal!). ; if the Democrat Party did not exist, the PMC would have to invent it. . ("PMC" modulo "class expatriates," of course.) Second, all the working parts of the Party reinforce each other. Leave aside characterizing the relationships between elements of the Party (ka-ching, but not entirely) those elements comprise a network — a Flex Net? An iron octagon? — of funders, vendors, apparatchiks, electeds, NGOs, and miscellaneous mercenaries, with assets in the press and the intelligence community.

Note, of course, that the class power of the PMC both expresses and is limited by other classes; oligarchs and American gentry (see 'industrial model' of Ferguson, Jorgensen, and Jie) and the working class spring to mind. Suck up, kick down.

* * *
Realignment and Legitimacy
"Chaos in God's Country" [The American Conservative]. All you need from this bellicose but weak effort is one sentence: "I took my golf clubs out of my car, put them in my room, and went to see if there were any public safety officers in the hotel lobby bar." Dude loves cops so much you'd think he's a liberal.
#COVID19
Looks like "leveling off to a high plateau" across the board. (I still think "Something Awful" is coming, however. I mean, besides what we already know about.) Stay safe out there!
Lambert here: Last Friday, I reconfigured Covid coverage (at least temporarily; we may need to adjust to another surge). I've always thought of this section as providing readers with not only trend data, but early warning about locations (to the county level) particularly in travel season. But now the data is simply too slow and too bad, unsurprisingly, since "Covid is over." So I will revert to three charts only: national Case Data (Biobot), state Positivity (Walgreens), and national Deaths (Our World in Data). I will include links to Transmission (CDC), Wastewater (CDC), and Variants (CDC; Walgreens). I will still cover all of these topics (especially variants), but eliminate the charts. I also feel that the top of the #COVID19 section has not been sufficiently structured, and I'm going to create some buckets, like "Indoor Air," or "Masks" (and "Variants," if I encounter a good link). This reconfiguration is not a "step back," as Dima would say; but I do think I can use the freed-up time to beef up other sections, like Politics and especially Stats. Reader comment welcome!
* * *
Not sure where to file this one, but from comments in the readership I sense a strong correlation:
I got my first cell phone in 2012, years after everyone else I knew. That should give a hint as to how long I can "keep this up" in regards to Covid safety. #BringBackMasks #COVID19 #covid #COVIDisAirborne #CovidIsntOver #DoSomething #weekend #SaturdayMorning

— Keith Muise (@keetmuise) February 11, 2023
Both Yves and I could "keep this up" "forever," and we were both cell-phone holdouts for a very long time; "smart phones" especially. Readers?
Look for the Helpers
"Covid Meetups" [COVID MEETUPS (JM)]. "A free service to find individuals, families and local businesses/services who take COVID precautions in your area." • I played around with it some. It seems to be Facebook-driven, sadly, but you can use the Directory without logging in. I get rational hits from the U.S., but not from London, UK, FWIW.

I could file this under "Indoor Air," but I'm filing here because there's something about Corsi-Rosenthal boxes that seems to create this collective ethos.

I can't imagine why the libertarians haven't attacked them. After all, they're in the schools, children are building them, and they take away your God-given right to breathe in other people's infected air.
Indoor Air
First Far-UV DIY installation spotted in the wild:

I assembled 2 with 2 20w bulbs each. pic.twitter.com/Rt7X3LMg0w

— psuedonyms (@psuedonyms) February 10, 2023

No soecs, not recommended, just… interested. America is a country of tinkerers!
Maskstravaganza
Finally, a gen-u-wine Darth Vader mask (licensed merch, in fact):

Cool! Does it come with a voice changing option? Could be fun using a Darth Vader voice occasionally. Like if somebody disagrees with me in a meeting I could say "I find your lack of faith disturbing."

— Matthew (@MatthewDavidH) February 2, 2023

When, when, when will masks be treated as a fashion item?

I love the Aura N95 masks but I am BEGGING @3M to produce them in colors other than "you are about to have a medical procedure" white

— Katie Mack (@AstroKatie) February 12, 2023

"Are there places you should still mask in, forever? Three experts weigh in" [National Public Radio]. • Wowsers, "forever" is doing a lot of work there! And you'll never guess who the three "experts" are: Monica Gandhi, Bob Wachter — with whom you are familiar — and William Schaffner (who is sane, actually). So one out of three ain't bad.
Elite Malfeasance
"COVID-19 and Airborne Transmission: Science Rejected, Lives Lost. Can Society Do Better?" (accepted manuscript) [Clinical Infectious Diseases] (PDF). Extremely important. If we want to think about exceptional PMC, the authors of this article are a good place to start. For hegemonic PMC, read the article. From the Abstract: "This is an account that should be heard of an important struggle: the struggle of a large group of experts who came together at the beginning of the Covid-19 pandemic to warn the world about the risk of airborne transmission and the consequences of ignoring it. We alerted the World Health Organization (WHO) about the potential significance of the airborne transmission of SARS-CoV-2 and the urgent need to control it, but our concerns were dismissed. Here we describe how this happened and the consequences. We hope that by reporting this story, we can raise awareness of the importance of interdisciplinary collaboration and the need to be open to new evidence, and to prevent it from happening again. Acknowledgement of an issue and the emergence of new evidence related to it, is the first necessary step towards finding effective mitigation solutions." Assuming, of course, that "mitigation solutions" are wanted. Here is, to my mind, the smoking gun. After the initial interaction with WHO:

You will recall that "aerosol-generating procedure" is Hospital Infection Control-speak (see "Hospital Infection Control Departments Tenaciously Resist Airborne Transmission, Aided by CDC"); a clear "tell" of the hegemonic WHO faction that controlled the debate, at the cost of millions of lives.

Hospital Infection Control (Coatsworth) returns to the fray:

Yay, no more bad news!

— @mg2k21@swiss-talk.net (@mg2k21) February 11, 2023

Same here:

I can understand the paid cheerleaders.
I can't understand the crowd.

— tern (@1goodtern) February 11, 2023
* * *
Case Data
BioBot wastewater data from February 13: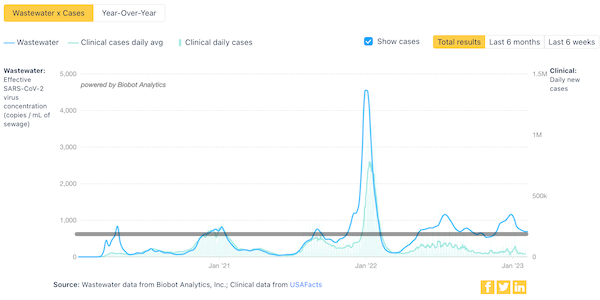 For now, I'm going to use this national wastewater data as the best proxy for case data (ignoring the clinical case data portion of this chart, which in my view "goes bad" after March 2022, for reasons as yet unexplained). At least we can spot trends, and compare current levels to equivalent past levels.
• This chart does not look particularly seasonal: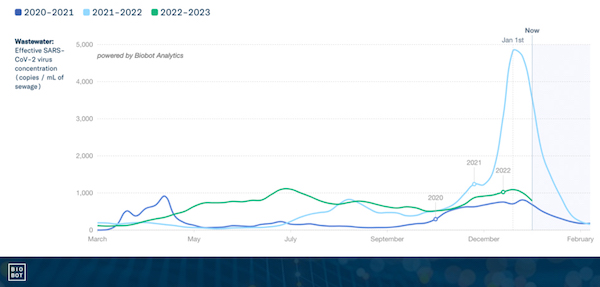 So Covid is not like "the flu," making the plan to integrate flu and Covid shots even more surrealistic than it already is.
• I've looked at this site, and it seems a little short on verification:
Did you know you can very easily report your at-home test result for #COVID19 at https://t.co/HVPbTF8U42? Today, the @US_FDA updated its step-by-step guide to include information about why this is important. Find out more: https://t.co/smGzhdaQpo.?utm_source=CDRHTwitterD pic.twitter.com/8dgreVxvgg

— FDA Medical Devices (@FDADeviceInfo) February 6, 2023
We could have put a QR code in every home test kit, but no…. (Identifying the kit, needless to say, not the home.)
• Not if Jeff Zeints has anything to do with it:
One day we will sort out indoor air, Covid will vanish, and we will forget about it the way we have forgotten about legionella and cholera, diseases that have been removed from developed countries by engineering rather than medical solutions.

— tern (@1goodtern) February 11, 2023
Positivity
From the Walgreen's test positivity tracker, published February 13: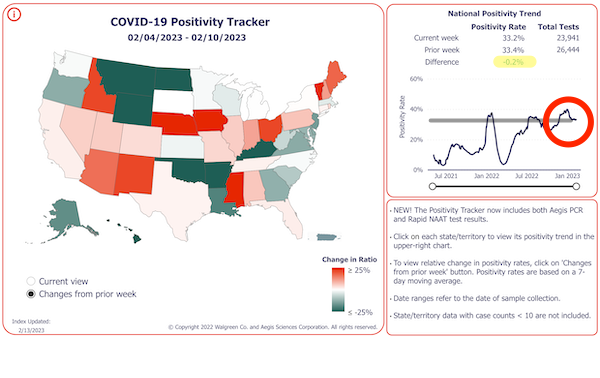 -0.2%. Still on the high plateau, equal to previous peaks.
Deaths
Death rate (Our World in Data):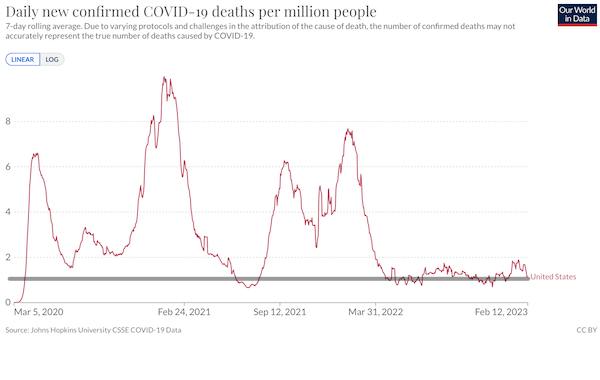 Total: 1,140,017 – 1,139,675 = 342 (342 * 365 = 124,830 deaths per year, today's YouGenicist™ number for "living with" Covid (quite a bit higher than the minimizers would like, though they can talk themselves into anything. If the YouGenicist™ metric keeps chugging along like this, I may just have to decide this is what the powers-that-be consider "mission accomplished" for this particular tranche of death and disease).
It's nice that for deaths I have a simple, daily chart that just keeps chugging along, unlike everything else CDC and the White House are screwing up or letting go dark, good job. (Though CDC may be jiggering the numbers soon. Lower, naturally.)
Bird Flu (H5N1)
"Bird Flu Has Begun to Spread in Mammals—Here's What's Important to Know" [JAMA]. "As bird flu continues to circle the globe, a recent report suggests that the highly pathogenic avian influenza (HPAI) A(H5N1) virus spread between farmed mink in Spain last October. The virus also may have been transmitted between seals in coastal New England last summer…. [Isabella Monne, DVM, PhD, head of the viral genomics and transcriptomics laboratory at the Istituto Zooprofilattico Sperimentale delle Venezie] said researchers are now evaluating the zoonotic and virulence potential of the virus identified in minks using in vitro and animal models. She noted that the most relevant changes in the influenza virus receptor binding site, which are known to switch the receptor specificity from avian to human receptors, have been not identified. 'According to the information currently available, these mutations are necessary for an H5N1 avian virus to become human-to-human transmissible,' she said. During the past 20 years, fewer than 900 confirmed human cases of H5N1 have been reported to the WHO. The historic case-fatality rate for human H5N1 infection has been high—more than 50%. But some experts say that's likely an overestimation because many mild or asymptomatic infections may go unreported. Human cases have generally been 'dead-end' infections. Although there's been some evidence of human-to-human transmission between close contacts in previous H5N1 outbreaks, those cases were extremely rare. Only a handful of human infections have been reported in the current outbreak, all among people who had direct contact with infected poultry." • Let's wait and see. Fortunately, we have a strong testing regimen … Oh, what's the use [bangs head on desk].
Follow-up on the Houston case, if case it be:
I needed a break yesterday. But I will be closely monitoring the Houston situation. If it does not verify I still plan on fully retracting the story and apologizing. Just wanted yall to know I do not plan on hiding or any cowardly stuff like that, I plan to honor my original word

— Tiffany Najberg DO, FACEP (@Tifftastic75) February 13, 2023
Stats Watch
There are no statistics of note today.
* * *
Retail: "Why Slow Motion Really Does Help Sell Luxury Goods" [Wall Street Journal]. "Imagine a car advertisement. Or a beauty-product spot. If it's for a luxury brand, or for one that is hoping to achieve such status, there's a good chance it uses slow motion. Why is that? And does it work? According to a new study, the answer to the second question is yes. And the reason it works is that slowed-down video can make viewers feel like they are immersed in the scene, which leads them to anticipate greater pleasure when the featured product appears. The end result: They perceive the product to be high-end. A few years ago, David Dubois, an associate professor of marketing at Insead business school in Fontainebleau, France, began closely looking at Super Bowl ads across the years, and found that one-third of them employed speed-altering techniques." • If… only… we…. bloggers… could… do…. that.
Tech: "Facebook's iOS App Architecture" [Daring Fireball]. "Dustin Shahidehpour, writing for Facebook's engineering blog: 'Facebook for iOS (FBiOS) is the oldest mobile codebase at Meta. Since the app was rewritten in 2012, it has been worked on by thousands of engineers and shipped to billions of users, and it can support hundreds of engineers iterating on it at a time.'…. I believe Shahidehpour's post is an attempt at bragging, but to me it reads like a cry for help. My thoughts turn to Melvin Conway's eponymous law: 'Any organization that designs a system (defined broadly) will produce a design whose structure is a copy of the organization's communication structure.' If that's true regarding Facebook's system design for their iOS app, it's a miracle the company ever gets anything done."
* * *
Today's Fear & Greed Index: 71 Greed (previous close: 69 Greed) [CNN]. One week ago: 73 (Extreme Greed). (0 is Extreme Fear; 100 is Extreme Greed). Last updated Feb 13 at 1:24 PM EST.
Rapture Index: Closes unchanged [Rapture Ready]. Record High, October 10, 2016: 189. Current: 187. (Remember that bringing on the Rapture is good.) NOTE on #42 Plagues: "The coronavirus pandemic has maxed out this category." More honest than most!
The Gallery
"How to Paint Like Hayao Miyazaki" [Animation Obsessive]. "What Miyazaki makes clear throughout the guide is that he is, proudly, a cheapskate who isn't fussy about tools. He looks for reliability and convenience. His pitch for Holbein paints is just that they're 'reasonably priced and a little goes a long way.'… One of his most fascinating notes deals with his pencil sketching. Drawing freely and "scratchily" (シャカシャカ), he treats each line as part of the final piece. There's no eraser involved — and, understandably, no eraser included in the kit." • If you sketch with analog materials, I think you'll enjoy this. Here is the main page of Miyazaki's guide: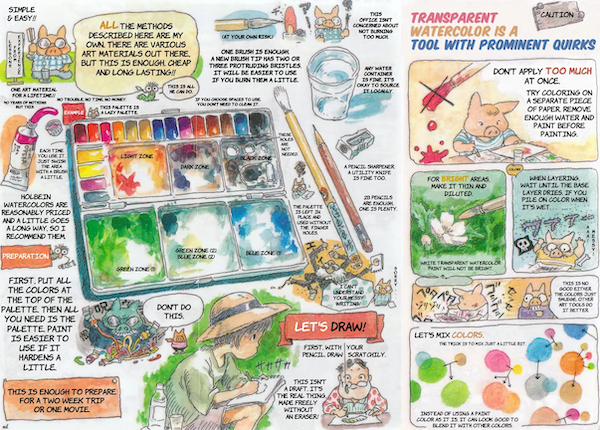 "How Salvador Dalí Built His Brand" [Wall Street Journal]. "The exhibition includes around 50 paintings, drawings and other objects, all made in the 1930s. Curators Caitlin Haskell and Jennifer Cohen explain that it was a tumultuous and career-defining decade for Dalí, as he joined and then moved away from the surrealist movement, survived the Spanish Civil War and discovered his mature style. He wanted to disorient—for example, forcing a viewer to step up close to a painting to see tiny images, which could mean losing a sense of the overall meaning. Dalí, the curators say, wanted to evoke a 'sense of confusion,' to show 'how arch-rationality sometimes runs parallel to delirium.' He called this the 'paranoiac-critical method.' A painting from 1938 shows the method in action. "Apparition of Face and Fruit Dish on a Beach" features a long-stemmed dish filled with pears, in which the stem doubles as the nose and mouth of a face; an overturned amphora and the head of a small child constitute the eyes. In the background landscape, a bridge, tunnel and mountain can be seen as parts of a dog's collar and head. On the far left, easy to miss, is another image seeable in two ways, as a rabbit or a duck. The painting also includes smaller and often beautifully detailed images of a frayed rope, drapery, a nude woman and various indeterminate but threatening figures. The picture recalls the hallucinatory visions of Hieronymus Bosch's "The Garden of Earthly Delights" (ca. 1490-1500), which has long been on view in Madrid. But Bosch's outlandish visions of monsters, amorous games and a horrific inferno appear linked to religious themes. Dalí's 'Apparition' seems unstable; its meaning changes depending on what part of the picture a viewer is looking at." • In theory, I should like Dali, based on this description; in fact, I've loathed Dali all my life (not sure where I saw him first; Life Magazine?). If I had to choose the artist whose works should be deleted from this timeline, and it was Dali v. Miyazaki, the choice would be very easy.
Groves of Academe
"Vermont State University officials apologize amid backlash over library, sports downsizing but say they will not reverse course" [VT Digger]. "administrators said they had no plans to reverse course. And remarks from Grewal and other administrators apparently failed to mollify students and community members, many of whom arrived at the theater with protest signs and prewritten remarks. 'I feel like we're losing the heart of our community when we lose our library,' one second-year English major told administrators, adding, 'Why can't we have both? Why can't we have a digitized library? Why can't we have a physical library?'" • Administrators hate books, because you can't charge rent when people take one off the bookshelf. I used to go into the stacks and read for hours and hours. Libraries should honor readers by being built like this, and we should preserve them:
Old world beauty. The Royal Portuguese Reading Room, Rio de Janeiro, Brazil. pic.twitter.com/MoEkIP0gtv

— James Melville (@JamesMelville) February 13, 2023
Class Warfare
"Polarization of the Rich: The New Democratic Allegiance of Affluent Americans and the Politics of Redistribution" [Perspectives on Politics].
In 2016, future Senate Majority Leader Chuck Schumer remarked about the 2016 national Democratic electoral strategy that "for every blue-collar Democrat we lose in western Pennsylvania, we will pick up two moderate Republicans in the suburbs in Philadelphia, and you can repeat that in Ohio and Illinois and Wisconsin."Footnote 1 In 2019, during the Democratic presidential primary election campaign, then-candidate Joe Biden told a group of donors about his governing style, that if elected president, "No one's standard of living will change, nothing would fundamentally change."Footnote 2 In November 2021, the second most-costly provision of the "Build Back Better" bill that passed the Democratic-controlled House cut taxes on the richest Americans.Footnote 3 What's going on with the party that formerly represented working people?

In this paper, I show that affluent and even very affluent voters—measured by income, but also stock ownership and occupation—have left the Republican Party to join the Democrats in a decades-long process, and I argue that we should pay renewed attention since this trend has meaningful implications for the politics of economic (re)distribution.
Here are Figures 2 and 3 from the paper: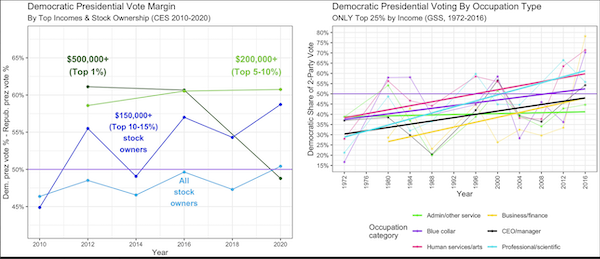 News of the Wired
If you want to fix your clothes, here is a list of vendors (caveat emptor):
SERVICE DIRECTORY FOR REPAIRING CLOTHES 🧵

I'm a big believer in buying nice things, repairing when needed, and keeping stuff forever. So here's a service directory for fixing clothes and shoes. These places take mail-ins, but contact them before sending. pic.twitter.com/YZRymyFm76

— derek guy (@dieworkwear) February 8, 2023
Where are the flying cars:
1964: toastable bacon.

I tell you, it's all been downhill since then… pic.twitter.com/p3ONzpTQuC

— Pulp Librarian (@PulpLibrarian) February 11, 2023
Schrödinger's toaster:
— No Context Brits (@NoContextBrits) February 12, 2023
* * *
Contact information for plants: Readers, feel free to contact me at lambert [UNDERSCORE] strether [DOT] corrente [AT] yahoo [DOT] com, to (a) find out how to send me a check if you are allergic to PayPal and (b) to find out how to send me images of plants. Vegetables are fine! Fungi and coral are deemed to be honorary plants! If you want your handle to appear as a credit, please place it at the start of your mail in parentheses: (thus). Otherwise, I will anonymize by using your initials. See the previous Water Cooler (with plant) here. From: JW: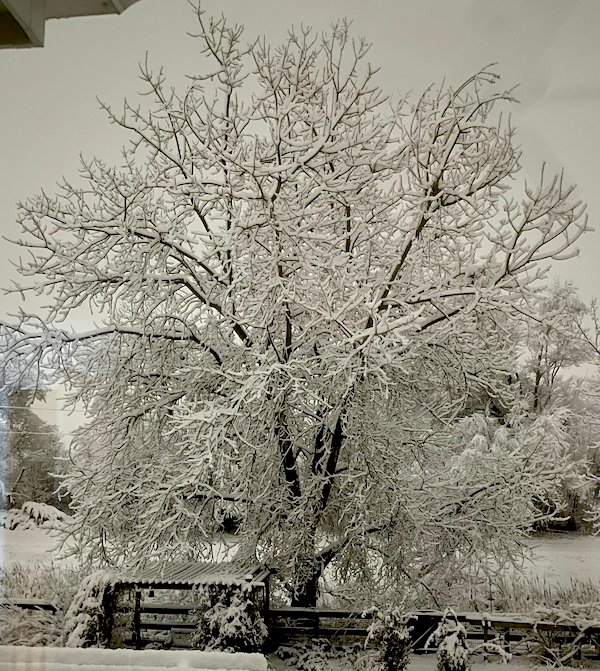 JW writes: "Taken from my window at 10:16pm! So bright."
* * *
Readers: Water Cooler is a standalone entity not covered by the annual NC fundraiser. So if you see a link you especially like, or an item you wouldn't see anywhere else, please do not hesitate to express your appreciation in tangible form. Remember, a tip jar is for tipping! Regular positive feedback both makes me feel good and lets me know I'm on the right track with coverage. When I get no donations for five or ten days I get worried. More tangibly, a constant trickle of donations helps me with expenses, and I factor in that trickle when setting fundraising goals:
Here is the screen that will appear, which I have helpfully annotated: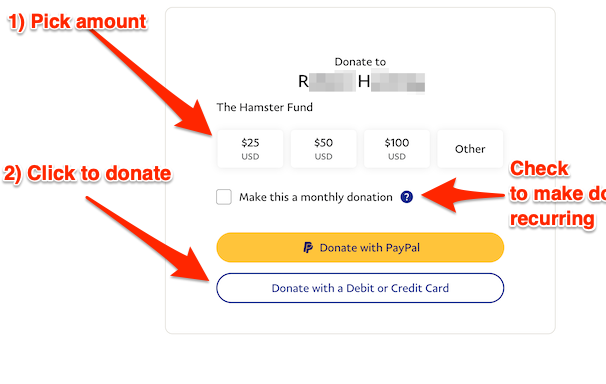 If you hate PayPal, you can email me at lambert [UNDERSCORE] strether [DOT] corrente [AT] yahoo [DOT] com, and I will give you directions on how to send a check. Thank you!