By Lambert Strether of Corrente.
Bird Song of the Day
I thought of jackdaws because of Konrad Lorenz's wonderful King Solomon's Ring, which I read when I was quite young (and unaware of Lorenz's views on "social decline").
Eurasian Jackdaw, Marche, Italy. A pretty duet, although short.
* * *
Politics
"But what is government itself, but the greatest of all reflections on human nature?" –James Madison, Federalist 51
"Here's food for thought, had Ahab time to think; but Ahab never thinks; he only feels, feels, feels." –Herman Melville, Moby Dick
"So many of the social reactions that strike us as psychological are in fact a rational management of symbolic capital." –Pierre Bourdieu, Classification Struggles
Biden Administration
"Why isn't Joe Biden getting credit for the economic recovery?" [Vox]. "The image of the accelerating "Biden boom" that the White House has been trying to project is rooted in economic data: unemployment is now at its lowest level since 1969, January saw the seventh straight month of slowing inflation, the economy has continued to grow despite fears of a recession, and over 12 million jobs have been created since Biden took office two years ago. But why doesn't it feel that way? The average American is still likely to say the economy is in relatively dire straits, according to Gallup polling data, and large numbers fear worsening inflation, higher interest rates and unemployment, and the possibility of a recession in 2023. Some 80 percent of American adults think the economy is either in poor or fair shape, according to January data from Pew Research Center. The short answer is, of course [what a tell], inflation." • I think the "short answer" is a million deaths and workplaces known to be lethal.
2024
East Palestine, dueling narratives:

Showing the political courage for which he is famed, Mayo Pete goes on MSBNC:

Buttigieg on MSNBC on irony of Trump going to East Palestine: "You water down regulations, you weaken the power of the administration to deal with freight railroad companies, & then you show up wanting to be a great friend of the people who have been impacted by a rail disaster." pic.twitter.com/vh0s3ylnVe

— Aaron Rupar (@atrupar) February 24, 2023

See under "Class Warfare," below, for the "regulations" talking point.

I know which look is better:

Tens of thousands of pounds of goods, food, water being delivered to the people of East Palestine, Ohio right now before Trump's visit.

Trump paid for all of it.

Number of goods delivered from the Biden Administration: 0. pic.twitter.com/QQADqZl9Uy

— Benny Johnson (@bennyjohnson) February 22, 2023

Correct: "Number of goods delivered from the Biden Administration: 0." Yeah, if I know Trump, the bottled water is off-brand or whatever. But you can't beat something with nothing! And:

"We're going to take care of the fire department.
We're going to take care of the police department."

That's my President Trump. 🇺🇸

Meanwhile Biden is kissing Zelenskyy's ass and dragging us all kicking and screaming into world war.

— Rep. Marjorie Taylor Greene🇺🇸 (@RepMTG) February 23, 2023

Is MTG wrong? (But see below for her visit to Idaho.)

"The AP Interview: Biden ready to run, US first lady says" [Associated Press]. "U.S. first lady Jill Biden gave one of the clearest indications yet that President Joe Biden will run for a second term, telling The Associated Press in an exclusive interview on Friday that there's 'pretty much' nothing left to do but figure out the time and place for the announcement… Biden aides have said an announcement is likely to come in April, after the first fundraising quarter ends, which is around the time that President Barack Obama officially launched his reelection campaign. The first lady has long been described as a key figure in Biden's orbit as he plans his future. 'Because I'm his wife,' she laughed." • And somebody trusted needs to handle the meds.

"US author Marianne Williamson announces plans to run for president in 2024" [Andalou Agency]. "US author Marianne Williamson announced Thursday that she will run for president in 2024. Williamson said in an interview with Medill News Service that she will run for the Democratic nomination. The progressive Democrat also ran for president in 2020. 'I wouldn't be running for president if I didn't believe I could contribute to harnessing the collective sensibility that I feel is our greatest hope at this time,' she told the news service. She is expected to officially announce her candidacy on March 4." • "Collective sensibility" is, I suppose, as sensible a model as anything else one reads.

"US presidential candidates should take mental competency test: Trump" [Andalou Agency]. Trump: "ANYBODY running for the Office of President of the United States should agree to take a full & complete Mental Competency Test simultaneously (or before!) with the announcement that he or she is running, & likewise, but to a somewhat lesser extent, agree to a test which would prove that you are physically capable of doing the job. Being an outstanding President requires great mental acuity & physical stamina. If you don't have these qualities or traits, it is likely you won't succeed. MAGA!" • Hmm. I wonder if he has anybody in mind. (This comes after Haley dinged him with a test for over-75s.

"Nikki Haley's presidential bid: Long shot or lost cause?" [Yahoo News]. "some political analysts say Haley shouldn't be written off. They argue that a potential grudge match between Trump and DeSantis could leave both frontrunners vulnerable and create room for an alternative candidate to emerge from the fray. Haley is the ideal name to break through in that circumstance, some argue, because of her political skill, conservative credentials and demographic appeal. But doubters say it would take an extraordinary series of events for anyone other than Trump or DeSantis to win the GOP nomination; even if that does happen, Haley may not be poised to take advantage. Critics from both sides of the political spectrum argue that her waffling positions on Trump over the years have left her with no constituency among Republican voters — both the MAGA base and those looking to move on from Trumpism will likely view her with skepticism. Some also believe that her race and gender could be an impediment in a Republican Party that has become so strongly aligned with white grievance politics in the Trump era."

"Buttigieg urges safety changes after fiery Ohio derailment" [Associated Press]. "Buttigieg said railroads and tank car owners should accelerate their plan to upgrade the tank cars that haul flammable liquids like crude oil and ethanol by 2025 instead of waiting to comply with the 2029 standard Congress ultimately approved after regulators suggested the earlier deadline. He also said freight railroads should reach more agreements to provide their employees with paid sick time to help prevent fatigue. Railroad unions have also raised concerns that car inspections are being rushed and preventative maintenance may be getting neglected after widespread job cuts in the industry in recent years that they say have made railroads riskier." • Railroad unions also." But not Mayo Pete! Somebody should ask him if he thinks it's a good idea that one person drive a two-mile-long train, because that's what the railroads want.

"Could a Trump grand juror's comments affect possible Georgia charges?" [Reuters]. " Media interviews given by the foreperson of the Georgia grand jury that investigated former President Donald Trump's attempt to overturn his 2020 election loss in the state present a public relations problem for prosecutors but need not stop them from bringing charges if warranted, according to legal experts. The foreperson, Emily Kohrs, was interviewed by a variety of U.S. news outlets this week and offered a rare window into the secretive process in which members of the grand jury weigh evidence and make recommendations to prosecutors on possible criminal charges. Kohrs, 30, offered hints as to what the grand jury recommended in its report, most of which remains sealed, after it wrapped up its work in January. Kohrs told CNN that 'the big name that everyone keeps asking me about – I don't think you will be shocked.'" • Oh.
Republican Funhouse
Hawley is correct:

The Republican Party can be the party of Ukraine and globalists or the party of East Palestine and working Americans. Not both

— Josh Hawley (@HawleyMO) February 24, 2023

Though the Reaganites won't like it much–

"The Reagan Republicans Take On the Putin Apologists" [National Review]. The headline: These days, it's hard to remember that McCarthyism originated with Republicans. But it did! "Vladimir Putin says his invasion of Ukraine is a war against the Western alliance. Biden's policy would let him win. Under ordinary circumstances, such fecklessness of a president to fulfill his most important duty would lead to political disaster. But Biden has been able to get away with it because many of the most vocal Republicans have attacked Biden's weak efforts to defend the West against Putin as being too strong. Leading the pack of Putin Republicans has been Trump himself, who has recited the Kremlin line that America forced Russia to invade, while publicly denouncing Biden's decision to send even the pitiful tank reinforcement he has proposed. Following their leader, Putin Republicans in Congress, led by Marjorie Taylor Greene (Ga.) and Matt Gaetz (Fla.), have called for stopping all U.S. arms shipments to Ukraine, a step that would guarantee a Kremlin victory. With such outright defeatists set up as his nominal opposition, any half-hearted measures that Biden might take to defend the West can only look superb by comparison. But now, finally, the Reagan Republicans are speaking up. In an op-ed in the Wall Street Journal on February 7, Senator Tom Cotton (R., Ark.) attacked the Biden administration for its refusal to provide adequate arms to Ukraine." • Too bad Cotton picked the wrong topic to editorialize on in the Times. I'm sure this Op-Ed would have been fine!
Democrats en Déshabillé
Patient readers, it seems that people are actually reading the back-dated post! But I have not updated it, and there are many updates. So I will have to do that. –lambert

I have moved my standing remarks on the Democrat Party ("the Democrat Party is a rotting corpse that can't bury itself") to a separate, back-dated post, to which I will periodically add material, summarizing the addition here in a "live" Water Cooler. (Hopefully, some Bourdieu.) It turns out that defining the Democrat Party is, in fact, a hard problem. I do think the paragraph that follows is on point all the way back to 2016, if not before:

The Democrat Party is the political expression of the class power of PMC, their base (lucidly explained by Thomas Frank in Listen, Liberal!). ; if the Democrat Party did not exist, the PMC would have to invent it. . ("PMC" modulo "class expatriates," of course.) Second, all the working parts of the Party reinforce each other. Leave aside characterizing the relationships between elements of the Party (ka-ching, but not entirely) those elements comprise a network — a Flex Net? An iron octagon? — of funders, vendors, apparatchiks, electeds, NGOs, and miscellaneous mercenaries, with assets in the press and the intelligence community.

Note, of course, that the class power of the PMC both expresses and is limited by other classes; oligarchs and American gentry (see 'industrial model' of Ferguson, Jorgensen, and Jie) and the working class spring to mind. Suck up, kick down.

* * *

"How The Cool Kid Of Progressive Politics Gambled It All Away" [FiveThirtyEight]. "There was the public reckoning over McElwee's fondness for betting on issues and elections that Data For Progress polled on. There was his consulting work for Sam Bankman-Fried — the founder of recently bankrupt cryptocurrency exchange FTX, who has since been indicted on fraud charges. And there were accusations of a straw-donor scheme — where someone pays another person to make donations on their behalf to avoid limits on campaign donations. (McElwee declined to be interviewed for this story.) After a tumultuous few weeks for the firm's public image, McElwee was out, the new guard was in, and they were cleaning house." • A lot more "cool kids" in "progressive politics" took SBF's money. Who are they?
Realignment and Legitimacy
"The MAGA evangelical revivalists are no longer silent about the Asbury Revival" [Current]. "Last week I wondered why the pro-Trump, Make America Great Again, Christian nationalist revivalists were not noticing the spiritual revival going on at Asbury University in Wilmore, Kentucky. These people believe that the United States was founded as a Christian nation and needs to be reclaimed as such… Many of these folks are now suggesting that the revival at Asbury is an answer to their prayers…. Don't get me wrong–I am completely open to what is happening at Asbury University and I am praying that this revival will bear much spiritual fruit in the lives of these Christian college students and the people who they encounter along the road of life. In this sense, I am a New Light! But I bristle when I see this spiritual stirring at a school very similar to the one where I have taught for 21 years getting repurposed for a political agenda."

"Lutheran Church-Missouri Synod President Calls for Excommunicating White Nationalists" [The Roys Report]. "In a letter dated Feb. 21, LCMS President Matthew Harrison said he was 'shocked to learn recently that a few members of LCMS congregations have been propagating radical and unchristian 'alt-right' views via Twitter and other social media.' He noted far-right members were causing 'local disruption' for congregations and alleged that LCMS leadership and deaconesses had fallen victim to online threats, some of which he described as 'serious.' 'This is evil. We condemn it in the name of Christ,' Harrison writes."

"How big Christian nationalism has come courting in North Idaho" [Religion News]. " Earlier this month, Rep. Marjorie Taylor Greene, the Georgia Republican, addressed the Kootenai County Republican Central Committee, whose purview runs from this small resort city up along the Washington state border. Before she spoke, a local pastor and onetime Idaho state representative named Tim Remington, wearing an American flag-themed tie, revved up the crowd: 'If we put God back in Idaho, then God will always protect Idaho.'… The event may be the closest thing yet to Greene's vision for the GOP, which she has urged to become the 'party of Christian nationalism.' The Idaho Panhandle's especially fervent embrace of the ideology may explain why Greene, who has sold T-shirts reading 'Proud Christian Nationalist,' traveled more than 2,300 miles to a county with fewer than 67,000 Republican voters to talk about biblical truth: Amid ongoing national debate over Christian nationalism, North Idaho offers a window at what actually trying to manifest a right-wing vision for a Christian America can look like — and the power it can wield in state politics."

Different flavors of Christianity. Fascinating study:

Wow!!

Pew has already coded all online sermons across America!

That's 49,719 sermons from by 6,431 churches, delivered in 2019

And guess what are the three most common words for evangelicals?

Eternal hell!
Salvation!
Trespass!

I was right! There is variation! pic.twitter.com/PYDwiTcIi7

— Alice Evans (@_alice_evans) February 24, 2023
#COVID19
Looks like "leveling off to a high plateau" across the board. (I still think "Something Awful" is coming, however. I mean, besides what we already know about.) Stay safe out there!
• Readers, since the national data systems in the United States are being vandalized, let's start collecting links to state data, too. If readers would send me links (see Plant below) to their favorite State and local dashboards/wastewater sites, that would be great. Canadians, too! Or leave a link in Comments.
Resources, United States (National): Transmission (CDC); Wastewater (CDC, Biobot); Variants (CDC; Walgreens); "Iowa COVID-19 Tracker" (in IA, but national data).
Resources, United States (Local): CA (dashboard), Marin; CO (dashboard; wastewater); CT (dashboard); DE (dashboard); IL (wastewater); IN (dashboard); LA (dashboard); MA (wastewater); MD (dashboard); ME (dashboard); MI (wastewater; wastewater); MT (dashboard); NC (dashboard); NH (wastewater); NM (dashboard); NY (dashboard); OH (dashboard); OR (dashboard); RI (dashboard); SC (dashboard); TN (dashboard); TX (dashboard); UT (wastewater); VA (dashboard); VT (dashboard); WA (dashboard; dashboard); WI (wastewater).
Resources, Canada (Provincial): ON (wastewater); QC (les eaux usées); BC, Vancouver (wastewater).
Hat tips to helpful readers: Art_DogCT, B24S, CanCyn, ChiGal, Festoonic, FM, Gumbo, hop2it, JB, JF, Joe, John, JM (2), JW, LL, Michael King, KF, LaRuse, mrsyk, MT, otisyves, Petal (5), RK, RL, RM, Rod, tennesseewaltzer, Utah, Bob White. (Readers, if you leave your link in comments, I credit you by your handle. If you send it to me via email, I use your initials (in the absence of a handle. I am not putting your handle next to your contribution because I hope and expect the list will be long, and I want it to be easy for readers to scan.)
• More like this, please! Total: 1 6 11 18 20 22 26 27/50 (54% of US states). We should list states that do not have Covid resources, or have stopped updating their sites, so others do not look fruitlessly. Thank you!
* * *
Thinking through the implications of this airborne pandemic for when the next one comes along:
2/ while I've seen many people trying to prove mask mandates "didn't work", far fewer are actually trying to figure out how we can best improve upon a low-hanging, scalable intervention that we can use immediately when needed.

— Abraar Karan (@AbraarKaran) February 23, 2023
A useful perspective, especailly as we aren't going to be sending the public health establishment to the Hague anytime soon (and don't get me wrong, that's where they should be).
Look for the Helpers
This seems like a neat idea. One of the bright sides of the pandemic is that it's really brought out the American tendency to tinker:

New paper prototype of a DIY air purifying lamp!

Inspired by wood-veneer hanging lamps. Uses a Levoit 300s filter, two 140mms fans, warm white LED strip. Exterior frame made of embroidery hoops, paper, waxed canvas and wire, designed by @mbecica 1/ pic.twitter.com/e7wMbt8Vrs

— Kai Chang (@syntagmatic) February 23, 2023

The skeptic in me wants to know if it works. Would before and after CO2 measurements do the trick?
Covid Is Airborne
Air travel:

"Effect of Predeparture Testing on Postarrival SARS-CoV-2–Positive Test Results Among International Travelers — CDC Traveler-Based Genomic Surveillance Program, Four U.S. Airports, March–September 2022" [Morbidity and Mortality Weekly Report]. "CDC's Traveler-based Genomic Surveillance Program collects postarrival nasal swabs for SARS-CoV-2 testing from volunteering international air travelers. Among 3,049 pooled (28,056 individual) samples collected during March 20–September 3, 2022, the predeparture testing requirement was associated with 52% lower postarrival SARS-CoV-2 positivity."

"Notes from the Field: Aircraft Wastewater Surveillance for Early Detection of SARS-CoV-2 Variants — John F. Kennedy International Airport, New York City, August–September 2022" [Morbidity and Mortality Weekly Report]. "As SARS-CoV-2 testing declines worldwide [note lack of agency], surveillance of international travelers for SARS-CoV-2 enables detection of emerging variants and fills gaps in global genomic surveillance (1). Because SARS-CoV-2 can be detected in feces and urine of some infected persons (2), wastewater surveillance in airports and on aircraft has been proposed by the global public health community† as a low-cost mechanism to monitor SARS-CoV-2 variants entering the United States. Sampling wastewater directly from aircraft can be used to link SARS-CoV-2 lineage data with flight origin countries without active engagement of travelers…. This investigation demonstrated the feasibility of aircraft wastewater surveillance as a low-resource approach compared with individual testing to monitor SARS-CoV-2 variants without direct traveler involvement or disruption to airport operations. Limitations include dependence on lavatory use during the flight, which correlates with flight duration (5); inability to distinguish travelers with connecting flight itineraries, which lessens precision when ascertaining variant origin; and potential carryover of residual SARS-CoV-2 RNA between flights yielding viral detections unrelated to travelers on the flight. Stringent genome coverage thresholds might reduce the likelihood of carryover variant identification on subsequent flights."

Lambert here: Both useful studies. And why the heck did we have to wait three years into a pandemic to get them done? Why, it's almost like the CDC is a shop for writing papers, and not a public health agency at all!

* * *

"Factors to consider in the safe design of intensive care units – Part 1: historical aspects and ventilation systems" [Journal of Infection Prevention]. From the Abstract: "Evidence linking the role of ventilation systems in transmission of infection to patients in intensive care units has increased in recent years…. The authors found a number of problems with ventilation in ICU to which there has not been a cohesive response in terms of guidance to support users and designers. The resultant void permits new projects to proceed with suboptimal and designs which place patients and staff at risk. The NHS is now at the start of major new investments in healthcare facilities in England and this together with the end of the antibiotic era mandates new guidance to address these major concerns." • "The end of the antibiotic era" thrown in there as a lagniappe, yikes.
Maskstravaganza
Hospital Infection Control [sic] doing its thing:

1. Hospital visit today surreal. They were not going to let me visit the patient unless I took off my N95 respirator and put on a very flimsy surgical mask. I said though I drove for an hour to visit- I would call down the hall on my cell phone rather than take off N95.

— Martha Young- JD, MBA, N95 (@mryoung151) February 24, 2023

A useful tactic:

3 Ask to speak to the attending physician. I can only think that the nurses didn't want to have to bug the already overworked doc for this "pain in the ass visitor" and let me in. Sometimes being a pain the ass might save your life or the life of others. I don't blame the HCWs

— Martha Young- JD, MBA, N95 (@mryoung151) February 24, 2023

And the moral: Don't be afraid to be a PITA. You could be helping others!
Scientific Communication
"How Language Shapes Change: Perspectives on the Most and Least Effective Communication Strategies and Tactics During the COVID‑19 Pandemic" [CanCovid]. From the Abstract:

Going through what CDC has done, for Q1: "Nope, nope, nope…." And for Q2: "Yep, yep, yep…" Rarely do you ever see a project go completely wrong. But CDC seems to have accomplished it. (I should look into CDC's Walensky-led re-org, at some point. If any readers have leads, please leave in comments.)
Elite Malfeasance
"Fixing U.S. public health will require a health-systems revolution — and for physicians to take a backseat" [Eric Reinhart, STAT]. "Through its stranglehold on resources and institutional power, the U.S. medical profession has also come to distort the very definition of public health and what is now widely believed to constitute relevant knowledge. As I noted in a related essay in The Nation, lessons from labor history, social anthropology, political economy, epidemiology, communication, law, and various other nonmedical fields represent the bulk of the expertise that is most essential to formulating effective public health policy. Medical interventions constitute just 10% to 20% of modifiable factors that affect health, yet narrow biomedical expertise has been consistently prioritized in the selection of U.S. public health leaders from local to state and federal levels. The marginalization of non-biomedical knowledge within public health administration and the corresponding elevation of physicians to power has had catastrophic consequences for population-level health. While the clinical frameworks that characterize medical training are appropriate for the one-to-one encounters of patient care, misapplying them to the population-level problems of public health leads to a failure to effectively anticipate and address the social conditions upon which disease and disability feed. This, in turn, fuels a top heavy, reactive national health policy that prioritizes profitable medical treatment rather than cost- and life-saving prevention via community-based social services. Declining life expectancy in the U.S. — now at its lowest in nearly two decades — reflects the consequences of this policy choice. Rebuilding public health in the U.S. will require reclaiming it from its biomedical perversions."

Learning to live with cholera:

We can't do ALL the water! For an entire city? Are you kidding?

How are we going to pump it, eh? Gravity?

Even then, who's going to pay for it? Nobody will put up with tax hikes!

Zero cholera is a pipe dream. Stop living in fear. Enjoy your twenties. You'll be dead soon. pic.twitter.com/ZV4kc1b5xF

— Jonathan Mesiano-Crookston 🌬️🔅#COVIDisAirborne (@jmcrookston) February 22, 2023

"Herd Immunity," the ever-receding horizon:

Started/going pic.twitter.com/esTica82qz

— JoHo (@19joho) February 23, 2023
* * *
Case Data
NOT UPDATED BioBot wastewater data from February 21: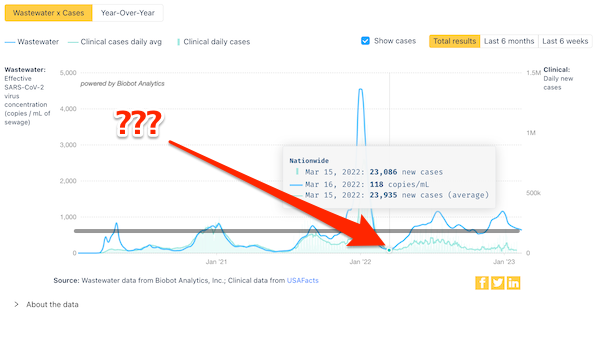 For now, I'm going to use this national wastewater data as the best proxy for case data (ignoring the clinical case data portion of this chart, which in my view "goes bad" after March 2022, for reasons as yet unexplained). At least we can spot trends, and compare current levels to equivalent past levels.
Lambert here: Once again, what happened on or before March 16? I've marked the date on the chart, because at least one other person has an answer: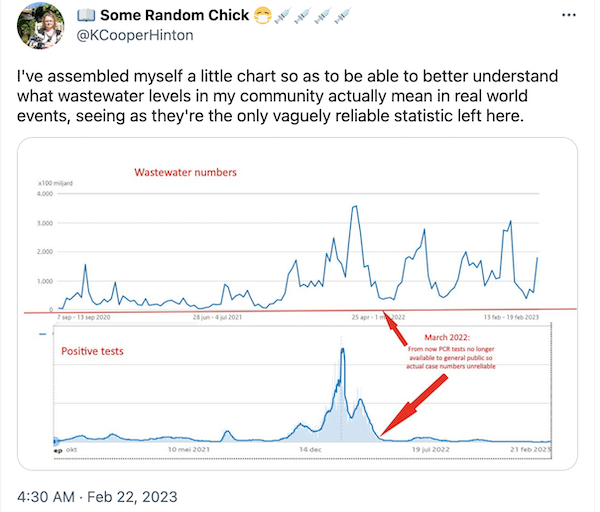 I don't think there's just one factor, though. Walensky's scarlet letter remark was February 24, 2022 (which speaks to keeping the case rate high, no matter that the case count is low).
Community Transmission
From Iowa Covid Tracker (not CDC):
There is a marked difference in last week's community transmission map and this week's community transmission map.

We had boatloads of counties exit suppression and post enough cases per 100K to surpass that threshold.

Wear your respirators, y'all. pic.twitter.com/qFk8PZC9U9

— Sara Anne Willette ♿️🌈👩🏻‍💻 (@amethystarlight) February 16, 2023
Positivity
From the Walgreen's test positivity tracker, published February 23: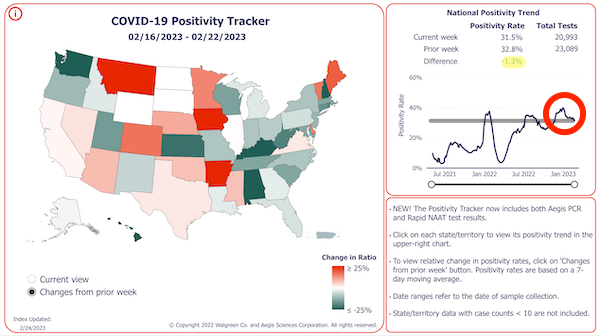 -1.3%. Still high, but at last a distinct downturn.
Deaths
Death rate (Our World in Data):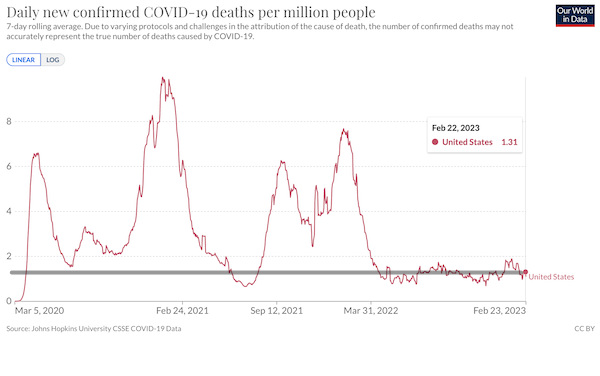 Total: 1,144,368 – 1,143,760 = 608 (608 * 365 = 221,920 deaths per year, today's YouGenicist™ number for "living with" Covid (quite a bit higher than the minimizers would like, though they can talk themselves into anything. If the YouGenicist™ metric keeps chugging along like this, I may just have to decide this is what the powers-that-be consider "mission accomplished" for this particular tranche of death and disease). Well, the total wasn't 192 again. Not that I feel better about it.
It's nice that for deaths I have a simple, daily chart that just keeps chugging along, unlike everything else CDC and the White House are screwing up or letting go dark, good job. (Though CDC may be jiggering the numbers soon. Lower, naturally.)
Stats Watch
There are no official statistics of interest today.
* * *
Today's Fear & Greed Index: 58 Greed (previous close: 62 Greed) [CNN]. One week ago: 68 (Greed). (0 is Extreme Fear; 100 is Extreme Greed). Last updated Feb 22 at 1:58 PM ET.
Healthcare
"Your brain could be controlling how sick you get — and how you recover" [Nature]. "[Asya Rolls, a neuroimmunologist] is part of a growing group of scientists who are mapping out the brain's control over the body's immune responses. There are multiple lines of communication between the nervous and the immune systems — from small local circuits in organs such as the skin, to longer-range routes beginning in the brain — with roles in a wide range of diseases, from autoimmunity to cancer…. Clinicians have known about the effect of positive thinking on disease progression for a long time, [Fahed Hakim, a paediatrician and director of the Nazareth Hospital EMMS in Israel] says. But this evidence has been largely anecdotal or correlational, so being able to identify a pathway through which such an effect occurs — and manipulate it experimentally in animals — makes it much more real, he says…. It's time that both researchers and clinicians take the link between psychology and physiology seriously, says Rolls. '?'" • Hmm. Covid is neutropic, so….
Zeitgeist Watch
"What's really behind the wave of sadness among teenage girls? We asked 9 of them." [NBC]. "Reports of persistent sadness and hopelessness. Declines in overall mental health. A rise in suicidal thoughts…. [T]hese trends [were] outlined in an alarming Centers for Disease Control and Prevention report about teenagers' mental health last week…. The report, published Feb. 13, was the product of the CDC's 2021 Youth Risk Behavior Survey, a biennial effort to collect data about high schoolers' health-related behaviors and experiences. The results, based on responses from more than 17,000 students, showed that well-being is especially poor among teenage girls, 57% of whom reported feeling 'persistently sad or hopeless' — a 10-year high."
"Social Media is a Major Cause of the Mental Illness Epidemic in Teen Girls. Here's the Evidence" [Jon Haidt, After Babel]. "I'm a social psychologist who is always wary of one-factor explanations for complex social phenomena. In The Coddling of the American Mind, Greg Lukianoff and I showed that there were six interwoven threads that produced the explosion of unwisdom that hit American universities in 2015, one of which was the rise of anxiety and depression in Gen Z (those born in and after 1996); a second was the vast overprotection of children that began in the 1990s. In the book I'm now writing (Kids In Space) I show that these two threads are both essential for understanding why teen mental health collapsed in the 2010s. In brief, it's the transition from a play-based childhood involving a lot of risky unsupervised play, which is essential for overcoming fear and fragility, to a phone-based childhood which blocks normal human development by taking time away from sleep, play, and in-person socializing, as well as causing addiction and drowning kids in social comparisons they can't win. So this is not a one-factor story, and in future posts I'll show my research on play. But today's post is about what I believe to be the largest single factor and the only one that can explain why the epidemic started so suddenly, around 2012, in multiple countries." • That factor is indeed social media, and the rest of the post, which you should read in full, is devoted to showing why (Summary: "social media as a major cause of teen depression is gendered and a result of Instagram").
"From TV to TikTok, young people are exposed to gambling promotions everywhere" [The Conversation]. "The 11- to 17-year-olds who took part in our study told us they regularly come into contact with gambling not just during sports, but in a range of everyday environments. They saw promotions for gambling in local shopping centres, at post offices, during sporting matches, movies and television shows. They were also aware of a range of novel products and marketing strategies the gambling industry is using to reach the next generation of customers. This constant exposure created a perception gambling was 'always there in your face' and 'a natural thing to do.' This was particularly the case when it was placed alongside non-gambling activities in everyday settings."
Guillotine Watch
"Elizabeth Koch Knows What You're Thinking" [New York Times]. "[W]e settled into a conference room. I expected her to be guarded, in keeping with her father's approach to the news media. Instead, she spoke excitedly for nearly two hours — telling me about her circuitous path to middle age, salting her sentences with profanity and referring to herself as a 'privileged, pasty, white girl from the Midwest.' She talked about exploring 'pain holes' with a therapist and going on two-week silent retreats. She insisted that she was 'apolitical.' Mostly, Ms. Koch wanted to explain something called the Perception Box, a term she trademarked in 2021. Unlikely Collaborators is built around the concept, which Ms. Koch wants to use to prompt a global movement of self-investigation. 'We all live inside an invisible but ever-present mental box — a Perception Box,' Ms. Koch began. 'This box distorts our perceptions of everything and everyone around us. It distorts our ability to understand other people, to see them clearly, to connect with them. And it distorts our ability to really even know ourselves.'"• My perception is that billionaires lie all the time. I wish they would stop:
Yesterday the NYT published an article in which billionaire heiress Elizabeth Koch told Brooks Barnes she was "apolitical," a claim that he didn't challenge. Koch has donated tens of thousands to Republican politicians and the Koch Industries PAC. pic.twitter.com/v5gaJPFE60

— Jacob Silverman (@SilvermanJacob) February 24, 2023
Class Warfare
East Palestine:
Liberals: Trump repealed the train brake rule!

Conservatives: The brake rule wouldn't have applied because the Ohio train was exempt from the rules!@LeverNews: Maybe Dems & Republicans both deregulated the rail industry & everyone should just admit it 👇https://t.co/D66Js0P5KT

— David Sirota (@davidsirota) February 24, 2023
Sirota left out a category: The left. The left checks first with the workers. Anybody who did that — NC, but not Lever News — would have found out that workers fingered a "hot box" as the cause of the derailement; a theory of the case just confirmed by the NTSB. The left also finds out the a poorly "blocked" train is a possible intensifier, as heavy, sloshing tank cars at the end of the train may have caused a whiplash effect. The left also connects these two causes to the enormously profitable Precision Scheduled Railroading, which cuts workers and makes for longer and more dangerous trains. There is no evidence that has appeared so far that would indicate that brake regulations had any causal or mitigating effect on the derailment at all (and braking regulation advocates must also show that the higher tech brakes they advocate would overcome poor "blocking").
So why have liberals gone wrong in this particular way? Focusing on the non-issue of "regulations" allows liberals to (1) blame Trump (a possible fundraising opportunity), (2) ignore Precision Scheduled Railroading (and hence not confront capital directly), and (3) erase workers and their unions (who they just kicked in the stones by outlawing a strike). I know I'm a broken record on this, but the Lever News coverage on this has been really annoying; they immediately pulled the "regulation" framing out of their ***** — from whence it propagated everywhere else — without doing even cursory investigation with the actual experts in the field: railroad workers. Not a good look.
"The Reaction Economy" [London Review of Books]. "Our public sphere is frequently dominated by events you could call 'reaction chains', whereby reactions provoke reactions, which provoke further reactions, and so on. Last year's Oscars ceremony is remembered for just such a reaction chain. When the host, the comedian Chris Rock, made a joke about Jada Pinkett Smith's shaved head, her husband, Will Smith, strode up on stage and slapped Rock in the face on live television. For several days afterwards, countless commentators, celebrities and social media users sought to distinguish themselves by their reaction to 'the slap'. Inevitably, those reactions provoked further reactions…. Thanks largely to the spread of smart scrollable devices in the last fifteen years, a certain concept of public participation – what is now known in the managerial vernacular as 'engagement' – is common to events of this sort, and to the way they are framed by the media." This is the dopamine loop at the level of social relations. More: "The individual is not conceived in the same way as in the liberal philosophical tradition – as an autonomous agent, possessed of reason and interests – or in the psychoanalytic tradition, as shaped perhaps unconsciously by past conflicts and injuries. Instead, each of us (celebrities included) becomes a junction box in a vast, complex network, receiving, processing and emitting information in a semi-automatic fashion, and in real time. Information and emotions bounce between these junctions, mutating as they travel, as instantiated in the memes and jokes that spread virally via social media platforms. In this model, each individual reaction is one more item of information thrown back into the network, in search of counter-reactions…. [M]uch of the anxiety provoked by today's reaction economy consists in the possibility that, in our desperate hunt for feedback and our need to give feedback to others, we allow ourselves to be steered in directions we did not consent to, and may not wish to go. This has echoes of the mid-20th-century fears of advertising, PR and propaganda, with the difference that now, in the age of reaction chains, we are drawn towards controversy, absurd public spectacles, endlessly mutating memes, trolling etc. In these showers of feedback, much of the appeal is in the sheer quantity of reaction being circulated. Feedback mechanisms, which the cyberneticians viewed as instruments to achieve autonomy and facilitate navigation, turn out to be a trap." • This is not reaction in the sense of reactionary. Or is it? (Recently, I was searching for a word for when a regime, instead of becoming an ancien regime, successfully reconsolidates itself. Perhaps "reaction" is a candidate for that; I should dig out my Cory Robin. While I have rejected a left/right binary, in favor of a conservative/liberal/left triangle, perhaps I need to make a move into "fourthness": reactionary/conservative/liberal/left. Certainly the energy on "the right" is not from Reagan conservatives, but from, well, reactionaries. OTOH, I shouldn't confuse the function of reaction with the ideology or factionalism of reaction; Obama, for example, reconsolidated our FIRE-dominated economy after the Great Crash, and he was a liberal. Further thought needed….)
Not that I'm foily:
'There are invisible rulers who control the destinies of millions. It is not generally realized to what ex- tent the words and actions of our most influential public men are dictated by shrewd persons operating behind the scenes….

— Chris Turnbull (@EnemyInAState) February 22, 2023
And:
'invisible rulers' controlling the destinies of millions?

What?

Huh?

Who?

It's a direct quote from the founder of the PR industry Edward Bernays from his book 'Propaganda' published in 1928 and forms the backbone of the modern propaganda industries: news, gov,corporate etc

— Chris Turnbull (@EnemyInAState) February 22, 2023
As reader eg wrote: "You can have whatever you like, but it's all smothered in Bernays sauce."
"Google asks some employees to share desks amid office downsizing" [CNBC]. "'Most Googlers will now share a desk with one other Googler,' the internal document stated, noting they expect employees to come in on alternate days so they're not at the same desk on the same day. 'Through the matching process, they will agree on a basic desk setup and establish norms with their desk partner and teams to ensure a positive experience in the new shared environment.'"
News of the Wired
"How Stovemakers Helped Invent Modern Marketing" [JSTOR Daily]. "[W]ith the dawn of the stove-specific foundry and a dramatic improvement in transportation beginning in the 1830s, manufacturers took responsibility for their products. No longer able to rely on local markets alone, these stove innovators attempted to distinguish individual brands. They patented new features and created model names—lots of them. [Historian Howell J. Harris] notes that a staggering four-fifths of all design patents in the 1840s, and two-thirds of those issued in the 1850s, had to do with stoves and their features. The mass production of stoves made for more similarity across markets, though Harris points out that put extra pressure on smaller features like handy design innovations and add-ons intended to make stoves stand out. Stoves weren't just stoves any more: they were Jewett Stoves, St. Lous Air-Tights, Franklin Saddlebags. These metal behemoths made their way to major cities by rail and ship, then to 'stove districts' and stores. In non-urban areas, retailers purchased merchandise from cities and managed the shipping process. Many of these retailers were tinware peddlers turned tinware store owners with vast distribution networks and sales territories. They cleaned up travel-worn stoves, installed, and even repaired them while overseeing complex credit and barter systems. Traveling salesmen dubbed 'stove drummers' crisscrossed the nation, selling stoves and collecting on debts. 'They traveled light, carrying trade gossip, catalogs, and not much else, visiting retailers in their own premises,' Harris writes. These salespeople also provided customer service and rudimentary market intelligence, reporting back to headquarters on how consumers like the stoves and what the competitors were selling. The stove boom ended in the late nineteenth century, but by then the die had been cast. Even as stove prices fell, Harris writes, stovemakers achieved 'universal market penetration…transforming stoves into objects bought as consumption items, on grounds of their style, and even beauty, as well as their functional utility.'" • Ha. My family went through a complete circle back to generics: A big steel box, extremely not beautiful. I can't even remember the brand!
"Some Writing Advice" [Ross Barkan]. This is very useful for anybody who wants to "be a writer." I like this tip especially: "You really want to be a writer? Buy a printer. If you've written something you like, read it once over in the Word document or Google doc. Then print it out. You'll be shocked by how many errors you'll catch reading it a second time on paper. That's how the eye works. Read with a pen and mark it up. Read it out loud to see if it flows. With fiction especially, this is a must."
* * *
Contact information for plants: Readers, feel free to contact me at lambert [UNDERSCORE] strether [DOT] corrente [AT] yahoo [DOT] com, to (a) find out how to send me a check if you are allergic to PayPal and (b) to find out how to send me images of plants. Vegetables are fine! Fungi and coral are deemed to be honorary plants! If you want your handle to appear as a credit, please place it at the start of your mail in parentheses: (thus). Otherwise, I will anonymize by using your initials. See the previous Water Cooler (with plant) here. From Late Introvert: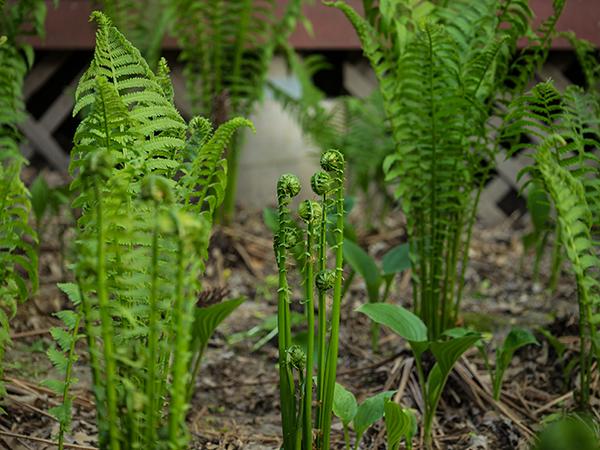 Late Introvert writes: "Ancient ferns, as we have been told by a local botanist. We don't know the name." I don't know what the ferns to right and left are, but that sure looks like a fiddlehead in the middle. Readers?
* * *
Readers: Water Cooler is a standalone entity not covered by the annual NC fundraiser. So if you see a link you especially like, or an item you wouldn't see anywhere else, please do not hesitate to express your appreciation in tangible form. Remember, a tip jar is for tipping! Regular positive feedback both makes me feel good and lets me know I'm on the right track with coverage. When I get no donations for five or ten days I get worried. More tangibly, a constant trickle of donations helps me with expenses, and I factor in that trickle when setting fundraising goals:
Here is the screen that will appear, which I have helpfully annotated: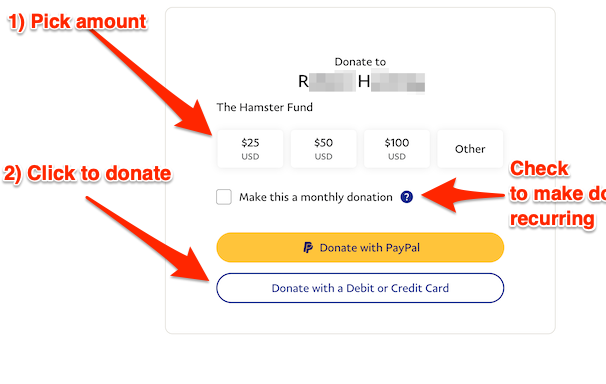 If you hate PayPal, you can email me at lambert [UNDERSCORE] strether [DOT] corrente [AT] yahoo [DOT] com, and I will give you directions on how to send a check. Thank you!