New York alligator captured in Brooklyn's Prospect Park BBC
RSV Vaccine Succeeds in Phase III Trial of Older Adults Medpage (Lawrence R)
A Novelist's Reflections on Useful Fictions Hedgehog Review (Anthony L)
HOPE IN THE DARK: History and Ghost Stories Perspectives on History (Anthony L)
#COVID-19
Japan postmortems of COVID-infected patients finds virus stays in half Mainichi Times (guurst)
In Ireland🇮🇪, there were 25.4% more deaths in December 2022 than the average number of deaths for the same period in 2016-2019.

This was up from the +15.5% excess mortality rate recorded for Ireland for November 2022👇 https://t.co/38r9r06xkr

— EU Commission in Ireland (@eurireland) February 17, 2023
Climate/Environment
The World's Plastic Use Is Getting Worse. 'It's a Recipe for Disaster.' Barrons (resilc)

UK Science Museum agreed to a "gag clause" with fossil fuel giant ZME Science (Dr. Kevin)

New and recent books about climate and environmental justice Yale Climate Connections
China?
Myanmar's overlooked but not-yet-forgotten war Asia Times (resilc)
European Disunion
Wolfgang Streeck – Virtuous Germany Defend Democracy Defend Democracy

The clans that rule Sweden Andreas Cervenk. Micael T: "I am not sure though that NATO would be good for SAAB. Isn't the whole point of NATO nowadays to kill national defense industry to force F-35 on the vassals?"
Old Blighty
What stage are Brexit negotiations at between Rishi Sunak and the EU? Guardian (Kevin W)
The battle for Britain's post-Brexit polity Chris Grey
New Not-So-Cold War
President Biden & Ukrainian President Volodymr Zelensky Meet in Kyiv C-SPAN

There was a time when the US at least pretended to insist that it was not waging war against Russia by proxy, and any suggestions to that effect were just "disinformation." As of today they've officially given up the pretension: the commander-in-chief has entered the war zone pic.twitter.com/OvIhUiirmE

— Michael Tracey (@mtracey) February 20, 2023

Recognizing The War Is Lost The 'West' Seeks An Exit Moon of Alabama (Kevin W)

Das Märchen vom spendablen Deutschland Die Welt. Translation: The fairy tale of generous Germany

Biden in Kyiv and Warsaw is a reminder of who really leads Europe Washington Post (Kevin W)

Netherlands warns of Russian attempts to sabotage its energy infrastructure Financial Times

Goldman: Russia May Have Received More For Its Crude Than Quoted Prices Suggest City A.M.
Rage Against the War Aftermath
This is the text of a talk I gave in Washington, D.C. on Sunday at the Rage Against The War Machine rally. Chris Hedges (Randy K)
Türkiye
🚨 Terrifying visuals: the moment as the recent earthquake hit Turkey's Hatay.

Tsunami warning issued for the coastal regions of Syria and Turkey after Turkey-Syria earthquake tonight pic.twitter.com/Hinw1n2rG2

— Megh Updates 🚨™ (@MeghUpdates) February 20, 2023
US says it will continue to extend its 'full support' after 2 more quakes hit Türkiye Anadolu Agency
Syraqistan
You Can't Save Democracy in a Jewish State New York Times (resilc)

The Perils of Marching in 'Lockstep' with Clients Daniel Larison

A disaster response team led by the Israeli military smuggled 200-year-old Book of Esther scrolls out of earthquake-stricken Turkey last Thursday.

The scrolls were returned on Friday after the Turkish public learned about the incident and complained on social media. pic.twitter.com/l6D5IVL02V

— MintPress News (@MintPressNews) February 20, 2023
Imperial Collapse Watch
Patrick Lawrence: Munich as Propaganda Fest ScheerPost. Important.

SitRep 2/20 – Terminal Approach Simplicius the Thinker. ZOMG. Be sure to read the bit on the F-22
Trump
There's No Question: It's Still Donald Trump's Republican Party New Republic (resilc)
Northern Suffolk Chemical Bomb
Abortion
Florida couple unable to get abortion will see baby die after delivery Guardian. Bad way to go. Pets are euthanized for less
Gunz
TSA raises alarm amid increase in guns at US airports BBC

Resilc: "40 days until back to Vermont and I become a one man Wagner Group vs deer."

I bought a gun — and I intend to use it. Column on my new life as an eco-vigilante. https://t.co/XLGnWtp5Qh

— Dana Milbank (@Milbank) February 17, 2023

Housekeeper's husband is arrested in slaying of L.A. Bishop David G. O'Connell Los Angeles Times
AI
Microsoft "lobotomized" AI-powered Bing Chat, and its fans aren't happy ars technica (BC)

How will AI change mathematics? Rise of chatbots highlights discussion Nature (furzy)
The Bezzle
James O'Keefe REMOVED As CEO Of Project Veritas, FULL SPEECH From James At Veritas HQ YouTube. Note Project Veritas often engaged in video fakery.

I stand with @JamesOKeefeIII, watch @Project_Veritas lose 2k followers in 5 minutes… they are now down more than 20k since I made this. pic.twitter.com/tzNB22TwCu

— Carpe Donktum🔹 (@CarpeDonktum) February 20, 2023
How the Big Business of Clogged Arteries Puts Patients at Risk ProPublica (resilc)
Nearly 30 percent of work remains remote as workers dig in The Hill
Do Declining Imports Signal an Imminent Recession? Menzie Chinn
Office Landlord Defaults Escalate as Lenders Brace for More Distress Wall Street Journal
US stocks are in the 'death zone' and could crash 26% within months, Morgan Stanley's top strategist says Business Insider
Guillotine Watch
Super Bowling for cash with the NFL's club of billionaires New York Post (resilc)
Class Warfare
Gerontocracy: the exceptionally old political class that governs the US Guardian (resilc)

Capitalism as Mental Illness, by Eric Anderson Ian Welsh

Oxford university stuck with Sacklers as opioid deaths led others to cut ties Financial Times

wtf happened in 1971? Paul R rates as interesting if uneven. Yours truly can answer the question: The Powell Memo. August 23, 1971. Codified and gave direction to existing extreme right efforts to hijack prevailing values, particularly with respect to the "rights" of enterprise.
Antidote du jour (Robert H):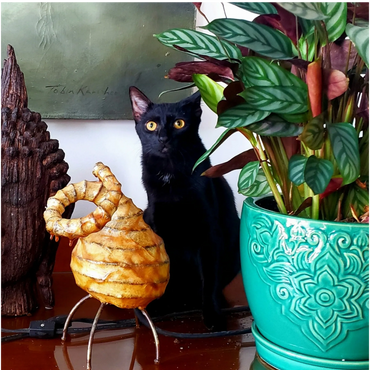 And a bonus (guurst):
When 2 groups of penguins meet on the road, they stop for a short exchange of information. When one of them moves in with the wrong group, a friend goes after him to bring him back🙂🐧🐧🐧 pic.twitter.com/W3y4ZwxdiW

— Tansu YEĞEN (@TansuYegen) September 23, 2022
See yesterday's Links and Antidote du Jour here.