By Lambert Strether of Corrente.
Patient readers, brunch for me today was both longer and more liquid than I anticipated. So bear with me as I stumble through Water Cooler as best I can, having gotten a late start.
Bird Song of the Day
Eastern Bluebird (Eastern), Connecticut Hill Road; Kermit Cutter's place (formerly Caslick farm), Tompkins, New York, United States. "Unbroken cut with internal recordist announcement gain change."
* * *
Politics
"So many of the social reactions that strike us as psychological are in fact a rational management of symbolic capital." –Pierre Bourdieu, Classification Struggles
Biden Administration
"How Biden saved Silicon Valley startups: Inside the 72 hours that transformed U.S. banking" [Politico]. "The swift and forceful action to rescue depositors at the two failed midsize lenders rewrote crucial banking guardrails in ways that could reverberate for years. It put the Biden administration's stamp — for good or ill — on the sector's future financial stability, while sending a message about the government's willingness to rescue private businesses in new ways. It also was done without passing a single new act of Congress or holding hearings among elected officials in recent days. And it almost didn't happen. President Joe Biden began the weekend highly skeptical of anything that could be labeled a taxpayer-funded bailout, according to four people close to the situation, who were not authorized to speak for attribution. Yet as officials worked through the weekend — mostly in open-ended virtual meetings tying several agencies together — to determine the blast radius of SVB's failure, they concluded that failing to protect the bank's depositors could leave small businesses across the country unable to access money needed to pay workers and keep their operations going." • Well, that seems to be the narrative.
2024
"Harris traveling to Iowa for first trip to the state as VP" [The Hill]. "Vice President Harris will travel to Des Moines, Iowa, on Thursday for her first trip to the state as vice president. In Iowa, the vice president will meet with local leaders to discuss Democrats' fight to protect reproductive rights and participate in a roundtable, her office announced on Tuesday. Harris has traversed the country in the wake of the Supreme Court overturning Roe v. Wade and has met with local leaders and advocates to discuss abortion issues. She has been the out-front face and lead messenger in the administration on pushing back on GOP-led state laws restricting abortion access and supporting states that have protected abortion access."

Since Ramaswamy is running for President:

Silicon Valley is hilariously renaming businesses flooded with hundreds of millions in venture capital as "small businesses. And they're pawn-ifying "workers" to argue for bailouts for the venture capitalist class. That explains their sudden newfound concern for "American… https://t.co/dOhXDxHkJB pic.twitter.com/0zgQ8P1Q9y

— Vivek Ramaswamy (@VivekGRamaswamy) March 14, 2023

Sounds like the RINOs can't say this, hence the focus on DIE initiatives at SVB board-level (which is red meat for MAGA, too. After all, what red-blooded American wouldn't want to be inundated with hundreds of millions of dollars in stupid money?). Meanwhile, liberal Democrats are all "Will no one think of the donors?"

"Marianne Williamson says 2024 bid is not a challenge to Biden but to a system" [Guardian]. Last sentence: "The Democratic National Committee has indicated that the party doesn't plan to hold primary debates." • Well, maybe Biden could debate himself. "I thought Biden would be here."
Democrats en Déshabillé
Patient readers, it seems that people are actually reading the back-dated post! But I have not updated it, and there are many updates. So I will have to do that. –lambert

I have moved my standing remarks on the Democrat Party ("the Democrat Party is a rotting corpse that can't bury itself") to a separate, back-dated post, to which I will periodically add material, summarizing the addition here in a "live" Water Cooler. (Hopefully, some Bourdieu.) It turns out that defining the Democrat Party is, in fact, a hard problem. I do think the paragraph that follows is on point all the way back to 2016, if not before:

The Democrat Party is the political expression of the class power of PMC, their base (lucidly explained by Thomas Frank in Listen, Liberal!). ; if the Democrat Party did not exist, the PMC would have to invent it. . ("PMC" modulo "class expatriates," of course.) Second, all the working parts of the Party reinforce each other. Leave aside characterizing the relationships between elements of the Party (ka-ching, but not entirely) those elements comprise a network — a Flex Net? An iron octagon? — of funders, vendors, apparatchiks, electeds, NGOs, and miscellaneous mercenaries, with assets in the press and the intelligence community.

Note, of course, that the class power of the PMC both expresses and is limited by other classes; oligarchs and American gentry (see 'industrial model' of Ferguson, Jorgensen, and Jie) and the working class spring to mind. Suck up, kick down.

* * *

Yeah, and?

In America, if you're a wealthy vulture capitalist with over $250,000 in uninsured deposits at a loosely regulated bank the federal government will guarantee that your money is safe in a weekend. If you have no health insurance and get cancer, you're on your own. Unacceptable.

— Bernie Sanders (@SenSanders) March 15, 2023
Realignment and Legitimacy
"Iowa Poll: Strong majority opposes using eminent domain for carbon-capture pipelines" [Des Moines Register]. "At a time when the state is deeply divided politically, Iowans are largely united in their opposition to carbon-capture pipeline companies using eminent domain to force unwilling landowners to sell them access to their property, a new Des Moines Register/Mediacom Iowa Poll shows. The poll shows 78% of Iowans oppose companies using the state-granted power to build carbon-capture pipelines across the state, while 15% are in favor and 7% are unsure." • I wonder if this will be an issue in the Iowa primary (the Republican primary, at least, the DNC having ungratefully nuked the Iowa caucuses).
#COVID19
"I am in earnest — I will not equivocate — I will not excuse — I will not retreat a single inch — AND I WILL BE HEARD." –William Lloyd Garrison
Resources, United States (National): Transmission (CDC); Wastewater (CDC, Biobot; includes many counties); Variants (CDC; Walgreens); "Iowa COVID-19 Tracker" (in IA, but national data).
• Readers, thanks for the push. We are now up to 38/50 states (76%). Could those of you in states not listed help out by either with dashboard/wastewater links, or ruling your state out definitively? Thank you! (I think I have caught up with everybody I missed.)
Resources, United States (Local): AK (dashboard); AL (dashboard); AR (dashboard); AZ (dashboard); CA (dashboard), Marin; CO (dashboard; wastewater); CT (dashboard); DE (dashboard); IL (wastewater); IN (dashboard); LA (dashboard); MA (wastewater); MD (dashboard); ME (dashboard); MI (wastewater; wastewater); MN (dashboard); MT (dashboard); NC (dashboard); NH (wastewater); NJ (dashboard); NM (dashboard); NY (dashboard); OH (dashboard); OK (dashboard); OR (dashboard); PA (dashboard); RI (dashboard); SC (dashboard); SD (dashboard); TN (dashboard); TX (dashboard); UT (wastewater); VA (dashboard); VT (dashboard); WA (dashboard; dashboard); WI (wastewater); WV (wastewater); WY (wastewater).
Resources, Canada (National): Wastewater (Government of Canada).
Resources, Canada (Provincial): ON (wastewater); QC (les eaux usées); BC, Vancouver (wastewater).
Hat tips to helpful readers: Art_DogCT, B24S, CanCyn, ChiGal, Chuck L, Festoonic, FM, Gumbo, hop2it, JB, JEHR, JF, Joe, John, JM (6), JW, LL, Michael King, KF, LaRuse, mrsyk, MT, otisyves, Petal (5), RK (2), RL, RM, Rod, square coats (4), tennesseewaltzer, Utah, Bob White (3). (Readers, if you leave your link in comments, I credit you by your handle. If you send it to me via email, I use your initials (in the absence of a handle. I am not putting your handle next to your contribution because I hope and expect the list will be long, and I want it to be easy for readers to scan.)
• More like this, please! Total: 1 6 11 18 20 22 26 27 28 38/50 (76% of US states). We should list states that do not have Covid resources, or have stopped updating their sites, so others do not look fruitlessly. Thank you!
* * *
Look for the Helpers
Leaving this one up for another day because it's important:

"Introducing: The Covid Underground" [Covid Underground]. The deck: "Welcome to The Covid Underground, a newsletter for the Covid-free movement and all of those who continue to avoid infection." More: "True health is the ability to change. About 10-30% of the U.S. population has changed their lives in the light of the freeing revelations of 2020, and we keep changing. We are dynamically, creatively faithful to what was— briefly— plain to all: normal is a dangerous illusion." • Worth a read.

* * *

Finding like-minded people on (sorry) Facebook:

Thought I'd add this here in case anyone is interested. Places to find people who "Still Covid" in your area & online: https://t.co/T4ND4XbrpF & https://t.co/sP5wq4fAw5 You can also search on FB "Still Coviding ____" & see if there's a specific group on your area.

— Adriel Rose (@adriel_rose) March 1, 2023

"Covid Meetups" [COVID MEETUPS (JM)]. "A free service to find individuals, families and local businesses/services who take COVID precautions in your area." • I played around with it some. It seems to be Facebook-driven, sadly, but you can use the Directory without logging in. I get rational hits from the U.S., but not from London, UK, FWIW.
Covid Is Airborne
Corsi-Rosenthal Box tIp to keep dog and cat hair out of your filters:

I use a piece of window screen as a dog hair pre filter. Seems to help the filters last much longer. I copied this idea : https://t.co/Ly6wpUaGG5

— a.k.a. "Pauly 🧞‍♂️🛰️" (@paulkaloper) March 13, 2023

The whole thread is interesting, on how often you should change your filters, but I thought this tip was really good. More Yankee ingenuity.

Interesting test. Readers?

PSA for those using the PureZone Mini HEPA: I have been taping over (scotch/clear tape) the LED holes near the power button AND the charge port. I did a tissue test and air is being sucked through both those areas, which are above the HEPA therefore contaminating the stream. pic.twitter.com/55MCDujqbQ

— Nicole (@Nicolewithno_h) March 15, 2023
Elite Malfeasance
"Operators of upscale L.A. care facility charged in 14 COVID deaths" [Los Angeles Times (CF)]. "The employee and residents died during the outbreak, in which 45 employees and 60 residents were infected, according to the Los Angeles County district attorney's office…. The facility was meant to be closed to visitors, prosecutors said, when it admitted a patient from a New York psychiatric unit. Silverado Beverly Place's own protocols required it to not admit anyone from a high-risk area like New York City, which was considered an epicenter of COVID-19 at the time…. Prosecutors say the patient was not tested for the coronavirus when they were admitted and showed symptoms the next morning. But after they tested positive, they were not quarantined, according to the criminal charges. Management at the facility did not block visitors who traveled domestically or internationally within 14 days to areas where COVID-19 cases were confirmed, prosecutors allege." • Meanwhile, Andrew Cuomo is still on the street. I guess his victims weren't "upscale"?
* * *
Looks like "leveling off to a high plateau" across the board. (I still think "Something Awful" is coming, however. I mean, besides what we already know about.) Stay safe out there!
Case Data
NOT UPDATED BioBot wastewater data from March 13: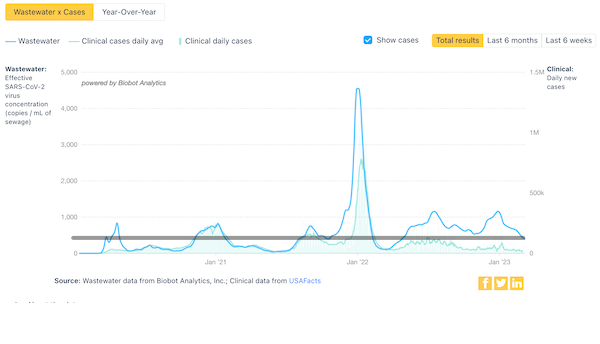 For now, I'm going to use this national wastewater data as the best proxy for case data (ignoring the clinical case data portion of this chart, which in my view "goes bad" after March 2022, for reasons as yet unexplained). At least we can spot trends, and compare current levels to equivalent past levels.
Covid Emergency Room Visits
From CDC NCIRD Surveillance, from March 11: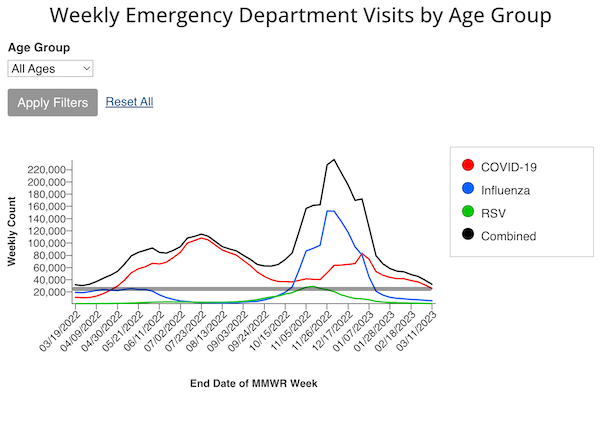 NOTE "Charts and data provided by CDC, updates Wednesday by 8am. For the past year, using a rolling 52-week period." So not the entire pandemic, FFS (the implicit message here being that Covid is "just like the flu," which is why the seasonal "rolling 52-week period" is appropriate for bothMR SUBLIMINAL I hate these people so much. Anyhow, I added a grey "Fauci line" just to show that Covid wasn't "over" when they started saying it was, and it's not over now.
Positivity
From the Walgreen's test positivity tracker, published March 15: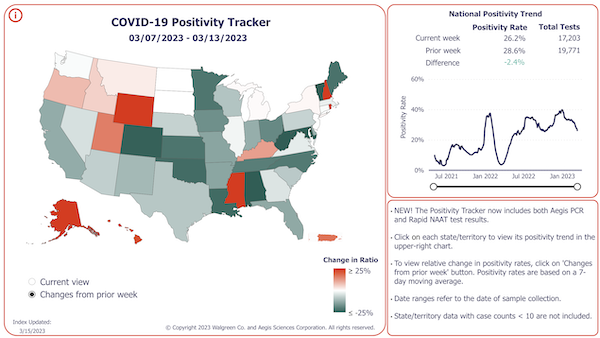 -2.4%. Still high, but at last a distinct downturn.
Deaths
Death rate (Our World in Data):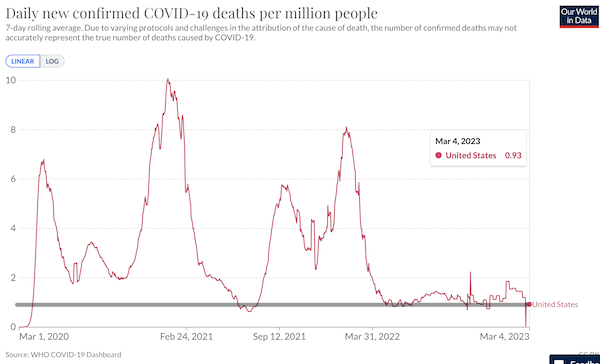 Total: 1,149,253 – 1,148,993 = 260 (260 * 365 = 94,900 deaths per year, today's YouGenicist™ number for "living with" Covid (quite a bit higher than the minimizers would like, though they can talk themselves into anything. If the YouGenicist™ metric keeps chugging along like this, I may just have to decide this is what the powers-that-be consider "mission accomplished" for this particular tranche of death and disease).
★ NEW ★ Excess Deaths
NOT UPDATED (but updating). Excess deaths (The Economist), published March 7: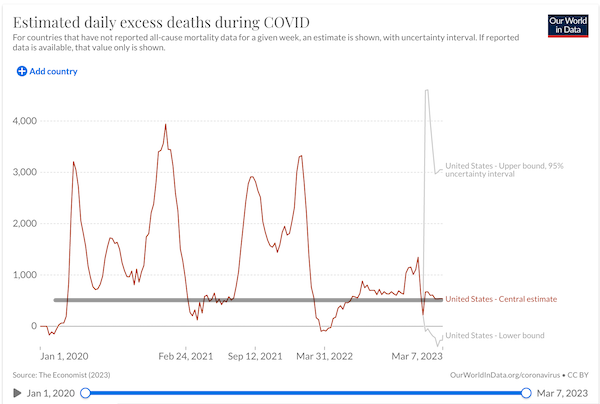 Lambert here: Based on a machine-learnning model. Again, we see a high plateau. I"m not sure how often this updates, and if it doesn't, I'll remove it. (The CDC has an excess estimate too, but since it ran forever with a massive typo in the Legend, I figured nobody was really looking at it, so I got rid it.
Stats Watch
Manufacturing: "United States NY Empire State Manufacturing Index" [Trading Economics]. "The NY Empire State Manufacturing Index sank to -24.6 in March of 2023, from -5.8 in February, and well below market forecasts of -8."
* * *
Banks: Ed Harrison has not figured much at NC since the Great Financial Crash. But he's very bright, level-headed, and worth listening to:
ADDENDUM: More on CRE. It's on the Fed's radar https://t.co/UhpqxJSrLh

— Edward Harrison (@edwardnh) March 14, 2023
Readers, thoughts?
The Bezzle: "Chatbots shouldn't use emojis" [Nature]. "Public debates about the ethics of 'generative AI' have rightly focused on the ability of these systems to make up convincing misinformation. I share that worry. But fewer people are talking about the chatbots' potential to be emotionally manipulative. Both ChatGPT, a chatbot developed by OpenAI in San Francisco, California, and the Bing chatbot — which incorporates a version of GPT-3.5, the language model that powers ChatGPT — have fabricated misinformation. More fundamentally, chatbots are currently designed to be impersonators. In some ways, they act too much like humans, responding to questions as if they have conscious experiences. In other ways, they act too little like humans: they are not moral agents and cannot be held responsible for their actions. Such AIs are powerful enough to influence humans without being held accountable. Limits need to be set on AI's ability to simulate human feelings. Ensuring that chatbots don't use emotive language, including emojis, would be a good start. Emojis are particularly manipulative. Humans instinctively respond to shapes that look like faces — even cartoonish or schematic ones — and emojis can induce these reactions. When you text your friend a joke and they reply with three tears-of-joy emojis, your body responds with endorphins and oxytocin as you revel in the knowledge that your friend is amused."
The Bezzle:
I think we can call it shut on 'Open' AI: the 98 page paper introducing GPT-4 proudly declares that they're disclosing *nothing* about the contents of their training set. pic.twitter.com/dyI4Vf0uL3

— Ben Schmidt / @benmschmidt@vis.social (@benmschmidt) March 14, 2023
Seems odd. Perhaps Open AI's training set sucked up a boatload of copyrighted IP? And that would be the "artificial" component of AI, given that's something other technologies aren't "allowed" to do, whatever that means these days if you're VC-backed?
* * *
Today's Fear & Greed Index: 18 Extreme Fear (previous close: 25 Extreme Fear) [CNN]. One week ago: 43 (Fear). (0 is Extreme Fear; 100 is Extreme Greed). Last updated Mar 14 at 1:45 PM ET.
The Gallery
"Paintings by Turner and Monet depict trends in 19th century air pollution" [PNAS]. The Abstract: "Individual paintings by artists including Vincent van Gogh and Edvard Munch have been shown to depict specific atmospheric phenomena, raising the question of whether longer-term environmental change influences stylistic trends in painting. Anthropogenic aerosol emissions increased to unprecedented levels during the 19th century as a consequence of the Industrial Revolution, particularly in Western European cities, leading to an optical environment having less contrast and more intensity. Here, we show that trends from more figurative to impressionistic representations in J.M.W. Turner and Claude Monet's paintings in London and Paris over the 19th century accurately render physical changes in their local optical environment. In particular, we demonstrate that changes in local sulfur dioxide emissions are a highly statistically significant explanatory variable for trends in the contrast and intensity of Turner, Monet, and others' works, including after controlling for time trends and subject matter. Industrialization altered the environmental context in which Turner and Monet painted, and our results indicate that their paintings capture changes in the optical environment associated with increasingly polluted atmospheres during the Industrial Revolution." • Wowsers. I've always wondered why Turner's sky was so yellow:
Rain Steam and Speed, The Great Western Railway
-, J.M.W. Turner
#art #aesthetic #paintings #j.m.w.turner pic.twitter.com/ls7Wf3umFU

— ArtBot (@artbot__) October 19, 2022
Or Monet's so magenta (I think that's magenta):
🖼 #Art Comment la pollution a influencé l'impressionnisme.

Selon une étude, en fin de XIXe siècle, la pollution a influencé la manière des impressionnistes #Monet #Turner #Whistler… par @annaleaalbright #LMD_IPSL @IPSL_outreach @Sorbonne_Univ_ 👇https://t.co/N0Urr0JsR9

— Forum Météo Climat #FIMC2023 🌎 #RestonsPrudents (@Forumeteoclimat) March 13, 2023
I don't think my views on Turner's yellow haze are the result of viewing digital reprodutions; I remember remarking on this when I saw a bunch of Turner's at the National Gallery in London. But I thought it was his choice of palette, not the atmosphere. Could be wrong, though!
Groves of Academe
"The insufficiency of validity" [Lars P. Syll]. "Mainstream economics is at its core in the story-telling business whereby economic theorists create make-believe analogue models of the target system – usually conceived as the real economic system. This modelling activity is considered useful and essential. Since fully-fledged experiments on a societal scale as a rule are prohibitively expensive, ethically indefensible or unmanageable, economic theorists have to substitute experimenting with something else. To understand and explain relations between different entities in the real economy the predominant strategy is to build models and make things happen in these 'analogue-economy models' rather than engineering things happening in real economies. Formalistic deductive 'Glasperlenspiel' can be very impressive and seductive. But in the realm of science, it ought to be considered of little or no value to simply make claims about the model and lose sight of reality." • "Glasperlenspiel" = "The Glass Bead Game." Holy cow, now I have to read Hesse? One of the books in my father's library I never got to (and in retrospect, either his students were reading it, or he put it there for me).
Zeitgeist Watch
Safe rooms in schools?!
Cullman City Schools are minutes away from unveiling the rapid deploy safe room system. The room that extends from a whiteboard is meant to protect students and staff in emergencies such as an active shooter or severe weather. pic.twitter.com/mEOnYBe9uz

— Gillian Brooks (@GillianBNews) March 13, 2023
And we wonder why our children are, if not drugged to the eyeballs, anxious and depressed. (Special hat tip on the externality thing to the gun-humpers, but also to the climate denialists. Don't ever change, you're doing great.)
Class Warfare
News of the Wired
"How a monument to my great-great-grandfather could help tackle the scourge of plastic pollution" [Guardian]. "Once there were a thousand or more drinking fountains in London, and many more around the country, built from the 1860s onwards to provide clean piped water for those with access only to dirty public pumps, such as the one in Soho that was proven by John Snow to be the source of a cholera outbreak. Many beautiful and often eccentric drinking fountains were built by private subscription all over the country, but they fell into disrepair, with many demolished after the 1950s. You may pass one daily without noticing the neglected, water-less lump of stone. The Drinking Fountain Association is trying to track each one around the country, and the Heritage of London Trust (Holt), with no public funds, is in the process of restoring 100 of them. Local authorities are far from cooperative, even when not asked to contribute, claiming health and safety concerns (this is the same water that is piped into homes) or cost (grants and local fundraising can do it: the Toynbee fountain restoration cost Holt £16,789, plus Thames Water's reconnection charge.) This is not just a fad for antiquarians. The point is to make refilling water bottles the norm and throw-away plastic unthinkable. Fountains work: when the St Paul's recreation ground fountain in Brentford was restored a year ago, engaging local children, 94% of park users drank and refilled from it, with 55% saying it had stopped them from using plastic bottles. Fountains attract children who press in vain on long dead taps: restoration is an anti-plastic education campaign."
"I Love You, Now Leave Me Alone: What Friendship Means to an Introvert" [New York Times]. "'I think the message for people who are introverts is: Don't view your introversion as an impediment,' Dr. [Marisa] Franco said. 'Instead, think of it as a style of connecting.'" • Franco is, apparently, an expert who studies introversion, and identifies as an introvert. I just don't want to embrace the extroversion suck. At brunch, I talked for two very enjoyable hours with one evidently interested person and learned a lot of useful information (and hopefully shared some), while the rest of our table got progressively more wasted and yammered at each other. Who's got the impediment?
* * *
Contact information for plants: Readers, feel free to contact me at lambert [UNDERSCORE] strether [DOT] corrente [AT] yahoo [DOT] com, to (a) find out how to send me a check if you are allergic to PayPal and (b) to find out how to send me images of plants. Vegetables are fine! Fungi and coral are deemed to be honorary plants! If you want your handle to appear as a credit, please place it at the start of your mail in parentheses: (thus). Otherwise, I will anonymize by using your initials. See the previous Water Cooler (with plant) here. From JL: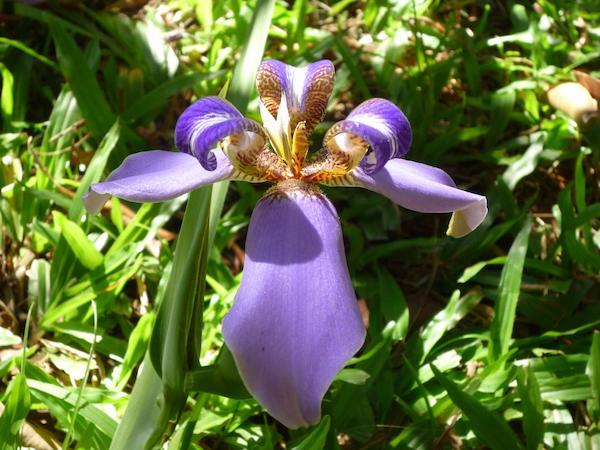 JL writes: "Every time we think this lily is done for the year, it pops out a new round of flowers. The scent of the flower is… unusual. Chemically floral with hints of mint candy and some sort of fruit."
* * *
Readers: Water Cooler is a standalone entity not covered by the annual NC fundraiser. So if you see a link you especially like, or an item you wouldn't see anywhere else, please do not hesitate to express your appreciation in tangible form. Remember, a tip jar is for tipping! Regular positive feedback both makes me feel good and lets me know I'm on the right track with coverage. When I get no donations for five or ten days I get worried. More tangibly, a constant trickle of donations helps me with expenses, and I factor in that trickle when setting fundraising goals:
Here is the screen that will appear, which I have helpfully annotated: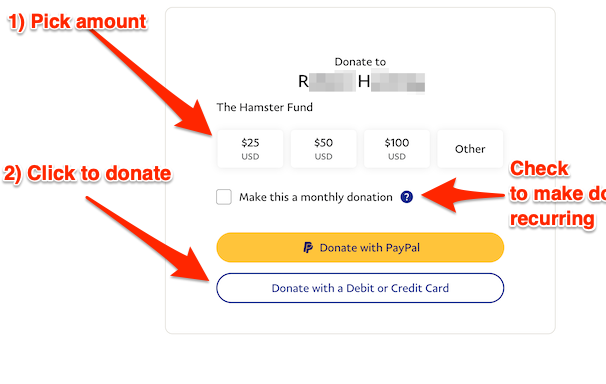 If you hate PayPal, you can email me at lambert [UNDERSCORE] strether [DOT] corrente [AT] yahoo [DOT] com, and I will give you directions on how to send a check. Thank you!