By Lambert Strether of Corrente.
Bird Song of the Day
Eastern Bluebird, Lafayette Heritage Trail Park, Leon, Florida, United States. Song.
* * *
Politics
"So many of the social reactions that strike us as psychological are in fact a rational management of symbolic capital." –Pierre Bourdieu, Classification Struggles
Biden Administration
"Deb Haaland in difficult spot after Biden approves Alaska drilling" [The Hill]. "President Biden has put Interior Secretary Deb Haaland in a difficult spot by approving a controversial Alaskan oil-drilling project that the former New Mexico lawmaker opposed when she served in Congress. Biden's decision to proceed with the Willow Project will allow ConocoPhillips to produce up to 180,00 barrels a day at its peak, which a ConocoPhillips spokesperson said should be within the first few years of startup. The project is expected to produce 576 million barrels of oil over 30 years. The president and supporters of the project say Willow will create thousands of jobs in Alaska and help keep the U.S. energy independent, an increasingly important notion for Biden ahead of an expected 2024 reelection bid likely to take place against a backdrop of elevated gas prices aggravated by the Russia-Ukraine war. But the project will also produce an estimated 239 million metric tons of carbon emissions over the next 30 years, which is equivalent to driving 51 million cars for a year. That's why Haaland, the first Native American to lead the Interior Department, opposed the project when she was a member of Congress. And it's why the decision to approve Willow undercuts her standing and puts her in a tough spot going forward — especially with groups opposed to the project, who believe their lead defender within the administration was just big-footed." • Funny thing. Haaland's ascriptive identity wasn't the controlling factor.
2024
"The GOP Campaign Trail Is Already Getting DeSantis-Proofed" [Daily Beast]. "Enshrined in DeSantis lore is an episode from four years ago: During a private plane trip from Tallahassee to Washington, D.C., in March of 2019, DeSantis enjoyed a chocolate pudding dessert—by eating it with three of his fingers, according to two sources familiar with the incident." • Seems a bit sketchy, even for the Daily Beast, but as New York Magazine points out, there are two sources…

DeSantis's glass jaw?

Yep. I've been referring to his glass jaw for a while now. He is Scott Walker meets Jeb Bush right now. Let's see if he has what it takes to take down Trump. https://t.co/hu4aPXyTdX

— Mehdi Hasan (@mehdirhasan) March 14, 2023

This kind of riff was going around for a few days on the Twitter before the pudding "story" broke. It's almost like they're all on a Slack channel together. I wouldn't be surprised if the Williamson story on staff treatment wasn't discussed in the same channel, if it exists.

"Trump's VP? Some in GOP already jockeying for consideration" [Associated Press]. "Trips to Mar-a-Lago. Glowing speeches. Front-row seats at major events. The first Republican presidential primaries are nearly a year away and the candidate field is unsettled. But already, a shadow contest of another sort is underway with several Republicans openly jockeying to position themselves as potential running mates to Donald Trump, the early front-runner for the nomination. 'A lot of people are right now auditioning,' Trump boasted to supporters in Florida last month. The dynamic was on full display earlier this month at the Conservative Political Action Conference, where a trio of women who have been mentioned as possible contenders sat in the audience to cheer Trump's headline speech. They were Reps. Marjorie Taylor Greene of Georgia, Elise Stefanik of New York and Kari Lake, the news anchor-turned-failed-Arizona gubernatorial candidate who ended her remarks at a keynote event dinner by kissing a portrait of Trump that was placed on stage. While Trump, according to people who have spoken to him, is in no rush to make a decision and understands that he has to let the nomination process play out, he has nonetheless talked through possible choices since well before he formally announced his candidacy last fall. In those conversations, he has indicated his interest in selecting a woman this time around. But allies say Trump is looking, first and foremost, for someone who will be unabashedly loyal after feeling burned by former Vice President Mike Pence for refusing to overturn the results of the 2020 election." • How about Liz Cheney's daughter, Mary?

"SEAN HANNITY: Investigation reveals four Biden family members received payments from Chinese companies" [FOX]. "According to an oversight investigation on March 1, 2017, less than two months after then-Vice President Biden left office, well, not one, not two, not three, but four different members of the Biden family, they started receiving payments from an entity named Robinson Walker LLC. Now, Joe Biden's brother, James, received a whopping $360,000 in incremental payments. Zero experience, Hunter, you know, the author and artist that he is, portraits of a crack addict, he got $500,000. Beau Biden's widow, Hallie, who was also Hunter's lover at the time — no judgments, whatever, this is a messed-up family. Anyway, she got $35,000 and an unknown Biden received $70,000. Now, we don't know what these various members of the Biden family did to actually earn the money, but what we do know is where it came from. It came from the People's Republic of China. Now we're going to know a lot more when we get the suspicious activity reports. They've been very slow to hand them over to the committee, this is the House Government Reform Oversight Committee. But according to the ongoing investigation, prior to making the bulk of these payments, Robinson Walker LLC, which is operated by a Biden business associate, they received a $3 million wire transfer from a major Chinese energy company, but that's not all. In 2015, when Joe Biden was still vice president, Robinson Walker LLC, they received a wire totaling nearly $180,000 from an unknown company with a foreign bank account." • FOX, granted…

"Opinion | Republicans Are Delusional If They Think Biden Will Be Easy to Beat" [Rich Lowry, Politico]. "Biden is not a dead man walking; he's an old man getting around stiffly. Biden is vulnerable, but certainly electable; diminished, but still capable of delivering a message; uninspiring, but unthreatening. No one is going to mistake him for a world-beater. In the RealClearPolitics polling average, he leads Donald Trump by a whopping 0.8 percent. If his job approval has been ticking up, it's still only at 44 percent. He walks as if he is only one step away from a bad fall, and an NBC poll earlier in the year found that just 28 percent of people think he has the mental and physical health necessary to be president. That said, he's in the office, and no one else is. Incumbency bestows important advantages. The sitting president is highly visible, is the only civilian in the country who gets saluted by Marines walking out his door every day, has established a certain threshold ability to do the job, and can wield awesome powers to help his cause and that of his party. Since 1992, Trump is the only incumbent to have lost, failing to join Bill Clinton, George W. Bush and Barack Obama as re-elected incumbents. Biden was never going to be the next LBJ or FDR as a cadre of historians had seemingly convinced him early in his presidency. But he punched above his weight legislatively during his first two years, getting more out of a tied Senate and slender House majority than looked realistically possible. He's set up to have the advantage in this year's momentous debt-limit fight, since it's hard to see how congressional Democrats aren't united and congressional Republicans divided. Biden's age is a liability for him, but comes with a significant benefit — he does not look or sound like a radical any more than the average elderly parent or grandparent. This has enabled him to govern from the left — he would have spent even more the first two years if he could have — without appearing threatening or wild-eyed." • Rich Lowry's concept of "governing from the left" — How? By union-busting the railroad workers? — is a little odd….
Republican Funhouse
"George Santos refuses to quit Congress, brazenly says 'truth still matters'" [Associated Press]. • You've gotta admire his commitment to the bit.

"The Federalist Society Isn't Quite Sure About Democracy Anymore" [Politico]. Trip report from a Texas conference: "'The people I met at student conferences a decade ago are now sitting federal judges,' said Josh Blackman, a professor at the South Texas College of Law and a fixture of the Federalist Society speaking circuit. 'The people you meet here and the networks you build up over years — they're very, very important.'… The first major clue about those preoccupations came from the symposium's theme, which the organizers had designated as "Law and Democracy." As the programming unfolded over the next day and a half, it became alarmingly clear that, even among the buttoned-up young members of the Federalist Society — an organization not known for its political transgressiveness — the relationship between those two principles is far from settled. From radical new theories about election law to outlandish-seeming calls for a "national divorce" the symposium-goers were grappling with ideas that raised fundamental questions about American democracy — what it means, what it entails, and what, if anything, the conservative legal movement has to say about its apparent decline… 'Democracy is what philosophers call an 'essentially contested concept," said Daniel Lowenstein, a professor of law emeritus at UCLA and an expert in election law, during a panel on Friday evening. 'Differences that seem on their surface to concern the meaning of the word 'democracy',' he added, are actually struggles to advance particular and controversial political ideas.' What democracy does not mean, Lowenstein argued, was 'plebiscitary democracy,' or simple rule by democratic majorities. Citing the Federalist Papers — the namesake of the Federalist Society — Lowenstein suggested that governance based on simple mathematical majorities would enable 'tyrannical domination of the minority by the majority.'" • This is, in fact, a correct reading of the Federalist Papers, as far as it goes. In my view, the Federalist Papers are brilliant for their reading on "human nature" — or at least social relations within political systems — and for their implementation of the separation of powers. Also in my view, the system they built is, well, due for renovation. (Note that I don't think that liberals believe in "plebiscitary democracy" any more than conservatives do; in fact, I don't think I do either. How about — hear me out — we consider integrating deliberative democracy and sortition, and use that as our mechanism to allocate society's capital, instead of relying on those hysterical and greedy herd animals on Wall Street and in Silicon Valley?)
Democrats en Déshabillé
Patient readers, it seems that people are actually reading the back-dated post! But I have not updated it, and there are many updates. So I will have to do that. –lambert

I have moved my standing remarks on the Democrat Party ("the Democrat Party is a rotting corpse that can't bury itself") to a separate, back-dated post, to which I will periodically add material, summarizing the addition here in a "live" Water Cooler. (Hopefully, some Bourdieu.) It turns out that defining the Democrat Party is, in fact, a hard problem. I do think the paragraph that follows is on point all the way back to 2016, if not before:

The Democrat Party is the political expression of the class power of PMC, their base (lucidly explained by Thomas Frank in Listen, Liberal!). ; if the Democrat Party did not exist, the PMC would have to invent it. . ("PMC" modulo "class expatriates," of course.) Second, all the working parts of the Party reinforce each other. Leave aside characterizing the relationships between elements of the Party (ka-ching, but not entirely) those elements comprise a network — a Flex Net? An iron octagon? — of funders, vendors, apparatchiks, electeds, NGOs, and miscellaneous mercenaries, with assets in the press and the intelligence community.

Note, of course, that the class power of the PMC both expresses and is limited by other classes; oligarchs and American gentry (see 'industrial model' of Ferguson, Jorgensen, and Jie) and the working class spring to mind. Suck up, kick down.

"Why Barney Frank Went to Work for Signature Bank" [The New Yorker]. • Wait, let me guess.

* * *
#COVID19
"I am in earnest — I will not equivocate — I will not excuse — I will not retreat a single inch — AND I WILL BE HEARD." –William Lloyd Garrison
Resources, United States (National): Transmission (CDC); Wastewater (CDC, Biobot; includes many counties); Variants (CDC; Walgreens); "Iowa COVID-19 Tracker" (in IA, but national data).
• Readers, thanks for the push. We are now up to 39/50 states (78%). I have helpfully added "______" to the states still missing data. We should list states that do not have Covid resources, or have stopped updating their sites, so others do not look fruitlessly. Could those of you in states not listed help out by either with dashboard/wastewater links, or ruling your state out definitively? Thank you!
Resources, United States (Local): AK (dashboard); AL (dashboard); AR (dashboard); AZ (dashboard); CA (dashboard), Marin; CO (dashboard; wastewater); CT (dashboard); DE (dashboard); FL (______); GA (______); HI (dashboard); IA (______); ID (______); IL (wastewater); IN (dashboard); KS (______); KY (______); LA (dashboard); MA (wastewater); MD (dashboard); ME (dashboard); MI (wastewater; wastewater); MN (dashboard); MO (______); MS (______); MT (dashboard); NC (dashboard); ND (______); NE (______); NH (wastewater); NJ (dashboard); NM (dashboard); NV (______); NY (dashboard); OH (dashboard); OK (dashboard); OR (dashboard); PA (dashboard); RI (dashboard); SC (dashboard); SD (dashboard); TN (dashboard); TX (dashboard); UT (wastewater); VA (dashboard); VT (dashboard); WA (dashboard; dashboard); WI (wastewater); WV (wastewater); WY (wastewater).
Resources, Canada (National): Wastewater (Government of Canada).
Resources, Canada (Provincial): ON (wastewater); QC (les eaux usées); BC, Vancouver (wastewater).
Hat tips to helpful readers: Art_DogCT, B24S, CanCyn, ChiGal, Chuck L, Festoonic, FM, Gumbo, hop2it, JB, JEHR, JF, JL Joe, John, JM (6), JW, LL, Michael King, KF, LaRuse, mrsyk, MT, otisyves, Petal (5), RK (2), RL, RM, Rod, square coats (4), tennesseewaltzer, Utah, Bob White (3). (Readers, if you leave your link in comments, I credit you by your handle. If you send it to me via email, I use your initials (in the absence of a handle. I am not putting your handle next to your contribution because I hope and expect the list will be long, and I want it to be easy for readers to scan.)
• More like this, please! Total: 1 6 11 18 20 22 26 27 28 38 39/50 (76% of US states).
* * *
Look for the Helpers
Taibbi is definitely a helper. Another Twitter file drops:

1.TWITTER FILES #19
The Great Covid-19 Lie Machine
Stanford, the Virality Project, and the Censorship of "True Stories" pic.twitter.com/v41dyC26ZR

— Matt Taibbi (@mtaibbi) March 17, 2023

VP = Virality Project. This, to me, is the key Tweet:

24.The VP in April 2021 mistakenly described "breakthrough" infections as "extremely rare events" that should not be inferred to mean "vaccines are ineffective." pic.twitter.com/tlACZeRkU5

— Matt Taibbi (@mtaibbi) March 17, 2023

This tweet means that informed consent didn't even enter into Biden Administration thinking on vax. In fact, CDC initially refused to track "breakthrough infections" at all. Over the course of the pandemic, it became clear that in fact vaccines didn't prevent transmission at all, at least on the population level, giving the lie to repeated statements by administration officials, including Biden, that "you will be protected." (This thread gives me the creeps, because a lot of the censored material was by produced by loons and creeps. However, the VP demonstrably failed in their efforts to censor them, and may even, through the Streisand effect, made the situation worse. Of course, when the online loons are funded by rich loons, censorship doesn't work all that well. What a mess.)

Leaving this one up for yet another day because it's important:

"Introducing: The Covid Underground" [Covid Underground]. The deck: "Welcome to The Covid Underground, a newsletter for the Covid-free movement and all of those who continue to avoid infection." More: "True health is the ability to change. About 10-30% of the U.S. population has changed their lives in the light of the freeing revelations of 2020, and we keep changing. We are dynamically, creatively faithful to what was— briefly— plain to all: normal is a dangerous illusion." • Worth a read.

* * *

Finding like-minded people on (sorry) Facebook:

Thought I'd add this here in case anyone is interested. Places to find people who "Still Covid" in your area & online: https://t.co/T4ND4XbrpF & https://t.co/sP5wq4fAw5 You can also search on FB "Still Coviding ____" & see if there's a specific group on your area.

— Adriel Rose (@adriel_rose) March 1, 2023

"Covid Meetups" [COVID MEETUPS (JM)]. "A free service to find individuals, families and local businesses/services who take COVID precautions in your area." • I played around with it some. It seems to be Facebook-driven, sadly, but you can use the Directory without logging in. I get rational hits from the U.S., but not from London, UK, FWIW.
Covid Is Airborne
Not a literally a post mortem, thank heavens:

So, I was thinking a bit more – in a purely unscientific fashion – about how we were most likely infected: from aerosols lingering in our hotel room in Nashville. Maybe hotel staff, maybe the previous occupant. So…

— Caught in a Perfect Storm of Clusterfuckery (@Michael59503746) March 17, 2023

If life were a movie, there'd be some drama here, like transmission via zombie bite, instead of transmission via an invisible, odorless, soundless lethal pathogen that moves like cigarette smoke….
Treatment
"A novel pan-sarbecovirus vaccine candidate neutralizes Omicron BQ.1.1 and XBB subvariants" [News Medical Life Sciences]. Monkey study. "In a recent article published in the journal PNAS, researchers in China provide evidence that a novel vaccine candidate known as CF501/RBD-Fc robustly neutralized severe acute respiratory syndrome coronavirus 2 (SARS-CoV-2) Omicron subvariants BQ.1.1 and XBB in a rhesus macaque animal model." And: "Overall, the study findings indicate that the CF501 adjuvant stimulated the conservative but nondominant RBD epitopes for generating bnAbs against pan-sarbecovirus vaccines. Thus, the researchers recommend replacing the adjuvant in the first-generation COVID-19 subunit vaccines with CF501 for next-generation booster vaccinations. This strategy might enhance the immune responses against SARS-CoV-2 Omicron subvariants BQ.1.1 and XBB, as well as future SARS-CoV-2 variants that have yet to emerge." • So, tinker with the adjuvants? That's the second time this week I've seen focus redirected to inactive ingredients. Odd.
Elite Malfeasance
Lambert here: Perhaps someone more knowledgeable in Covid naming conventions and Covid excess deaths calcuations can weigh in on the two links below.

"Statement on the update of WHO's working definitions and tracking system for SARS-CoV-2 variants of concern and variants of interest" [WHO]. "In addition, going forward, WHO will assign Greek labels for VOCs, and will no longer do so for VOIs. With these changes factored in, Alpha, Beta, Gamma, Delta as well as the Omicron parent lineage (B.1.1.529) are considered previously circulating VOCs. WHO has now classified XBB.1.5 as a VOI." • So the international agencies corrupt the naming system, and the nation-states corrupt the data. Is that what's going on? One hand washes the other? Commentary:

1. @WHO says it's all "Omicron".

More than 1000 subvariants and recombinants have been identified within "Omicron", consisting of several very divergent lineages. This is *vastly* more diversity and divergence than with any of the other variants that received Greek letters.

— T. Ryan Gregory (@TRyanGregory) March 16, 2023

4. According to @WHO, there currently are no variants of concern circulating.

Note that @ECDC_EU has also downgraded its categorization and no longer recognizes any VOCs either, only several VOIs.https://t.co/ix50IDjWVe

6/

— T. Ryan Gregory (@TRyanGregory) March 16, 2023

Whereof one cannot speak, thereof one must be silent.

"Excess Deaths Associated with COVID-19" [Centers for Disease Control]. From the Technical Notes: "Estimates of excess deaths for the US overall were computed as a sum of jurisdiction-specific numbers of excess deaths (with negative values set to zero), and not directly estimated using the Farrington surveillance algorithms. Summation (rather than estimation) was chosen to account for the possibility that some jurisdictions may have substantially incomplete data while other jurisdictions report may more deaths than expected, these negative and positive values will cancel each other out when estimating excess deaths for the US directly using the Farrington surveillance algorithms. Until data are finalized (typically 12 months after the close of the data year), it is not possible to determine whether observed decreases in mortality using provisional data are due to true declines or to incomplete reporting. Thus, when computing excess deaths directly for the US, negative values due to incomplete reporting in some jurisdictions will offset excess deaths observed in other jurisdictions. For example, the total number of excess deaths in the US computed directly for the US using the Farrington algorithms was approximately 25% lower than the number calculated by summing across the jurisdictions with excess deaths. This difference is likely due to several jurisdictions reporting lower than expected numbers of deaths – which could be a function of underreporting, true declines in mortality in certain areas, or a combination of these factors. In addition, potential discrepancies between the number of excess deaths in the US when estimated directly compared with the sum of jurisdiction-specific estimates could be related to different estimated thresholds for the expected number of deaths in the US and across the jurisdictions." • Way above my paygrade. The bottopm line:

I don't think there is any implied message. I think its just a measurement issue.

— wsbgnl (@wsbgnl) March 15, 2023

I wish I could be sure this is true. But as we saw with the infamous "Green Map," CDC has form: They are expert in jiggering the numbers to nudge the population toward behaviors that conform to their preferred policy outcomes (for the Green Map, eugenics rationalized as not overloading hospitals).
* * *
Looks like "leveling off to a high plateau" across the board. (I still think "Something Awful" is coming, however. I mean, besides what we already know about.) Stay safe out there!
Case Data
BioBot wastewater data from March 16: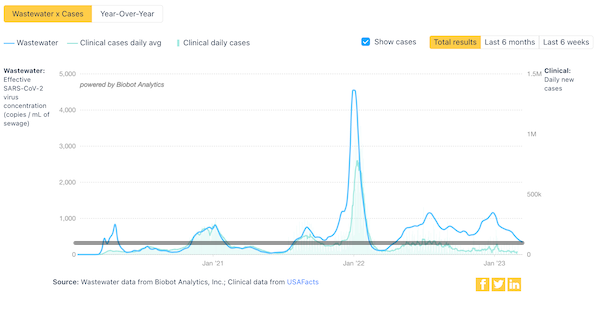 For now, I'm going to use this national wastewater data as the best proxy for case data (ignoring the clinical case data portion of this chart, which in my view "goes bad" after March 2022, for reasons as yet unexplained). At least we can spot trends, and compare current levels to equivalent past levels.
Covid Emergency Room Visits
NOT UPDATED From CDC NCIRD Surveillance, from March 11: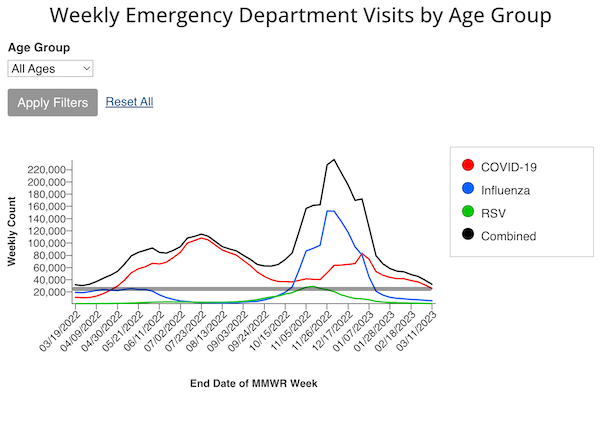 NOTE "Charts and data provided by CDC, updates Wednesday by 8am. For the past year, using a rolling 52-week period." So not the entire pandemic, FFS (the implicit message here being that Covid is "just like the flu," which is why the seasonal "rolling 52-week period" is appropriate for bothMR SUBLIMINAL I hate these people so much. Anyhow, I added a grey "Fauci line" just to show that Covid wasn't "over" when they started saying it was, and it's not over now.
Positivity
From the Walgreen's test positivity tracker, published March 17: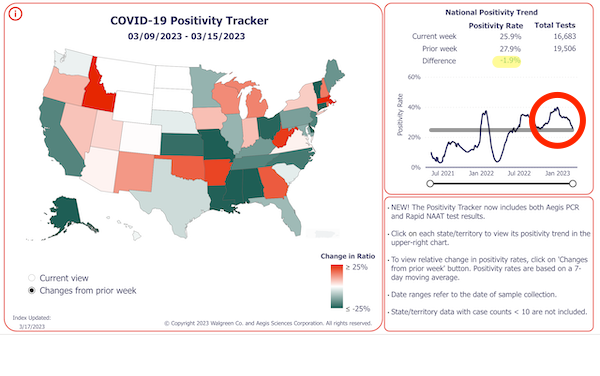 -1.9%. Still high, but at last a distinct downturn.
Deaths
Death rate (Our World in Data):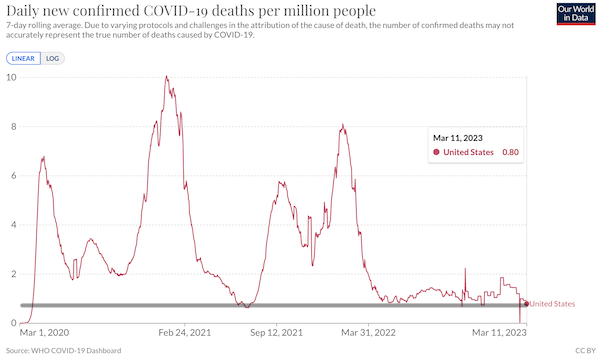 Total: 1,150,567 – 1,150,133 = 434 (434 * 365 = 158,410 deaths per year, today's YouGenicist™ number for "living with" Covid (quite a bit higher than the minimizers would like, though they can talk themselves into anything. If the YouGenicist™ metric keeps chugging along like this, I may just have to decide this is what the powers-that-be consider "mission accomplished" for this particular tranche of death and disease).
★ NEW ★ Excess Deaths
NOT UPDATED (but updating). Excess deaths (The Economist), published March 7: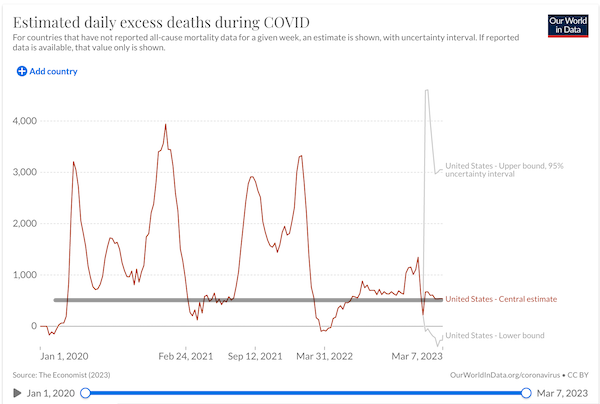 Lambert here: Based on a machine-learnning model. Again, we see a high plateau. I"m not sure how often this updates, and if it doesn't, I'll remove it. (The CDC has an excess estimate too, but since it ran forever with a massive typo in the Legend, I figured nobody was really looking at it, so I got rid it.
Stats Watch
* * *
The Fed: Stoller on the warpath, rightly:
I'm guessing you didn't know that the Federal Reserve is exempt from government contracting rules and so secretly handed out an exclusive contract to Amazon AWS for our new critical payment system infrastructure. https://t.co/J6jkXFKFwm

— Matt Stoller (@matthewstoller) March 17, 2023
Tech: "Inside Elon Musk's cost-cutting drive at Twitter" [Financial Times]. "The February cuts removed more than 200 staff, but were still broader and deeper than many employees had anticipated, because they came after Musk had already laid off half of the company's 7,500 workforce following his acquisition of Twitter in October. The move wiped out large swaths of its business development and product teams, leaving Twitter leaner — and more unstable." • I think Elon is "taking one for the team" — the billionaire class to which he belongs — much like Uber did, in creating and legitimizing a whole new form of exploitation (gig work). Silicon Valley's owners, collectively, have seen that Twitter still functions. Hence the layoffs, the cutbacks in perks, the pruning of a labor aristocracy (far, far too late for any of them to unionize, too).
Today's Fear & Greed Index: 25 Extreme Fear (previous close: 19 Extreme Fear) [CNN]. One week ago: 32 (Fear). (0 is Extreme Fear; 100 is Extreme Greed). Last updated Mar 16 at 1:48 PM ET.
Games
"FTC Finalizes Order Requiring Fortnite maker Epic Games to Pay $245 Million for Tricking Users into Making Unwanted Charges" [Federal Trade Commission]. "The Federal Trade Commission has finalized an order requiring Epic Games, the maker of the Fortnite video game, to pay $245 million to consumers to settle charges that the company used dark patterns to trick players into making unwanted purchases and let children rack up unauthorized charges without any parental involvement." • Big money. And penalties for dark patterns is awesome (on dark patterns, see NC here). Now do the platforms.
"The Last of Us Creators Will Not Recast Bella Ramsey for Season 2" [Teen Vogue]. "It is official: Bella Ramsey's character will not be recast for The Last of Us season 2. Neil Druckmann, one of the series co-creators, confirmed the news to The Wrap following season 1's finale, which premiered on HBO Max on March 12, 2023. 'We are extremely lucky to have Bella… and the only way we would ever consider recasting Bella is if she said, 'I don't want to work with you guys anymore," Druckmann told the outlet. 'And even then, we're not sure we would grant her that. We might force her to come back this season.'" • Weird flex on "recast." I would have said "replace."
The Gallery
"The non-Riemannian nature of perceptual color space" [PNAS]. "The scientific community generally agrees on the theory, introduced by Riemann and furthered by Helmholtz and Schrödinger, that perceived color space is not Euclidean but rather, a three-dimensional Riemannian space. We show that the principle of diminishing returns applies to human color perception. This means that large color differences cannot be derived by adding a series of small steps, and therefore, perceptual color space cannot be described by a Riemannian geometry. This finding is inconsistent with the current approaches to modeling perceptual color space. Therefore, the assumed shape of color space requires a paradigm shift. Consequences of this apply to color metrics that are currently used in image and video processing, color mapping, and the paint and textile industries. These metrics are valid only for small differences. Rethinking them outside of a Riemannian setting could provide a path to extending them to large differences. This finding further hints at the existence of a second-order Weber–Fechner law describing perceived differences." • Whatever a second-order Weber–Fechner law may be, I am sure we have a reader who can explain it to me like I'm five. As a color photographer, I should know this!
"Bewildering Reflections and Perspectives Shift in the Hyperrealistic Oil Paintings of Nathan Walsh" [Colossal]. "In his intricate oil paintings, Nathan Walsh captures the textural sheen of rain on city streets and luminescent reflections in cafe windows. The artist has previously explored different vantage points in elaborate cityscapes, rendering the corners of buildings, corridors of skyscrapers, and expansive bridges in detailed, two-point perspective. Recently, he has further honed ideas around perception and the way the built environment presents uncanny optical illusions in the interplay of people and objects, light, and reflections…. Pieces like 'Metaphores' or 'Rue de Saints' represent a shift in Walsh's understanding of the urban landscape or more concisely, of how it is experienced. Elaborate window reflections warp our sense of space and fuse realism with imagination, such as in 'Monarchs Drift,' in which the artist has spliced together scenes of Chicago and San Francisco. Walsh imbues the works with what he describes as a 'hallucinatory quality which is 'neither here nor there," embracing notions of transition, global connections, and his own memories of trips he has taken." • For example: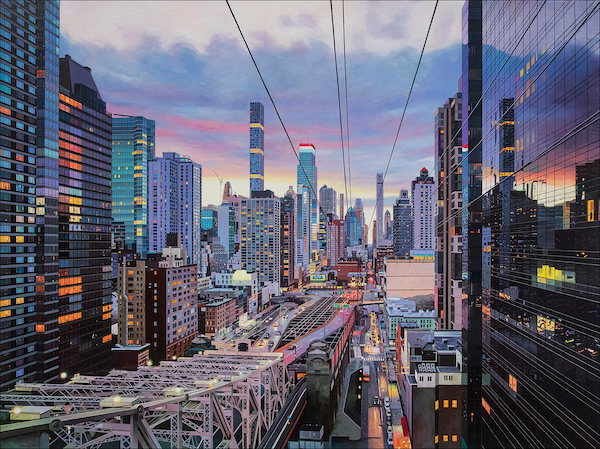 To me it looks like all the grits been left out, but perhaps that's the point. Related story–
"The Era of Urban Supremacy Is Over" [New York Times]. "Most of the nation's major cities face a daunting future as middle-class taxpayers join an exodus to the suburbs, opting to work remotely as they exit downtowns marred by empty offices, vacant retail space and a deteriorating tax base. The most recent census data 'show almost unprecedented declines or slow growth especially in larger cities,' William Frey, a demographer and senior fellow at Brookings, emailed in response to my query. From July 1, 2020 to July 1, 2021, 'New census data shows a huge spike in movement out of big metro areas during the pandemic," Frey argues in an April 2022 paper, including 'an absolute decline in the aggregate size of the nation's 56 major metropolitan areas (those with populations exceeding 1 million).' This is the first time, Frey continues, 'that the nation's major metro areas registered an annual negative growth rate since at least 1990.' The beneficiaries of urban population decline are the suburbs. Even more damaging to the finances of major cities is the fact that the men and women most likely to move to the suburbs are among the highest paid, key sources of income and property tax revenues: workers with six-figure salaries in technology, finance, real estate and entertainment. Those least likely to move, in turn, are much less well paid, working in service industries, health care, hospitality and food sales." • Attapersons, PMC. No doubt this will make 2024 even more reactant than it was already slated to be. Meanwhile, another visual:
Today marks ten years since this infographic back page about the Kowloon Walled City was published by South China Morning Post. I explained in a few lectures the ins and outs of this project, and now I will do it here. Long 🧵 pic.twitter.com/BqvDxjC6i8

— Adolfo Arranz (@adolfux) March 15, 2023
Guillotine Watch
"Inside the Bro-tastic Party Mansions Upending a Historic Austin Community" [Texas Monthly]. "None of the [short-term rentals (STRs)] immediately surrounding Thompson's home compared to the newest one, however. As neighbors would soon learn, the home had been purchased by a limited liability corporation managed by the owner of an upstart Austin-based 'vacation rental investing' company called UrbanStay, which had turned the former residence—as well as more than twenty others in historically Black and brown neighborhoods across East Austin—into a full-time short-term rental property marketed toward big-spending, hard-partying tourists in their twenties…. .Despite being operated as a business, records show the home is benefitting from the previous owner's homestead exemption, a mechanism to lower tax bills that is reserved for owner-occupied homes, according to the Travis County Central Appraisal District. Prior to construction, the residence had three bedrooms. Now, with closets converted into miniature sleeping quarters, it contains seven bedrooms with fifteen beds, allowing the property to function as a minihotel with enough room to sleep over a dozen guests each night. With a flashy, Instagram-friendly aesthetic that could be described as Miami Vice meets Wayfair, white walls have been painted hot pink and black and adorned with generic prints of palm fronds and photographs of tigers. Above select beds, glowing neon signage with suggestive phrases such as 'Take Bold Action' encourage visitors to abandon restraint. " • Gad.
News of the Wired
"The Stonehenge of PC design, Xerox Alto, appeared 50 years ago this month" [The Register]. "These were the three significant aspects of the [Alto]: the first GUI PC, the first networked PC, and the machine that drove OOPS into the mainstream." The Star, the Alto's commmerical successor, "introduced the desktop metaphor." • For PCs UI/UX, Silicon Valley has been coasting for 50 years. "Innovation," my sweet Aunt Fanny.
* * *
Contact information for plants: Readers, feel free to contact me at lambert [UNDERSCORE] strether [DOT] corrente [AT] yahoo [DOT] com, to (a) find out how to send me a check if you are allergic to PayPal and (b) to find out how to send me images of plants. Vegetables are fine! Fungi and coral are deemed to be honorary plants! If you want your handle to appear as a credit, please place it at the start of your mail in parentheses: (thus). Otherwise, I will anonymize by using your initials. See the previous Water Cooler (with plant) here. From WB: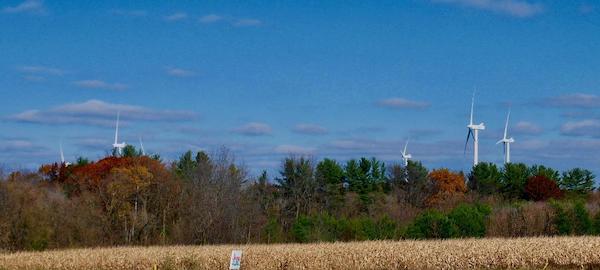 WB writes: "Wisconsin landscape, October 2022."
* * *
Readers: Water Cooler is a standalone entity not covered by the annual NC fundraiser. So if you see a link you especially like, or an item you wouldn't see anywhere else, please do not hesitate to express your appreciation in tangible form. Remember, a tip jar is for tipping! Regular positive feedback both makes me feel good and lets me know I'm on the right track with coverage. When I get no donations for five or ten days I get worried. More tangibly, a constant trickle of donations helps me with expenses, and I factor in that trickle when setting fundraising goals:
Here is the screen that will appear, which I have helpfully annotated: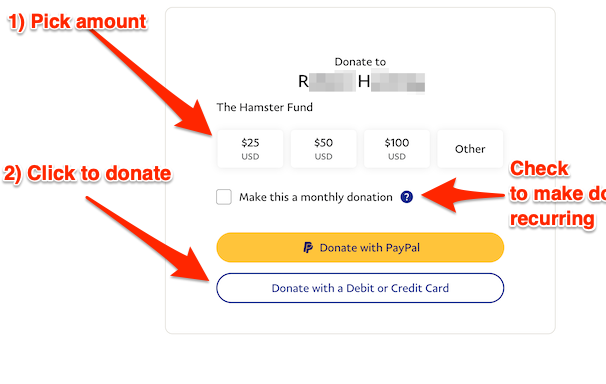 If you hate PayPal, you can email me at lambert [UNDERSCORE] strether [DOT] corrente [AT] yahoo [DOT] com, and I will give you directions on how to send a check. Thank you!