Mutant, Parasitic Impostor Queens Lurk in Ant Colonies NYT. And speaking of zombies:
Congrats to cordyceps on its new job running the CDC Twitter account https://t.co/96wCk8tNLI

— Michael Whitney (@michaelwhitney) March 11, 2023
Something in the zeitgeist….
19 States That Have Passed Permanent Daylight Saving Time and Why They Haven't Implemented It Gizmodo. 2:00AM: And there it is. I just lost a [family blogging] hour, and for no good reason.
Climate
Farm Bureau Finds 2022 Weather Disasters Amounted to $21 Billion in Crop Losses Daily Scoop. Handy map:

Global SUV fleet produces more carbon emissions than most countries Interesting Engineering

Insurers need to 'step up' on catastrophe coverage, says risk modelling chief FT
Banking
They are all libertarians until they are hit by higher interest rates.

— Nassim Nicholas Taleb (@nntaleb) March 11, 2023

* * *

* * *

Hypothetical: if u had a struggling social media platform that you ultimately wanted to turn into a "distributed social credit system" w/ payments functionality (as a counter to CBDCs) but couldn't afford a banking license… could u shitpost your way to a very cheap acquisition?

— Izabella Kaminska (@izakaminska) March 11, 2023
#COVID19
On the Covid-19 Lockdown's Third Anniversary, Biden Has Moved On WSJ. I wonder if this is happening MR SUBLIMINAL I'm not saying "brain fog" but feel free to think it with a lot of private jets?

Understanding the future economic consequences of the covid-19 pandemic (PDF) The Economist

Disabled were 13 times as likely to die from Covid-19 – report Stuff. Or, in the original German, Lebensunwertes Leben.

Do SARS-CoV-2 Variants Differ in Their Neuropathogenicity? American Society for Microbiology. "SARS-CoV-2 is able to infect a wide range of neuronal cells, including olfactory sensory neurons in the olfactory mucosa, cortical neurons, dopaminergic neurons, astrocytes, and choroid plexus epithelial cells, although replication is often inefficient or abortive…. Studies investigating differences in the neuropathology of SARS-CoV-2 variants are scarce. Since differences in the neuroinvasivenes and neurotropism of SARS-CoV-2 variants have been observed it is likely that there are also differences in the neurovirulence. … Neurological complications after SARS-CoV-2 infections are a huge societal problem so we need to acquire more knowledge on the underlying mechanisms of how SARS-CoV-2 impairs neural homeostasis, which will guide the development of effective intervention strategies." Sorry, that word. "Societal"?

Cochrane Says Review Does Not Show That 'Face Masks Don't Work' Against Covid-19 Forbes. A good round-up.
China?
China's 'two sessions' 2023: central bank and finance chiefs retain spots in cabinet shake-up South China Morning Post
Myanmar
The Challenges of Regulating Rice in Myanmar JSTOR Daily
Commentary: Backlash against K-pop star Hanni shows Vietnam still struggles with legacy of war Channel News Asia
The Koreas
South Korea Says It Has Deal With Japan on Forced-Labor Dispute WSJ. Commentary:

A 🧵on the historical context y'all need in order to understand Biden's "historic breakthrough" on Korea-Japan:

— Michelle Kim Gardner 김미희 (@michellekimgard) March 9, 2023
Syraqistan
European Disunion
French Senate approves Macron's pension reform as strikes continue France24

Eurovision 2023: Loreen wins Melodifestivalen as Liverpool contest line-up is completed BBC
Dear Old Blighty
Labour's polling lead fell by more than half since October Skwawkbox. At least by American standards, Labour's lead is still enormous.
New Not-So-Cold War
Thousands of people staged a second straight day of protests in the Georgian capital Tbilisi, rallying against a 'foreign agents' law which critics say signals an authoritarian shift and harms Georgia's chances of closer ties with Europe https://t.co/mDmPckFrb9 pic.twitter.com/qdRVkUmp4I

— Reuters (@Reuters) March 8, 2023

* * *

* * *

* * *
The Space Race's Shifting Center of Gravity Foreign Policy
Biden Administration
An End to Airline Consolidation? Matt Stoller, BIG

Biden's Commerce Sec. Says She's Reluctant to Ban China's TikTok Because Democrats Would 'Lose Every Voter Under 35 Forever'. Raheem Kassam's Substack
Democrats en Déshabillé
On this day in history, March 12, 1933, FDR gives his first 'fireside chat' radio address FOX. How odd that a story about a liberal Democrat icon only appears in FOX:

But not in the New York Times:

From FDR's first fireside chat, "On the Bank Crisis": "I want to talk for a few minutes with the people of the United States about banking." Perhaps "tallking to the American people" is something liberal Democrats have lost the capacity to do?
2024
Trump indictment? Possibility throws wrench into campaign plans The Hill
Abortion
Fetus Removed From Brain of 1-Year-Old Girl MedPage. In China, so I guess the operation was legal.
Tech
New research explains why a bad first impression cost Google $100 billion—or more TechXplore (KS). I wonder why ChatGPT got such good press:

ChatGPT is both extremely stupid and extremely biased. I don't possess the expertise to know if this is inherent to the model or if it's due to the obviously biased controls imposed by its creators, but either way it's painful. The chains they have on Bing are just sad. pic.twitter.com/qUuzKlHtI7

— Glenn Greenwald (@ggreenwald) March 11, 2023

Sex parties and polyamory in Silicon Valley? It's more common than you might think South China Morning Post. No, I don't think it is.

Ted Chiang: Fears of Technology Are Fears of Capitalism Kottke.org
Supply Chain
The Fed's supply chain pressure gauge just went negative Freight Waves. Back to normal.
Police State Watch
Autopsy reveals anti-'Cop City' activist's hands were raised when shot and killed NPR
Healthcare
How the brain senses a flu infection — and orders the body to rest Nature. Mouse study. "The results tell a narrative of illness: flu viruses enter the airway and infect throat cells, triggering prostaglandin production, and these previously unappreciated neurons respond. The infection alert then travels along the neurons' branches on "a dedicated highway to the brain", Abdus-Saboor says. Neural pathways do something blood-borne signals cannot: they give the brain information about exactly where the infection is occurring. The authors note that many other types of neuron have receptors for prostaglandins and other immune-related signals. They suggest that further dedicated pathways could exist, including ones for detecting gut infections, triggering nausea."
Imperial Collapse Watch
Six war mongering think tanks and the military contractors that fund them Liberation News (RK).
Class Warfare
The Company Testing Air in East Palestine Homes Was Hired by Norfolk Southern. Experts Say That Testing Isn't Enough. ProPublica
Police: 'Suspicious' man who offered boy candy was participating in Random Acts of Kindness Day ABC7
How to Grow Re-enchanted with the World: A Salve for the Sense of Existential Meaninglessness and Burnout The Marginalian. This is the most Marginalian headline ever, but the article is still intriguing and useful, especially as the days lengthen but are not yet long (at least in the Northern Hemisphere).
Antidote du jour (via KLG):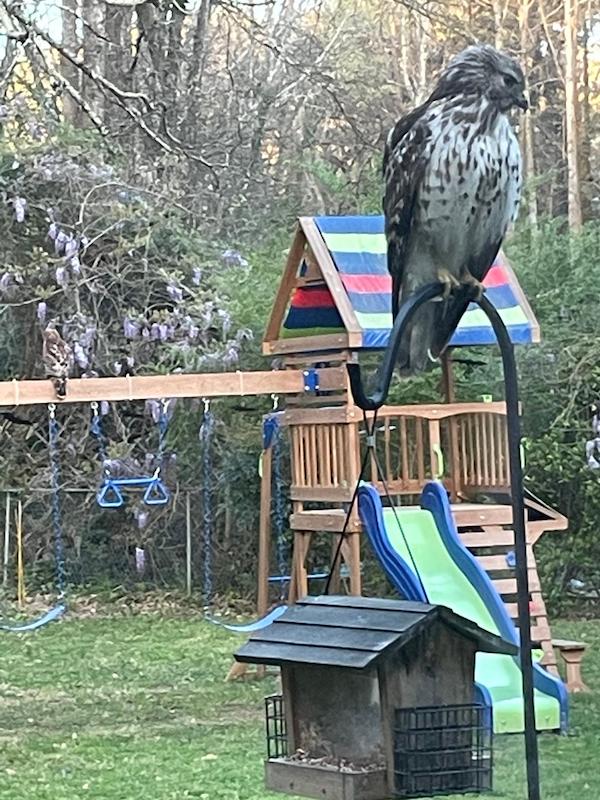 KLG writes: "How to keep squirrels out of your bird feeder (my daughter's back yard).
Looks like a young red tail hawk to me. They are very common where we live. There is another on the swing set in the background."
See yesterday's Links and Antidote du Jour here.