By Lambert Strether of Corrente.
Gabriella "Gabby" Stern has been the Director of Communications at the World Health Organization (WHO) since 2019. She serves as spokesperson for WHO's director general. Before that, she worked for the Bill & Melinda Gates Foundation as Director of Media & External Relations starting in 2016. Before moving into public relations, Stern had been a journalist, spending almost 25 years at the Wall Street Journal, rising to Deputy Managing Editor of The Wall Street Journal, and the Editor for Strategic Initiatives.
Such a distinguished biography makes the tweets I am about to unfold all the more remarkable, both for the level of pique displayed, which is unworthy of a public relations professional, and for the fact that they come from a Comms Director for a major international player. Stern's tweets also show that WHO — arrogant and blinkered — has not (a) fully internalized its resistance to accepting the science on airborne transmission, and (b) resists to this very day. What could Stern have been thinking?
I now present Stern's tweets.
"Unwarranted"
From March 11, 2023:
This is unwarranted, @annie_sparrow. https://t.co/m3XiFmnqOm

— Gabby Stern (@gabbystern) March 11, 2023
First, Sparrow is a highly qualified professional[1], even if Stern treats her like a Twitter rando or troll.
Further, Sparrow's question is entirely warranted. So far as I can find, @mvankerkhove has not apologized, or even expressed regret, very much unlike quondam WHO Chief Scientist Soumya Swaminathan:
Q: Was that your biggest mistake as chief scientist—not calling SARS-CoV-2 airborne?

A: We should have done it much earlier, based on the available evidence, and it is something that has cost the organization. You can argue that [the criticism of WHO] is unfair, because when it comes to mitigation, we did talk about all the methods, including ventilation and masking. But at the same time, we were not forcefully saying: "This is an airborne virus." .
Nor has Stern. And WHO should apologize. (Heck, if WHO were the Yakuza, they would have seen fit to sacrifice a few digits.) See "COVID-19 and Airborne Transmission: Science Rejected, Lives Lost. Can Society Do Better?" for what it took, and how long it took, for scientists to get WHO to even admit the possiblity that Covid is airborne. WHO's molasses-like response mattered, because the pandemic spread exponentially, and each day of delay meant millions more were unable to protect themselves, not having correct guidance on transmission, not to mention government having bad guidance for policy.
Finally, when a public relations professional loses it on the Twitter and tells an MD that their remarks are "unwarranted," something's gone very wrong in the comms shop.
"Grotesque"
From March 12, 2023:
Another grotesque tweet. For shame, @annie_sparrow. https://t.co/rdaeRHfKOl

— Gabby Stern (@gabbystern) March 12, 2023
There's nothing "grotesque" about Sparrow's tweet whatever. Here's the episode to which Sparrow refers, from the highly respected atmospheric chemist Kimberly Prather:
One day we will find out why @DrTedros changed his words and covered up the fact this virus is spread via airborne transmission…rumor has it @DrMikeRyan might know. What is he writing on his note pad? Any lip readers? https://t.co/axW5DThe4c

— Kimberly Prather, Ph.D. (@kprather88) October 17, 2021
In the most charitable interpretation, Tedros butchers the framing completely on transmission. In the least charitable interpretation, Tedros wandered off the reservation and spoke the unspeakable truth — "Covid is airborne" — and Ryan yanked his chain and got him to unsay what he said. In either case, I would have thought WHO's Director of Communications would have done their job, and made sure Tedros was properly briefed during a presser at a critical moment during a pandemic, but what of that.
Further, when a public relations professional flips out on the Twitter and tells an MD that their remarks are "grotesque," something's gone very wrong in the comms shop.
"Naming and shaming"
From March 13, 2023:
Hi Andrew, and thanks. In a nutshell: Publicly naming-and-shaming people needs to stop. Scientific conversations should be civil, not ad hominem. The blame game doesn't advance understanding. Hope this helps. https://t.co/44oMI6qhzL

— Gabby Stern (@gabbystern) March 13, 2023
Stern's touching concern for civility in the face of WHO's policy and communications debacle that surely cost many, many lives is noted. Further, "naming and shaming" is a well-known tactic in the human rights community, and many see the West's response to the Covid pandemic through a human rights frame (indeed, it's hard to local at the eugenics-like policy of "Let 'er rip" and not consider that frame). Discussion can be had about whether naming and shaming is an effective tactic, but there's no good reason for Stern to rule it out a priori.
Next, when "Group 36" documented how they forced WHO to change course on airborne transmission ("COVID-19 and Airborne Transmission," above), they included the names and email addresses of every WHO functionary with whom they communicated, with the correspondence. If that's not "naming and shaming," I don't know what is. And if that's ad hominem, then have at it, say I.
Finally, when a public relations professional gets on their high horse about civility — instead of addressing the issue at hand — something's gone very wrong in the comms shop.
"All such solutions"
From March 11, 2023:
👇 @WHO and @DrTedros were, are and will remain insistent and persistent on this point: During a dire health crisis, medications/vaccines/tests/treatments — all such solutions must be shared ASAP and be accessible to all those in need. https://t.co/6xbeUIzuVM

— Gabby Stern (@gabbystern) March 11, 2023
Readers will at once notice what Stern's list — "medications/vaccines/tests/treatments" — omits: Ventilation, masking, and indeed all non-pharmaceutical interventions. That seems very odd in the midst of an airborne pandemic. But perhaps it's not so odd after all. The most parsimonious explanation would be that Stern is simply expressing the unspoken views of WHO's top management, and WHO's top management — no matter that they changed the website for the proles — still doesn't accept transmission (John Conly, "chair of WHO's Infection Prevention and Control Research and Development Expert Group for COVID-19, which makes key decisions on the research that informs the WHO's recommendations," certainly doesn't). This thesis is supported by the fact that WHO's infamous tweet of March 28, 2020 is still up. Here is a screen shot that shows[2] how even today, it's still being read and still doing damage: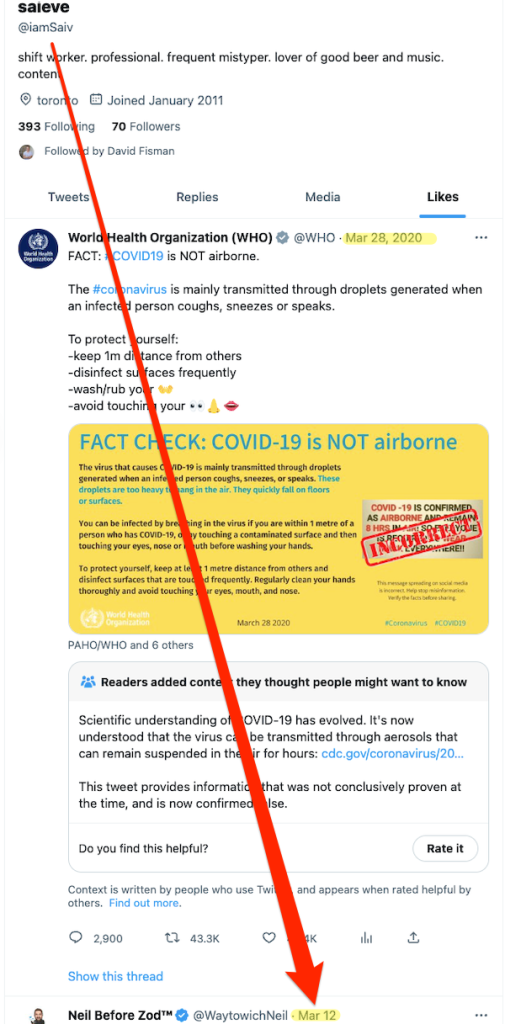 If Stern genuinely believed that Covid is airborne, she — and as Comms Director, she surely has the clout — would have already had that tweet taken down, long ago. She hasn't, so she doesn't.
Conclusion
One can only wonder what Stern does in the office all day. Once more from the departed and regretful Soumya Swaminathan:
Q: Before you arrived, the role of chief scientist did not exist at WHO. How has your understanding of that role evolved? What would you tell a successor about it?

A: It's a multifaceted role. , which wasn't really considered one of the functions of the chief scientist.
It seems a very odd thing for a Chief Scientist to become a "spokesperson." Isn't that a job for the Comms people? Stern's own bio defines her as a "spokesperson" for the Director General, so why is Swaminathan playing such a role at all? Wikipedia (sorry) defines a Director of Communications:
A director of communications is responsible for managing and directing an organization's internal and external communications. Directors of communications supervise public relations staff, create communication strategies, and and media contact for the organization.

A director of communications may also be called a public relations manager,communications director, or .
This is pure speculation, but it would seem reasonable for Stern to have taken this role, particularly for a topic as important as Covid. Instead, Tedros wasn't properly briefed, and Swaminathan ended up doing a Comms job that wasn't really hers to do.
To be fair, perhaps Stern sees her job as slapping down the proles, rather than scientific communication. Or perhaps, to her, slapping down the proles is scientific communication. In any case, she still has it, so she's well-placed with her superiors, good job.
NOTES
[1] @annie_sparrow: "MBBS FRACP MRCP MPH MD. Flying doctor. Scientist. Strategist. Aid worker. Activist. Associate Professor Global Health Icahn School Medicine @ Mount Sinai."
[2] Twitter does not give the dates of likes or retweets, but they are listed in reverse chronological order, so this Like occurred after March 12.
APPENDIX
Here is Stern's profile picture on Twitter, setting an example for the world: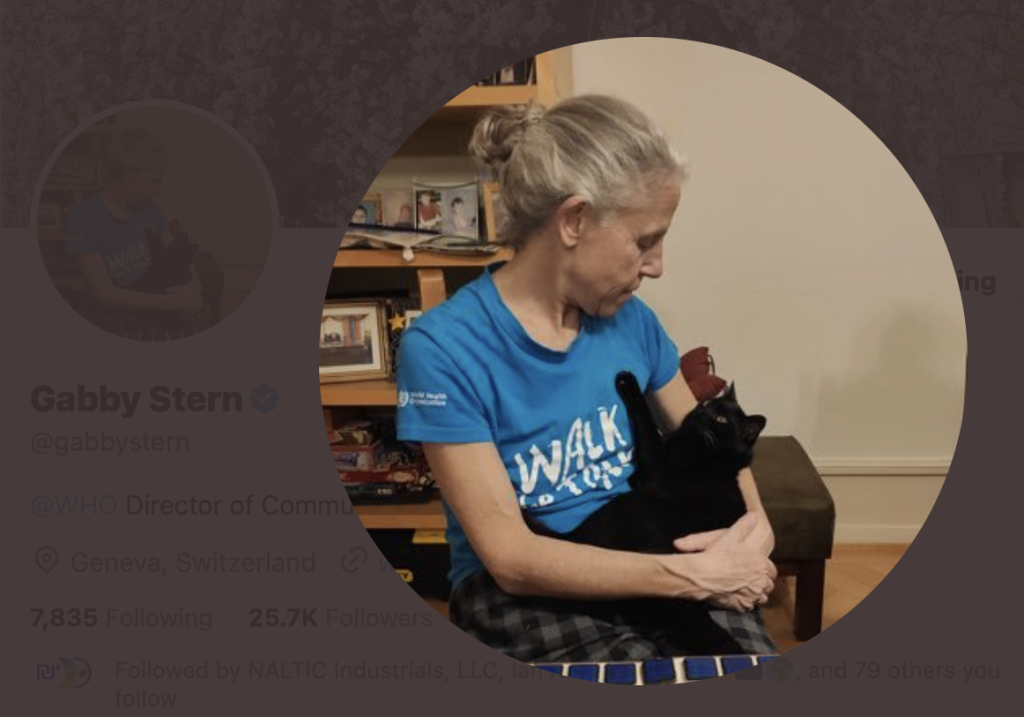 Never mind Stern being unmasked. Let's just hope Oscar the Cat isn't infected, because cats can transmit during close contact (CDC; Emerging Infectious Diseases).