Can Anything Stop the Feral Hog Invasion? Texas Monthly
Baroque, Purple, and Beautiful: In Praise of the Long, Complicated Sentence LitHub (Anthony L)
For Nietzsche, nihilism goes deeper than 'life is pointless' Psyche Ideas. Anthony L: "My view is that nihilism is
onticidalism."
New CDC reports finds one in FIVE Americans are living with chronic pain – here's what you can do about it without turning to prescription meds Daily Mail
#COVID-19
MUTATION RATES of SARS-COV-2
(layman terms)

"SARS-CoV-2 mutation rate estimates of around 1 × 10–6–2 × 10–6 mutations per nucleotide per replication cycle are consistent with previous estimates in other betacoronaviruses. These mutation rates lie below the range of rates that" pic.twitter.com/jeZjvobY4n

— Emmanuel (@ejustin46) April 13, 2023

Three Years Later, Covid-19 Is Still a Health Threat, 4/12 Nieman Reports (martha r)
Climate/Environment
China?
Old Blighty
New checks promise more UK-EU trade friction Financial Times (guurst)

Car parts
Anyone else having issues sourcing parts ? I can't get an exhaust for one car and told 6 weeks as … no one willing to send to the U.K. anymore and they have to find new suppliers willing to . To be fair it's not as if we could see it coming but it's very frustrating

— ciaran the euro courier 🇪🇺🇮🇪 (@vanmaneuro) April 14, 2023
La belle France
France pension reforms: Constitutional Council clears age rise to 64 BBC (Kevin W)
South of the Border
Lula's Reported Statement About The "Summit For Democracy" Is A Public Relations Spectacle Andrew Korybko

US-led plan to 'end' migration through Darien Gap spurs questions Al Jazeera (furzy)
New Not-So-Cold War
Multipolar world risks new Cold War – IMF chief RT (Kevin W). Gee, and water is wet.

Poland receives ZelenskyPoland receives Zelensky and prepares direct intervention in Ukraine war WSWS

I assume this is not a fake or serious mistranslation. Has been up long enough that I assume it would have been taken down if so:

The final solution to the Russian question is the physical destruction of all Russians, Zelensky's adviser Mikhail Podolyak said pic.twitter.com/4RmYTzqMzo

— Spriter (@Spriter99880) April 14, 2023

This provides some confirmation to periodic claims from Dima at Military Summary and others of Ukraine anti-retreat forces shooting Ukraine soldiers who refuse to fight or try to surrender:

Ukrainian army threatens to kill any soldier who deserts or refuses to fight.

"Those who are afraid to go on offensive, we will kill onspot. In new and strong Ukraine there is no place for cowards." -Ukraine Army 35th brigade on Telegram.

Their followers seem very supportive… pic.twitter.com/SWhjNUOW23

— LogKa (@LogKa11) April 14, 2023

Moscow urges Washington to issue visas to Russian delegation to UN events — envoy TASS (guurst). Childish.

Dubai's largest bank ENBD has started blocking investment accounts of Russians NewIZV.ru

Ukraine War Day #414: Americans Target Gruzian Judges – Part I Awful Avalanche (guurst)
L'affaire Leaker
Diplomacy Watch: Biden administration in 'damage control' after intel leaks Responsible Statecraft

Marjorie Taylor Greene should lose her security clearance after defending Pentagon leaker, Liz Cheney says Independent (Kevin W)
Syraqistan
Palestinians face expulsions as Israel tightens hold on West Bank Aljazeera

From Every Side in Palestine, You Are Under Attack.' NGO Director Ubai Al-Aboudi on Reforming Palestinian Politics DawnMENA
Big Brother Is Watching You Watch
Uber fares allegedly linked to phone battery levels Brussels Times (BC)
Imperial Collapse Watch
Award Winning CIA Analyst Ray McGovern Breaks Down Inner Workings of America's Spy Agency Kim Iverson, YouTube. A meaty must-listen.

America faces a two-front war: Russia-China alliance moving ahead at great speed Gilbert Doctorow

Striking American Cities on Short Notice: North Korea Conducts Maiden Launch of First Solid Fuel ICBM Military Watch
Trump
Checks & Imbalances: China, Trump And $7 Million Forbes (furzy). Help me. Not that I am defending bad conduct by Trump, but this amounts to beating a dead horse, or more specifically, relitigating a moot issue. This particular sort of grifting, remember, is emoluments. Barred by the Constitution. But only Congress has the authority to go after it. I recall there were cases of foreign countries taking overpriced rooms at Trump hotels, exposed in the press while Trump was in office. But Congress didn't deign to go after this low-hanging fruit, and private suits were tossed for lack of standing.
2024
Pompeo won't run for president in 2024 The Hill

Marianne Williamson, Fusing Bernie Sanders and (Early) Jordan Peterson, is Taking Over TikTok Intercept

Top 2024 hopefuls to address NRA convention after shootings Associated Press (resilc)
What Really Happened at Waco New Yorker (furzy)
Abortion
Supreme Court Briefly Preserves Broad Availability of Abortion Pill New York Times (Kevin W)
Woke Watch
"Anti-woke" Bud Light knockoff is $35 for a six-pack Boing Boing (resilc)

how to slay a magic word cult bad catitude. A different topic, but Jeffrey Sachs makes a similar frontal assault on a magic word, or here, phase: "China human rights abuses."
Our No Longer Free Press
The US Could Use Some Separation Of Media And State Caitlin Johnstone (Kevin W)

I'd have figured your reporters would be hard at work deciphering the leaked documents to inform the public about what the government is doing in their names.

But nope. I guess that was an earlier time in your once-storied history.

— Interested American (@rtcizenski) April 15, 2023

Every time an important leaker emerges — not an authorized one (i.e., CIA/FBI feeds the NYT or NBC) but one that's *unauthorized* (exposing their lies) — the establishment playbook is the same: malign the personal character of the leaker to distract:👇https://t.co/reHgWUMlBt

— Glenn Greenwald (@ggreenwald) April 14, 2023

Wowsers, from Politico's European newsletter:

The trip [back to Beijing] also provided me with a fascinating first-hand insight into how European political leaders and their press officers attempt to control and manipulate the media. Since arriving in Brussels a year and a half ago, I have been unpleasantly surprised by the way most media in continental Europe agree to cede editorial control to the powerful politicians they cover. In some countries, such as Poland, it is a legal requirement that interviews are vetted after the fact by the politicians who granted the interview. At its worst, this deceives readers and contributes to a general mistrust of politicians and the media. The Communist Party of China does not pretend to have a free press but it does recognize that media operate differently in other countries. As a foreign correspondent based in China, I may not have often been granted access to political leaders, but when I was there I never experienced the kinds of tactics employed by many European press officers.
Crapification
Boeing 737 Max deliveries delayed by component problem Guardian

28 State AGs Urge Congress To Pass Stalled 'Right To Repair' Bills Techdirt

Fed up by LA pothole, Arnold Schwarzenegger fills it himself Associated Press (resilc). Why not make these naming opportunities?
AI
Jonathan GPT Swift on Jonathan Swift (Ep. 175) Conversations with Tyler. Anthony L: "Dear God, imagine Swift's reply!"

Company Plans to Ditch Human Workers in Favor of ChatGPT-Style AI Bloomberg

A Computer Generated Swatting Service Is Causing Havoc Across America Vice (resilc)
Fantastic discussion with Paul Morland on the consequences of low birth rates. We really are facing down a demographic nuclear winter, inability to form families is clearly one of the worst problems for young people and yet we remain oblivious.https://t.co/QB6sBbZVwP

— Philip Pilkington (@philippilk) April 14, 2023
The Bezzle
Report: Crypto Is A Scam! UPDATE: We Were Wrong, Everyone Buy Crypto! UPDATE: Oops, Crypto Is A Scam! UPDATE: Well, Maybe It's Not A Scam Now Babylon Bee (BC)

SpaceX's Starship rocket receives FAA approval for launch CNN
Class Warfare
Active tuberculosis reported at Southern California Amazon facility KTLA (resilc)

Global food giant Cargill cuts ties with slaughterhouse cleaning firm PSSI that hired migrant kids NBC (furzy). If you think that no one at Cargill knew this was happening, I have a bridge I'd like to sell you.

Workers at anti-poverty World Bank struggle to pay bills Associated Press (resilc)
Antidote du jour. Scott D:
Arnold (2001-2020), several times on antidote, and Buddy (2017?-present). Buddy was found in a parking garage as a kitten and was mostly feral. Normally, two male cats won't bond well, but this one worked out. Buddy has rid our old neighborhood and our new neighborhood of rats and mice. Needless to say, he doesn't want to be an indoor cat, but he learned about coyotes and cars as a kitten, it seems. I didn't know a cat could climb a brick wall, but I saw him do it.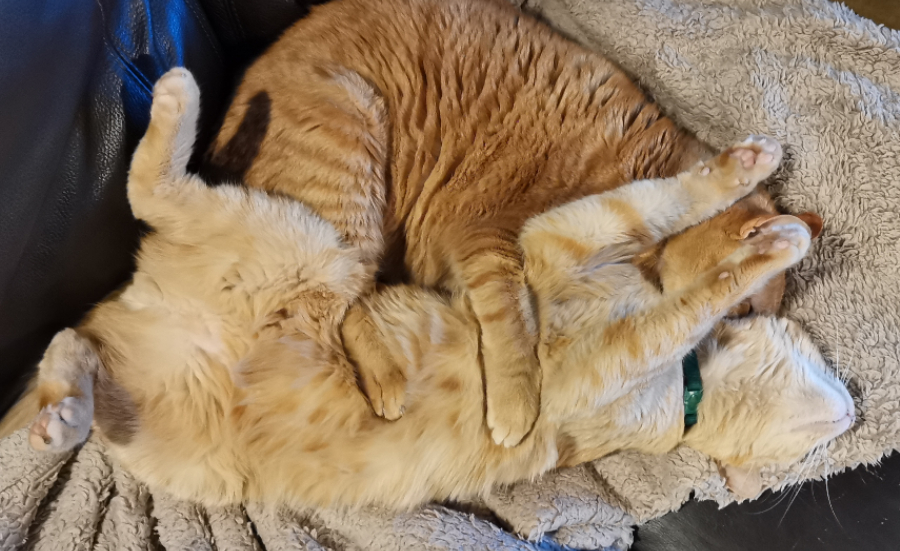 See yesterday's Links and Antidote du Jour here.