By Lambert Strether of Corrente.
Bird Song of the Day
European Starling. Ithaca; Cornell Laboratory of Ornithology, Tompkins, New York, United States."Single bird singing from top of elm tree imitating turdus migratorius and sayornis phoebe. All sounds made by this starling."
* * *
Politics
"So many of the social reactions that strike us as psychological are in fact a rational management of symbolic capital." –Pierre Bourdieu, Classification Struggles
Biden Administration
"Yellen breaks the debt ceiling ice" [Axios]. "The months-long silence between President Biden and House Speaker Kevin McCarthy is reaching an abrupt end thanks to Treasury Secretary Janet Yellen. Yellen's urgent deadline on the debt ceiling gives the White House and Congress as little as a month to avert a catastrophic default, spurring Biden to call an emergency meeting with congressional heads… Senate Democrats interviewed by Axios on Monday stood firm in their opposition to tying the debt ceiling to budget cuts despite the newly truncated timeline… Republicans celebrated Biden's decision to come to the table, but shut down the idea of a clean debt ceiling increase with seemingly no wiggle room."

"Debt ceiling: Biden calls congressional leaders and invites them to meet" [CBS News]. "President Biden called the four congressional leaders Monday afternoon and invited them to a May 9 meeting on the debt ceiling, according to three people familiar with the calls…. According to a White House official, in his meeting with congressional leaders, Mr. Biden will stress that Congress must take action to avoid default without conditions. The president invited the four leaders to the White House to discuss the urgency of preventing default, the official said. And, at the same time, Mr. Biden plans to raise with them how a separate process might be initiated to address the budget and appropriations for the 2024 fiscal year."
The Supremes
"This Supreme Court is slow to issue rulings — glacially slow" [NBC]. "The court has resolved 15 cases as of May 1st, leaving 75% of its caseload this term still undecided. No term in the last century has had fewer decisions at this point…. All of the court's major cases are yet to be decided, on issues like President Joe Biden's plan to forgive student loan debt, affirmative action in college admissions, voting rights and the knotty question of whether owners of creative businesses can refuse to work on same-sex weddings. Important cases are also pending on environmental, Native American and immigration issues."
2024
"The Dark Biden Rises: The Reinvention of Hunter in a New and Menacing Image" [Jonathan Turley]. "First, there was the "Hunter: the wrongly accused international businessman." This blanket denial of wrongdoing was maintained by his father and dutifully repeated by the media. Hunter Biden did 'nothing wrong' and reporters pressing questions of corruption were immediately attacked. Then came 'Hunter Biden: victim of Russian Disinformation.' Before the 2020 election, the media repeated the false claim that the Hunter Biden laptop was likely 'Russian Disinformation.' Despite the denial of American intelligence and self-verifying emails on the laptop, the media accepted without question the dubious claims of former intelligence figures organized by longtime Democratic operatives. Then came 'Hunter Biden: heroic recovering addict.' As the media denials became more difficult to maintain on his dealings, Biden released a book that detailed his struggle with drugs and debauchery. The media again launched into the same fawning, unquestioning mode. … Now we have the Dark Biden. Hunter's handlers are reinventing Hunter in a more combative image. He is an edgy and aggressive antagonist ready to fight fire with fire against Republicans. A team was assembled to reportedly attack potential witnesses and critics. With a possible criminal indictment and congressional investigations looming, Hunter the businessman or recovering addict or victim will not do. Hunter appears to have acquired lawyers by the gross, including former Clinton counsel Abbe Lowell. Lowell recently sent out a letter that caused a stir by not only seemingly confirming the authenticity of the laptop but threatening a host of critics. Biden called for groups to be stripped of tax exemptions, suggested a host of possible defamation actions, and even demanded criminal investigations against critics. The problem is that, unlike Dark Batman, Dark Biden is missing one critical element: a credible threat."

"Hunter Biden's Paternity Case Isn't Going Very Well for Him" [New York Magazine]. "Aside from the very public reminder that Biden has never acknowledged one of his children, the paternity case could impact him far beyond Arkansas. In addition to the DOJ investigation, the House Oversight Committee opened an inquiry into Biden's finances in January. In an interview with Fox News on Monday, Oversight chairman James Comer said that the judge's order in Arkansas for Biden to disclose his finances could help the committee understand if he has any offshore accounts and who has been buying his work. So far, the names of the buyers and prices of the ink-and-oil pieces have not been disclosed, though the top-dollar gallery that represents Biden was asking $75,000 to $500,000 a pop in 2021 — not exactly the industry normal for an artist's first show. 'This has the potential to be very helpful,' Comer said."

* * *

"The Party Centrist Extinction Is Upon Us" [The Dispatch]. "CNN just announced that Donald Trump will participate in a televised town hall for the network in New Hampshire next week… And let's be real. It's not going to take much. Biden is winning against Trump by 1 to 3 points in the best national polls we have. That's within the margin of error. And that's not even taking into account the Electoral College math problem that Democrats still have. Democrats keep acting like they have this thing in the bag because Trump got indicted? Because Trump says crazy stuff? Because Trump? This town hall could go very, very well for Trump."
Republican Funhouse
"Inside the 'Private and Confidential' Conservative Group That Promises to 'Crush Liberal Dominance'" [ProPublica]. "A few months ago, Leonard Leo laid out his next audacious project…. Now, Leo declared in a slick but private video to potential donors, he planned to 'crush liberal dominance' across American life… Teneo is building what Leo called in the video 'networks of conservatives that can roll back' liberal influence in Wall Street and Silicon Valley, among authors and academics, with pro athletes and Hollywood producers. A Federalist Society for everything…. Baehr and Thiel lamented what they saw as the fragmented state of conservative networks, with their hidebound think tanks and intellectual centers that hold sway over right-of-center politics. A rare bright spot on their side [Teneo co-founder Evan Baehr] and [Peter] Thiel agreed, was the Federalist Society. Thiel had, in fact, served as president of the Stanford Federalist Society. What if there were a group similar to the Federalist Society for venture capitalists or corporate CEOs or members of the media? (Thiel did not respond to a request for comment.)" • Hmm.
Democrats en Déshabillé
Patient readers, it seems that people are actually reading the back-dated post! But I have not updated it, and there are many updates. So I will have to do that. –lambert

I have moved my standing remarks on the Democrat Party ("the Democrat Party is a rotting corpse that can't bury itself") to a separate, back-dated post, to which I will periodically add material, summarizing the addition here in a "live" Water Cooler. (Hopefully, some Bourdieu.) It turns out that defining the Democrat Party is, in fact, a hard problem. I do think the paragraph that follows is on point all the way back to 2016, if not before:

The Democrat Party is the political expression of the class power of PMC, their base (lucidly explained by Thomas Frank in Listen, Liberal!). ; if the Democrat Party did not exist, the PMC would have to invent it. . ("PMC" modulo "class expatriates," of course.) Second, all the working parts of the Party reinforce each other. Leave aside characterizing the relationships between elements of the Party (ka-ching, but not entirely) those elements comprise a network — a Flex Net? An iron octagon? — of funders, vendors, apparatchiks, electeds, NGOs, and miscellaneous mercenaries, with assets in the press and the intelligence community.

Note, of course, that the class power of the PMC both expresses and is limited by other classes; oligarchs and American gentry (see 'industrial model' of Ferguson, Jorgensen, and Jie) and the working class spring to mind. Suck up, kick down.

* * *

Pelosi's not the only Democrat:

Love me, love me, love me, I'm a liberal:

35% of white liberals "secretly wish bad things" upon political opponents "sometimes" to "all the time."

1/2 as many white conservatives say they do the same.

Matches what I began to see after 2016 and is one reason I distanced myself from this "left."
https://t.co/apwhmVFFqm pic.twitter.com/5L5AJztdVs

— Jake 🇺🇸 (@omni_american) May 2, 2023

(The source is American National Election Studies, which surprisingly looks legit, though not always timely).

BREAKING NEWS: Another Congressman literally traded banking stocks again.

Lois Frankel sold $FRC on March 16th, avoiding the remaining 80% drop.

She THEN BOUGHT $JPM, the bank buying FRC on March 22nd.

— unusual_whales (@unusual_whales) May 1, 2023
Realignment and Legitimacy
"Black Protestant church still vital despite attendance drop" [Associated Press]. "The wide empty spaces in pews between parishioners at a Sunday service at Zion Baptist Church in South Carolina's capital highlight a post-pandemic reality common among many Black Protestant churches nationwide. At its heyday in the 1960s, more than 1,500 parishioners filled every seat at Zion. But membership at the historic church — a crucial meeting point for many during the Civil Rights Movement — dwindled over recent decades. The trend has been accelerated by the COVID-19 pandemic, which infected and killed Black Americans at a disproportionate rate. Zion's attendance dropped from 300 parishioners before the outbreak to 125 now…. Zion's shrinking attendance is in line with a recent Pew Research Center survey; it found a significant attendance drop among Black Protestants that is unmatched by any other major religious group. The number of Black Protestants who say they attend services monthly has fallen from 61% in 2019 to 46% now, said Pew, and they are the only group in which more than half (54%) attend services virtually.

Here is a fascinating chart (the link is interacit

"The Guide to Public Opinion and Electoral Behavior" [American National Election Studies]. Fascinating chart (the link is interactive) on "Social Class (Self-Indentification): Middle or Working Class?" The chart is interactive. Here is the "Race/Ethnicity" breakdown:

And here is "Party":
#COVID19
"I am in earnest — I will not equivocate — I will not excuse — I will not retreat a single inch — AND I WILL BE HEARD." –William Lloyd Garrison
Resources, United States (National): Transmission (CDC); Wastewater (CDC, Biobot; includes many counties); Variants (CDC; Walgreens); "Iowa COVID-19 Tracker" (in IA, but national data).
Lambert here: Readers, thanks for the collective effort. We are now up to 50/50 states (100%). This is really great! (It occurs to me that there are uses to which this data might be put, beyond helping people with "personal risk assessments" appropriate to their state. For example, thinking pessimistically, we might maintain the list and see which states go dark and when. We might also tabulate the properties of each site and look for differences and commonalities, for example the use of GIS (an exercise in Federalism). I do not that CA remains a little sketchy; it feels a little odd that there's no statewide site, but I've never been able to find one. Also, my working assumption was that each state would have one site. That's turned out not to be true; see e.g. ID. Trivially, it means I need to punctuate this list properly. Less trivially, there may be more local sites that should be added. NY city in NY state springs to mind, but I'm sure there are others. FL also springs to mind as a special case, because DeSantis will most probably be a Presidental candidate, and IIRC there was some foofra about their state dashboard. Thanks again!
Resources, United States (Local): AK (dashboard); AL (dashboard); AR (dashboard); AZ (dashboard); CA (dashboard; Marin); CO (dashboard; wastewater); CT (dashboard); DE (dashboard); FL (wastewater); GA (wastewater); HI (dashboard); IA (wastewater reports); ID (dashboard, Boise; dashboard, wastewater, Central Idaho; wastewater, Coeur d'Alene; dashboard, Spokane County); IL (wastewater); IN (dashboard); KS (dashboard; wastewater, Lawrence); KY (dashboard, Louisville); LA (dashboard); MA (wastewater); MD (dashboard); ME (dashboard); MI (wastewater; wastewater); MN (dashboard); MO (wastewater); MS (dashboard); MT (dashboard); NC (dashboard); ND (dashboard; wastewater); NE (dashboard); NH (wastewater); NJ (dashboard); NM (dashboard); NV (dashboard; wastewater, Southern NV); NY (dashboard); OH (dashboard); OK (dashboard); OR (dashboard); PA (dashboard); RI (dashboard); SC (dashboard); SD (dashboard); TN (dashboard); TX (dashboard); UT (wastewater); VA (dashboard); VT (dashboard); WA (dashboard; dashboard); WI (wastewater); WV (wastewater); WY (wastewater).
MT wusses out (RM):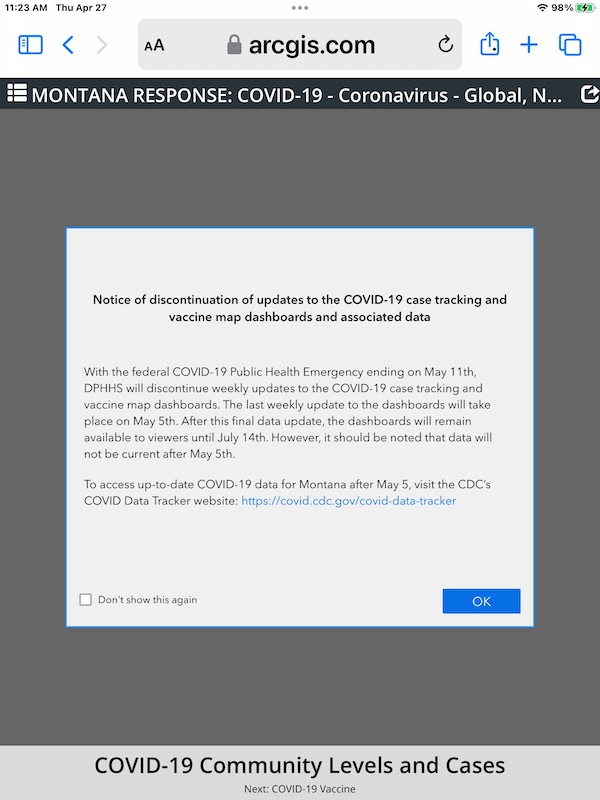 Biden ending the Covid Public Health Emergency is the driver; no doubt other states will drop out too….
Resources, Canada (National): Wastewater (Government of Canada).
Resources, Canada (Provincial): ON (wastewater); QC (les eaux usées); BC, Vancouver (wastewater).
Hat tips to helpful readers: Art_DogCT, B24S, CanCyn, ChiGal, Chuck L, Festoonic, FM, FreeMarketApologist (4), Gumbo, hop2it, JB, JEHR, JF, JL Joe, John, JM (9), JW, KatieBird, LL, Michael King, KF, LaRuse, mrsyk, MT, otisyves, Petal (5), RK (2), RL, RM, Rod, square coats (11), tennesseewaltzer, Utah, Bob White (3).
* * *
Look for the Helpers
Modified rapture:

Delta's commitment to clean air, including during boarding and deplaning. https://t.co/BngGXRecHF pic.twitter.com/tuCjLuQueN

— Virginia Buysse, PhD (@VirginiaBuysse) May 2, 2023

What if unmasked people near you are coughing? What if unmasked people near you are asymptomatic?
Vaccines
"Study of Novavax COVID vaccine estimates 100% efficacy against hospitalizations" [Center for Infectious Disease Research and Policy]. "A post hoc analysis of a phase 3 randomized, controlled trial estimates that two doses of the Novavax (NVX-CoV2373) COVID-19 vaccine were 100% effective against hospitalization by 95 days during a period dominated by the SARS-CoV-2 Alpha variant." • But Alpha was a long time ago….
Maskstravaganza
"Masks come off in the last refuge for mandates: The doctor's office" [WaPo]. "TikTok has been flush with nurses embracing the opportunity to doff their masks after three years. Some posted celebratory videos from hospital floors where they ripped masks off to the tune of 'Walking on Sunshine.' One travel pediatric nurse with 215,000 followers, who declined to comment, posted a video saying he was looking forward to having 'flawless' skin again because wearing masks for 12-hour shifts caused breakouts along his jawline. Other nurses joked that they liked the masks because they could conceal their facial expressions." Propaganda works, I guess. More: "Kristen Nordlund, a CDC spokeswoman, said the agency plans to update its infection prevention and control guidance after the public health emergency ends 'to ensure safeguards stay in place to protect staff, patients and visitors in health-care facilities.' She said masking is still recommended when facilities have outbreaks [i.e., when it's already too late] or when communities have elevated transmission of respiratory viruses [except CDC is turning off even the horrid community levels ("the Green Map") so how will anyone know? And: "'We are dealing with sick patients, and the inability to emote and show empathy in our facial expressions is an underappreciated [lol, where's the RCT?] negative part of masking all the time,' said Karen Brust, a hospital epidemiologist for the University of Iowa Hospitals and Clinics who co-wrote a commentary piece [Water Cooler, April 18] arguing for the end of universal hospital masking." • "Showing empathy" is, I suppose, the classy way to say "I want to see your smile." First, you can emote with your eyes, which a mask reveals. (Of course, if your eyes are dead, because you can't pass the Voight-Kampff test — as shown by your willingness to infect patients with a lethal pathogen — then a fake smile with your newly visible mouth might be the answer you need.) Second, Asia ffs. Are we really arguing that half the globe can't show empathy because the people their mask?

"Do masks work? Randomized controlled trials are the worst way to answer the question" [STAT]. "RCTs have value only when researchers can be sure that the treatment is administered as intended. With an RCT for a drug, that means knowing, for example, whether providers' biases affected who got the drug, whether patients' habits affected how they took it, and whether control group participants somehow got it on their own. Without that knowledge, an RCT produces noise, and meta-analyses produce piles of noise. With behavioral interventions like wearing masks, it may be impossible to produce anything but noise without vastly more ambitious studies than have been conducted to date." • For example:

My comments on the Cochrane mask review are up. Apparently when evaluating studies to find out if masks work you don't need to define transmission modes, or whether the mask was capable (by design and as worn) to prevent transmission… pic.twitter.com/v3WUCKREGn

— Dr Evonne T Curran NursD 💙🇺🇦 (@EvonneTCurran) April 30, 2023

I can't find this response to Dr John Conly's horrid and Brownnose Institute-driven anti-mask study. Readers?

A Venetian mask (an approach I have long advocated; 2020), as part of moving masks from the medical device bucket to the fashion bucket:

Coolest kid in the world. pic.twitter.com/vbmNLHgfoR

— Annie Gustin (@oldfshndanne) May 2, 2023

Note that the Flomask provides a standard dimension so that others can copy and attach the Venetian mask. IMNSHO, standardization is needed across the industry (particularly for facial dimensions, which should work like shoe sizes).
Elite Maleficence
"Loneliness poses risks as deadly as smoking: surgeon general" [Associated Press]. • So clean the air, and that way we won't have to breath in pathogens to avoid loneliness!
* * *
Lambert here: I'm getting the feeling that the "Something Awful" might be a sawtooth pattern — variant after variant — that averages out to a permanently high plateau. Lots of exceptionally nasty sequelae, most likely deriving from immune dysregulation (says this layperson).
Case Data
From BioBot wastewater data from May 1: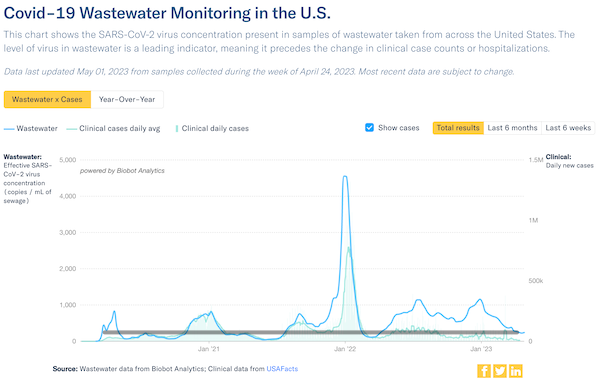 Lambert here: Unless the United States is completely, er, exceptional, we should be seeing an increase here soon. UPDATE Indeed, a slight uptick. Let's wait and see. A chart of past peaks: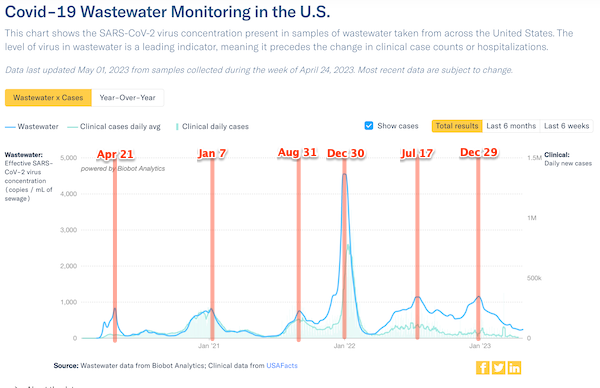 Of course, the population is very different now. In any case, Nature agrees–
"COVID's future: mini-waves rather than seasonal surges" [Nature]. "Whether you call it a surge, a spike, a wave or perhaps just a wavelet, there are signs of a rise in SARS-CoV-2 infections — again. A growing proportion of tests in some countries are coming back positive, and new variants, most notably a lineage called XBB.1.16, are pushing aside older strains, fuelling some of the uptick in cases. Welcome to the new normal: the 'wavelet' era. Scientists say that explosive, hospital-filling COVID-19 waves are unlikely to return. Instead, countries are starting to see frequent, less deadly waves, characterized by relatively high levels of mostly mild infections and sparked by the relentless churn of new variants. Wavelets don't always create a dramatic spike in hospitalizations and deaths; their effects on health vary between countries. But the relentless series of wavelets looks very different from the slower, annual circulation patterns of influenza and cold-causing coronaviruses, and it seems increasingly unlikely that SARS-CoV-2 will settle into a flu-like rhythm anytime soon, say scientists." And: "In the year and half since Omicron emerged, COVID-19 deaths remain stubbornly high and the toll has been around ten times higher than that typically caused by influenza, says Wenseleers. But, still, large infection waves are causing smaller ripples in hospitalizations and deaths. 'It gives most people the hope that, in the coming years, the net toll of COVID will get comparable to influenza,' [Waasila Jassat, a public-health specialist at the country's National Institute for Communicable Diseases in Johannesburg] says." • Each wave leaves the population a little worse off, from cumulative vascular and neurological damage, from Long Covid, and from the effects of immune dysregulation.
For now, I'm going to use this national wastewater data as the best proxy for case data (ignoring the clinical case data portion of this chart, which in my view "goes bad" after March 2022, for reasons as yet unexplained). At least we can spot trends, and compare current levels to equivalent past levels.
Variants
NOT UPDATED From CDC, April 29, 2023. Here we go again: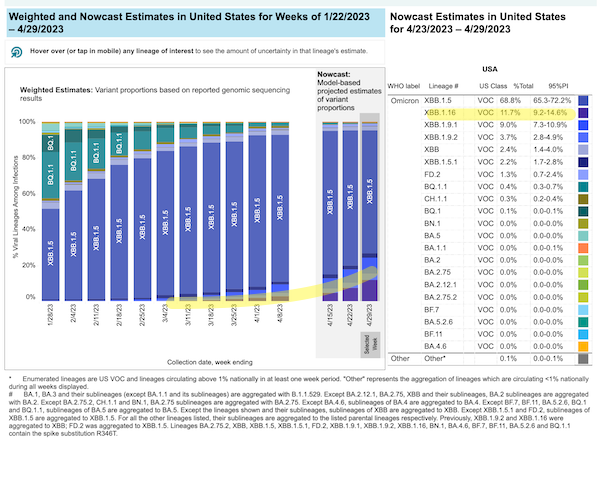 Lambert here: Looks like XBB.1.16 is rolling right along. Though XBB 1.9.1 is in the race as well.
Covid Emergency Room Visits
NOT UPDATED From CDC NCIRD Surveillance, from April 22: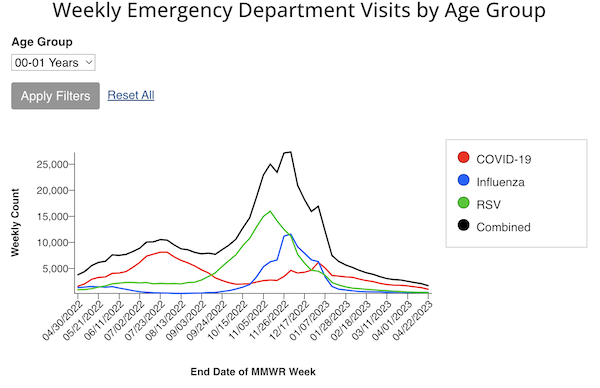 NOTE "Charts and data provided by CDC, updates Wednesday by 8am. For the past year, using a rolling 52-week period." So not the entire pandemic, FFS (the implicit message here being that Covid is "just like the flu," which is why the seasonal "rolling 52-week period" is appropriate for bothMR SUBLIMINAL I hate these people so much. Anyhow, I added a grey "Fauci line" just to show that Covid wasn't "over" when they started saying it was, and it's not over now. Notice also that this chart shows, at least for its time period, that Covid is not seasonal, even though CDC is trying to get us to believe that it is, presumably so they can piggyback on the existing institutional apparatus for injections.
Positivity
A kind reader discovered that Walgreens had reduced its frequency to once a week. No updates, however, since April 11.
Deaths
NOT UPDATED Death rate (Our World in Data):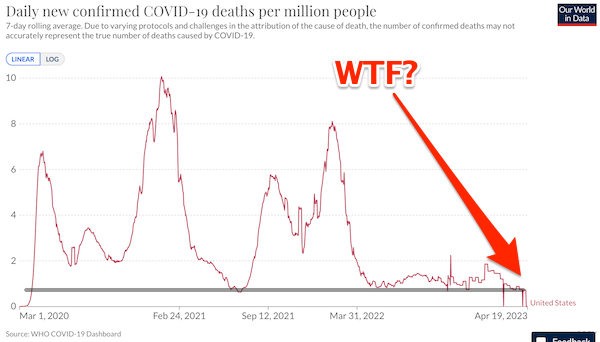 Lambert here: WHO turned off the feed? Odd that Walgreen's positivity shut down on April 11, and the WHO death count on April 12. Was there a memo I didn't get?
Total: 1,161,164 – 1,159,839 = 1325 (1325 * 365 = 483,625 deaths per year, today's YouGenicist™ number for "living with" Covid (quite a bit higher than the minimizers would like, though they can talk themselves into anything. If the YouGenicist™ metric keeps chugging along like this, I may just have to decide this is what the powers-that-be consider "mission accomplished" for this particular tranche of death and disease).
Excess Deaths
NOT UPDATED Excess deaths (The Economist), published April 23: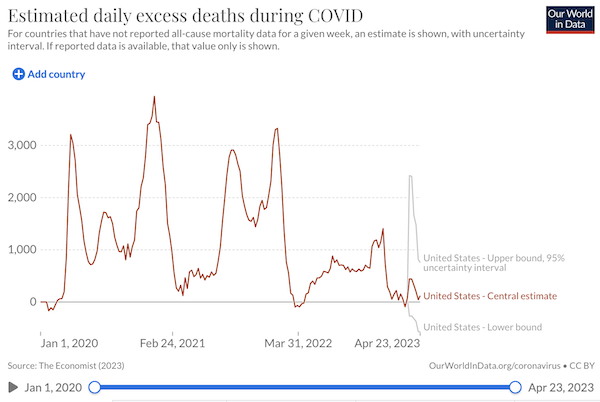 Lambert here: Based on a machine-learning model. (The CDC has an excess estimate too, but since it ran forever with a massive typo in the Legend, I figured nobody was really looking at it, so I got rid it. )
Stats Watch
Employment Situation: "United States Job Openings" [Trading Economics]. "The number of job openings in the United States dropped by 384,000 to 9.6 million in March 2023, the lowest level since April 2021 and below the market's expectation of 9.775 million, indicating that the labor market may be cooling off.:
Manufacturing: "United States Factory Orders" [Trading Economics]. "New orders for manufactured goods in the US increased by 0.9 percent compared to the previous month in March 2023, rebounding from two consecutive months of decline. However, the growth fell short of market expectations of 1.1 percent and followed a revised 1.1 percent drop in February. The biggest upward contribution came from a 9 percent surge in demand for transport equipment, led by both civilian (78.3 percent) and defense aircraft (9.6 percent)."
Supply Chain: "United States LMI Logistics Managers Index Current" [Trading Economics]. "The Logistics Manager's Index in the US fell for a third consecutive month to hit another record low of 50.9 in April of 2023, compared to 51.1 in March. The decline was mainly driven by a dip in inventory levels (-4.7 to 50.9), suggesting that firms continue to get closer to properly balancing their supply of goods. The drop in inventories has led to a significant fall in warehousing utilization (-9.9 to 55.1) which in turn has dropped warehousing prices (-1.1 to 69.8) particularly for downstream firms."
* * *
Tech: "Apple fights $2 bln London lawsuit for 'throttling' millions of iPhones" [Reuters]. "Apple Inc urged a London tribunal on Tuesday to block a $2 billion mass lawsuit accusing it of hiding defective batteries in millions of iPhones by 'throttling' them with software updates. The tech giant is facing a lawsuit worth up to 1.6 billion pounds plus interest, brought by consumer champion Justin Gutmann on behalf of iPhone users in the United Kingdom. Gutmann's lawyers argued in court filings that Apple concealed issues with batteries in certain phone models and "surreptitiously" installed a power management tool which limited performance."
Tech: Thanks, Silicon Valley:
BREAKING: $IBM CEO has said: We will pause hiring for roles that AI could do.

Note: this could replace 7,800 jobs, per Bloomberg.

— unusual_whales (@unusual_whales) May 1, 2023
To be fair, we know that a future of 10-hour weeks, with a long life to enjoy copious leisure time activities, is in store for us as soon as AI removes us from the workplace as much as possible. And who wouldn't want that?
Tech: "The looming threat of AI to Hollywood, and why it should matter to you" [Vox]. " the appeal of AI to Hollywood, in particular to replace writers, is obvious. For one, the industry is sitting atop a pile of data that tells them not just what people want in the aggregate, but what, precisely, individual consumers want. For now, the industry's method for making money requires making a product that's as broadly appealing as possible. But suppose you could flip that: Netflix could use your viewing data to not just generate weirdly specific suggestions for you but create on-the-fly entertainment that matches your interests. Sure, it might seem like the results would be repetitive. But consider the extraordinary popularity of highly formulaic entertainment — procedurals, sitcoms, action flicks, Hallmark movies — and you can start to see the appeal for platforms whose main goal is to keep you watching. Of course, that can't be replicated (yet) in a theater, and there's plenty of evidence that people like to see the same movie as their friends. AI can help with that, too. Hollywood's other huge problem since its inception is that making movies requires employing a lot of people, and those people want to be compensated fairly for their labor and treated like humans — sleeping, eating, getting some vacation time. If you were faced with the possibility of removing some humans from the equation, employing instead a tireless machine that doesn't need a salary and won't go on strike when it's being exploited, wouldn't that be tempting?" • Thanks, Silicon Valley.
Tech: "AI 'Godfather' Quits His Job at Google Warning of 'Scary' Outcomes" [Entrepreneur]. "In an interview with the New York Times, Hinton talked about his decision to leave Google, where he was co-founder of Google Brain, a research team that develops artificial intelligence systems. 'It is hard to see how you can prevent the bad actors from using it for bad things,' Hinton said." • Ya think?
Tech: "AI experts warn of looming catastrophes" [Axios]. Inspired by Hinton (above). "Axios asked AI experts — developers, researchers and regulators — to sketch their most plausible disaster fears. Their top 5: 1. Cyberattacks explode…. 2. Scams sharpen…. 3. Disinformation detonates…. 4. Surveillance locks in…. 5. Strongmen crack down." But: "The tech industry's AI product race shows no sign of slowing." • So what were these guys thinking?
Tech: "Samsung bans use of A.I. like ChatGPT for employees after misuse of the chatbot" [CNBC]. "Samsung told employees to take precautions when using ChatGPT and other products outside of work and advised workers not to enter any personal or company related information into the services…. Samsung is not the only company restricting use of the technology. U.S. investment bank JPMorgan reportedly restricted use of ChatGPT among staff earlier this year. And Amazon this year reportedly warned employees not to upload confidential information, including code, to ChatGPT."
* * *
Today's Fear & Greed Index: 53 Neutral (previous close: 61 Greed) [CNN]. One week ago: 54 (Neutral). (0 is Extreme Fear; 100 is Extreme Greed). Last updated May 2 at 1:53 PM ET.
Groves of Academe
"Column: Red-state efforts to dumb down their universities will provoke a brain drain" [Los Angeles Times]. • As a child of academics, I am very sympathetic to this view. OTOH, when I think of what Harvard and Yale graduates have done to the country, I look askance at "dumb down."
Zeitgeist Watch
"No one practicing, teaching about or reporting on gender-affirmative care, or gender identity, should continue until…" [Lisa Selin Davis, BROADview]. • A reading list.
* * *
2018 study: "Parent reports of adolescents and young adults perceived to show signs of a rapid onset of gender dysphoria" [PLOS One]. n = 256. Here is the Conclusion: "This descriptive, exploratory study of parent reports provides valuable detailed information that allows for the generation of hypotheses about factors that may contribute to the onset and/or expression of gender dysphoria among AYAs. Emerging hypotheses include the possibility of a potential new subcategory of gender dysphoria (referred to as rapid-onset gender dysphoria) that has not yet been clinically validated and the possibility of social influences and maladaptive coping mechanisms. Parent-child conflict may also explain some of the findings. More research that includes data collection from AYAs, parents, clinicians and third party informants is needed to further explore the roles of social influence, maladaptive coping mechanisms, parental approaches, and family dynamics in the development and duration of gender dysphoria in adolescents and young adults."
2023, critique: "Is 'social contagion' real? Fact-checking transgender care claims in new MO restrictions" [Kansas City Star]. "This theory, called 'social contagion,' is widely understood to be false. The idea stems from a single study from 2018 [above] in the journal PLOS One wherein researcher Lisa Littman collected survey results from parents on three websites that oppose gender-affirming health care. PLOS One issued [an extensive correction] to Littman's study in 2019, which questions its sampling methods and reliance on parental accounts rather than information gathered directly from trans people. [See also a] 2022 study in the journal Pediatrics that found no evidence of social contagion, and stated that the theory 'should not be used to argue against the provision of gender-affirming medical care.'"
2023, response: "Rapid Onset Gender Dysphoria: Parent Reports on 1655 Possible Cases" [Archives of Sexual Behavior]. (The author, J. Michael Bailey, is no stranger to controversy.) From the Abstract:
During the past decade there has been a dramatic increase in adolescents and young adults (AYA) complaining of gender dysphoria. One influential if controversial explanation is that the increase reflects a socially contagious syndrome: Rapid Onset Gender Dysphoria (ROGD). We report results from a survey of parents who contacted the website ParentsofROGDKids.com because they believed their AYA children had ROGD. Results focused on 1655 AYA children whose gender dysphoria reportedly began between ages 11 and 21 years, inclusive. These youths were disproportionately (75%) natal female. Natal males had later onset (by 1.9 years) than females, and they were much less likely to have taken steps toward social gender transition (65.7% for females versus 28.6% for males). Pre-existing mental health issues were common, and youths with these issues were more likely than those without them to have socially and medically transitioned. Parents reported that they had often felt pressured by clinicians to affirm their AYA child's new gender and support their transition. According to the parents, AYA children's mental health deteriorated considerably after social transition. We discuss potential biases of survey responses from this sample and conclude that there is presently no reason to believe that reports of parents who support gender transition are more accurate than those who oppose transition. To resolve controversies regarding ROGD, it is desirable that future research includes data provided by both pro- and anti-transition parents, as well as their gender dysphoric AYA children.
I'm not even sure what kind of methodology is appropriate here. Surely not an RCT? That said, a parents-only survey seems odd; and a child-only survey seems odd. (Adding, after our experiences on Covid policy, I think it's pretty hard to argue that "social contagion" ("Let me see you smile!") is not a thing. Surely it's one of the effects that social media — as well as propanda from the organs of State security — wish to create, and do?
Class Warfare
May 1:
The pro-virus, mass infection consensus is a victory on a par with anything the right have ever achieved

— Nate Bear (@NateB_Panic) May 1, 2023
Correct. What a debacle. (The responses mention a few small exceptions. Over-all, a debacle.)
"Perfect storm in Minnesota labor market is worrying harbinger for the Fed" [Reuters]. "After raising starting wages from $17 an hour to around $24 and overhauling hiring strategies, [Jeff Drees, chief executive of the U.S. unit of Japan's Daikin Industries Ltd] still has 200 open jobs at this and two nearby facilities, where he is hoping to add to current staffing of 1,200. Daikin's order book is bulging, he said, amid demand driven by buildings being upgraded with better air conditioning systems in the wake of the COVID pandemic, a rush of new data centers and electric vehicle plants, and federal dollars flowing under recent infrastructure and environmental legislation. To Federal Reserve officials wondering when wage growth might slow as they try to cool the economy and inflation, his prognosis is not soon. 'I don't think it's leveling off.' … The experience of Minnesota, where a strong industrial and corporate base has collided with flatlining population growth, suggests the process of finding a new balance, so central to the evolution of the economy, wages and inflation, will be neither fast nor cheap."
"'It's just pure chaos': Top Hollywood showrunners sound off about writers' strike" [Los Angeles Times]. "The Writers Guild of America called on their members to launch a strike on Monday night after the contract negotiation period with major studios ended without a new deal in place. The walkout will likely result in a halt of production on most TV shows produced in Hollywood for the first time in 15 years. Last month, members of the guild voted overwhelmingly, at 98%, in favor of a strike action if the guild and the Alliance of Motion Picture and Television Producers, which represents the major studios, failed to reach an agreement on a new deal by the impending contract expiration at midnight Monday. The strike is the first one in 15 years."
News of the Wired
"'We Have 30 Extra Years': A New Way of Thinking About Aging" [Stanford Business]. "Thanks to advances in medicine and public health, people are living longer, healthier lives. The world's population of people 60 and older is growing five times faster than the population as a whole. Global life expectancy has doubled since 1900, and experts say that children born in developed countries now have a good chance of living to 100. A "silver tsunami" is already sweeping the U.S. labor force: the Bureau of Labor Statistics projects that 36% of people ages 65–69 will remain on the job in 2024 — up significantly from the 22% who were working in 1994. These longer-lived, longer-working individuals generate an ever-bigger slice of global GDP and control an expanding tranche of global wealth." • Well, except for Third World countries like the United States, where life expectancy is dropping.
This looks neat!
Prior to the discovery of oil, frying existed🧐

— Tansu YEĞEN (@TansuYegen) May 2, 2023
* * *
Contact information for plants: Readers, feel free to contact me at lambert [UNDERSCORE] strether [DOT] corrente [AT] yahoo [DOT] com, to (a) find out how to send me a check if you are allergic to PayPal and (b) to find out how to send me images of plants. Vegetables are fine! Fungi and coral are deemed to be honorary plants! If you want your handle to appear as a credit, please place it at the start of your mail in parentheses: (thus). Otherwise, I will anonymize by using your initials. See the previous Water Cooler (with plant) here. From Stephen V: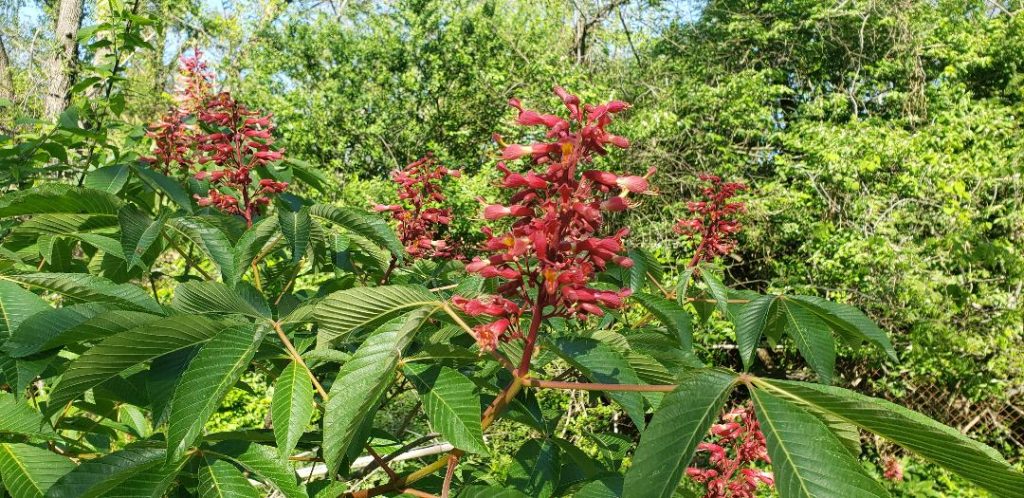 Stephen V writes: "Peak Spring in the AR Ozarks celebrated by this young red buckeye."
* * *
Readers: Water Cooler is a standalone entity not covered by the annual NC fundraiser. So if you see a link you especially like, or an item you wouldn't see anywhere else, please do not hesitate to express your appreciation in tangible form. Remember, a tip jar is for tipping! Regular positive feedback both makes me feel good and lets me know I'm on the right track with coverage. When I get no donations for five or ten days I get worried. More tangibly, a constant trickle of donations helps me with expenses, and I factor in that trickle when setting fundraising goals:
Here is the screen that will appear, which I have helpfully annotated: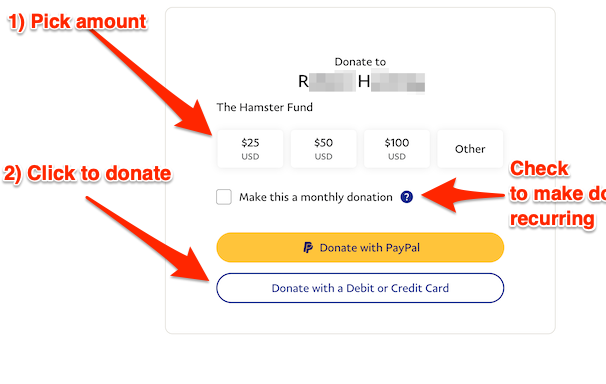 If you hate PayPal, you can email me at lambert [UNDERSCORE] strether [DOT] corrente [AT] yahoo [DOT] com, and I will give you directions on how to send a check. Thank you!