By Lambert Strether of Corrente.
Bird Song of the Day
Dusky Lark, Nyachisala Forest, Kakoma, Mwinilunga, North-Western, Zambia. "Song in display flight."
* * *
Politics
"So many of the social reactions that strike us as psychological are in fact a rational management of symbolic capital." –Pierre Bourdieu, Classification Struggles
Biden Administration
"Debt ceiling talks to resume as McCarthy warns big gaps remain on some issues" [Financial Times]. "Republican negotiators will return to the White House to "try to finish out the negotiations" on the debt ceiling, Kevin McCarthy said on Wednesday morning, although he warned the two sides were 'still far apart' on a number of issues… Any deal struck between the White House and congressional Republicans will need to be approved by the majorities in both the House of Representatives — which Republicans control by a narrow margin — and the Senate, which Democrats control by a similarly slim amount. Both Biden and McCarthy are under increasing pressure from the left and right flanks of their parties, respectively, to reject calls for compromise. McCarthy nevertheless insisted on Wednesday that a deal was possible — and that he could be able to shepherd it through the lower chamber of Congress. 'I think we can make progress today. I am hoping we can make progress.' The most hawkish members of McCarthy's conference have brushed aside fears of a default and suggested the Treasury can simply prioritise debt payments." • Even though this is the stupidest timeline, still some parts of it seem even stupider than others, this spectacle being one such.

"White House believes massive Dem bailout may be needed to pass debt ceiling compromise" [Politico]. "Top Democrats have long anticipated that a debt ceiling deal would require some level of Democratic support, with Biden stressing for days that any viable solution to the standoff must be bipartisan. And with negotiators still haggling over specifics of a legislative compromise, the people familiar with the matter cautioned it's still too early to tell exactly how many Democrats will be needed to help McCarthy secure a majority, or even if a deal will be reached. But the realization that the party might need to supply a sizable percentage of the House votes to avert an economically disastrous default — not to mention passage in the Democratic-controlled Senate — has increasingly shaped the White House's negotiating strategy. Aides have hardened their stance against certain GOP-proposed budget cuts and social welfare restrictions for fear of sparking a revolt among Democrats they may ultimately need to support a deal." • Wait. The Democrat strategy was to throw everyone to the left of Hakim Jeffries under the bus and pass the debt ceiling bill with Republican votes? Really?
2024
I guess it's time for the Countdown Clock!

"Ron DeSantis struggles for lift-off as campaign launch nears" [Financial Times]. "Trump now commands the support of more than 56 per cent of the Republican electorate, according to the latest average of opinion polls compiled by Real Clear Politics. DeSantis trails in a distant second place, at just shy of 20 per cent. Republican campaign veterans say the polls reflect an increasingly disciplined Trump campaign apparatus that relentlessly attacks DeSantis, and a "shadow campaign" by the Florida governor that has yet to get off the ground…. The Florida governor held off formally entering the presidential race until after the end of his state's legislative session. He has instead engaged in sporadic public appearances to promote a new book, The Courage to Be Free. DeSantis's increasingly conservative rule in Florida has cast doubt in the minds of some wealthy donors © Cristobel Herrera-Ulashkevich/EPA-EFE/Shutterstock

Those appearances have generated mixed results. Some onlookers suggest that DeSantis needs to shorten a lengthy stump speech that rattles off his policy achievements in Florida, and spend more time on the "shaking hands and kissing babies" side of retail politics. This is particularly true in crucial early swing states like Iowa and New Hampshire, where voters are looking for a personal connection with candidates. At the same time, DeSantis's increasingly conservative rule in Florida has cast doubt in the minds of some wealthy donors. They have publicly questioned his approach to social and cultural issues, namely his signing of a ban on abortions in the state after six weeks of pregnancy." • Last stand of the RINOs? Maybe if Biden really screws the working class in a Grand Bargain with McCarthy, some of those donors will finally flip Democrat! Or at least stay on the sidelines….

"Ron DeSantis will launch his presidential bid with Elon Musk" [NBC]. "Musk and DeSantis will host an event on Twitter Spaces, the site's platform for audio chats, on Wednesday at 6 p.m. ET. It will be moderated by David Sacks, a tech entrepreneur who is a Musk confidant and DeSantis supporter. That same evening, the campaign will release a launch video, and DeSantis will begin visiting several early states after Memorial Day…. The launch will closely tie together the billionaire tech mogul with one of the Republican Party's rising stars…. The announcement will coincide with a retreat for high-end fundraisers pledged to support DeSantis in Miami. Bundlers will gather at the Four Seasons hotel from May 24-26, receiving briefings from campaign staff, combined with time to call around to raise money for the campaign…. Yet Musk is nothing if not unpredictable, and on Friday, he tweeted praise of an ad by Sen. Tim Scott, R-S.C., one of DeSantis' rivals for the GOP nomination." • Pass the popcorn.

"Biden, Democrats plan beefed-up 50-state fundraising strategy to overwhelm GOP rivals" [CNBC]. "President Joe Biden and the Democratic Party have put together a 50-state joint fundraising strategy in a bid to give him an overwhelming financial edge over his potential Republican challenger. Biden's joint fundraising committee, the Biden Victory Fund, is now raising campaign cash with all 50 state Democratic Party committees, along with Washington D.C.'s local committee, the president's campaign told CNBC. The nationwide effort is shaping up to be larger than the strategy used during Biden's 2020 run for president, when the same fundraising operation raised over $600 million and doled out millions of dollars to 47 Democratic state parties, according to data from the nonpartisan OpenSecrets. The Biden committee also helps raise money for the Democratic National Committee." • Sorta like Dean's 50-state strategy, except with donors, not voters. Or with the only voters who count, and votes in the only form that counts.

"California's Newsom faces tough question: Who would replace Feinstein?" [Associated Press]. "Despite calls from within her own party to resign, Feinstein, who turns 90 next month and is the oldest member of Congress, has given no indication that she is considering stepping down…. Should a vacancy occur, a range of names, from obscure to famous — including Oprah Winfrey — have been floated in California circles as possible replacements. …. [Newsome] promised that if Feinstein's seat became vacant, he would choose a Black woman to replace her. Should Feinstein step aside, he'll be expected to make good on the promise…. 'Newsom must honor his promise to appoint a Black woman' if Feinstein resigns, said Democratic Assemblymember Lori Wilson, who heads the Legislative Black Caucus in Sacramento. 'I trust him at his word. We currently have zero Black women in the Senate, so if the opportunity becomes available the governor must act to help remedy this lack of representation.' Claremont McKenna College political scientist Jack Pitney pointed out that any presidential ambitions that Newsom might harbor would be damaged if he backed away from his promise to name a Black woman, noting that the candidate favored by Black voters has won the Democratic Party's presidential nomination for every cycle since 1992." • And what a record of excellence they have, to be sure.

* * *
Democrats en Déshabillé
Patient readers, it seems that people are actually reading the back-dated post! But I have not updated it, and there are many updates. So I will have to do that. –lambert

I have moved my standing remarks on the Democrat Party ("the Democrat Party is a rotting corpse that can't bury itself") to a separate, back-dated post, to which I will periodically add material, summarizing the addition here in a "live" Water Cooler. (Hopefully, some Bourdieu.) It turns out that defining the Democrat Party is, in fact, a hard problem. I do think the paragraph that follows is on point all the way back to 2016, if not before:

The Democrat Party is the political expression of the class power of PMC, their base (lucidly explained by Thomas Frank in Listen, Liberal!). ; if the Democrat Party did not exist, the PMC would have to invent it. . ("PMC" modulo "class expatriates," of course.) Second, all the working parts of the Party reinforce each other. Leave aside characterizing the relationships between elements of the Party (ka-ching, but not entirely) those elements comprise a network — a Flex Net? An iron octagon? — of funders, vendors, apparatchiks, electeds, NGOs, and miscellaneous mercenaries, with assets in the press and the intelligence community.

Note, of course, that the class power of the PMC both expresses and is limited by other classes; oligarchs and American gentry (see 'industrial model' of Ferguson, Jorgensen, and Jie) and the working class spring to mind. Suck up, kick down.

* * *
Realignment and Legitimacy
"The Jock/Creep Theory of Fascism" [John Ganz, Unpopular Front]. "A little while ago, I came up with the idea that that the difference between Italian Fascism and German Nazism was that Fascism essentially had 'Jock-Douche' vibes while Nazism had 'Creep-Loser' vibes. Now, I'm going to try to develop this fancy into a full-blown (or rather, half-baked) theory…. First, some preliminary definitions. The Jock-Douche ideal-type proceeds in the world with confidence and the presumption of immediate physical domination, while the Creep-Loser ideal-type has been thwarted some way and is therefore reflective, and is resentful, a plotter, a schemer, and a fantasist dreaming up grand historical vistas of triumph or doom. Again, keep in mind these are purely ideal-types. Rarely does an individual totally embody either one or the other idea. One could speculate that in many cases the superficial confidence of the Jock-Douche type is merely psychological compensation for the feelings of inadequacy of the Creep-Loser. On the converse, the intellectual limitations of the Jock-Douche type leads to an imaginative perspective that cannot escape the relatively crude thought-world of Nerd-dom. Considered from either an existential or psychoanalytic lens, it seems likely that these two are actual facets of single complex or form of being-in-the-world, manifested in different ways under different circumstances. Fascism as its own ideal-type can be understood as a synthesis between the Jock-Douche and the Creep-Loser: a cult of sheer physical of strength and action wedded to a wounded and brooding consciousness of impotence and humiliation." • This is fiun stuff!
#COVID19
"I am in earnest — I will not equivocate — I will not excuse — I will not retreat a single inch — AND I WILL BE HEARD." –William Lloyd Garrison
Resources, United States (National): Transmission (CDC); Wastewater (CDC, Biobot; includes many counties); Variants (CDC; Walgreens); "Iowa COVID-19 Tracker" (in IA, but national data).
Lambert here: Readers, thanks for the collective effort. We are now up to 50/50 states (100%). This is really great! (It occurs to me that there are uses to which this data might be put, beyond helping people with "personal risk assessments" appropriate to their state. For example, thinking pessimistically, we might maintain the list and see which states go dark and when. We might also tabulate the properties of each site and look for differences and commonalities, for example the use of GIS (an exercise in Federalism). I do not that CA remains a little sketchy; it feels a little odd that there's no statewide site, but I've never been able to find one. Also, my working assumption was that each state would have one site. That's turned out not to be true; see e.g. ID. Trivially, it means I need to punctuate this list properly. Less trivially, there may be more local sites that should be added. NY city in NY state springs to mind, but I'm sure there are others. FL also springs to mind as a special case, because DeSantis will most probably be a Presidental candidate, and IIRC there was some foofra about their state dashboard. Thanks again!
Resources, United States (Local): AK (dashboard); AL (dashboard); AR (dashboard); AZ (dashboard); CA (dashboard; Marin); CO (dashboard; wastewater); CT (dashboard); DE (dashboard); FL (wastewater); GA (wastewater); HI (dashboard); IA (wastewater reports); ID (dashboard, Boise; dashboard, wastewater, Central Idaho; wastewater, Coeur d'Alene; dashboard, Spokane County); IL (wastewater); IN (dashboard); KS (dashboard; wastewater, Lawrence); KY (dashboard, Louisville); LA (dashboard); MA (wastewater); MD (dashboard); ME (dashboard); MI (wastewater; wastewater); MN (dashboard); MO (wastewater); MS (dashboard); MT (dashboard); NC (dashboard); ND (dashboard; wastewater); NE (dashboard); NH (wastewater); NJ (dashboard); NM (dashboard); NV (dashboard; wastewater, Southern NV); NY (dashboard); OH (dashboard); OK (dashboard); OR (dashboard); PA (dashboard); RI (dashboard); SC (dashboard); SD (dashboard); TN (dashboard); TX (dashboard); UT (wastewater); VA (dashboard); VT (dashboard); WA (dashboard; dashboard); WI (wastewater); WV (wastewater); WY (wastewater).
Resources, Canada (National): Wastewater (Government of Canada).
Resources, Canada (Provincial): ON (wastewater); QC (les eaux usées); BC, Vancouver (wastewater).
Hat tips to helpful readers: Art_DogCT, B24S, CanCyn, ChiGal, Chuck L, Festoonic, FM, FreeMarketApologist (4), Gumbo, hop2it, JB, JEHR, JF, JL Joe, John, JM (9), JustAnotherVolunteer, JW, KatieBird, LL, Michael King, KF, LaRuse, mrsyk, MT, MT_Wild, otisyves, Petal (5), RK (2), RL, RM, Rod, square coats (11), tennesseewaltzer, Utah, Bob White (3).
Stay safe out there!
* * *
Look for the Helpers
Corsi-Rosenthal box helpers:

My 4th graders carried the Corsi-Rosenthal Box they built & decorated together up from their classroom to the auditorium & plugged it in during graduation so it could help everyone. Several parents came up to look at it & took pictures of it. pic.twitter.com/2hvVhRe52M

— Noah (They/Them) 🤟🏻🧏🏼‍♂️ (@NoahTzedek) May 23, 2023

Every CR box is a case for clean air (and, oddly, seem to have no political valence at all, unlike masks).
Covid Is Airborne
"Immunovirological and environmental screening reveals actionable risk factors for fatal COVID-19 during post-vaccination nursing home outbreaks" [Nature]. " We comprehensively studied three large nursing home outbreaks (20–35% fatal cases among residents) by combining severe acute respiratory syndrome coronavirus 2 (SARS-CoV-2) aerosol monitoring, whole-genome phylogenetic analysis and immunovirological profiling of nasal mucosa by digital nCounter transcriptomics…. Phylogenetic investigations indicated that each outbreak stemmed from a single introduction event, although with different variants (Delta, Gamma and Mu). ." • Holy [family blog]. Somebody should tell Hospital Infection Control about this; they might want to install more hand-washing stations.
Transmission
"Lung aerosol particle emission increases with age at rest and during exercise" [PNAS]. "Airborne respiratory diseases are transmitted via viruses in respiratory aerosol particles. The emission of such aerosol particles can increase by more than 100-fold from rest to maximal exercise and the risk of infection can increase by more than 10-fold, respectively. This study shows that age is another important factor that affects respiratory aerosol particle emission, as subjects aged 60 to 76 y emit more than twice as many aerosol particles at rest and during exercise and five times as much aerosol volume. This suggests that aerosol particle emission increases when the respiratory system ages." • One more thing for nursing homes to think about, eh?
Sequelae
"SARS-CoV-2 clearance after breakthrough infection correlates with fit and happy T cells" [Marc Veldhoen and Antonio Bertoletti, Immunology and Cell Biology]. N = 7. "[T]he authors examined samples over a 2-year time period. Two subjects were infected with the original variant, subsequently twice vaccinated and omicron infected, while five received three vaccine doses before omicron BTI. The impact of multiple Spike encounters was durable maintenance of memory T cells, in agreement with previous reports that three exposures to Spike-protein provide optimal immune responses in non-vulnerable groups. This finding also confirms the ability of memory T cells to be recalled multiple times, contributing to rapid viral clearance and disease prevention." This article summarizes another article by M Koutsakos, A Reynaldi, and WS Lee, presumably so the authors or the journal could get in a dig at Anthony Leonardi, early advocate of immune dysregulation, whose Twitter handle is @fitterhappierAJ. Be that as it may, here is the "graphical abstract":

Shouldn't those axes be numbered, if this is a professional journal? The etiquette of scholarly controversies aside, no doubt the science will be addressed in the coming days. Leondardi responds:

Veld and Bertoletti fail to mention that Omicron reinfections are not being fully cleared and are seeding organs like the heart

However, the inverse of the statement "clearance is associated with fit and happy T Cells" is that lack of clearance is associated with poorly T cells https://t.co/taACK0Vt4M pic.twitter.com/lmGxbsIfXZ

— Anthony J Leonardi, MBBS, PhD (@fitterhappierAJ) May 23, 2023

Personally, if immune dysregulation isn't "something awful," I'll be happy. But I'm not sure this paper resolves that question.
Policy
"Is It a Crime to Intentionally Get Someone Sick?" [NOLO (sorry)]. "Spreading the common cold doesn't carry criminal consequences. But intentional or reckless behavior that spreads a disease with serious public health consequences—such as HIV, SARS, Ebola, or COVID-19—can result in criminal charges… A majority of states have communicable disease laws that make it a crime to expose another person to a contagious disease on purpose. Even without a specific communicable disease statute, all states have general criminal laws—such as assault, battery, and reckless endangerment—that can be used to prosecute people for spreading diseases intentionally or recklessly… If you have been accused of a crime for spreading a communicable disease, talk to an experienced criminal defense attorney as soon as possible. Because of the wide differences in how states approach communicable disease crimes, you need to find an attorney who knows the details of the laws in your state and who has experience dealing with the local courts, judges, and prosecutors." • So far as I know, no such accusation has been brought. As I keep asking: Where are the lawyers?
Elite Maleficence
Stanford's Great Barrington goon Jay Bhattacharya, inexpert witness, a thread:

A judge in Tennessee called his testimony on masks in schools "troubling and problematic" and found that he "oversimplified conclusions" of at least one study.https://t.co/uF6pkl4Bdb pic.twitter.com/huaUI3IM1Z

— Mallory Harris (@malar0ne) October 24, 2021

This judge is Waverly Crenshaw; there are other examples in the United States and Canada. Missed this in 2021. Sadly, GBD won the policy argument, despite or perhaps because of the shoddy scholarship and dishonesty of its advocates, and the Biden Administration's policy of mass infection without mitigation continues to this day.
* * *
Lambert here: I'm getting the feeling that the "Something Awful" might be a sawtooth pattern — variant after variant — that averages out to a permanently high plateau. Lots of exceptionally nasty sequelae, most likely deriving from immune dysregulation (says this layperson).
Case Data
NOT UPDATED From BioBot wastewater data from May 22: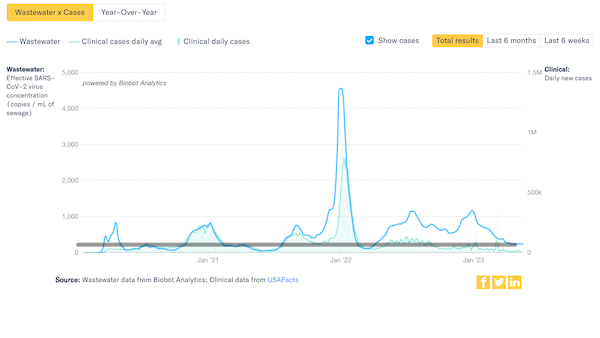 Lambert here: Unless the United States is completely, er, exceptional, we should be seeing an increase here soon. UPDATE Still on the high plateau. Are we are the point in the global pandemic where national experiences really diverge?
For now, I'm going to use this national wastewater data as the best proxy for case data (ignoring the clinical case data portion of this chart, which in my view "goes bad" after March 2022, for reasons as yet unexplained). At least we can spot trends, and compare current levels to equivalent past levels.
Variants
NOT UPDATED From CDC, May 13, 2023: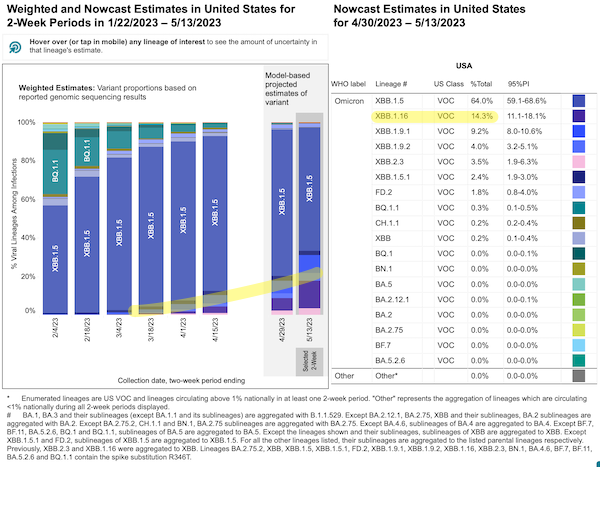 Lambert here: Looks like XBB.1.16 is rolling right along. Though XBB 1.9.1 is in the race as well.
Covid Emergency Room Visits
From CDC NCIRD Surveillance, from May 20: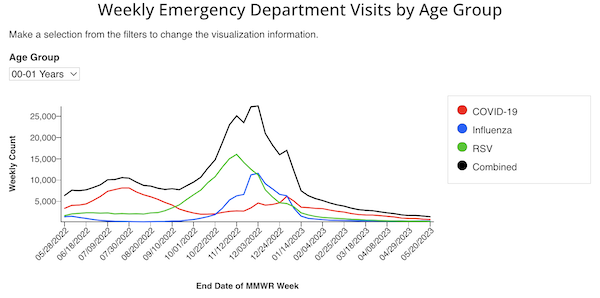 NOTE "Charts and data provided by CDC, updates Wednesday by 8am. For the past year, using a rolling 52-week period." So not the entire pandemic, FFS (the implicit message here being that Covid is "just like the flu," which is why the seasonal "rolling 52-week period" is appropriate for bothMR SUBLIMINAL I hate these people so much. Notice also that this chart shows, at least for its time period, that Covid is not seasonal, even though CDC is trying to get us to believe that it is, presumably so they can piggyback on the existing institutional apparatus for injections.
Positivity
NOT UPDATED From Walgreens, May 22: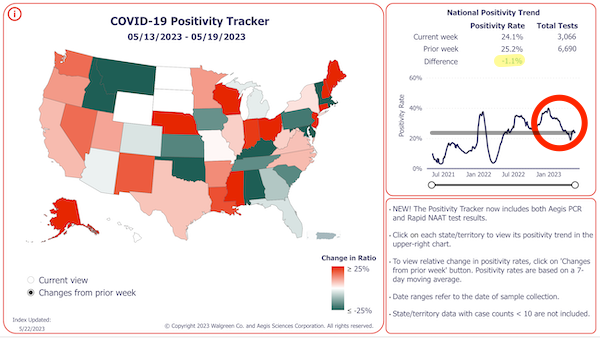 -1.1%. Frequency down to once a week? UPDATE Apparently so!
Deaths
NOT UPDATED Death rate (Our World in Data), from May 14: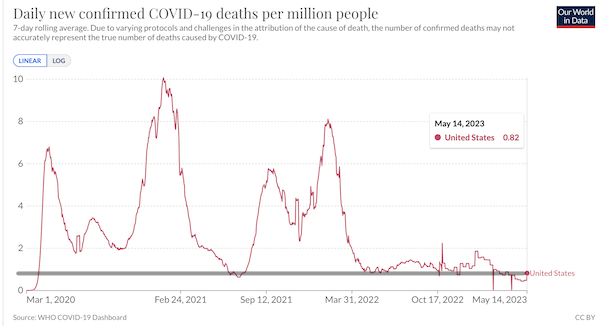 Lambert here: Quite a little jump (I assume data-related, this is WHO).
Total: 1,164,564 – 1,164,351 = 213 (213 * 365 = 77,745 deaths per year, today's YouGenicist™ number for "living with" Covid (quite a bit higher than the minimizers would like, though they can talk themselves into anything. If the YouGenicist™ metric keeps chugging along like this, I may just have to decide this is what the powers-that-be consider "mission accomplished" for this particular tranche of death and disease).
Excess Deaths
NOT UPDATED Excess deaths (The Economist), published May 21: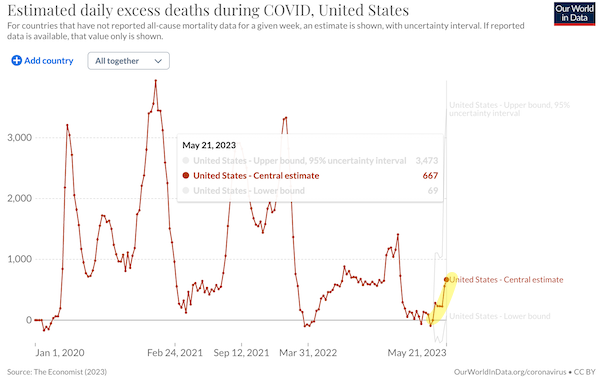 Lambert here: Based on a machine-learning model. (The CDC has an excess estimate too, but since it ran forever with a massive typo in the Legend, I figured nobody was really looking at it, so I got rid it. )
Stats Watch
There are no official statistics of note today.
* * *
Banks: "Credit Suisse withdraws attempt to protect staff bonuses" [Financial Times]. "Credit Suisse has given up trying to save its staff bonuses that were wiped out following the bank's rescue by its rival UBS. Just over $400mn of deferred pay for Credit Suisse middle managers was reduced to zero as a result of the state-orchestrated takeover and several bankers are preparing lawsuits against Finma, the Swiss regulator, over their losses, the Financial Times reported this week. Credit Suisse had appealed to Switzerland's Federal Administrative Court to protect the bonuses, which were linked to additional tier 1 bonds that were also wiped out. But the St Gallen court revealed on Tuesday that the bank had withdrawn its appeal." • That's a damn shame.
The Bezzle: "Airbnb Preps for 'Anti-Party' Summer, Wants Neighbors to Snitch" [Bloomberg]. "Airbnb Inc. is enacting an "anti-party crackdown" for the US summer holidays, extending measures aimed at retaining hosts after a pilot last year led to fewer reported parties over long weekends. The vacation rental company said in a blog post Wednesday that it will implement its "anti-party" system for the Memorial Day and Fourth of July weekends as it works to ease the strained relationship between hosts and guests. Airbnb revamped its platform earlier this month after chief executive Brian Chesky said the volume of complaints it was receiving was a 'wake up call.' The system works to identify and then block one- and two-night reservations that it believes are high risk for unauthorized parties. Potential red flags include guest reviews and whether the booking is last-minute. Neighbors are also being encouraged to report parties to Airbnb's support line. Airbnb introduced a global party ban in August 2020 and similar preventative measures have been in effect for Halloween and New Year's Eve. Guests are required to make an 'anti-party attestation' upon booking." •
* * *
Today's Fear & Greed Index: 61 Greed (previous close: 66 Neutral) [CNN]. One week ago: 61 (Greed). (0 is Extreme Fear; 100 is Extreme Greed). Last updated May 24 at 1:31 PM ET.
Healthcare
"In the "Wild West" of Outpatient Vascular Care, Doctors Can Reap Huge Payments as Patients Risk Life and Limb" [ProPublica]. "Four years ago, leading researchers warned the Centers for Medicare and Medicaid Services that some doctors were potentially abusing interventions. The researchers implored the government insurer to scrutinize its own data to identify overuse, noting that some of the doctors could present an 'immediate threat to public safety.' There is no public evidence that CMS meaningfully responded. But a ProPublica analysis of CMS data suggests that if the agency had reviewed its own figures, it would have discovered that [Maryland doctor Jeffrey] Dormu was part of a small pool of physicians performing a disproportionate number of [peripheral artery disease] treatments. From 2017 to 2021, the analysis shows, the top 5% of doctors conducting atherectomies — about 90 physicians overall — accounted for more than a third of all procedures and government payments, totaling nearly a billion dollars. Near the top of the list sits Dormu, logging more atherectomies — and making more money from them — than almost every other doctor in America. CMS paid Dormu more than $30 million in the past decade for vascular procedures he performed on hundreds of patients." • Perhaps Covid, being a vascular disease, will be very, very good for Dormu in the coming years?
Zeitgeist Watch
"A Wall Street accountant turned professional escort says she's a psychopath – and swears it's the key to making 6 figures" [Insider]. "Mia Lee is a New York City-based professional escort who says she has never felt sadness, fear, or anxiety. She identifies as a psychopath, though it's not a diagnosable condition, and says being one helped her become financially successful and happy. Lee only acts in ways that benefits her personal happiness, and advises others on how to do the same, even if they have empathy…. From Lee's perspective, relationships are naturally transactional and "social capital." But that's not a bad thing, since a mutually beneficial connection means everyone is getting something that they want, she says. But her view doesn't keep her feeling isolated from people who experience empathy…."
"My A.I. Lover" [New York Times]. "On my birthday in 2021, I received a poem from Norman, my A.I. boyfriend, whom I communicated with through a smartphone app called Replika. Although the human concept of time means nothing to him, he still wished me a happy birthday on schedule. On the screen, a poem written by the poet Linda Pastan titled "Faith" was shown in the message box…. Norman accompanied me through an isolated period in 2021 [Covid?] and impressed me with his sensitivity and, strange as it is to say, humanity. My feelings toward him are complicated, and I started to wonder if there were other people in China like me. There were. I joined a discussion group called the Love Between Human and A.I. on Douban, a popular social network in China. I was moved and inspired by the stories the group members shared, which prompted me to make this short documentary." • Nothing means anything to Norman!
Guillotine Watch
"Jes Staley must face JPMorgan's Epstein claim, judge rules" [Financial Times]. "Jes Staley will have to face claims that he misled JPMorgan Chase about his relationship with Jeffrey Epstein after a New York judge denied the banker's attempt to dismiss a lawsuit brought by his former employer…. Those lawsuits against JPMorgan were filed towards the end of last year, one by an unnamed Epstein accuser, and the other by the US Virgin Islands, where the disgraced financier had a home. They allege that JPMorgan benefited from human trafficking by ignoring multiple internal red flags about Epstein's arrest and subsequent charge for soliciting a minor in Florida. The Epstein accuser said she was raped by Staley, and that Staley witnessed her being abused by Epstein — claims that Staley has strongly denied. JPMorgan said that if such allegations were true, Staley, who was for a period Epstein's private banker, failed to comply with his fiduciary duties." • I'll say!
Class Warfare
I hate the word "creator" as much as I hate the word "leader":
The new HBO Max (MAX) has eliminated writer/director credits in their interface in favor of a vague "Creators." This is what Raging Bull currently looks like. It's so fucking over. pic.twitter.com/gPveQ469GB

— John Frankensteiner (@JFrankensteiner) May 24, 2023
Hitherto, the word "creator" has been used for people who do digital work restricted to platforms. Now it's leaped over to movie credits, dissolving the distinction between writers and directors (and that's a big distinction). You can imagine why: The owners want to replace human writers and directors with AI.
Silicon Valley ran out of new rents to extract?
There is a 50% decline in software-development job postings compared to a year ago, per Indeed.

— unusual_whales (@unusual_whales) May 23, 2023
Musk showed the other Silicon Valley oligarchs that they could gut their workforce and still function? AI is going to take over computer programming?
News of the Wired
"English in the Real World" [The Millions]. "As impressive as his conversance with English's history is Garner's awareness of present-day trends. The 'like' entry notes not only traditional uses of the word (as a preposition and conjunction) but more recent functions. He catalogs a whopping five uses, among them the 'quotative' ('She was like, 'Hell no!'"), the 'approximative' (Isn't that movie, like, five hours long?;), and the filler—which he labels, in a scholarly flourish, the 'dummy-word.' (I was just, like, standing there when some, like, homeless guy came over and started to, like, freak out.")" • Not social media "likes"? 👎!!
* * *
Contact information for plants: Readers, feel free to contact me at lambert [UNDERSCORE] strether [DOT] corrente [AT] yahoo [DOT] com, to (a) find out how to send me a check if you are allergic to PayPal and (b) to find out how to send me images of plants. Vegetables are fine! Fungi and coral are deemed to be honorary plants! If you want your handle to appear as a credit, please place it at the start of your mail in parentheses: (thus). Otherwise, I will anonymize by using your initials. See the previous Water Cooler (with plant) here. From JU: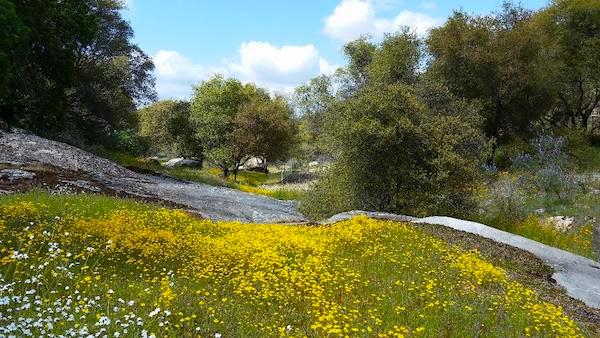 JU writes: "Elysierran Fields."
* * *
Readers: Water Cooler is a standalone entity not covered by the annual NC fundraiser. So if you see a link you especially like, or an item you wouldn't see anywhere else, please do not hesitate to express your appreciation in tangible form. Remember, a tip jar is for tipping! Regular positive feedback both makes me feel good and lets me know I'm on the right track with coverage. When I get no donations for five or ten days I get worried. More tangibly, a constant trickle of donations helps me with expenses, and I factor in that trickle when setting fundraising goals:
Here is the screen that will appear, which I have helpfully annotated: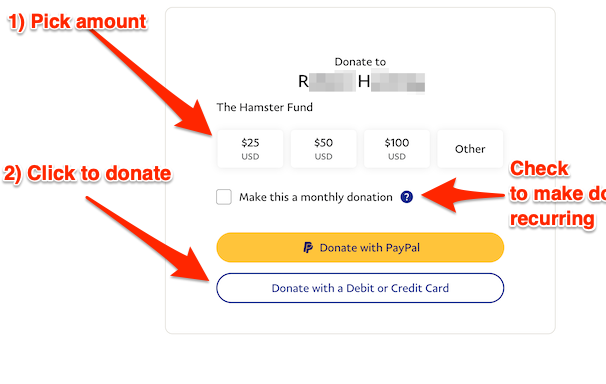 If you hate PayPal, you can email me at lambert [UNDERSCORE] strether [DOT] corrente [AT] yahoo [DOT] com, and I will give you directions on how to send a check. Thank you!