Yves here. Yes, this is just a little scandal. But it's so juicy and tacky. A New York city cop, soon to be sheriff, promoting a fake Covid protection device…oh, and when the sheriff role involves enforcement of Covid rules.
And what is in the water in New York? First George Santos, now this?
By Yoav Gonen. Originally published at THE CITY
Just weeks before he was tapped to serve as New York City sheriff, former NYPD Sergeant Anthony Miranda attended an awards gala in Great Neck, Long Island, with his wife, where they wore purple cards resembling conference badges.
The host of that April 2022 event, Gary Sze Kong — a Queens businessman whose many titles include president of the Sino American Commerce Association and the honorific "Sir," based on a knighthood he says he was awarded by the principality of Monaco — was sporting the same device — marketed online as the "1 invisible mask" that protects the wearer against COVID-19 and other viruses.
It claimed to work by colliding ions in a packet that produces a "protective gas" in front of the wearer's nose and mouth, and purported to kill "up to 99.9%" of bacteria, viruses and pathogens in a three-foot radius, according to online postings. No face mask had to be worn.
A month earlier, and just after the Omicron surge that walloped the five boroughs, Miranda took to social media to tout as "very real" and "very effective" the small, rectangular device, which was also sold under the name "1 virus buster."
On March 4, 2022, he posted to Facebook a video showing a woman activating and wearing the badge while a narrator declares: "You are now protected from COVID and other viruses for the next 30 days."
Very real. Very effective. Did you visit the website. Very informative.

— Anthony Miranda (@Miranda4Queens) March 29, 2022
Yet the co-founder of the firm along with Kong, Timothy Wetzel, admits that he has no proof the product works, nearly three years after the Federal Trade Commission warned him and his fellow founder Kong that they should cease marketing the product without proof that it works as claimed.
Even as Miranda hawked the bogus COVID-protection device, New York City hit the grim milestone of 40,000 deathsfrom COVID. That same month, an analysis by Yale University found that the city's vaccination efforts had likely averted many more deaths. Face masks were still being advocated by city government health officials, and they were still required on public transportation and in hospitals.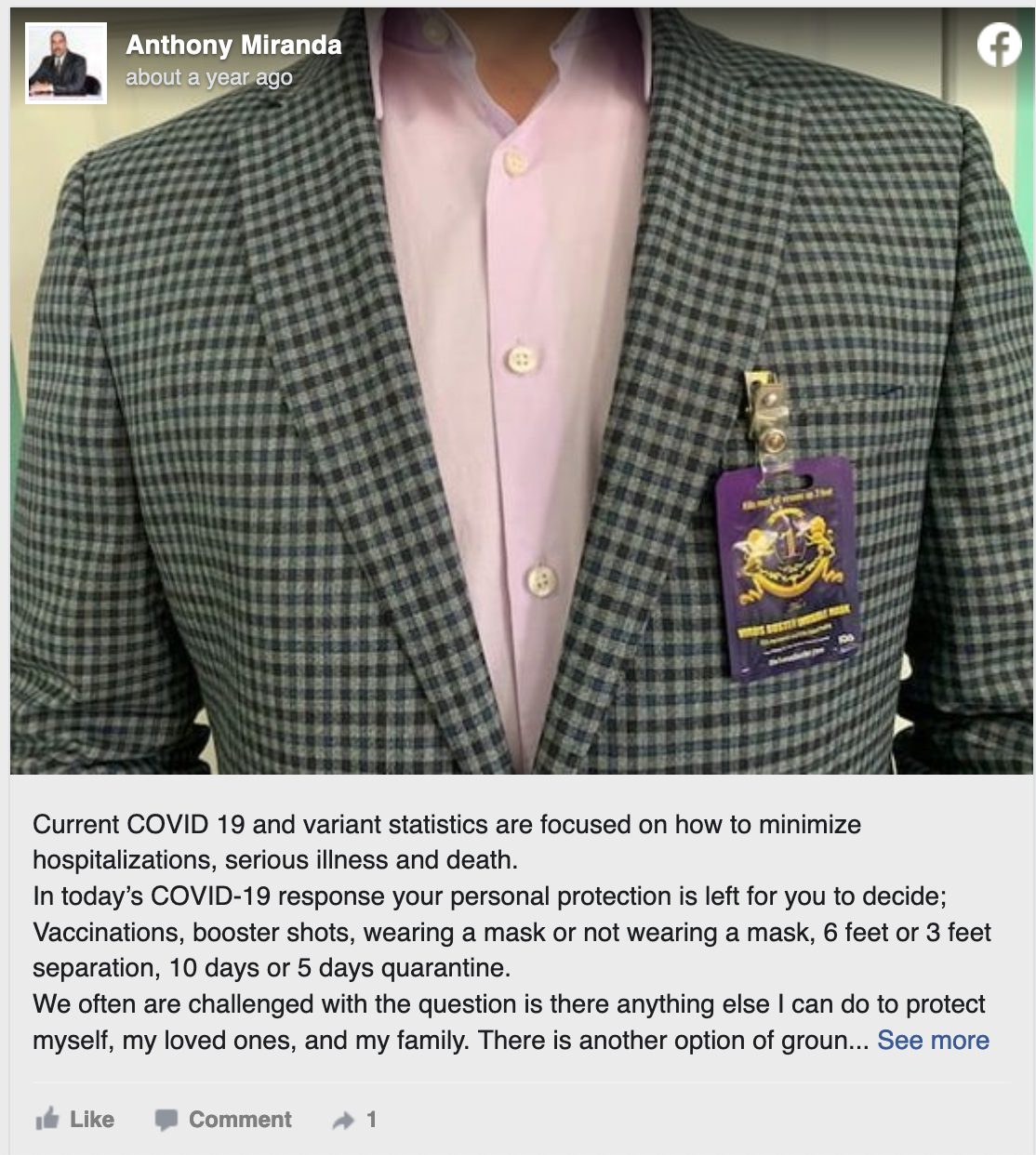 In May 2022, Mayor Eric Adams tapped Miranda for the $213,000-a-year position of sheriff — head of the office that among other duties had taken the lead in the city's crackdown on maskless gatherings during the pandemic.
The law enforcement office more typically carries out court orders and enforces city tax and finance laws, and recently began conducting raids on stores illicitly selling marijuana.
According to a now-defunct website, Miranda wasn't just a fan of the unproven product: His firm, Anthony Miranda & Associates, was serving as a "master distributor" for it, and was identified as one of two validators of the test results and case studies that backed the supposed science behind it.

The other validator was identified as K.W. Technology, the Nevada-based company that created the purported "virus buster."
Kong was also at the center of a recent uproar in the city's Chinese community for co-hosting a magazine launch in Manhattan where guests were lured with the promise of meeting billionaire entrepreneur Elon Musk — but instead got served only a glimpse of a look-alike actor.
Wetzel, the other co-founder, decades ago was convicted of racketeering and felony theft in a home repair scheme in Oregon, and in 2017 was hit with a six-figure fine for unauthorized stock sales and other alleged violations of Washington State's Securities Act by the state's Department of Financial Institutions.
Reached by phone Thursday and asked about his involvement with the "virus buster," Miranda responded: "Involvement how?"
Informed about the website that about a year ago listed his firm as master distributor, he said, "I'm not certain but you can send what you need to ask me and I'll look into it."
He then added, "That still has us listed as something with it?"
Follow-up questions sent by text to Miranda asking about his role with the device, his relationship with Kong and Wetzel, and whether he stands by the product went unanswered.
The 'Science'
Reached by THE CITY, Kong declined to answer questions about the device, and the science behind it, dismissing it as old news because the pandemic is essentially over.
"That's a long time ago," he said by phone. "We are not doing that anymore, you don't have to ask me questions on that."
Asked about Miranda's role, he mentioned Miranda's wife, Sylvia Miranda, but didn't elaborate.
In an interview with THE CITY, Wetzel acknowledged making mistakes in connection with his 1997 conviction in Oregon but challenged the more recent findings of violations in Washington state.
As for the "virus buster," Wetzel said it started off as a "gimmick" that took off, but that the firm donated more devices than it sold.
"From our knowledge, no one has ever been sick when they wore the virus buster. It hasn't been something where I could give you proof and all this stuff," he told THE CITY by phone. "It was kind of a gimmick, kind of a fun thing and then people started wearing it and no one was getting sick."
Wetzel said one of the chemicals the packet contains is chlorine, and that lab results showed the mixture to be safe. Asked to provide the results, he said perhaps Kong had them.
He also acknowledged that the firm didn't conduct clinical trials or seek peer-reviewed studies, but said it was because the only way to do so would have been to expose humans to coronavirus.
"No one's ever had a complaint that said, 'Hey this doesn't work. These guys lied to me and took my money,'" Wetzel said.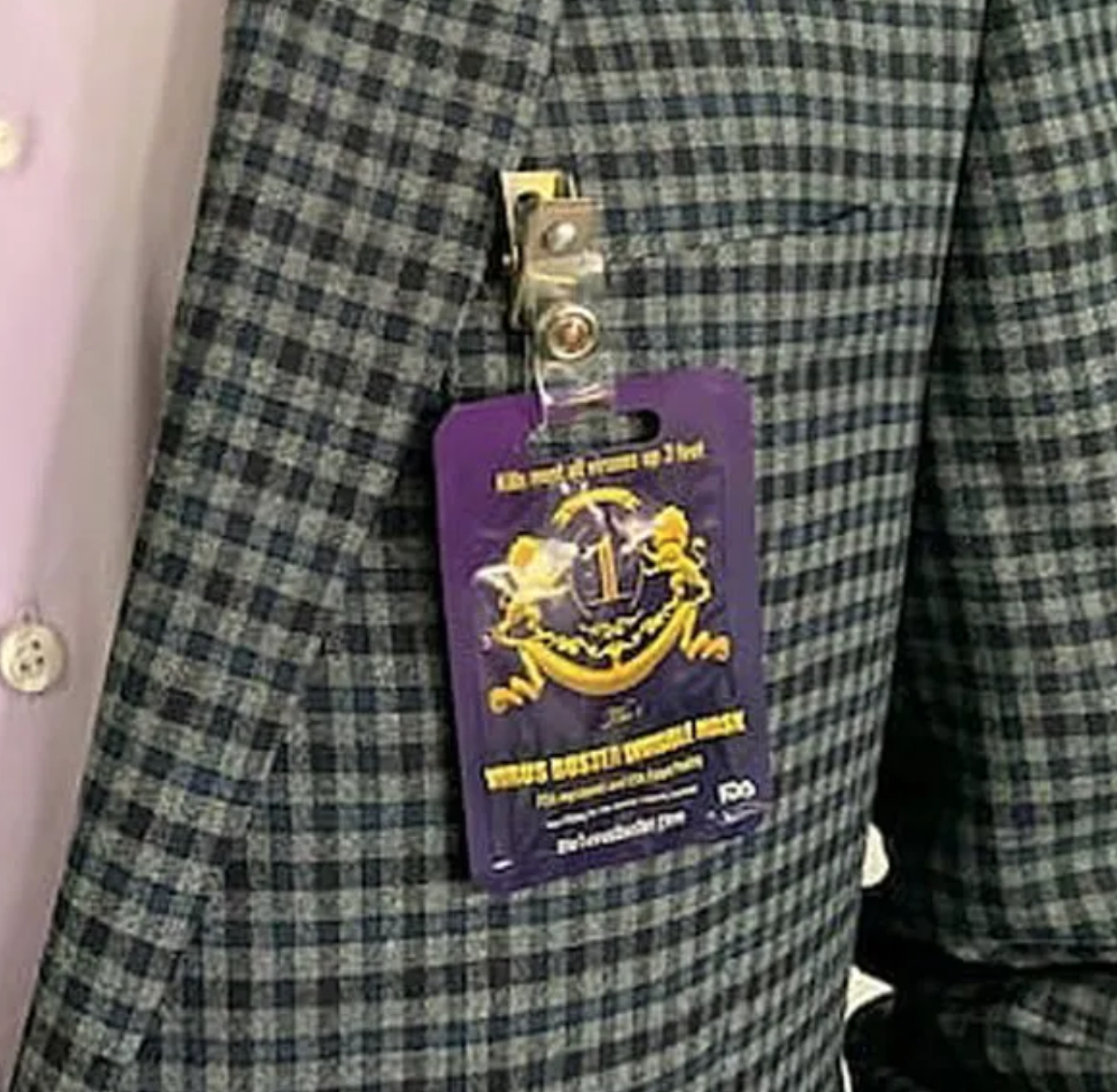 Tom Patire, a security expert based in New Jersey, got involved with the product briefly because, he said, he has international connections, which earned him the title of "international distributor" of the device.
He said he never met the K.W. Technology co-founders but that he was put into contact with them through people he knows in the security industry and spoke to Miranda and his wife perhaps three times about the project.
Patire said that the "virus buster" came so late during the COVID crisis that nobody was interested in purchasing it.
"It didn't go nowhere," he said. "I don't think we sold 10."
'Not Passing the Sniff Test'
The online evidence of the science behind the "virus buster" is long on jargon and typos but short on data and test results.
"Patent pending technology, called ISiL-Chlor technology insures [sic] science is backing up the positive results of this virus killer," reads one description on K.W. Technology's site. 
"It was formulated by using the latest A.I. Technology using Quantum computing and ION Science," reads another.
The site touts the product's "FDA Certification" of registration, and some images of the badge contain the U.S. Food and Drug Administration logo.
But being registered with the FDA doesn't signify product authorization, according to agency spokesperson Audra Harrison, and the FDA doesn't issue physical certificates of registration — despite images purporting to be two such certificates being displayed on the company's website.
"1 Invisible Mask has not been approved, cleared or authorized by the FDA," Harrison told THE CITY.
Websites marketing the invisible mask also drew the attention of the Federal Trade Commission, which enforces consumer protection law.
An FTC official wrote Kong and Wetzel in July 2020 ordering them to remove statements from two websites claiming that the "virus buster" can prevent COVID-19.
"We have determined that you are unlawfully advertising that certain products prevent or treat Coronavirus Disease 2019 (COVID-19)," the official wrote, noting the absence of reliable scientific evidence or human clinical studies proving the prevention claims were true.
"For COVID-19, no such study is currently known to exist for the products identified above," she added.
No further enforcement action was taken by the commission, which an FTC official told THE CITY suggests the violations were resolved on the sites in question.
Bruce Y. Lee, professor of health policy management at the CUNY Graduate School of Public Health, said the company's website doesn't contain the information needed to assess the product's efficacy and safety and that this absence "raises concerns."
"It's not passing the sniff test," Lee said.
He noted that he worried about a number of air-purifying products that were sold during the pandemic because people would sometimes use them in lieu of proven protections like vaccines and facemasks.
"When people rely on a product that there isn't enough evidence to support its use, the concern is then people will not use evidence-based protection and prevention measures," he said. "That's problematic, because you're actually doing people harm."
Miranda and Marketing
Miranda and Adams ran in similar advocacy circles when they both worked at the NYPD decades earlier, with Adams leading the group 100 Blacks in Law Enforcement Who Care and Miranda, who was a member of Adams' group, co-founding the National Latino Officers Association of America.
Both groups attempted to reform the NYPD's treatment not only of Black and Latino civilians, but also of the department's Black and Latino officers.
In 2006, Miranda founded his firm, Anthony Miranda & Associates, which did work that involved security, investigations and consulting, according to financial disclosure forms Miranda filed with the city.
He also continued to serve in leadership roles at the Latino Officers Association over the years.
In early 2017, Miranda was hired as director of security at the city's Administration for Children's Services, a post he kept until turning his eyes to elected office.
In 2020, Miranda ran for the open Queens borough president position but lost to then-City Councilmember Donovan Richards. In 2021, Miranda lost in the Democratic primary for a City Council seat in Queens' District 20, which covers Flushing.
His public promotion of the invisible mask on social media appears to have begun around March 2022 — just before his tenure as sheriff — when he posted multiple times to both Facebook and Twitter.
At the April 2022 gala where Miranda wore the "virus buster," other attendees included Adams, U.S. Rep. Grace Meng(D-Queens), and Democratic City Councilmember Christopher Marte, whose district includes Chinatown.
Sponsorship opportunities for the event, hosted by the Sino American Commerce Association, were listed as ranging between $3,500 and $15,000, with the logos of Apple, Lamborghini and Ferrari appearing as named sponsors.
Publicity and Politics
In December 2020, Kong helped distribute 40,000 masks and 400 "virus busters" to four nonprofit organizations through his Global Hero Foundation, which he describes as a private charitable group, according to a press release put out by one of his associates.
Two of the nonprofits didn't respond when asked if they recall what they did with the "virus buster" devices, while a spokesperson for a third group, Queens Community House, said they didn't receive any.
Alexander Rapaport, executive director of the nonprofit soup kitchen Masbia, said his employees largely reacted to the "virus buster" badges with a chuckle.
"There was a handful that was brought back to us and the staff laughed it off," Rapaport told THE CITY.
Since being named president of the Sino American Commerce Association last year, Kong has hosted numerous galas, award shows and even the first-ever American New Year's Day Parade in Flushing on Jan. 1, 2023, where he marched side by side with Miranda, who was in uniform.
But it was Kong's latest event — a supposed launch for a Wall Street magazine that he organized with Madison Avenue Agency president Michael Jacobson — that garnered perhaps the most attention.
Unverified Musk
Online news reports show that more than 100 people, mostly from the Chinese community, came to the launch party at The James New York hotel in Manhattan on April 27, with the expectation that entrepreneur Elon Musk would be joining the festivities.
A number of attendees claimed to have paid to attend the event, according to the reports, or to have traveled long distances in order to meet Musk.
Instead, a look-alike actor spent a short time at the party, saying only a few words and helping to present an award to Kong before disappearing behind a team of security.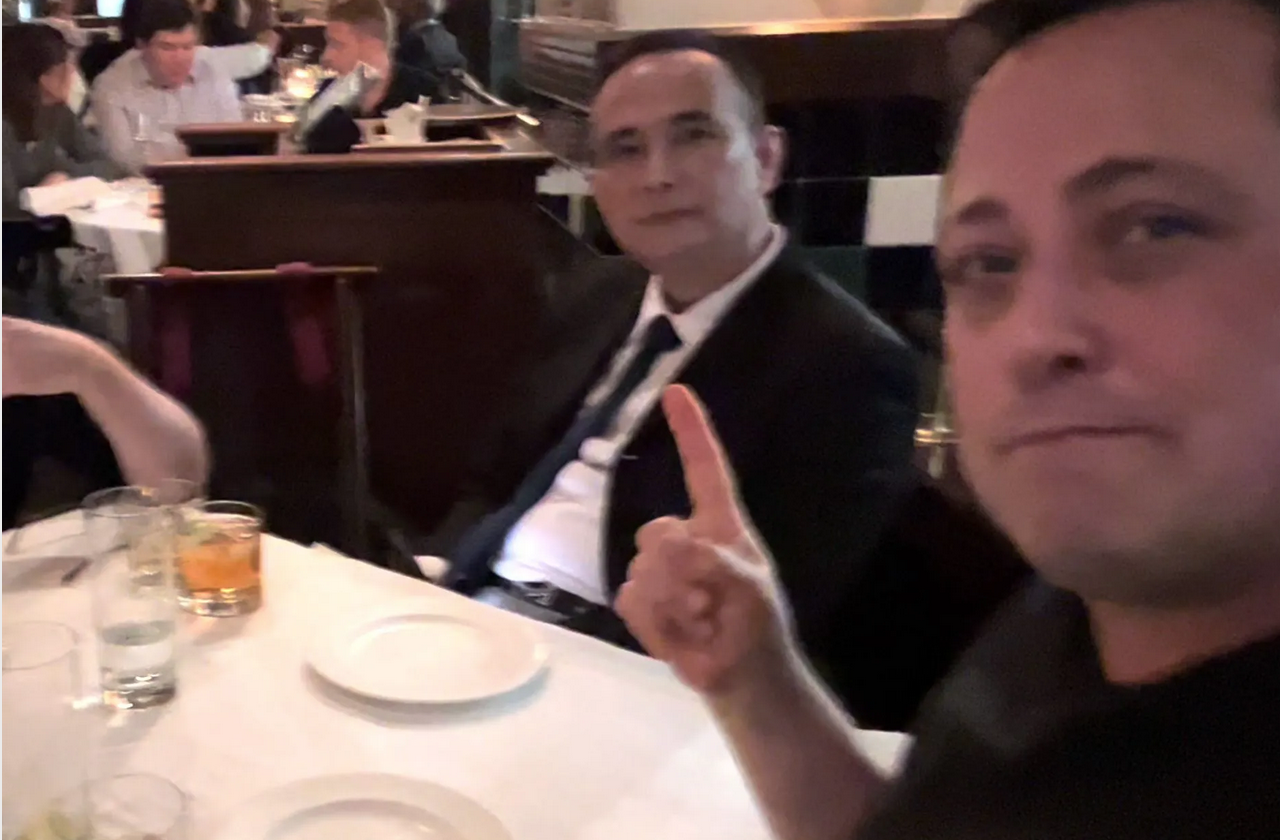 Elon Musk impersonator Mike Vaughn shared a video he says shows a dinner with Gary Kong the night before performing at an event hosted by Kong. Courtesy of Mike Vaughn
The uproar over what some people viewed as deception prompted Kong and Sino American Commerce Association vice president Annie Fu to hold a press conference two days afterward, where they attributed the friction in part to a cultural misunderstanding.
Kong said no one had paid to attend the launch party, but he later told the South China Morning Post that some people had paid $30,000 for a similar event in March that had been canceled.
Musk and officials at Tesla didn't respond to an email seeking comment.
Jacobson, whose firm handled press for some of Kong's previous events and who was listed as publisher of the Wall Street magazine, said at the press conference that Kong hadn't known about the Musk impersonator before the party started.
But the Musk look-alike, actor Mike Vaughn, told THE CITY he had dinner at a seafood restaurant in Flushing with Kong and Jacobson the night before the launch party — after Jacobson had hired him weeks earlier to fly out from Portland, Oregon for the paid gig.
"Long story short, everybody was massively misled," Vaughn told THE CITY during an hour-long phone interview.
Vaughn, the voice of the killer in the TV series "Scream," said he had never done paid work as a Musk impersonator before. He said he agreed to the gig only after Jacobson told his agent the event would be "tongue-in-cheek" and fun.
Vaughn said it wasn't until the dinner with Jacobson and Kong in Flushing that he learned he had been misled about the nature of the launch party.
"I said, 'Michael, just to check, are we deceiving people or are we just having fun here? Because the script you sent me isn't a script — it's two lines and it's not funny or fun. Do I improvise or what?'" said Vaughn.
"He goes 'No, no, no. I just want you to show up, pass some awards out and get out,'" Vaughn said Jacobson responded at the dinner.
"Okay, so are we deceiving people?" Vaughn said he repeated.
"He shakes his head yes, in an up and down motion,'" Vaughn said of Jacobson. "I go, 'God dammit.'"
Vaughn said he continued with the gig because he had shelled out $1,200 for a custom black suit and $200 for a trial run with a makeup artist, not to mention the cost of the flight, and because the vibe up to that point was more of a wacky Seinfeld episode than something nefarious.
On the afternoon of the launch party, Vaughn arrived at the James hotel to have his makeup done after dying his hair darker that morning at Jacobson's request.
He said he was kept in the makeup room for five hours without being offered any food, until he was finally led to the party room after 9 p.m. by Jacobson and a group of what he was told were undercover cops.
"We go down to the lobby, nobody notices. All of a sudden, a couple of people notice, there's a murmur, then an uproar. Now the elevator's getting banged on, walls are getting banged on, you hear people running up and down the stairs," said Vaughn. "I go into the hall, it is an uproar. We almost can't get out of the elevator. Michael's loving this."
Vaughn said he was led to the front of the event room, where there was no stage to serve as a protective barrier from the crowd, and that he performed his brief script.
"I wave, I say, 'Hey, nice to see you Manhattan. Very cool, yeah, right on, alright. Hey, you're a crazy audience,'" Vaughn recounted saying. "And then that's it. That's the last thing I said."
Vaughn said he handed Jacobson an award that Jacobson presented to Kong with tears in his eyes, that he was given an honorary award apparently intended for Musk's mom, Maye, and that he was whisked back to the hotel room after a total of about 12 minutes.
He said the night ended when Jacobson put him in a cab near the hotel entrance, still dressed as Musk, carrying his own garment bag.
Canceled Payments
Two weeks later, Vaughn's agent called to say that she'd been told Jacobson had used someone else's credit card to pay them.
The charge went through the night before Vaughn flew to New York City, but the owner of the card had challenged the charges as fraudulent, according to Vaughn.
The reversals left his agent short thousands of dollars at the time, he said.
Vaughn said he texted Jacobson and called him repeatedly, and that Jacobson said he was dealing with it, but that nothing seemed to faze Jacobson until Vaughn threatened to go to the media with his story.
"He called me 12 times," said Vaughn. "I'm not kidding, 12 times — like a little junior high kid who's getting dumped."
Vaughn said his agent was able to recoup the money only after three or four weeks of hammering at the credit card company and at Jacobson, when the card owner accepted the charges.
Kong didn't respond to a text message asking about Vaughn, and Jacobson didn't respond to voice messages left at his office and on a cell phone.