The Biden administration continues to insist that the economy is strong and its efforts are improving the situation. So, what is in its most recent efforts announced on Wednesday? From the White House:
Today, the President will outline several new, concrete steps in the Administration's effort to crack down on rental junk fees and lower costs for renters, including:
New commitments from major rental housing platforms—Zillow, Apartments.com, and AffordableHousing.com—who have answered the President's call for transparency and will provide consumers with total, upfront cost information on rental properties, which can be hundreds of dollars on top of the advertised rent;

New research from the Department of Housing and Urban Development (HUD), which provides a blueprint for a nationwide effort to address rental housing junk fees; and

Legislative action in states across the country—from Connecticut to California—who are joining the Administration in its effort to crack down on rental housing fees and protect consumers.
Importantly, while these commitments from rental housing platforms will make renters better informed about the total cost, they do nothing to make housing more affordable. Here is what the platforms are doing:
Zillow is today launching a Cost of Renting Summary on its active apartment listings, empowering the 28 million unique monthly users on its rental platform with clear information on the cost of renting. This new tool will enable renters to easily find out the total cost of renting an apartment from the outset, including all monthly costs and one-time costs, like security deposits and application fees.

Apartments.com is announcing that this year it will launch a new calculator on its platform that will help renters determine the all-in price of a desired unit. This will include all up-front costs as well as recurring monthly rents and fees. The Apartments.com Network currently lists almost 1.5 million active availabilities across more than 385,000 properties.

AffordableHousing.com, the nation's largest online platform dedicated solely to affordable housing, will require owners to disclose all refundable and non-refundable fees and charges upfront in their listings. It will launch a new "Trusted Owner" badge that protects renters from being charged junk fees by identifying owners who have a history of adhering to best practices, including commitment to reasonable fee limits, no junk fees, and full fee disclosure.
So a search could now look something more like this: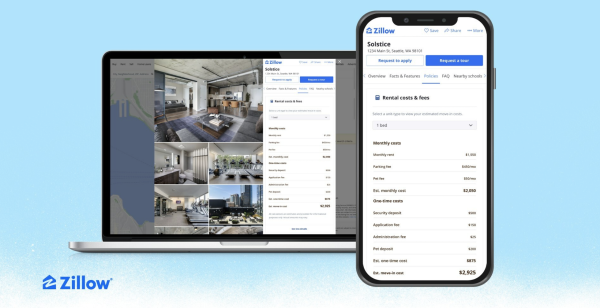 More from the White House release:
Today's announcements build on the Biden-Harris Administration's ongoing efforts to support renters, including through the release of a first-of-its-kind Blueprint for a Renters Bill of Rights and a Housing Supply Action Plan, focused on boosting the supply of affordable housing—including rental housing. Reducing housing costs is central to Bidenomics, and recent data show that inflation in rental housing is abating. Moreover, experts predict that roughly 1 million new apartments will be built this year, increasing supply that will further increase affordability. The actions announced today will help renters understand these fees and the full price they can expect to pay, and create additional competition housing providers to reduce reliance on hidden fees.
The problem with these efforts to support renters is that they do nothing to stop the eviction and homelessness crisis now. The Housing Supply Action Plan could maybe help with affordability at some distant date, and a blueprint is just that. Why can other places figure this out, but the US can't? For example, Ross Barkan writes about Austria:
Americans are usually shocked to learn that a vast majority of Viennese qualify to live in deeply affordable, high-quality housing. There is no downside to renting there because the rents will always be a small fraction of your annual income. Forty-three percent of all housing is insulated from the market and the government subsidizes affordable units for a wide range of incomes. Decades ago, a great amount of housing supply was built, and unlike in the United States, Vienna never abandoned the cause of public housing.

It's obvious to any tenant reading about Vienna that life there, from a standpoint of sheer economics, is better than life in any major American city. Rents, always high in New York and California, surged across the country during the pandemic, fueling a homelessness crisis that will not abate. For those who have housing, existence is only stress-free as long as the job is well-paying. One wrong turn and eviction is around the corner. Certain localities have stronger tenant protections than others. Either way, rent is something many Americans—those who don't own property, and are nowhere close to buying anything—must think about constantly. It is an economic and psychological burden. To be liberated from it, like the Viennese, would be to enter a utopic state.
Instead of anything resembling such policies, the Biden administration has been relentlessly hyping the junk fee efforts as a key part of its economic policy. From USA Today:
The White House is also convinced it's good politics, particularly as Biden tries to improve his standing with the public on the economy as the U.S. rebounds from 40-year high inflation.

"Often policy is a way of showing character," said Celinda Lake, a 2020 Biden campaign pollster who conducts regular focus groups with voters. "When you're a longtime politician and you're in office, people think you get out of touch with their lives, you don't have any commonsense. This shows, 'Hey, I am in touch. I do have commonsense.'"
But does it? With the announcement of the administration's latest efforts, it seems like that plan is running on fumes. With rent increasingly unaffordable for many, will it really make a difference if fees are more transparent? Announcing such voluntary commitments from rental housing platforms without any additional measures to do anything about costs seems like a strange way to go politically, especially as rents continue to rise.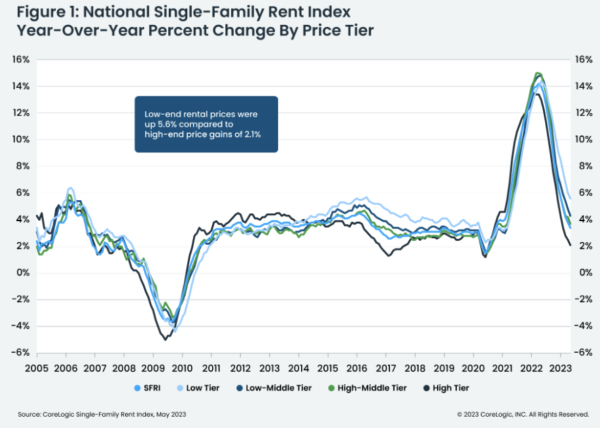 Evictions are also rising. From Quartz:
Eviction filings are on the rise in some US cities, according to datacollected by the Eviction Lab at Princeton University. The lab published the first dataset on eviction filings in the US going back to 2000, which is based on (pdf) tens of millions of public state and county records. Rising costs of living are affecting Americans across the US, while stock of affordable real estate remains low.

…Landlords in many US cities have completed at least half of their eviction filings since 2020 in the past year.
New research in California – which has roughly a third of the country's 582,000 homeless population – shows that the main driver behind homelessness there is simply that Californians were priced out of housing. The study from UCSF's Benioff Homelessness and Housing Initiative is one of the deepest dives into the state's crisis, and it shows how the homeless population is getting older and is often the result of just one bad break.  According to the study, "in the six months prior to homelessness, the median monthly household income was $960. A high proportion had been rent burdened."
In a recent YouGov survey, more than 50 percent of Americans thought limits on price increases would probably or definitely be an effective policy, and 61 percent blamed large corporations seeking maximum profit for inflation – the highest recipient of blame in the poll. Americans want more action. From Newsweek:
Poverty remains a huge issue in the U.S., much more so than in other countries with similar levels of distributed wealth, and it is a cause of concern for a majority of Americans, as shown by the Newsweek/Redfield & Wilton Strategies poll. The poll, conducted among a sample of 1,500 eligible voters in the U.S. on May 31, found that some 53 percent of Americans are "very" concerned about the level of poverty in the country.

Among Democrats—identified as people who voted for Joe Biden in 2020—the number went up to 58 percent, while among Republicans—identified as people who voted for Donald Trump in 2020—48 percent said they were "very" concerned about poverty in the U.S. Some 21 percent of Americans responding to the poll don't earn enough money from their primary job to pay bills or maintain their family's standard of living, while 52 percent are working multiple jobs to tackle the daily cost of living.
The Biden Administration is betting its junk fee efforts, which have also included concert ticket vendors and others, along with softening inflation will be enough to overcome all the other bad news. So far, it's not looking very promising. At this point in his term Biden is the second-most-unpopular president in modern U.S. history. Wednesday's announcement might be part of the reason why as it represents the woefully inadequate response to the economic situation faced by so many.
Just consider some more of the recent news:
Here's the Federal Reserve Board's Economic Well-Being of U.S. Households in 2022 report:
The report indicates that self-reported financial well-being declined in 2022, in part reflecting ongoing concerns about higher prices. In the fourth quarter of 2022, 73 percent of adults reported either doing okay or living comfortably financially, down 5 percentage points from the previous year and among the lowest levels observed since 2016.

Consistent with these changes in overall financial well-being, fewer adults reported having money left over after paying their expenses. Fifty-four percent of adults said that their budgets had been affected "a lot" by price increases.
According to a new survey from Bankrate, Americans said they would need to earn, on average, $233,000 a year to feel financially secure. The median earnings for a full-time, year-round worker in 2021 was $56,473, according to the US Census Bureau. Despite all that, the Biden administration continues to express confusion as to why voters aren't happier with the economy.