Ecuador was already in a major crisis; now it is in an even bigger one.
In what appears to have been a highly professional hit job, Fernando Villavicencio, one of the eight candidates in Ecuador's upcoming presidential election, on August 20, was assassinated on Wednesday (Aug 9). The candidate was shot three times in the head by sicarios while boarding his campaign vehicle after a political rally in Quito. Nine people were wounded in the shooting. The police arrested six people in relation to the assassination, one of whom died in police custody after reportedly sustaining a bullet wound during the hit.
Villavicencio's death was confirmed by Ecuador's outgoing President Guillermo Lasso, who posted the following message on his Twitter (X) account:
"My solidarity and condolences to his wife and daughters. Because of their memory and their struggle, I assure you that this crime will not go unpunished."
The Ecuadorean police say the six suspects arrested in connection with the assassination are Colombian, which prompts the question: are they ex-military? This may explain their ability to pull off three head shots from a distance in the middle of a crowd. It's also worth recalling that Colombian mercenaries were also behind the assassination of Haitian President Jovenel Moïse in 2021.
"Time for the Brave"
Before his assassination, 59-year old Villavicencio was placing fourth or fifth in most polls. He took a particularly hard line on the drug cartels that have made life insufferable for everyday Ecuadorians over the last two years. "Being silent and hiding in moments that criminals kill citizens and officials is an act of cowardice and complicity," he said. "I double down on my decision to go on fighting daily to defeat the mafias."
Before entering politics, he was a muckraking journalist who made a name for himself exposing the corruption of the government of former leftist President Rafael Correa, currently in exile in Belgium. On the campaign trail Villavicencio portrayed himself as an anti-corruption crusader and campaigned under the slogan, "It's time for the brave."
But as notes former British diplomat Craig Murray on his blog, Villavicencio's anti-corruption campaigning was "selective and aimed only at making accusations against left wing figures." By contrast, he bitterly opposed the judicial process against President Lasso on corruption charges, calling it "a legal atrocity" that leaves the constitution "in rags".
He also helped Luke Harding and Dan Collins fabricate the Guardian's infamous front page story that Paul Manafort and Julian Assange had held pro-Trump meetings in the Ecuadorean Embassy, which was never corroborated by any other newspaper. As Murray points out, the story was fabricated in order to breathe new life into Clinton's flagging "Russiagate" invention.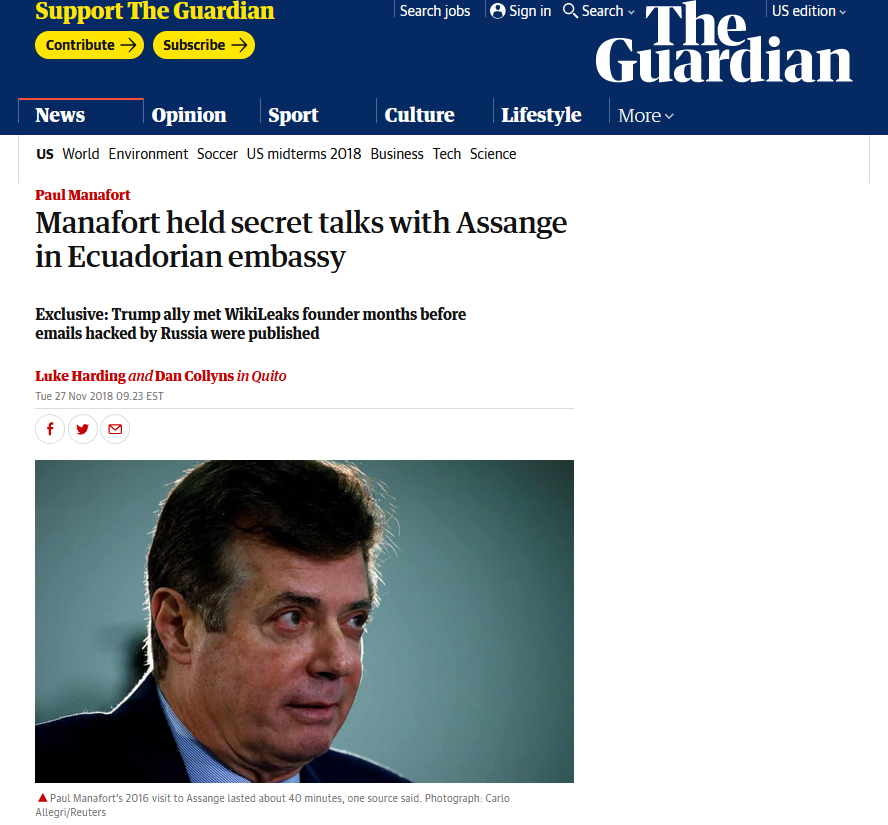 Wikileaks has described Villavicencio as a "serial fabricator" of news stories. He has also made enemies along the way, including, it seems, some of Ecuador's biggest drug cartels. In the clip below, Villavicencio told the crowd that he "has no fear", calling his "brave" voters his "bulletproof vest" and declaring that the time for threats is over. "The drug lords," he said, "can come. Bring them on. The sicarios can come…They can bend me. They can never break me."
For the moment, it is not clear who is responsible for Villavicencio's death, and like many other political assassinations in Latin American it may never be. Murray speculates that Villavicencio may have paid the ultimate price for coming out of the shadows and seeking the political limelight after spending years helping the CIA forge documents, distribute them and spread corruption allegations against left-wing figures. It's an interesting theory, backed up by decades of CIA-backed coups and political assassinations in the region, but for the moment that is all it is.
Could the US be stirring the pot in South America, where it has lost significant economic power and strategic influence to its number-one geostrategic rival, China, and what's more in a country that only three months ago signed a free trade agreement with Beijing, becoming only the fourth economy in the entire region to do so? It is certainly possible — the US has both a motive and plenty of form — but for the moment, there is no proof.
What is almost beyond doubt is that one or more drug cartels are involved, though other players, including political rivals, businesses and intelligence agencies, may well have played a part. Those agencies include, of course, the CIA, which has a long, storied history of collaborating with drug traffickers. It also has motives aplenty.
So far, there appear to be two main suspects, both of which are drug traffickers. The first is José Adolfo Macías Villamar, alias "Fito," the leader of the Choneros, Ecuador's biggest criminal cartel, which is linked to Mexico's Sinaloa cartel. The entire Choneros leadership, including Fito, have been in prison since 2011 but they have been able to continue running their operations from behind bars, not only controlling their drug trafficking operations but also expanding into extortion, contract killings, and the trade of contraband.
In the weeks leading up to his death Villanvicencio reported receiving death threats from Fito, who had apparently taken umbrage to Villanvicencio's open discussion of Fito's criminal activities on the campaign trail. In July, Villanvicencio told reporters:
"A serious threat has been made against me and my campaign team from one of the capos of the Sinaloa cartel, 'alias Fito,' warning that if I go on referring to him and his organisation, they will attack me, try to kill me. What this does is confirm that our campaign seriously affects these criminal structures."
Fito may or may not have been on the other end of the phone line and he may or may not have had a motive for wanting to kill Villavicencio, but he has not 'fessed up. Instead, supposed members of a rival gang, Los Lobos, have claimed responsibility. In a video posted on social media just hours after Villanvicencio's assassination, a group of hooded men waving rifles, flipping gang signs  and claiming to be Los Lobos said they were responsible. As the Mexico-based British crime journalist Ioan Grillo noted in a tweet, the style of the video is very similar to cartel videos made in Mexico.
But hours later, another video was released, this time showing the leaders of Los Lobos in prison, their faces uncovered, denying the whole thing.
"We don't hide our faces and nobody speaks for us," the apparent head of the mob said. "We reject the assassination of the presidential candidate, the señor Fernando Villavicencio. And we are clear that we have never murdered people of the government or civilians…Other criminal groups try to destablize the country."
The Los Lobos organisation has ties to Mexico's Cartel Jalisco Nueva Generación (CJNG), which used to operate as the armed wing of the Sinaloa cartel but is now a direct rival, having diversified into drug-producing and trafficking, extortion, kidnapping, human trafficking, illegal mining, and oil  theft.
Over the past few years Los Lobos has grown into Ecuador's second largest organised crime outfit, and has been waging a brutal war against the Choneros and other gangs for control of Ecuador's illicit drugs trade. According to Insight Crime, "that war, which continues to this day, has been the major driver of one of the sharpest rises in homicide rates in Latin America, many of them in prisons where the leadership and centers for operations often lie."
2022: A Deadly Year
Between 2021 — the year Lasso, a former bank executive, came to power — and 2022, the number of violent crimes in Ecuador soared by an eye-watering 82%, more than any other country, reported the Ecuadorian daily Primacias in January this year. That was enough to propel the country to fourth place in the 2022 edition of Insight Crime's annual ranking of the most violent countries in Latin America, just above Mexico and below Venezuela (#1), Honduras (#2) and Colombia (#3).
There are many possible reasons for this including the pandemic's pummelling of the economy, changes in the region's cocaine trade routes and the increasing influence of the Sinaloan and Jalisco drug cartels from Mexico.
"Ecuador is a key gateway to shift the disco powder to the coast and then via the Panama Canal to the booming European market as well as to U.S. snorters," writes Grillo. "[F]ollowing the regional trend, the gangs have diversified to other rackets such as extortion. Their rise has turned Ecuador, which long appeared immune to the narco wars in Latin America, into one of its bloodiest battlegrounds."
By the summer of last year, the situation had gotten so bad that President Lasso was talking about creating a "Plan Ecuador" to combat the rising lawlessness in the country. The plan, he said, would be modelled on Plan Colombia, the disastrous US-designed and -delivered drug-eradication program that burnt through $15 billion of "aid" funds during more than two decades, worsened the violence in Colombia, bathed more than a million hectares of farmland in a rich brew of toxic chemicals, including Monsanto's "probably" carcinogenic weedkiller glyphosate, exacerbated illegal mining while overseeing a significant upsurge in coca production.
Lasso is now on his way out. With rock bottom public approval, he dissolved parliament in May, forcing snap elections, in order to avoid impeachment for corruption. Parliament had voted to launch an investigation into his activities after an exposé by La Posta, an investigative news website, revealed the existence of a system of corruption across public institutions set up by Danilo Carrera, Lasso's brother in law, and involving members of the Albanian mafia. Lasso is accused of at least knowing of the corruption and doing nothing to stop it.
After receiving death threats, Andersson Boscán, the co-founder of La Posta, and investigative journalist Mónica Velásquez left the country. In April, one of the key suspects in the case against Carrera and Lasso, Rúben Cherres, a business associate of Carrera's who was also suspected of ties to Albanian drug traffickers and was caught on tape boasting about removing and replacing members of the government at will in exchange for money and favours, was found dead at a house on the Punta Blanca coast, together with the bodies of his girlfriend, a friend and his security guard.
Until the elections next Sunday, Lasso is effectively ruling Ecuador by decree. One of his first acts following the assassination of Villavicencio was to declare a state of emergency. Which begs the question: could Lasso, his brother-in-law and their associates be behind the assassination? Some people in Ecuador, including NC reader Monsoon, believe so. Given the legal proceedings they could soon face, especially under a new government, Lasso et al certainly have a motive for wanting to sow disruption and chaos, and perhaps even derail next week's elections. But again, there is no proof.
Musings on the Bigger Picture
As far as I can recall, this is the first assassination of a presidential candidate for quite some time in Latin America, which I suppose is a blessing of sorts. In Mexico's 1994 presidential election, the front runner Luis Colosio was killed on the campaign trail in Baja California. Five years earlier, Luis Carlos Galán was shot dead by hitmen hired by the drug cartels during a campaign rally in the town of Soacha, Cundinamarca. At the time, he was comfortably ahead in the polls for the forthcoming 1990 presidential election. The investigation into his assassination remains unsolved.
That's not to forget, of course, the assassination in July 2021 of Haiti's President Jovenel Moïse by a group of Colombian mercenaries trained in the US, or the recent botched attempt on the life of former Argentine President Cristina Fernández de Kirchner. There was also an attempt to kill Venezuela's President Nicolás Maduro with drones as well as a knife attack on Brazil's Jair Bolsonaro, both in 2018.
In this election, the clear favourite is Luisa González, the candidate of the Citizen Revolution Movement, a democratic socialist party formed by supporters of former President Rafael Correa who abandoned Correa's former PAIS Alliance party during the presidency of Lenín Moreno, Correa's hand-picked successor. Moreno infamously betrayed Correa, his supposed mentor, by handing over Julian Assange to the British police, allegedly in exchange for a $4.2 billion loan from the International Monetary Fund, as well as reversing many of Correa's economic reforms.
If González wins, she will govern the country until 2025, the year Lasso's term is scheduled to end. But she will have her work cut out, especially on the security and economic front.
Ecuador was one of the first countries to default on its sovereign debt during the virus crisis, much of which was owed to China. In September 2022, Lasso's government reached an agreement with Chinese lenders to restructure some $3 billion of debt. Then in May this year, it signed a free trade agreement with China, becoming only the fourth Latin American country to do so. Like El Salvador, Ecuador's economy is fully dollarised. And like El Salvador, its trade with China is soaring. A González presidency will presumably mean a continuation of this trend.
But there could also be market turbulence. Having already restructured its debt with China dn the IMF, Ecuador closed the second quarter with an emerging markets bond indicator (EMBI) of 1,912 points, up from 1,255 at the beginning of the year. It's the third highest level in the region, after Venezuela and Argentina. According to Bloomberg, investors' biggest fear is that Lasso, a former banker and Coca Cola national director, will be replaced by a "non-pro-market choice".
Lastly and perhaps most importantly for the region as a whole, Villavicencio's death, presumably at the hands of a drug cartel, comes less than a month after the US Drugs Enforcement Agency published a report warning about the Mexican cartels' worldwide reach. The report's findings, including claims that the Sinaloa Cartel and the Jalisco New Generation Cartel (CJNG) have more than 40,000 operatives in over 100 countries around the world, were vigorously denied by Mexican President Andrés Manuel Lopéz Obrador.
But the hyperbole in Washington continues to grow. In testimony to Congress, the DEA Chief Administrator Anne Milgram repeated a claim that the Sinaloa Cartel and the CJNG pose "the greatest criminal threat the United States has ever faced," and that "these ruthless, violent, criminal organisations have associates, facilitators and brokers in all 50 states in the United States."
There is no denying that Mexico's drug cartels are expanding their reach across Latin America as well as far beyond the region, with devastating consequences for the rule of law and political stability. That said, the timing of the DEA's report is suspicious, coming just as Republican lawmakers in the US, as well as influential opinion makers such as Tucker Carlson, are rallying around the absurd idea that to solve the fentanyl crisis, the US need only invade its southern neighbour, Mexico, and bomb the cartels out of existence, which will obviously make things a whole lot worse. The assassination of Villavicencio will merely strengthen their resolve.