Both concerted and isolated efforts to thwart newtech appear to be rising. Since no one yet seems to be tracking this trend systematically, perhaps because it might inspire more hijinks and vandalism, we are forced to rely on anecdata.
One campaign has even gotten the attention of the BBC, the so-called "coning" of driverless cars in San Francisco, which conveniently leads them to stop without harming them.1 From the BBC's above the fold story today, How robotaxis are dividing San Francisco. Note the image below of a beached robotaxi is at the very top of the piece: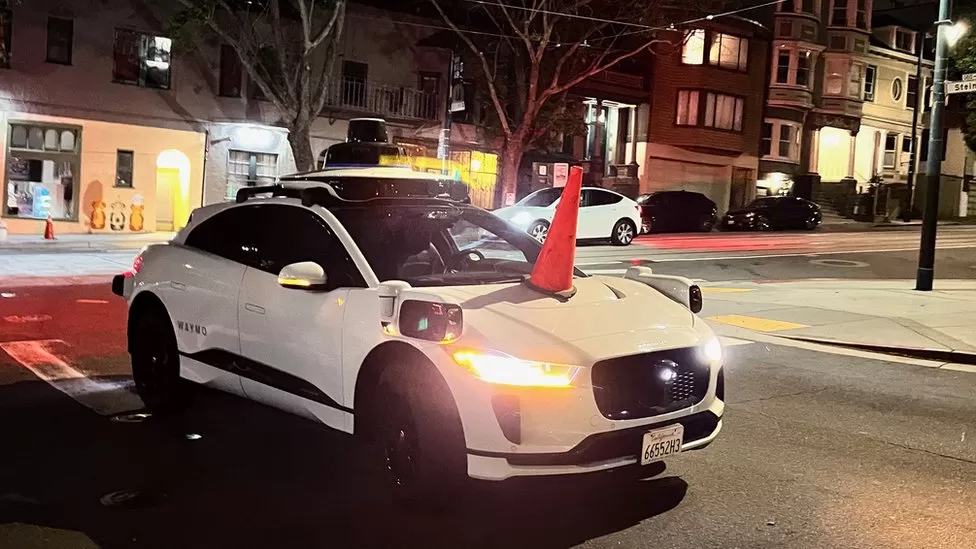 But as I am about to get in, a passer-by approaches.

"They're unsafe," he tells me. He says he saw someone nearly get run over by a robotaxi – and warns me to be careful.

He represents a faction in San Francisco that doesn't like robotaxis – and believes the city has agreed to a dangerous experiment, which is putting lives at risk.

And some have gone a step further. Over the summer a campaign group has begun to disable the cars, by putting cones on their bonnets.

Safe Street Rebel describes what it does as "coning" and some of its videos have gone viral. But city officials are committed to allowing them to operate on their streets – for now
The article provides a litany of complaints, which from causal contact, isn't close to complete and omits some of the most dangerous cases. It mentions fire trucks being blocked but not ambulances. A reader reported that a robotaxi frozen in a left turn tied up traffic in an entire section of town during or close to rush hour.
The article also mentions the hazard the driverless taxis pose to livelihood of human cab drivers.
David L sent a much more informative story from NPR on August 26, Armed with traffic cones, protesters are immobilizing driverless cars. Key sections:
Two people dressed in dark colors and wearing masks dart into a busy street on a hill in San Francisco. One of them hauls a big orange traffic cone. They sprint toward a driverless car and quickly set the cone on the hood.

The vehicle's side lights burst on and start flashing orange. And then, it sits there immobile.

"All right, looks good," one of them says after making sure no one is inside. "Let's get out of here." They hop on e-bikes and pedal off…

Coning driverless cars fits in line with a long history of protests against the impact of the tech industry on San Francisco. Throughout the years, activists have blockaded Google's private commuter buses from picking up employees in the city. And when scooter companies flooded the sidewalks with electric scooters, people threw them into San Francisco Bay.

"Then there was the burning of Lime scooters in front of a Google bus," says Manissa Maharawal, an assistant professor at American University who has studied these protests.

She points out that when tech companies test their products in the city, residents don't have much say in those decisions: "There's …very little input from anyone who lives here."

That gets to the crux of Safe Street Rebel's protest…

"We thought that putting cones on these [driverless cars] was a funny image that could captivate people," says one organizer. "One of these self-driving cars with billions of dollars of venture capital investment money and R&D, just being disabled by a common traffic cone."
But contrary to the BBC and NPR just having discovered this technotage, coning has been in the news since at least early July, and clearly perfected before that. Reader Rolf A sent us a July 7 article from the San Francisco Standard, Activists 'Coning' Cruise and Waymo Robotaxis in San Francisco:
A cohort of anti-autonomous vehicle activists in San Francisco has taken to placing traffic cones on the hoods of Cruise and Waymo robotaxis to literally stop their progress.

The only-in-San Francisco scene causes the vehicles to go into shutdown mode and turn their hazard lights on until the cone is removed or a company technician comes to reset the car's system, according to activists and video posted online.

Dubbed the "Week of Cone" by the activist group Safe Street Rebel, the crusade is being organized in the lead-up to a California Public Utilities Commission meeting scheduled for July 13. At the meeting, commissioners are poised to approve an unlimited expansion of Cruise and Waymo robotaxi services in the city.

Safe Street Rebel is an activist group that first formed around the debate about reopening the Great Highway to cars. Since then, it has organized actions around a number of transportation-related issues, including keeping JFK Promenade car-free, promoting bike safety on Valencia Street and preventing traffic deaths.

Last month, the group staged a protest against public transit funding cuts where demonstrators blocked the Highway 101 off-ramp, and an activist dressed up as Gov. Gavin Newsom beat up a piñata shaped like a Caltrain car.
So Safe Street Rebel is also using more traditional activist measures to try to advance other issues, but the stoppage via cone is novel. Sadly the Week of Cone did not succeed, since the hopelessly captured California Public Utilities Commission approved completely unrestricted driverless cabs. That has resulted in such great outcomes as (hat tip Kevin W) San Francisco's North Beach streets clogged as long line of Cruise robotaxis come to a standstill, reported on August 12 in the Los Angeles Times:
One day after California green-lighted a massive expansion of driverless robotaxis in San Francisco, the implications became clear.

At about 11 p.m. Friday, as many as 10 Cruise driverless taxis blocked two narrow streets in the center of the city's lively North Beach bar and restaurant district. All traffic came to a standstill on Vallejo Street and around two corners on Grant. Human-driven cars sat stuck behind and in between the robotaxis, which might as well have been boulders: no one knew how to move them.

The cars sat motionless with parking lights flashing for 15 minutes, then woke up and moved on, witnesses said.

Aaron Peskin, who represents North Beach on the San Francisco Board of Supervisors, fears what could happen when a major fire or other life-threatening emergency breaks out with multiple robotaxis blocking the way. "Our houses in North Beach are made of sticks," he said. Peskin was flooded with texts, emails and videos from constituents as the robotaxis, programmed with artificial intelligence software, sat unresponsive. In one video, zeroing in on a robotaxi's "driver" seat, a man says "this is what our country has come to."
Cruise tried the "dog ate my homework" excuse of blaming the cell phone network.
Later in the story:
Peskin said city officials are pursuing "every means" to have the CPUC decision reversed, and are discussing whether to seek a court injunction. Another option: fining Cruise and Waymo thousands of dollars for each robotaxi road blockage.

The CPUC, and Gov. Gavin Newsom, in Peskin's view, are putting big money ahead of basic public safety. The CPUC "has not been held in high esteem by the people of California for a very long time," Peskin said. All five CPUC commissioners were appointed by Newsom, including the former Cruise attorney.

"If you're looking for an example of regulatory capture, you're seeing it now," Peskin said. "It's unethical and immoral but legal," he said. "Bottom line, this all goes to Gov. Gavin Christopher Newsom."
However, despite the way the coning is getting national and even international attention, if the robotaxis are cut back, it won't be due to coning but a whole coalition of forces using every means to stop them, with traditional legal measures being the blunt instrument. The BBC oddly missed that curbs have started. From San Francisco Chronicle on August 18, California DMV cuts Cruise's fleet after S.F. crashes involving its driverless cars:
The California Department of Motor Vehicles asked Cruise on Friday to reduce its fleet of driverless taxis by half pending an investigation into recent crashes, including two in San Francisco on Thursday night. Related: Robotaxis make these 5 common mistakes on S.F. streets — in front of Uber, Lyft drivers "Cruise has agreed to a 50% reduction and will have no more than 50 driverless vehicles in operation during the day and 150 driverless vehicles in operation at night," a statement Friday evening from the DMV said. "The DMV reserves the right, following the investigation of the facts, to suspend or revoke testing and/or deployment permits if there is determined to be an unreasonable risk to public safety."" rel="nofollow">The California Department of Motor Vehicles asked Cruise on Friday to reduce its fleet of driverless taxis by half pending an investigation into recent crashes, including two in San Francisco on Thursday night. Related: Robotaxis make these 5 common mistakes on S.F. streets — in front of Uber, Lyft drivers"Cruise has agreed to a 50% reduction and will have no more than 50 driverless vehicles in operation during the day and 150 driverless vehicles in operation at night," a statement Friday evening from the DMV said. "The DMV reserves the right, following the investigation of the facts, to suspend or revoke testing and/or deployment permits if there is determined to be an unreasonable risk to public safety."
The BBC account bizarrely missed this development completely, and instead was a lame account of the reporter's personal experience in a robocab plus an assortment of quotes on the pros and cons. The NPR story did mention it, but only in passing and spent much more time on the approval
However, there appear to be no instances of coners being arrested or even warned by police. The Safe Street Rebels took the position with NPR that it isn't clear that what they are doing is illegal. I am highly confident police could get creative with public nuisance and even public endangerment laws if they wanted to. Police inaction reflects the fact that the city and presumably the cops themselves are dead set against robocabs.
By contrast, another revolt against technology is underway in London, and is having more immediate success due to the destruction or removal of devices, which will take time to replace:
90% of cameras in south east London have been disabled or stolen as the Low Emission Zone (ULEZ) is due to come into force on August 29.

Nearly 500 ULEZ cameras deployed to tax non-compliant vehicles daily with 15 € are now out of service 🚨🚨🚨

The freedom activists call… pic.twitter.com/ZeZsxH4SXC

— Wall Street Silver (@WallStreetSilv) August 26, 2023
For those new to this topic, the Independent gives the backstory and more detail in Camera attacks and conspiracy theories: How Ulez became a vigilante battleground:
For Londoners living on the outskirts of the capital, Sadiq Khan's Ulez policy is due to take effect on Tuesday despite fierce backlash.

First announced by former mayor Boris Johnson in July 2014 and expanded to all 32 of London's boroughs by Mr Khan, the scheme aims to reduce air pollution by charging non-compliant vehicles £12.50 a day to drive within an ultra-low-emission zone.

Launched within the central London congestion charge zone in 2019, the clean air policy means that cars and vans that don't meet certain emissions standards have had to pay a daily fee or risk a £180 fine.

Mr Khan has always argued that only a minority of vehicles will be affected by the charge, with a spokesperson for the mayor's office saying only one in 10 cars driving in outer London isn't compliant – though this figure is disputed by critics. Separate figures obtained by the RAC show that more than 690,000 licensed cars in the whole of London are likely to be non-compliant, but this does not take into account other types of vehicle, or those that enter London from neighbouring counties….

Public opposition to Ulez has also led to the formation of an anonymous activist group called the "Blade Runners", who have vowed to take down all of the scheme's cameras. So far more than 380 have been targeted, with the Met Police reporting 185 destroyed cables, 164 stolen cameras, and 38 obscured. While the covert group has avoided creating social media accounts, one member interviewed by Mail Online claimed that the Blade Runners had more than 100 members involved in disabling the cameras.
As much as it seems hard to be on the side of pollution, remember that the UK has had marked inflation and poor growth, with high food prices and surging electricity costs last winter. The Guardian has made UK cost of living crisis a topic, and if you click through, you'll see several relevant stories every day. London is a sprawling city, so even if some commuters and businesses wanted to make more use of public transport, that does not mean it's realistic in terms of the tax on time.
Physical action against the cameras is not the only form of refusnikdom. The Daily Mail weighs in: Ulez cameras revealed: Interactive map shows how to dodge Sadiq Khan's enforcement cameras and avoid £12.50-a-day charge.
Finally, a sighting from the US. A colleague reported that a contact decided to drive the Hunter Thompson route from Las Vegas to Los Angeles. He had rented an electronic vehicle and needed to recharge in Barstow, California. Barstow is a back-of-beyond town in a red area of the state (contrary to popular perceptions, the land area of California is dominated by conservative but not heavily populated rural counties).
The driver first stopped at the WalMart, which was dirty and even more depressing than they usually are. A woman with a baby showed up at the one charger at pretty much the same time he did, so he decided to be chivalrous and let her us it.
He went to the local Costco, which was even more bedraggled than the WalMart.2 It had an entire charging rank but none of them were operative. And that was not due to a maintenance fail but destruction. They all were smashed in a similar manner, perhaps with a crowbar.
My colleague though this might be an angry resident striking out against rich people transiting through. Perhaps. But in September 2022, California regulators approved a ban on the sale of gas-powered cars starting in 2035. Experts believe it might take until 2050 for these vehicles to disappear.
That might seem a long way away. But if you are lower income, you were either directly affected or knew people who were hurt by the huge runup in used car prices during Covid, thanks to shortages of chips reducing the supply of new vehicles. Or if your livelihood depends on the internal combustion engine, say as a mechanic, you won't be too happy about this prospect.
California had to retreat from an earlier plan to promote the transition to cleaner cars. In the early 1990s, California plus a coalition of Northeast states banded together to support an zero-emission mandate, which in California translated into 2% of the vehicles offered for sale in 1998 being emission-free. I drove a GM EV prototype in the early 1990s as part of due diligence for a venture capitalist, so the car companies were taking action.
But the mandate was scuppered when it was clear that consumers were not ready to buy EVs and there was not much point in requiring automakers and dealers to "offer" cars that would for the most part never be put on the road.
Now the Barstow incident is presumably isolated, even if the motivation behind it was political. But watch to see if anti-EV vigiliantism rises as gas car phaseout dates approach.
_____
1 This was a weird bit of synchronicity, since I planned to take up this topic today.
2 For non-American readers, this is very much contrary to expectations. Costcos are membership-only shops, catering to middle/upper middle class consumers.