This is Naked Capitalism fundraising week. 402 donors have already invested in our efforts to combat corruption and predatory conduct, particularly in the financial realm. Please join us and participate via our donation page, which shows how to give via check, credit card, debit card, or PayPal. Read about why we're doing this fundraiser, what we've accomplished in the last year,, and our current goal, investing in the commentariat.
Just to follow up on my whinging from yesterday: My second laptop's screen is now repaired, so I am once again doubly redundant in production facilities for NC. And I ran a search on clogged filters for espresso machines; second from the top was a video from a very distinguished-looking Italian gentleman standing in front of a vast enamelled and gleaming espresso-emitting apparatus. His advice, delivered about three minutes in, was that most espresso machines come with two filters, so if one filter becomes clogged — follow me closely, here — you can use the other one. He was right! Yes, I'm using the double filter instead of the single one, but perhaps that's not so bad? Sometimes I think I'm not in my right mind. Then it passes over, and I'm as lucid as before!
Patient readers, right now this reads more like a post than Water Cooler, because I got wrapped around the axle doing thermometers and such. However, CDC's latest maleficence had to be dealt with, and it turned out to be even worse than I had thought. I will add more shortly. –lambert
* * *
By Lambert Strether of Corrente.
Bird Song of the Day
"Chiffchaff male singing." No location. What kind of schema are they using?!
* * *
Politics
"So many of the social reactions that strike us as psychological are in fact a rational management of symbolic capital." –Pierre Bourdieu, Classification Struggles
The Constitutional Order
"Colorado Lawsuit Becomes Latest To Challenge Trump's 2024 Candidacy Under 14th Amendment" [Forbes]. "Citizens for Responsibility and Ethics in Washington (CREW), a left-leaning government ethics watchdog that's opposed Trump in the past, filed a lawsuit in Colorado state court on behalf of Colorado voters, which argues Trump should be barred from the ballot due to his role in the January 6, 2021, riot at the Capitol building…. [Michigan Secretary of State Jocelyn Benson] acknowledged on CNN Tuesday that she 'potentially' may have to make a decision before the Supreme Court can clarify the issue, but did not say how she believed she'd rule on the issue. Colorado Secretary of State Jena Griswold (D) said she hoped the CREW lawsuit would 'provide guidance to election officials on Trump's eligibility,' and her office noted Colorado law is 'unclear' on how to consider candidates' eligibility under the Constitution. Georgia Secretary of State Brad Raffensperger (R), who rejected Trump's efforts to overturn the state's 2020 election, said in a Wall Street Journal op-ed Wednesday he firmly does not believe election officials can reject Trump or other candidates from the ballot, describing the 14th Amendment strategy as trying to 'short-circuit the ballot box.' Raffensperger previously rejected an effort to disqualify Rep. Marjorie Taylor Greene (R-Ga.) in the 2022 midterms."

"Lawsuit seeks to block Trump from appearing on Colorado's 2024 ballot" [Colorado Sun]. "The lawsuit is part of a national effort by Trump's opponents to disqualify him from running again in 2024…. Colorado's presidential primary will be held on March 5. The ballot must be certified by the Colorado Secretary of State's Office in January, meaning the lawsuit will have to move quickly for the plaintiffs to be successful." • A national effort, eh?

* * *

"The 14th Amendment Trump Panic" [The Editorial Board, Wall Street Journal]. Godzilla (WSJ editorial board) v. Mothra (the Federalist Society). "For Mr. Trump's opponents, these risks are justified because the former President poses a unique threat to U.S. democracy. They're willing to put democracy at risk in order to save it. But U.S. institutions held up reasonably well despite the strains of the Trump Presidency—even the events of Jan. 6. The transfer of power took place on schedule. Republicans across the government broke with Mr. Trump and supported that transfer. The rioters and organizers are being punished, often severely. We have argued from the moment Mr. Trump entered the presidential contest in 2015 that the way to defeat him is through the ballot box. Voters will get their chance to do it again next year—first in the primaries and perhaps the general election. If Mr. Trump does somehow regain the Presidency, in part because Democrats insist on renominating a weak President Biden, the normal U.S. checks and balances will continue to exist. The consequences of a 14th Amendment panic are likely to be worse for democracy and its institutions than trusting voters and 234 years of sturdy constitutional example."

"Trump's insurrection should disqualify him for office" [Mark S. Brodin, Commonwealth Magazine]. "Like Jefferson Davis, who served in the Senate and as Secretary of War during Franklin Pierce's administration before he betrayed his country to lead the Confederacy, Trump spent months — — planning, preparing, and finally inciting the violent insurrection on January 6, 2021. Unfortunately, Special Counsel for the United States Department of Justice Jack Smith delicately dances around the traitorous events of that horrible day in a four-count indictment charging fraud and obstruction of Congress, in conjunction with the violation of the Ku Klux Klan Act for seeking to disenfranchise voters of color. The indictment never uses the words 'insurrection' or 'sedition' or 'treason.' It's like telling the story of Noah, but excluding the part about the flood. Legal commentators have praised this as clever strategy and pragmatism — foreseeing a leaner and swifter trial with a conclusion before the 2024 election. But what is the cost of excluding the most heinous and historically consequential part of the story? Future presidents, including Trump himself, may find comfort in knowing that a failed coup will be treated like a stock fraud case, instead of an attempted overthrow of our government." • "For years, I'm tellin' ya!" Headline might as well be: "Jack Smith Wusses Out." Dude, come on. "Mark S. Brodin is the Michael & Helen Lee Distinguished Scholar and former associate dean for academic affairs at Boston College Law School." Oh.

"Constitutional debate over Trump's eligibility to run more extensive than realized" [Politico]. "The idea of barring former President Donald Trump from seeking the presidency on grounds that it would violate the 14th Amendment may be an increasingly catchy constitutional argument pushed by a segment of legal scholars and activists. But it turns out . 'We have been thinking about this in my office for quite some time, before the start of the year, assuming that this will play out,' Colorado Secretary of State Jena Griswold said in an interview. Underscoring the seriousness with which she has been treating the topic, Griswold noted that 'there have been conversations among secretaries" about it." • And theyt haven't already decided to hold hands and jump?

"The Fourteenth Amendment Does Not Automatically Prevent Trump's Re-election" [Law Office of Michael J. Kennedy]. Wild About page. More on whether a President is an "Officer of the United States"

Professor Blackman, a juristic equal [at least] of Professor Tribe and Judge Luttig, whose work and research is current, has written clearly and authoritatively, and I need do nothing more right now than to quote his insightful position:

"There is a recent Supreme Court opinion discussing the scope of the Constitution's "Officers of the United States"-language. In Free Enter. Fund v. Pub. Co. Accounting Oversight Bd. (2010), Chief Justice Roberts observed that "[t]he people do not vote for the 'Officers of the United States.'" Rather, "officers of the United States" are appointed exclusively pursuant to Article II, Section 2 procedures. It follows that the President, who is an elected official, is not an "officer of the United States."

"Moreover, there is [more]good authority to reject the position that Section 3's "officer of the United States"-language extends to the presidency. In United States v. Mouat (1888), Justice Samuel Miller interpreted a statute that used the phrase "officers of the United States." He wrote, "[u]nless a person in the service of the government, therefore, holds his place by virtue of an appointment by the president, or of one of the courts of justice or heads of departments authorized by law to make such an appointment, he is not strictly speaking, an officer of the United States." Justice Miller's opinion, drafted two decades after the Fourteenth Amendment's ratification, is some probative evidence of the original public meaning of Section 3's "officer of the United States"-language. Miller's opinion is some evidence rebutting any presumption of post-1788 linguistic drift with respect to the phrase "officer of the United States."

This matters, since Section Three of the Fourteenth Amendment reads: "who, having previously taken an oath… … shall have engaged in insurrection." So, what do the originalists have to say about this? Baude and Paulsen:

All I can say is that one of the advantages of "originalism" —

It is the rule as drafted and enacted in the written text that counts, whether it goes further than the purposes supposed to have inspired its adoption, or even whether it falls short of fully achieving those purposes. While evidence of intention, usage, purpose, and political context can assist in ascertaining the meaning of the enactment, it is that objective meaning that constitutes the law, not the ostensible purposes or motivations that supposedly lay behind it. This is "originalism," our system's basic method for interpreting the Constitution and its amendments

— is how very, very supple is turns out to be, especially when there are important political objectives to be achieved.

* * *

"The Sweep and Force of Section Three" [William Baude and Michael Stokes Paulsen, University of Pennsylvania Law Review]. I highly recommend this piece (and the ensuing discussion at NC, starting here). As a former English major and a fan of close reading, I'm not averse to "originalism," of which Baude and Paulsen provide a magisterial example, in the sense that understanding the law as a text must begin with understanding the plain, public meaning of the words used when the text was written. That's how I read Shakespeare, or Joyce, so why not the Constitution? Just as long as understanding doesn't end there! In any case, I'm working through it. One thing I notice is that there do seem to have been rather a lot of rebellions and insurrections, not just the Civil War. To me, this is parallel to one lesson I drew from Mike Duncan's Revolutions podcast (episode 1): There are rather a lot of revolutions, too. Alert reader Pensions Guy summarizes Baude and Paulsen as follows:

The authors go through an exhaustive textual and originalism analysis of Section Three, and their Federalist Society leanings do not deter them from reaching their conclusion that officials in every State who are charged with determining candidate qualifications should conclude that Donald Trump is disqualified from being on ballots because of the oath he took on Inauguration Day 2017 and subsequently violated through his role in the insurrection that took place on January 6, 2021.

Taking "insurrection" as read (I need to do more reading), this has been more of my continuing coverage of Section Three.
Abortion
"Alabama exposes a new constitutional landmine on abortion" [MSNBC]. "After the Supreme Court decimated abortion rights last year, Alabama Attorney General Steve Marshall proclaimed that organizations that helped Alabama abortion seekers access services out of state could face criminal conspiracy charges in Alabama…. Marshall argues that he can prosecute speech that facilitates abortion travel just as he could 'prevent a mobster from asking a hitman to kill a rival.' Here, too, it's hard to predict what Marshall and others like him will be able to get away with. The law on crime-facilitating speech is murky. Some lower courts have held that intentionally or knowingly providing information that might help another commit a crime is not protected by the First Amendment."
Biden Administration
2024
Time for the Countdown Clock!

* * *

"Trump's big lead: Among nonvoters, many agree with him that elections are rigged" [USA Today]. "Donald Trump's argument that the 2020 election was rigged has reinforced the views of Americans who are already disenchanted about politics, one factor in their inclination not to cast a vote next year − that is, a vote they would probably cast for him. An exclusive USA TODAY/Suffolk University Poll of unlikely voters − those who are eligible to vote but say they probably won't − give Trump a lopsided edge over President Joe Biden among Americans who are deeply skeptical of politics and government."

* * *

"DeSantis built a massive network of big donors. Many have ditched him [Politico]. "Of the 50 donors who gave at least $160,000 in the years leading up to his 2022 reelection campaign, only 16 — less than a third — provided funds to the super PAC Never Back Down, which can receive unlimited contributions, through the end of June. Eight other major donors gave directly to his presidential campaign but not the super PAC. The top 50 list includes five donors who are now financially supporting rival presidential candidates. And of those who are giving money to the DeSantis campaign or his super PAC, five are splitting their funds with other candidates. The inability of DeSantis to convert more of his gubernatorial donors into presidential ones is emblematic of a larger shortcoming of his current campaign. And it presents particular problems for the governor precisely because his operation has leaned so heavily on the super PAC to perform basic campaign functions."

* * *

"Blind Item #8" [Crazy Days and Nights (Petal)]. A gossip site. "The mainstream media is finally reporting what I have been telling you for a year. The state A+ lister is running for the A++ list job. The oil family, led by the former A- list actor already has quietly received commitments for $500M in donations with another $250M ready to go depending on performance. For that kind of money, that would be one hell of a quid pro quo." • Newsom.

* * *

On Cornel West's choice of the Greens:

Here is @CornelWest's platform with the People's Party on the left. And then his platform with the @GreenPartyUS on the right, after they threw out half of ours. Looking forward to the mental gymnastics that people will use to rationalize this sectarian stupidity and… pic.twitter.com/9MSoHmVkA1

— The People's Party (@PeoplesParty_US) September 7, 2023

The People's Party platform looks good, the GP platform is mush. But who has the ballot access? The GP, so it looks like West made the right choice.
Democrats en Déshabillé
Patient readers, it seems that people are actually reading the back-dated post! But I have not updated it, and there are many updates. So I will have to do that. –lambert

I have moved my standing remarks on the Democrat Party ("the Democrat Party is a rotting corpse that can't bury itself") to a separate, back-dated post, to which I will periodically add material, summarizing the addition here in a "live" Water Cooler. (Hopefully, some Bourdieu.) It turns out that defining the Democrat Party is, in fact, a hard problem. I do think the paragraph that follows is on point all the way back to 2016, if not before:

The Democrat Party is the political expression of the class power of PMC, their base (lucidly explained by Thomas Frank in Listen, Liberal!). ; if the Democrat Party did not exist, the PMC would have to invent it. . ("PMC" modulo "class expatriates," of course.) Second, all the working parts of the Party reinforce each other. Leave aside characterizing the relationships between elements of the Party (ka-ching, but not entirely) those elements comprise a network — a Flex Net? An iron octagon? — of funders, vendors, apparatchiks, electeds, NGOs, and miscellaneous mercenaries, with assets in the press and the intelligence community.

Note, of course, that the class power of the PMC both expresses and is limited by other classes; oligarchs and American gentry (see 'industrial model' of Ferguson, Jorgensen, and Jie) and the working class spring to mind. Suck up, kick down.

* * *
#COVID19
"I am in earnest — I will not equivocate — I will not excuse — I will not retreat a single inch — AND I WILL BE HEARD." –William Lloyd Garrison
Resources, United States (National): Transmission (CDC); Wastewater (CDC, Biobot; includes many counties; Wastewater Scan, includes drilldown by zip); Variants (CDC; Walgreens); "Iowa COVID-19 Tracker" (in IA, but national data). "Infection Control, Emergency Management, Safety, and General Thoughts" (especially on hospitalization by city).
Lambert here: Readers, thanks for the collective effort. To update any entry, do feel free to contact me at the address given with the plants. Please put "COVID" in the subject line. Thank you!
Resources, United States (Local): AK (dashboard); AL (dashboard); AR (dashboard); AZ (dashboard); CA (dashboard; Marin, dashboard; Stanford, wastewater; Oakland, wastewater); CO (dashboard; wastewater); CT (dashboard); DE (dashboard); FL (wastewater); GA (wastewater); HI (dashboard); IA (wastewater reports); ID (dashboard, Boise; dashboard, wastewater, Central Idaho; wastewater, Coeur d'Alene; dashboard, Spokane County); IL (wastewater); IN (dashboard); KS (dashboard; wastewater, Lawrence); KY (dashboard, Louisville); LA (dashboard); MA (wastewater); MD (dashboard); ME (dashboard); MI (wastewater; wastewater); MN (dashboard); MO (wastewater); MS (dashboard); MT (dashboard); NC (dashboard); ND (dashboard; wastewater); NE (dashboard); NH (wastewater); NJ (dashboard); NM (dashboard); NV (dashboard; wastewater, Southern NV); NY (dashboard); OH (dashboard); OK (dashboard); OR (dashboard); PA (dashboard); RI (dashboard); SC (dashboard); SD (dashboard); TN (dashboard); TX (dashboard); UT (wastewater); VA (dashboard); VT (dashboard); WA (dashboard; dashboard); WI (wastewater); WV (wastewater); WY (wastewater).
Resources, Canada (National): Wastewater (Government of Canada).
Resources, Canada (Provincial): ON (wastewater); QC (les eaux usées); BC, Vancouver (wastewater).
Hat tips to helpful readers: anon (2), Art_DogCT, B24S, CanCyn, ChiGal, Chuck L, Festoonic, FM, FreeMarketApologist (4), Gumbo, hop2it, JB, JEHR, JF, JL Joe, John, JM (10), JustAnotherVolunteer, JW, KatieBird, LL, Michael King, KF, LaRuse, mrsyk, MT, MT_Wild, otisyves, Petal (6), RK (2), RL, RM, Rod, square coats (11), tennesseewaltzer, Utah, Bob White (3).
Stay safe out there!
* * *
"Something Awful"
Lambert here: I'm getting the feeling that the "Something Awful" might be a sawtooth pattern — variant after variant — that averages out to a permanently high plateau. Lots of exceptionally nasty sequelae, most likely deriving from immune dysregulation (says this layperson). To which we might add brain damage, including personality changes therefrom.

* * *
Elite Maleficence
I suppose I should be grateful Mandy deigned to butcher a PR event wearing a mask:

It's that time of year — I got my flu shot! Get yours to #FightFlu 💉🦠 pic.twitter.com/ooZRB0DgUW

— Mandy K. Cohen, MD, MPH (@CDCDirector) September 6, 2023

Butchered because: (1) The mask uses ear-loops, not head-straps, so the fit is likely to be bad; (2) the mask is not NIOSH-approved — CDC's own agency! — since there's no label, so the CDC's crack staff of PR people just handed her any old mask; it's not like she's modeling behavior or anything; (3) either (a) it's not necessary for medical personnel to mask, or heck, even be in uniform, or (b) the photo is staged, or (c) both; and (4) the cream of the jest, she's wearing a mask to get putatively vaccinated for the flu. Of course, Covid is just ike the flu, so it doesn't matter.

The CDC updated its main Covid page on August 26, 2023, so let's look in on our old friends. Here is the landing page:

As you can see, CDC's designers have rigorously reflected CDC's Covid policies. [1] Vaccines are prioritized; they get pride of place. [2] Prevention ("protect yourself and others" through non-pharmaceutical interventions are de-emphasized; they require a click-through. Most people won't click through. [3] There is, as it were, a "treatment pipeline": symptoms, testing, treatment and medications. Never mind asymptomatic transmission, which also causes neurological and vascular damage, and Long Covid; [4] Grouping Covid-19, RSV, and the flu together suggest that Covid is like the flu; it's not; [5] County hospitalization is a lagging indicator, so you could encounter a lot of infected people before masking up or taking other precautions,

I clicked through to the "How to Protect Yourself" page. Here again, CDC's designers make a really strong statement:

CDC is telling you that masks and ventilation are not their priorities, nor should they be yours.

Here is the mask section above at a readable size:

Note again that [1] "as needed" is determined by hospital admission levels, a lagging indicator. (If CDC were doing flood management for New Orleans, they would close the floodgates only after the floodwaters were rushing through.) CDC's artful and repeated "droplets and particles" verbiage (a) reproduced droplet dogma and (b) does not convey the essential: The Covid, being airborne, moves like smoke. [4] "Crowded" is but one of the Japanese 3C's: Closed, Crowded, Close Contact. For example, in a closed but uncrowded space, Covid could still linger for hours.

Finally, I ran the County Check recommended on the landing page. It was sure hard to find a county whose level rated high — see the Biobot chart for how insane this is — because CDC is still using its infamous "Green Map" for the levels. In any case, I did. Lauderdake County, MS:

Once again, we see at [1] that a lagging indicator, hospital admissions, drives the masking recommendation. (It's as if I was working a paint booth, and CDC would only recommend that I wear a mask only after the spray had fogged my glasses completely. Instead of just putting one on at the start of the process, ffs).

I CANNOT STRESS ENOUGH: If you follow CDC's advice, you are not minimizing your chances of becoming infected with Covid, or infecting others. CDC's advice seems designed to ensure that a proportion of the population is infected. My advice is to adopt a strategy of layered protection*, as advocated many times and many ways at NC, and to carry it out in a disciplined manner, without waiting for CDC's lagging indicators to kick in. NOTE * Mine is masking, avoiding 3C areas, plus various nasal sprays daily. I also follow case data as best I can. Other readers may have additional layers.
* * *
Case Data
NOT UPDATED From BioBot wastewater data, September 5: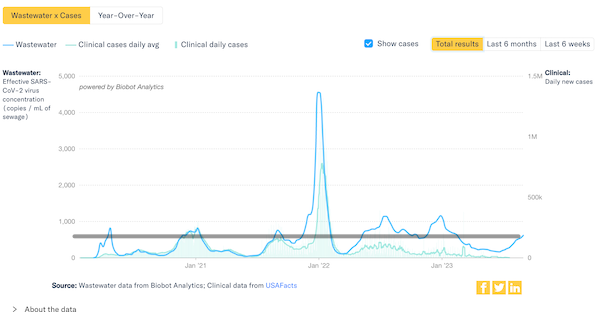 Back to a steady upward climb.
Regional data: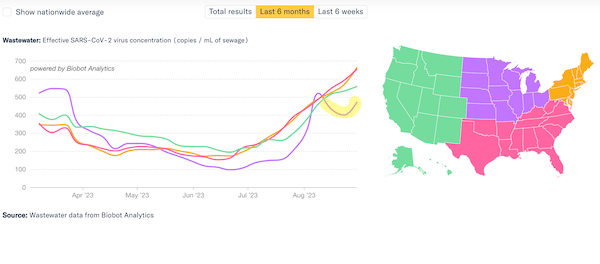 The Midwest now movint upward as well. I'm not sure what the downward swoop was all about. Interestingly, the upswing begins before July 4, which neither accelerates nor retards it.
Variants
NOT UPDATED From CDC, September 2: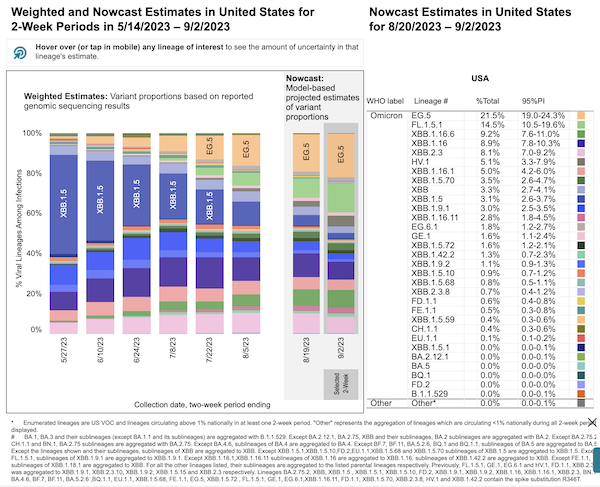 Lambert here: Top of the leaderboard: EG.5 ("Eris"). No BA.2.86 here, not even in the note, but see below at Positivity.
CDC: "As of May 11, genomic surveillance data will be reported biweekly, based on the availability of positive test specimens." "Biweeekly: 1. occurring every two weeks. 2. occurring twice a week; semiweekly." Looks like CDC has chosen sense #1. In essence, they're telling us variants are nothing to worry about. Time will tell.
Covid Emergency Room Visits
NOT UPDATED From CDC NCIRD Surveillance, September 2: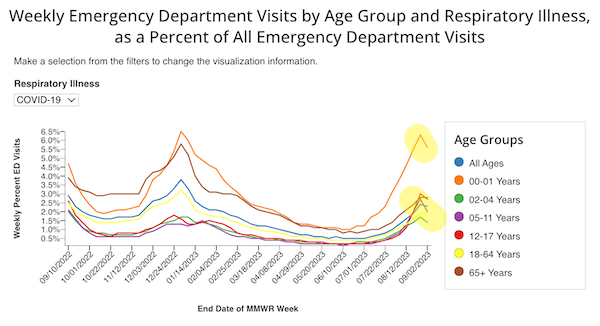 Lambert here: Another Labor Day weekend drop, like Walgreens? Typically, three-day weekends don't coincide with peak infection!
Lambert here: I changed this ER chart to a Covid-only chart broken down by age. Note the highlighting.
NOTE "Charts and data provided by CDC, updates Wednesday by 8am. For the past year, using a rolling 52-week period." So not the entire pandemic, FFS (the implicit message here being that Covid is "just like the flu," which is why the seasonal "rolling 52-week period" is appropriate for bothMR SUBLIMINAL I hate these people so much. Notice also that this chart shows, at least for its time period, that Covid is not seasonal, even though CDC is trying to get us to believe that it is, presumably so they can piggyback on the existing institutional apparatus for injections.
Hospitalization
Bellwether New York City, data as of September 7: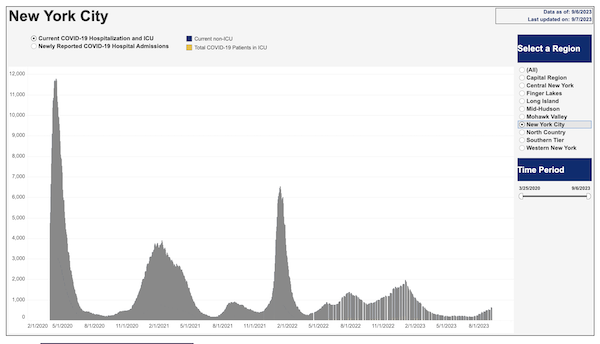 Moving up. I hate this metric because the lag makes it deceptive.
NOT UPDATED Here's a different CDC visualization on hospitalization, nationwide, not by state, but with a date, at least. August 26, 2023: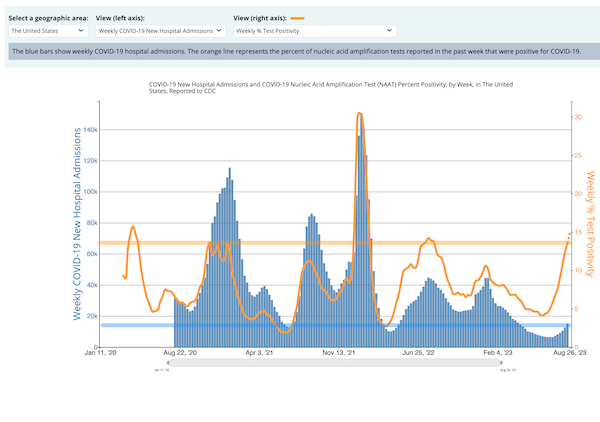 At least now we now that hospitalization tracks positivity, which is nice. Even if we don't know how many cases there are. And positivity as high as it's been at any time, except for Omicron.
Positivity
NOT UPDATED From Walgreens, September 4: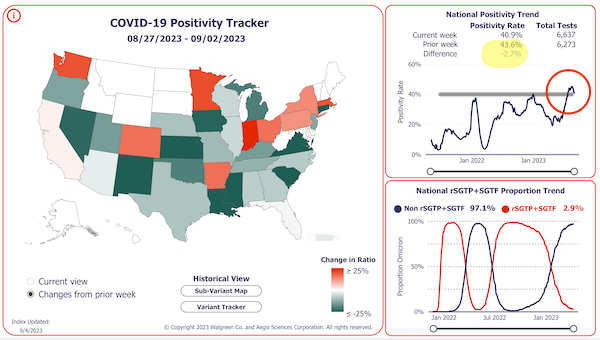 -2.7% Big drop, probably due to Labor Day travel, though the absolute numbers are still very small relative to June 2022, say. Interestingly, these do not correlate with the regional figures for wastewater. (It would be interesting to survey this population generally; these are people who, despite a tsunami of official propaganda and enormous peer pressure, went and got tested anyhow.)
NOT UPDATED From CDC, traveler's data, August 14: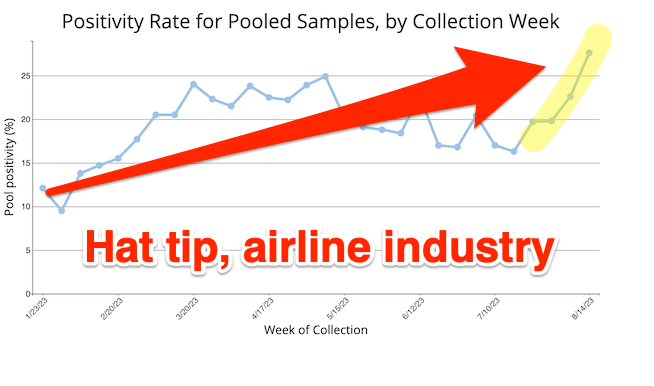 Lambert here: This is the CDC's "Traveler-Based Genomic Surveillance" data. And the variant data: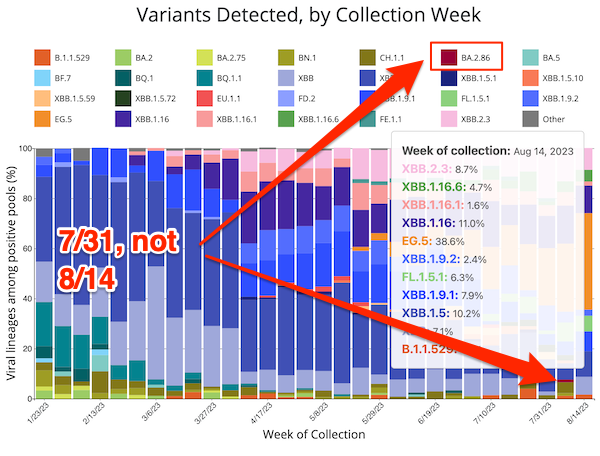 Deaths
Iowa COVID-19 Tracker, September 6: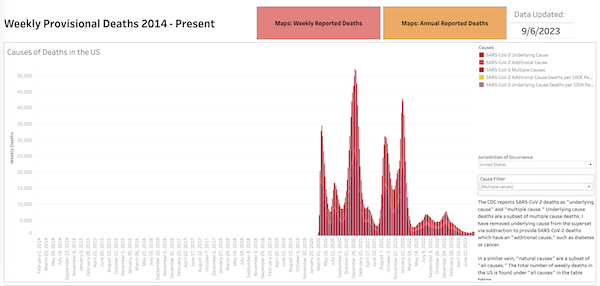 Lambert here: The WHO data is worthless, so I replaced it with the Iowa Covid Data Tracker. Their method: "These data have been sourced, via the API from the CDC: https://data.cdc.gov/NCHS/Conditions-Contributing-to-COVID-19-Deaths-by-Stat/hk9y-quqm. This visualization updates on Wednesday evenings. Data are provisional and are adjusted weekly by the CDC." I can't seem to get a pop-up that shows a total of the three causes (top right). Readers?
Total: 1,174,467 – 1,174,291 = 176 (176 * 365 = 64,240 deaths per year, today's YouGenicist™ number for "living with" Covid (quite a bit higher than the minimizers would like, though they can talk themselves into anything. If the YouGenicist™ metric keeps chugging along like this, I may just have to decide this is what the powers-that-be consider "mission accomplished" for this particular tranche of death and disease).
Excess Deaths
The Economist, September 7: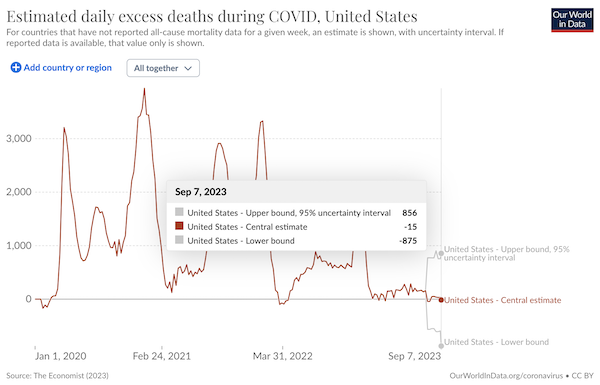 Lambert here: This is now being updated daily. Odd. Based on a machine-learning model. (The CDC has an excess estimate too, but since it ran forever with a massive typo in the Legend, I figured nobody was really looking at it, so I got rid it. )
Stats Watch
Employment Situation: "United States Initial Jobless Claims" [Trading Economics]. "The number of Americans filing for unemployment benefits fell by 13,000 to 216,000 on the week ending September 2nd, well below market expectations of 234,000, marking the lowest level since February."
* * *
Cash: Alert reader Petal writes:
The War on Cash continues: [My university] installed laundry machines that do not take cash. You have to download an app to your smartphone and link it to your credit or debit card. You can't turn the machine on unless you do this. Since I refuse to do this, I am back to washing all of my clothing in the bathroom sink and air-drying in the tub. Fun times. I hate these jerks. I wish the economic conditions allowed me to get out of here.
It will be amusing when some 14-year-old hacker in a Mongolian yurt works out a way to brick every cellphone in the world.
* * *
Today's Fear & Greed Index: 52 Neutral (previous close: 56 Greed) [CNN]. One week ago: 52 (Neutral). (0 is Extreme Fear; 100 is Extreme Greed). Last updated Sep 6 at 1:26 PM ET.
The Conservatory
"TikTok has transformed the concert experience" [Vox]. "It started with simple nostalgia. In the wake of the pandemic, Craig Powers, a 38-year-old researcher from Tacoma, rediscovered his love for his favorite bands and albums. But as Powers dove deeper and deeper into the music world, he found himself not only returning to beloved artists, but discovering new music and albums. This was largely thanks to TikTok, which constantly served him concert clips of stylistically adjacent musicians via his feed, a broad swath of emo, metalcore, and post-punk artists. At the peak of this new/old obsession, however, Powers realized a grim truth about social media: Watching bands on TikTok didn't put money in those artists' pockets, and streaming residuals are so paltry that listening to albums on Spotify or YouTube wasn't enough. If Powers wanted to support all the new bands he was into, he couldn't just watch concert clips on his feed: He needed to go to the concerts themselves. So Powers, who tells me he never does 'anything half-assed,' started out 2023 with a goal of seeing 30 concerts before the end of the year. The journey he embarked on led him to recapture his love of live music, discover even more bands, and hit his goal far earlier than he expected: He took in concert number 30, Weezer, last month. And of course, he documented it all on TikTok, where it all began." • I dunno. Part of me rebels at the need to use yet another social media app. Still, it seems to me that TikTok is not as malevolent as Facebook. Readers?
"The Rolling Stones debut 'Angry' new single, video starring Sydney Sweeney" [New York Post]. • I listened to it; after all, "High Tide and Green Grass" was the first album — remember "albums"? — I ever bought. I don't know what Jagger has to be angry about; maybe he's old enough to impart some wisdom? Why not? No emotional complexity to find in this song; if I want that, I can dig out something appropriate in K-Pop (not kidding).
News of the Wired
"Study finds influence of smaller jersey numbers on perception" [ESPN]. Not like a "Jersey Barrier"; like a football jersey. "A peer-reviewed study by UCLA researchers found that perception can be influenced by the associations made between numbers and size through the brain's cognitive process. The study, which will be published this week in the journal PLOS One, exposed subjects to images of different football jersey numbers to measure their perception of the person wearing it. The smaller the number, the more likely the subject was to perceive a slimmer player." • Hmm. I guess Robert Parish ("00") was pretty slim…
* * *
Contact information for plants: Readers, feel free to contact me at lambert [UNDERSCORE] strether [DOT] corrente [AT] yahoo [DOT] com, to (a) find out how to send me a check if you are allergic to PayPal and (b) to find out how to send me images of plants. Vegetables are fine! Fungi and coral are deemed to be honorary plants! If you want your handle to appear as a credit, please place it at the start of your mail in parentheses: (thus). Otherwise, I will anonymize by using your initials. See the previous Water Cooler (with plant) here. From TH: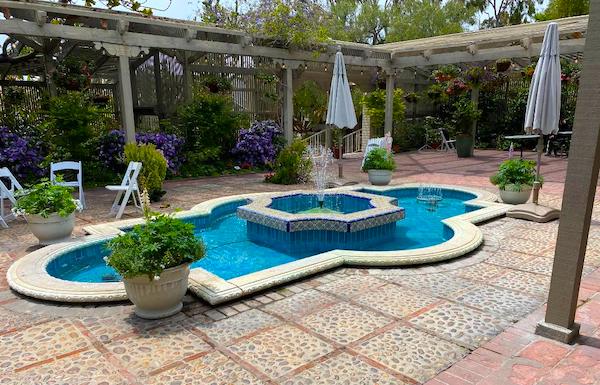 TH writes: "While one is tempted to think this image is all about a pool with a central fountain, my thinking is that this nursery knows how to showcase all their lovely plants, yes? I suspect I will be thinking about this setting all summer." Sadly, I've never managed to create a water feature successfully. Pumps, maintenance….