Car with giant bull named Howdy Doody crammed into passenger seat pulled over by Nebraska police NBC News
Germany's radioactive boars are a bristly reminder of nuclear fallout Science
Drought Reveals 113-Million-Year-Old Dinosaur Tracks in Texas Smithsonian Magazine
Here's when humans nearly went extinct, reveals new study Interesting Engineering
Climate/Environment
SCIENTISTS FIND THAT MICROPLASTICS CAUSE DEMENTIA-LIKE SYMPTOMS IN MICE Futurism

Failed Net Zero pledges: Just 0.3% renewable energy produced by 12 European Big Oil companies in 2022 Down to Earth
Toxic Train Bombs
Railroads resist joining safety hotline because they want to be able to discipline workers Associated Press
#COVID-19
Brain fog after Covid linked to blood clots – study BBC

COVID-19 will harm students The Kingston Whig Standard

Welcome to the "You Do You" Pandemic The Nation
Old Blighty
He Was Shot 14 Times at the Dinner Table. His Children Want to Know if Britain Ordered the Hit. New York Times

US fighter jets capable of nuclear bombing to be based in UK The Telegraph
Defence secretary Ben Wallace resigns. Before becoming an MP he worked for arms firm Qinetiq.

❓Which arms firm will he join next through the ever-turning revolving door between Whitehall and military industry❓ https://t.co/2uBO7muaRK

— Declassified UK (@declassifiedUK) August 31, 2023
Niger
Burkina Faso cabinet approves bills to deploy troops to Niger Al Mayadeen

A 'Desperate' Nuland in Africa Consortium News. Is a desperate Nuland more dangerous than a confident Nuland?
Gabon
Making sense of the coup in Gabon An Africanist Perspective

'Obama's man in Africa' under house arrest as popular coup rocks Gabon The Grayzone
Coups vs Democracy and the Misunderstanding of Africa's Youth The Elephant
India
Documents Provide Fresh Insight Into Allegations of Stock Manipulation That Rocked India's Powerful Adani Group Organized Crime and Corruption Reporting Project. It should be mentioned that the Organized Crime and Corruption Reporting Project receives funding from USAID and the US State Department among others.

First Indian companies sanctioned over trade with Russia, report reveals The Independent
Balochistan's deadly confluence of separatist insurgency and Islamist militancy Himal Southasian
China?
China lets Baidu, others launch ChatGPT-like bots to public; tech shares jump The Straits Times

China's Sham Meritocracy Has Created a Burned-Out Generation Foreign Policy

China's too-big-to-fail property giants the tip of real estate crisis as 'suppliers are being dragged to death' Channel News Asia

China Is Speeding Up Infrastructure Bond Sales to Boost Spending Bloomberg

***

China spells out 'obstacles' to resuming high-level military talks with the US South China Morning Post

In a 1st, Taiwan to get US funds under Foreign Military Financing: Report Anadolu Agency

Analysis: China's new map a timed move to reassert its territorial claims, flex muscles ahead of regional summits Channel News Asia
Japan's Defense Ministry Requests Largest Ever Budget for Fiscal Year 2024 The Diplomat
New Not-So-Cold War
EU aims to train 40,000 Ukrainian soldiers by end of 2023 The New Voice of Ukraine

'Corrupt Decisions' – Kyiv to Review Medical Exemptions from Army Duty The Kyiv Post

***

An Obsolete German Tank Seeks a Second Life on Ukraine's Front Lines New York Times

World's First Specialized Explosive Naval Drone Unit Formed In Ukraine Naval News

***

Russia hosts Turkey's Fidan, presses for guarantees on grain deal Al-Monitor

Ukraine cries foul as fuels refined from Russian oil pour into the EU Politico EU

The Hedgehog Temple: A Tribute to Fallen Ukrainians at Burning Man The Kyiv Post
Positive signals from Brussels reignite Georgians' EU hopes Eurasianet
Azerbaijan says embassy in Lebanon attacked by people of Armenian origin Anadolu Agency
Three more Armenians detained at Azerbaijan's Lachin checkpoint Eurasianet
Syraqistan
How American aid supports autocracy in Jordan Responsible Statecraft

Interim Taliban administration signs $6.5B mining contracts in Afghanistan Anadolu Agency
Spook Country
GoFundMe, Go To Hell Matt Taibbi, Racket News
Biden Administration
US FTC secures settlement with ICE, Black Knight over $11.7 bln deal Reuters

Hunter Biden's firm exchanged more than 1,000 emails with Joe Biden's VP office, records show Fox News
Trump
Trump asks judge to sever Georgia election case from co-defendants The Hill

Inmate killed in stabbing spree at same Fulton County jail where Trump was booked, could be housed if convicted New York Post
1/6
Proud Boy Joseph Biggs hit with 17-year prison sentence over Jan. 6 conviction Washington Examiner
The Supremes
Clarence Thomas Acknowledges Undisclosed Real Estate Deal With Harlan Crow and Discloses Private Jet Flights ProPublica
GOP Clown Car
Sen. Mitch McConnell cleared to continue work after two freezing incidents New York Post

Kentucky's Democratic Governor Wouldn't Say If He'd Replace Mitch McConnell With a Republican Jezebel
Our Famously Free Press
Lawsuit against police chief just the latest shoe to drop in Marion newspaper raid case Kansas Reflector

New guide helps journalists know their rights when police come knocking Freedom of the Press Foundation
AI
HCA, Google roll out generative AI project Becker's Hospital Review
Healthcare?
'Quiet cutting' in hospitals: Outsourcing may be 1 example Becker's Hospital Review
Big Brother is Watching You Watch
FBI HOOVERING UP DNA AT A PACE THAT RIVALS CHINA, HOLDS 21 MILLION SAMPLES AND COUNTING The Intercept

Elon Musk's X now wants your biometric data, as well as your job and education history, for 'safety, security, and identification purposes' Fortune

AI-powered hate speech detection will moderate voice chat in Call of Duty Ars Technica
Imperial Collapse Watch
Grievance and Reform The Polycrisis. "Will the BRICS bargaining chip bear fruit for smaller and lower-income countries?"
Class Warfare
Tech
Tech billionaires' secretive plan to build a California city from scratch Los Angeles Times
The Bezzle
Tiny Anguilla may make $30M on its ".ai" domain amid AI hubbub Ars Technica
Antidote du jour (via):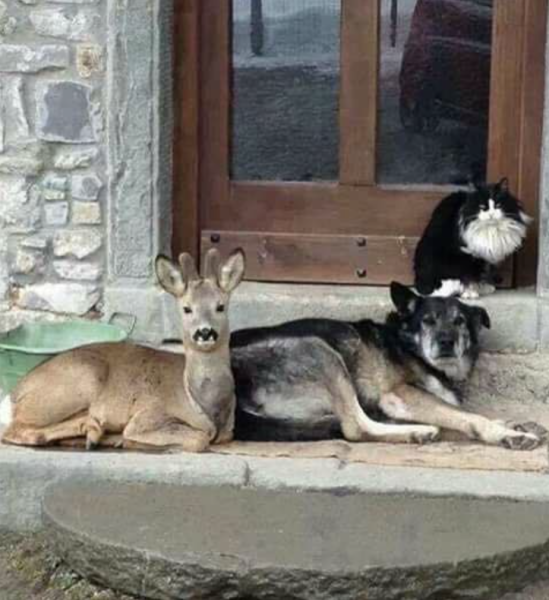 See yesterday's Links and Antidote du Jour here.