By Lambert Strether of Corrente.
After a hard day's night of reading the news, I usually require a palate cleanser, which tends to be not perhaps binge- but certainly multi-course-watching video clips on single topics: Now snooker, previously cricket, surfing in Bali, Mike Ehrmantraut, Clarke and Dawe, British steam locomotives — I'm giving you all these links in case you have the same requirements — and before that K-Pop, for which I would mount a vigorous defense if I'd had time to do a proper workup.
But I felt that some readers might appreciate something light, so here we are. I'll start with the economics, and then present a number of glorious pop confections in context. (A caveat: I listen to a group called Twice, a musical juggernaut that's been rolling since 2015, so to a teenage fan "Your Dad listens to Twice." Oh well. In any case, my knowledge is pretty limited! In fact, by the standards of genuine stans, who know every, well, manufactured detail about their favorite performers, I hardly qualify as a mere fan.)
Let's begin with the economics (Stoller has K-Pop filed under "weird monopolies" on his substack). From the International Socioeconomics Laboratory:
"Modern K-pop" can trace back to 1989 when Lee Soo Man founded SM Entertainment, which later became one of the biggest entertainment companies in South Korea. In 1997, Park Jin Young founded JYP Entertainment and in 1998, Yang Hyun-suk founded YG Entertainment. These three entertainment companies are known as the "Big 3" in South Korea because of their massive popularity and economic success; in 2018, SM Entertainment generated $532 million in revenue, YG Entertainment generated $248 million, and JYP Entertainment generated $109 million.
The K-Pop industry has been very good for Korea as a while. From Asia Fund Managers:
The K-Pop industry generates about $10 bn for the country each year, according to estimates.

The K-pop phenomenom is worldwide, with some of the major markets being the United States, India, Brazil, Indonesia, Mexico, Germany, UK, Philippines, Japan, and France. In 2021, Spotify unveiled its global K-Pop hub and the monthly average K-Pop streams worldwide reached over 7.97 billion per month. The same year, #KpopTwitter broke its own record with 7.8 bn global Tweets, the previous record being 6.7 bn Tweets in 2020.
In fact, BTS — a boy band juggernaut — can have a measurable impact on GDP:
For example, a report estimates that the three concerts held by the boy group BTS in Seoul in 2019 have a total direct and indirect impact of around 923 billion South Korean won.

South Korea's GDP in 2020 was about $1.64 trillion. That means one boy band helped produce some 0.30% percent of the country's economic output.
BTS's impact is global. From The Diplomat:
Among all South Korean idol groups that have debuted in the United States, BTS has undoubtedly had the greatest success in breaking into mainstream America. The Hyundai Research Institute estimated that BTS alone has raised more than $3.6 billion every year for the South Korean economy – equivalent to the contribution of 26 mid-sized companies. In 2017, nearly 7 percent of all recorded visitors to South Korea expressed that BTS was a primary motivation to visit the country. According to the Billboard Hot 100, BTS is the first group to have six No. 1 songs on the Hot 100 in just over one year since The Beatles. Prior to their temporary pause from group projects, BTS has accounted for nearly one-third of all K-Pop-related sales and streaming in the United States, resulting in 3.6 million album equivalent units, 2.56 billion audio streams, 1.3 million album sales, and 3.1 million digital track sales.
Twice, the group I follow, is a global act as well. From Time:
With more than ten albums and EPs dropped since their 2015 debut, the group has consistently released new music, in Korean and Japanese, at least three times a year. That is an ambitious schedule even for K-pop, where the norm is to promote one or two comebacks annually.

The frequent releases have propelled Twice's rise to the upper echelon of Korean acts. On YouTube, BTS, Blackpink and soloist Psy are the only K-pop acts who have music videos with more views than those of Twice. Besides regularly topping charts and winning music awards in South Korea, the nine-member ensemble has seen almost unparalleled success in Japan. Earlier this year, Twice became the first K-pop girl group to hold a dome tour in Japan, attracting an estimated 210,000 attendees across five concerts. Given that all performance stops in this kind of tour are held at massive dome venues—the ones in Japan have capacities of around 50,000 each—they offer unassailable evidence of a group's ability to drive ticket sales.
(Nine members! That's a lot!) Hopefully, all the globalization won't denature the music, and turn it into mere pop from K-Pop.
With that, let me turn to one of Twice's glorious pop confections, "What Is Love?", live in Seoul:
(Note the scale of the auditorium, and the production values. This is not a group without ambition.) New Musical Express comments:
If there's anyone out there claiming they do not immediately get up and dance to the chorus on this one, they're lying. 'What Is Love?' is often considered one of the pillars of TWICE's illustrious discography, and for good reason. From the pop culture references peppered throughout the music video to the heart-thumping, alluring lyrics diving into the curiosity of the world's most complex emotion, 'What Is Love?' remains one of TWICE's most triumphant tracks.
Here is that music video:
Western pop culture references, I might add; right down to the cuckoo clock, including The Princess Diaries, Ghost, La Boum, Pulp Fiction, Romeo + Juliet, Love Letter, La La Land, and Léon: The Professional. So many Easter eggs![1]
None of this artistry — yes, artistry — comes easily. Here, for example, is a rehearsal video for another Twice song, "Scientist":
I know very little about choreography; I would tend to file this under athletics, as a form of gymnastics performed at a high level. (I did at some point watch a video by a New York hip hop choreographer, who added commentary to another Twice rehearsal video, and who started out in neutral mode and gradually shifted to jaw-dropping admiration; I recall he commented on the choreography's "intentional hand movements" (very balletic), and how the dancers' muscles must burn.
In fact, K-Pop is a very hard school, where "trainees" sign contracts to one of the monopolies as young teenagers[1], train for years before launch, and most don't make it. Here, for example, is Blackpink's Lalisa Manobal (known mononymously as "Lisa"), another globally successful artist, training some traineees:
One is reminded of a Zen master beating novices with a stick, though for a Westerner, it's hard not to think that the abused has turned into an abuser.
I admire, I must say, besides the artistry, the discipline and mental toughness of the performers. I also find the sheer scale and complexity of the business that brings the music to us intriguing. Here, for example, are the musical and technical personnel for "Formula of Love," "What Is Love?"'s LP: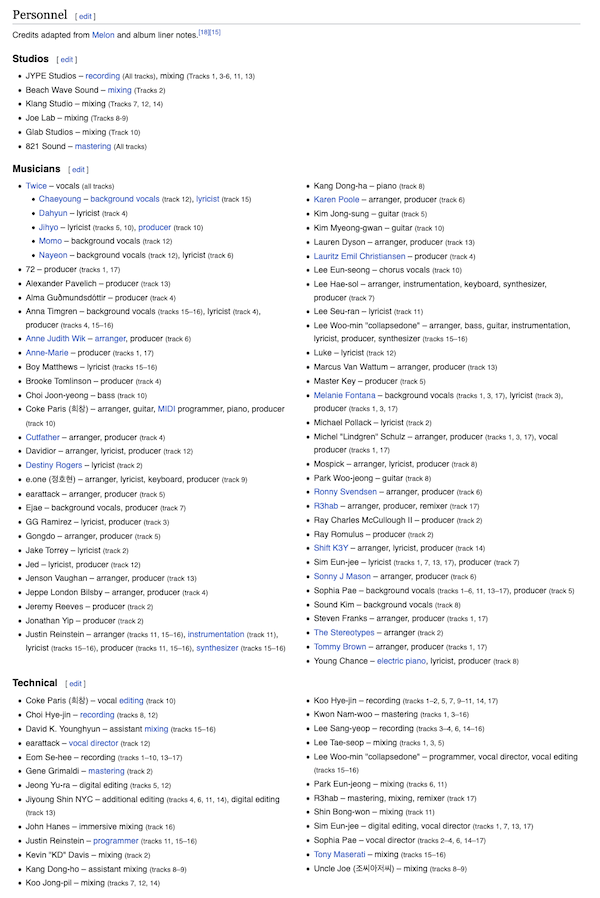 Quite a bit more complicated than the credits on the liner notes of the "records" (vinyl analog recording medium) I used to listen to. And here are the support personnel for the "What Is Love?" EP; I've ordered them by role ("hair and makeup director"), from greatest number to smallest:
hair and makeup director (8)
style director (7)
choreographer (6)
recording and mixing engineer (6)
all instruments, computer programming, and digital editor (5)
background vocals (5)
design (A&R) and album art direction and design (4)
production (A&R) (4)
vocal director (3)
music (A&R) (2)
guitar (2)
bass (1)

photographer (1)
printing (1)

video executive producer (2)
video co-producer (1)
video director (1)

video executive producer (1)
web design (1)

mastering engineer (1)
management and marketing director (1)
direction and coordination (A&R) (1)
producer (1) (J. Y. Park)
I love there are more hair and makeup directors (8) than choreographers (6). But those production values don't come from nowhere. (And of course there is but one producer, "J. Y. Park," he of JYP Entertainment.)
Returning once more to the music, the vast wave of Twice fans produces lyrics videos color-coded by performer (because with nine group members, each one will only sing a few words at a time):
(This is not a clever plot to make you listen to the song again; the music video also has lyric subtitles). Pop Matters comments:
TWICE's music has always been heavily performance-oriented. They were queens of mimicable choreographies that would go viral (like 2016's "T.T.") in a time when TikTok dances weren't even a thing yet. One word to describe their music was "cute". K-pop "cute concepts" (aegyo) were at the peak of their popularity when TWICE debuted. But ever since they put out their first single, "Like OOH-AHH(OOH-AHH하게)", in 2015, no other K-pop group owned the cute concept like them.

Music-wise, TWICE have consistently released songs with interesting instrumentals, sometimes even quite experimental and unconventional. These arrangements would sometimes get overshadowed by the group's charms that are more in-your-face: the easy melodies interpolated with chanting, and their sweet vocals, and repetitive lyrics full of alliteration. You'll find these same tools in songs by many other K-pop groups but TWICE combined them in a way that sounds unique to them. These are the charms that laid the ground for TWICE to create a special musical identity. That identity still translates to their current music, even if, genre-wise, it sounds quite different than it used to be.
But to me, "What Is Love?" is way beyond "cute." I mean, it's a very good question, right? Wikipedia (the fans have naturally made a page) also comments on the music:
[I]t has a bright melody and uptempo dance beat incorporating trap. Tamar Herman of Billboard described the song as having "retro electro-pop styling" and an "addictive choral hook", with "digital quirks, sparkling chimes, and staccato'd percussion over the bubblegum melody".
"Trap" is not, I think, ironic; it's a hip-hop genre. However, the theme of "What Is Love?" is, I urge, deeply ironic:
"[T]he love girls would dream about or imagine after learning about it through books, movies or dramas"
Interesting, the refrains ("I wanna know," "What is love?" are in English; the verses are in Korean). A translation:
Every day, in a movie
In a book or in a drama, I feel love
Um- I learn about love
My heart keeps beating as if it's my own story
Makes my heart pound and swell with hope
Um- I want to know so bad

Of course, the humanities are indeed meant to convey "my own story" before one experiences it, but I don't think we're talking Jane Austen here:
How it could be as sweet as candy?
How it's like flying in the sky?
I wanna know know know know
What is love?
What love feels like?
How it keeps you smiling all day?
How the whole world turns beautiful?
I wanna know know know know
What is love?
Will love come to me someday?

For me, as an old codger listening to the song, I see performers — accomplished athletes, artists, performers, businesswomen — who are now old enough to know that the answer to the question "what is love" is different from what they imagined it to be. Yet still they sing the song. That would be tragic, were it not so glorious. There is the irony.
NOTES
[1] Here is an acoustic version of "What Is Love?", just to show that Twice doesn't lip-synch everything, not that I care:
[2] For example, from The Diplomat:
Recruited and trained by SM Entertainment, one of the largest and most successful South Korean entertainment companies, [Korean singer and entertainer BoA] was assigned the unprecedented task of breaking into foreign music charts in 2001 at age 14. Following a joint investment of roughly $3.6 billion between SM Entertainment and its Japanese business partner AVEX Entertainment, BoA debuted in Japan after receiving Japanese language training to ensure her successful transition into the Japanese music and entertainment industry. As a result, BoA became the first Korean singer to top Japan's Oricon Charts and the Billboard 200 charts, selling 1 million copies of her Japanese single, "Listen to My Heart."
Age 14!