Yves here. This gambit by Iran, that of proposing an oil embargo against Israel, has the potential to be more significant that it appears by getting Middle East states to unite fornally in an economic campaign against Israel. The article below explains that Israel does not import much oil, so the immediate impact would be limited.
But in a sense, that is the point. Once Arab (and Persian Iran) act together, even on a largely symbolic initiative, that greases the skids for more consequential action. The Saudis might tolerate or even welcome Iran being out in front, since that will be a smidge less confrontational with the US. And once a first agreement is worked out, it might be possible to handle any future efforts on a more collaborative basis.
Given the impact of the 1970s oil embargo, going after the US would seem to be a logical next step if the Biden Administration fails to get Israel to stop its ethnic cleansing of Gaza. But US is a net petroleum exporter. Per the EIA, its biggest import sources are Canada at 52% and Mexico at 10%, with Saudi Arabia and Iraq together providing 11%. Would the GulF States portion being denied to the US make much difference to us? My guess is it could affect certain grades and products, but not too much overall.
Another possible choke point is LNG. Reader Will caught this item in a recent Gilbert Doctorow post:
…if the Europeans persist in giving unqualified support to Israel for its pending land invasion of Gaza then the emirate will halt all further deliveries of natural gas to Europe.
So Qatar has already thrown down the gauntlet. Qater is one of the 15 biggest oil exporters and likely to join the Iran scheme if it gets traction. Qatar was the biggest LNG exporter in 2022, but the US is #1 so far in 2023 after Freeport LNG came back online following a fire.
The US might not be all that unhappy with Europe losing LNG supplies, since the US would try to fill the gap, at of course shortage-induced higher prices. But then we have other possible damage to the US bloc.
Given that the US and Europe have stripped their weapons cupboards pretty bare with Project Ukraine, the US might lean on South Korean and Japan for help. The threat of an LNG ban could have a deterrent effect. From Statista: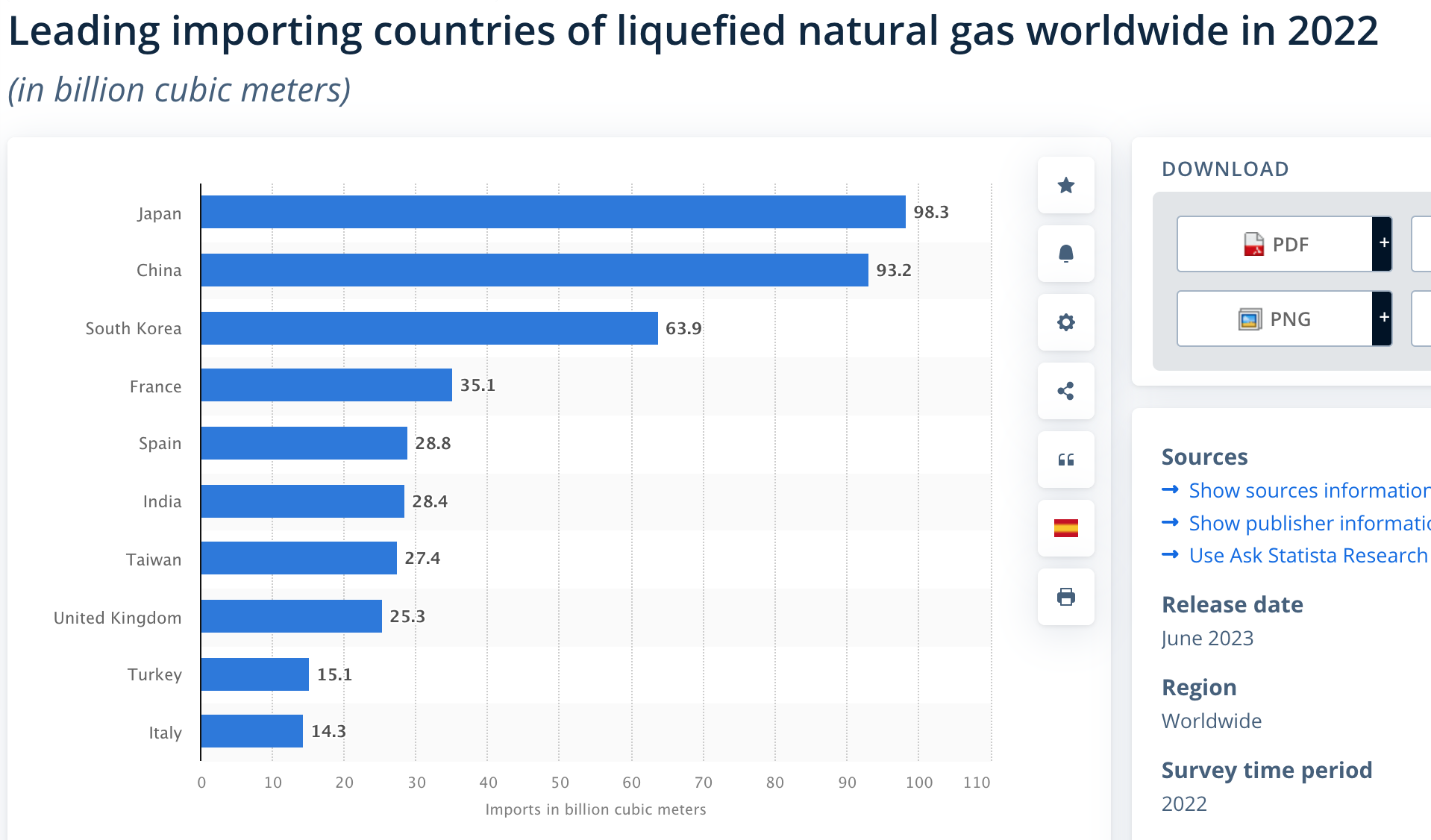 By Tsvetana Paraskova, a writer for Oilprice.com with over a decade of experience writing for news outlets such as iNVEZZ and SeeNews. Originally published at OilPrice
Iran has called for a complete and immediate oil embargo on Israel as air strikes on the Gaza Strip continue.
The calls came hours after a blast at a hospital in Gaza killed a reported 500 people, with both sides blaming each other for the blast.
Oil prices climbed on Wednesday morning as rising tensions in the Middle East threaten supply.
Iran is calling for an oil embargo on Israel over the latest deadly air strikes on the Gaza Strip amid growing tensions in the Middle East just as U.S. President Joe Biden arrived in Israel.
Iran wants "an immediate and complete embargo on the Zionist regime by Islamic countries, an oil embargo against the regime," according to a statement from the foreign ministry on Telegram quoted by Bloomberg.
Iran's Foreign Minister Hossein Amirabdollahian has also called for Muslim countries to expel their respective Israeli ambassadors if they have diplomatic relations with Israel.
Amirabdollahian warned, "If the war crimes do not stop and the ongoing genocide by the apartheid Zionist regime in Gaza continues, the situation in the region will spiral out of control".
Amirabdollahian met with his Kuwaiti counterpart on the sidelines of an extraordinary meeting of the Organization of Islamic Cooperation (OIC)'s Executive Committee in Jeddah, Saudi Arabia.
The emergency meeting is taking place hours after a missile strike on a hospital in Gaza killed about 500 people, with Israel's army and Hamas blaming each other for the attack, which sent oil prices jumping by more than 2% early on Wednesday.
Meanwhile, U.S. President Biden arrived in Israel on Wednesday to discuss the conflict. Following the bombing of the hospital, a meeting of Arab leaders and Biden in Jordan was canceled. Biden claimed that, from what he has seen, the explosion at the hospital was not carried out by Israel but by "the other team".
Israel is a small oil importer, but the further escalation of the Hamas-Israel war into the wider Middle East is not being ruled out, and analysts are increasingly concerned about supply from the world's most important oil-exporting region.
With Saudi Arabia also taking a pro-Palestine stance in its recent conversations with the U.S., the possibility for a quick end of the fighting is fading away while the possibility of greater regional involvement appears to be rising if oil prices are any indication.