Reader AK sent me a bit of Christmas in May: three hot-off-the presses reports, one from Morgan Stanley on the credit standing of US and European broker dealers, a Moody's report on RMBS, and a UBS report on the subprime crisis.
The Morgan Stanley report, although the shortest, was in some ways the most informative, since it provided a table that shows the marks that dealers are using for various types of securities. The paper argues that the gap between US (based on a universe of 7) and European (universe of 15) broker dealers has narrowed considerably, so the perception that European dealers were in worse shape than they appear to be is dated (note Knight Vinke disagrees vehemently as far as HSBC is concerned).
Morgan Stanley is suitably mysterious about its methodology, but claims it is +/-2% for those marks that have later been disclosed. Their approach no doubt includes sexual favors and the liberal use of alcohol.
Note this research does not necessarily contradict what my buddy with high level sources said about European banks sitting on a lot of undisclosed losses. The bulk of the lousy 2006 RMBS and CDOs were sold abroad, often to smaller institutions. So their could be trouble brewing in the next-tier institutions.
The Morgan Stanley chart (click to enlarge):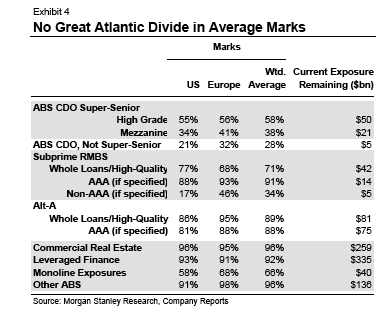 Note that these marks are generally higher than the haircuts required by the Fed per its collateral table, with the notable exception of CDOs. Of course, these marks are averages, and one would have to assume adverse selection in whatever was fobbed off on the central bank.
The report argued that broker/dealers are two thirds of the way through their write-downs, but warned that there was still the potential for trouble via basis risk and counterparty risk in hedges (code for possible CDS woes). And its other main caveat:
But as our equity analysts in the US and Europe have highlighted repeatedly, the looming concern is that of more traditional loss provisioning by commercial banks. Rising provisions and further deleveraging will make the earnings environment challenging for years to come, although with tail risk also reduced, we be believe this will be a greater headwind to financial equities than to credit.
I thought I'd lift the charts I found most interesting from the two other presentations (150+ pages in total, so forgive the arbitrary selection). From UBS (click to enlarge):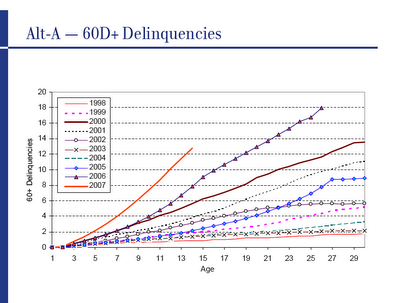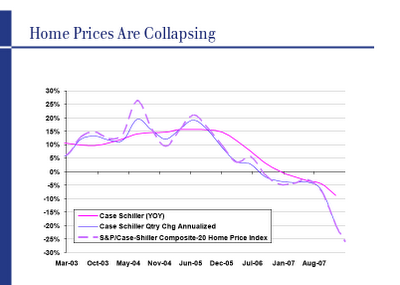 From Moody's (click to enlarge):