Before we get to my rant, let's give a quick update on Lehman. The bank had a better day than yesterday, with the stock up a tad more in large part due to supportive words by highly respected investment bank analyst Guy Moszkowski who said that the notion that Lehman would come to the same end as Bear Stearns was "unfounded". However, the reporting still focused on the endgame for the embattled firm, which indicates that a consensus is building that Lehman will not make it as an independent player. The Journal reports:
Lehman Brothers Holdings Inc., which has been reaching out to foreign investors in an effort to raise new capital, is also willing to open its books to U.S. institutional investors, according to a person familiar with the situation.

Lehman indicated to at least one U.S. pension fund that it would provide the fund with nonpublic information so that the fund could consider making a direct investment in the firm.
The Financial Times was more downbeat, noting that the bets against the firm were increasing. However, a large short interest can cut both ways, since if the security starts to appreciate, position-covering will strengthen the rally:
Many investors are continuing to bet heavily against Lehman Brothers, lifting the percentage of the bank's shares sold short to a record level….

The level of short interest in Lehman has been rising since late last year and spiked sharply in the past two months to 13 per cent, indicating that many other short sellers have piled in. The level of shares held short in Lehman is the highest of the Wall Street investment banks.
Reuters made an astute observation, that Lehman's not-as-bad-as-Bear financial condition limits the Fed's options if doubts about the firm start to affect its business:
The Federal Reserve has already dug so deep into its policy toolbox during the credit crisis that any future bank rescue like that of Bear Stearns might be more difficult to engineer….

Bankers say a sale like that of Bear Stearns earlier this year to JP Morgan, or any sale at all, is unlikely for Lehman in the near term because the bank is on much stronger footing than its fallen counterpart. Moreover, its potential acquirers have their own problems.

"It's a very different situation from Bear Stearns," said one senior investment banker….

"Is Lehman going to have problems? I wouldn't be shocked," said William Fleckstein, president of Fleckstein Capital in Seattle, Washington. "If it gets to that point, I don't know what the Fed is going to do."….

One big problem is a lack of probable candidates. Many of the deep-pocketed U.S. commercial banks have problems of their own…..This leaves European banks as potential bargain-hunters…However, these banks, too, have recently come under strain….

"There is just no likely buyer out there at the moment," said the same banker. "Until earlier this week Wachovia would have been a possible but that's no longer the case. The two Swiss have their own problems, as do HSBC."
Now to the rant, which relates to the way Lehman has been responding to the crisis. Charles Gaspardino of CNBC, the favorite outlet of those who aspire to paint the tape (there have been instances of favorable-to-embattled-company tidbits coming from him shortly before the close of trading) commented on a Lehman internal memo that came into his possession. I found this clip, which mentions Lehman deleveraging and shows this image: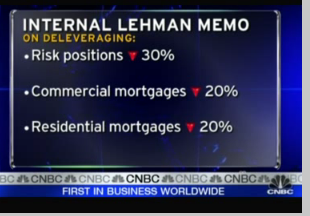 Although it wasn't in this segment, reader Dwight, who pointed us to this item, indicated that Gasparino said more at other points during the news day:
I just heard live on CNBC via Gasparino that Lehman is circulating an internal memo claiming they have deleveraged to 12:1 and have better liquidity than Goldman or MS.
And there was more, per Felix Salmon:
And CNBC's Charlie Gasparino has got his hands on an internal Lehman Brothers memo…

One of the items had to do with stories that came out yesterday about stock buybacks, were they buying back stock amid the financial crisis to prop up shares. They are saying, in the memo, the firm purchased quote "a small number of shares" as part of what they described as its ongoing and regular purchase program to minimize the dilution related to employee stock awards. This is part of what they do all the time at this point in time. They said they only purchased 1.3 million shares compared to volume, which is larger than that. Also they said in the memo, they are not in the market buying back shares today. So, this is what Lehman Brothers has put out in a memo.
Now first to the content, which is sus, and then to the tactics, which are deplorable.
On the issue of Lehman supposedly deleveraging (particularly to such a dramatic degree), The New York Times reported that Lehman had reduced its leverage from 31.7x to 25x via a $100 billion asset sale. Note even that claim demands more explanation. How was so much unloaded? What losses were taken? And (most probable) was this done the way recent disposals of leveraged loans have been accomplished, via part of the proceeds being financed? If so, the "sale" is far less meaningful than a true sale and involves the risk that the supposed buyer might try to put the asset back in the future (in this environment of high financial stress, do not underestimate the odds of extreme measures).
And of course, it's also intriguing (to put it way too politely) that the leak to the Times is considerably at odds with the "internal memo" that got into Gasparino's hands. 25x and 12x leverage are hugely different numbers.
Now to the tactics, which stink to high heaven. Why, pray tell, is Lehman resorting to leaks and whispers rather than the proper procedure of public disclosure via a press release?
Consider the case in particular of the Wall Street Journal, in a page one story, reporting that Lehman was buying stock back. Lehman's position (apparently, we don't know for certain give the nature of this campaign) is while technically correct, the inference that the purchases were to shore up the price was wrong because the amount bought was relatively small (and more important, arguably routine).
Fine. If one were to handle this in an above-the-board fashion that recognized the importance of proper, timely disclosures to shareholders, you'd file a press release, and then either make a stink with the Journal and get a correction (if you thought there was a serious misrepresentation) or place a few calls to reporters who'd get a kick of showing up the Journal.
But leaking an internal memo with non-public, material financial information to Gasparino is an SEC violation, although I am highly confident it was done in such a way the the firm has plausible deniability if questioned. Don't tell me this may have been an unauthorized employee leak; if this memo was circulated broadly to employees, it was done with the full intent that word would get outside the firm. That happens predictably with mass employee communications. And if it was limited distribution, the recipients, as anyone who has passed a Series 7 exam ought to know, are fully aware that selective disclosure of material information is a big no no under SEC Rule FD.
So why wouldn't Lehman disclose the sort of information it has been leaking to the Times and Gasparino (or more charitably, handled in such a way so as to guarantee that it would get out), particularly since they are favorable to the firm? Ah, the firm would be liable for the accuracy and completeness of any such disclosures.
So that says that these leaks are highly likely to be less than what they appear to be on the surface. More bluntly, Lehman doesn't dare say in public the stories it is presenting privately because they are not fully accurate. Otherwise, they'd be broadcasting them.
This stinks to high heaven. I spent a few years in the industry a long time ago, and the SEC requirements were taken pretty seriously. Now skirting around the edges, particularly the ruse of using plants with the likes of Gasparino in lieu of proper disclosure has become common. And it's a favored device with embattled companies. To me, this fact pattern alone is enough reason to be short the stock. Management is acting as if all is not well in Denmark.
And while we are at it, a few words in favor of shorts. I'm not alone in noting that when a company makes "Oh, our critics are shorts and self-interested" as a lead item of their rebuttals, that sort of ad homimen attack says their other defenses are certain to be wanting.
We can get into a long-winded discussion of the importance of shorts in markets and the more cynical "live by the sword, die by the sword" notion that if you choose to operate in a high risk, Darwinian environment, you run the risk of going from predator to prey. But let's put that aside.
Who really has the greater self interest at work in these management versus the shorts battles? Management.
First, consider the short seller's position. In these recent high-profile short exercises, Lehman, Bear, MBIA, and Ambac, the shorts could exit overnight (even that very suspicious short dated Bear option purchase could have been sold). And shorts have quick triggers. Being short is a far riskier exercise than being long. So while short sellers can be characterized as talking their book, they are really talking their analysis, and their position reflects that. Thus if their viewpoint changes based on new information or environmental changes, so will their position.
One might argue that shorts are more rigid than that, that they have an investment in research and if they choose to be public, PR time (which can be very useful marketing if proven right). But most shorts are not Ackman or Einhorn, with some reputation and perhaps ego at stake. They have every reason to turn on a dime if they discover some key assumption in their analysis was wrong (any investor who lets his need to be right is get in the way of responsiveness is going to show less than competitive returns). I thus believe that Ackman and Einhorn would have gone away if the companies had given fact-based responses to their analyses, rather than going into circle-the-wagon mode. The way to get rid of a short is to show he has made a truly embarrassing mistake.
Now let's consider what management has at stake. A CEO has to defend his company, right or wrong, and if he helped create the mess that it is in, he is going to be particularly unwilling to see that fact. Unlike the short, he cannot exit overnight. Even compared to those few shorts that have gone public, he is irrevocably wedded to his position. He can only leave on his shield, but not in honor, but with his name ever tied to the downfall of a company.
And if you think the balm of handsome severance makes CEOs more indifferent to the stigma of defeat, think twice. No doubt it helps them salve their wounds, but short term, the humiliation of such a high profile failure is deeply wounding (the few CEOs I've seen after such debacles have looked like broken men). So their motivation to save the company to save themselves is, to put it mildly, considerable (we will admit that the Tanned One might be the exception that proves the rule).
So who has more to lose here? You tell me.
Update 6/5/08, 2:50 PM: Reader Dwight points us to the original Lehman video with the 12.4:1 leverage comment and notes that the video said "net" leverage. And the problem with such a disclosure is that it's a garbage in-garbage-out exercise. Without details (net of what, exactly?) we have no idea whether the assertion is valid or whether the comparisons to Goldman and Morgan Stanley are accurate (ie were the computations made on the same basis?)
Second Update 6/5/08, 3:10 PM: A reader gave the link to a CNBC video today, a follow up to the Gasparino "Fear vs. Facts on Lehman" that ran yesterday. and mentions the Barry Ritholtz post which is based on this post (starts at around 1:50). Sadly this blog does not yet rate mention. Nevertheless. the argument quickly becomes a non-argument: "Who are you going to believe, David Einorn or Dick Fuld"?
Does this mean that Gasparino is assigning responsibility for the information he presented yesterday directly to Fuld? Gee, that makes Fuld directly and knowing behind an SEC violation.
As I have said before, the very weakest defense you can mount is "Who is that chump? Are you going to believe us [big established entity] or the guy who is making some unpleasant assertions"? If the information presented is inaccurate or misconstrued, it should be easy to make it go away. And we must note, in terms of credibility, it was Fuld who chose to go full bore into the risky areas of structured finance right before the market peaked.
The video does say early on that analysts are starting to buy the Lehman argument that they have delevered, but this change is in the absence of proper disclosure. Does this mean that Lehman is talking to the analysts, presenting substantive information prior to filing its second quarter results?