Lehman took a beating today, with its stock down 13.6% versus its previous close, and 15.2% lower than its offering price (and those trades haven't even settled yet). The volume was three times the normal level. So much for implications of having an oversubscribed deal.
This Google stock chart sadly isn't as upscale looking as Bloomberg's (click to enlarge), but it does show news announcements during the day. The real decay in the stock began when Merrill lowered its rating on the stock. The week before, it had taken a neutral rating to a buy, and has now reversed itself.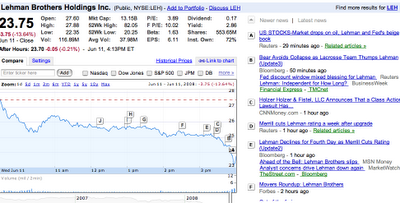 This is precisely why we have been so critical about Lehman's between-reporting-date PR campaign. Lehman has been presenting bits of information out of context, and per comments on CNBC, was evidently also calling analysts to pitch their point of view with information (specifically its deleveraging, perhaps other claims as well) about development post its last SEC financial report. That is a violation of SEC Rule FD, but this sort of transgression has become almost routine. Without seeing the whole picture, with proper disclosure, footnotes, the full context, this sort of information can be and apparently was highly misleading.