It is becoming clear that Bernanke simply does not get it. Just as he once thought subprime was contained, and has continued to misread the nature and trajectory of the credit crisis, so too he has said that there is a way out of it that involves little or no cost in terms of growth. I'll be charitable and assume he is deluded rather than being dishonest.
As Kenneth Rogoff and Carmen Reinhart's analysis of financial crises found, every country that experienced a housing/bank crisis of the magnitude of the one we are in has suffered a marked fall in GDP. As they noted in their paper, "Is the 2007 U.S. Sub-Prime Financial Crisis So Different? An International Historical Comparison":
At this juncture, the book is still open on the how the current dislocations in the United States will play out. The precedent found in the aftermath of other episodes suggests that the strains can be quite severe, depending especially on the initial degree of trauma to the financial system (and to some extent, the policy response). The average drop in (real per capita) output growth is over 2 percent, and it typically takes two years to return to trend. For the five most catastrophic cases (which include episodes in Finland, Japan, Norway, Spain and Sweden), the drop in annual output growth from peak to trough is over 5 percent, and growth remained well below pre-crisis trend even after three years. These more catastrophic cases, of course, mark the boundary that policymakers particularly want to avoid.
Note that this paper was presented February 8, so it does not contain the most recent data.
Unfortunately, their analysis also showed that the US be on an even more extreme trajectory than what they called the "Big Five", the most serious financial crises, The housing bubble was more severe (click to enlarge):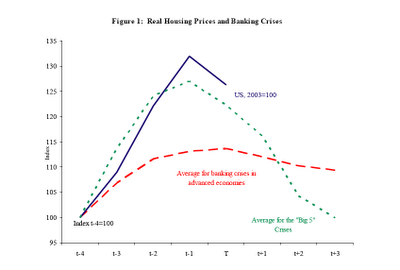 The stock market stayed at exaggerated levels longer (click to enlarge):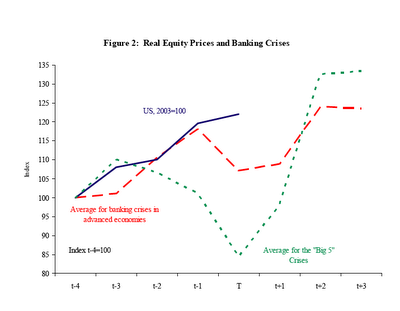 The current account deficit was (and is) vastly worse (click to enlarge):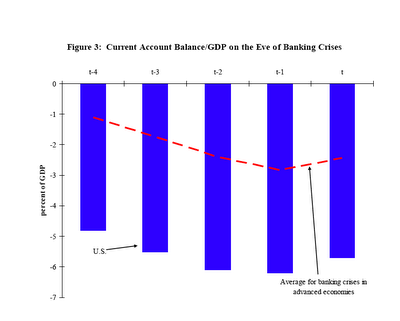 Yet the US has not taken much a hit as far as output is concerned: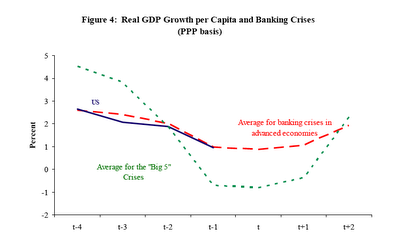 So why hasn't the US suffered more? The big reason, as Brad Setser pointed out, is that our foreign creditors continued to lend. As Tim Duy told us:
Perhaps most importantly, however, is the massive liquidity injections from the rest of the world, or what Brad Setser calls "the quiet bailout." In the first half of this, global central banks accumulated $283.5 billion of Treasuries and Agencies, something around $1,000 per capita. This is real money – I outlined the likely implications in January. Foreign CBs are happily financing the first US stimulus package; will they be happy to finance a second? Do they have a choice? Their accumulation of Agency debt is also keeping the US mortgage market afloat. Do not underestimate the impact of these foreign capital inflows. If the rest of the world treated the US like we treated emerging Asia in 1997-1998, the US economy would experience a slowdown commensurate with the magnitude of the financial market crisis.
You can best see the magnitude of the forbearance from this chart, which shows debt to GDP through the end of the first quarter 2008 (click to enlarge). You can clearly see that it continued to grow on a hyperbolic curve. Despite the signs of a credit crunch, we had continued to increase rather than reduce our aggregate indebtedness.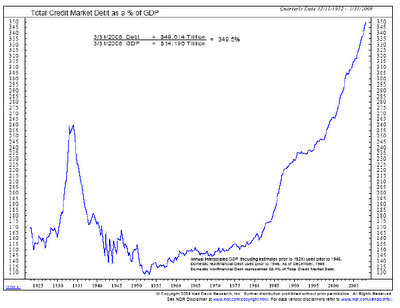 As Setser and Duy pointed out, we got a subsidy of $1000 a person from our friendly foreign funding sources. The bailout bill $700 billion figure (which could be larger, since that is the maximum outstanding at any one time; the real limit is the increase in the debt ceiling) amounts to $2000 a person. Will our creditors play ball and lend us the money? It isn't at all clear that they will, at least at current interest rates. They have become decidedly cool on buying agency paper. The man on the street in Asia and Europe is taken aback by the events of the last two weeks. Funding the US has become controversial in China, and may be in other major lenders. And a rise in interest rates would considerably undermine the supposed benefits of the program.
The sorry fact is the US has consumed at an unsustainable level. We need to reduce consumption and increase savings (and reducing debt is a form of savings). Reduced consumption means a fall in GDP. In Britain, which is going through its own credit crunch, the officialdom has said that the public will experience a fall in living standards. Why are we unwilling to accept the inevitable?
Indeed, one can argue that our current mess resulted from our refusal to tolerate recessions, our running of an unduly lax monetary policy. Not only did Greenspan lower the Fed funds rate to 1% in the wake of the dot-com bust, he kept it low for an unprecedented amount of time. Some economists have also argued that our monetary policy was too permissive even before that, due to the Fed's failure to take account of the deflationary effect of cheap imports.
So what did Bernanke tell Congress today? From his prepared remarks:
Action by the Congress is urgently required to stabilize the situation and avert what otherwise could be very serious consequences for our financial markets and for our economy. In this regard, the Federal Reserve supports the Treasury's proposal to buy illiquid assets from financial institutions. Purchasing impaired assets will create liquidity and promote price discovery in the markets for these assets, while reducing investor uncertainty about the current value and prospects of financial institutions. More generally, removing these assets from institutions' balance sheets will help to restore confidence in our financial markets and enable banks and other institutions to raise capital and to expand credit to support economic growth.
This is largely rubbish. As we have reported, the plan makes no sense (in terms of assisting banks) unless the Treasury buys assets at above market prices. Indeed, a Congressional staffer told us that Paulson has said in briefings that that is precisely what they will do. This will not aid in promoting price discovery. Quite the reverse. It establishes a phony bid which will prevent finding out what assets are truly worth and will deter private buyers from bottom-fishing.
Bloomberg reports that Bernanke puts aside his formal testimony and spoke off the cuff:
"I believe if the credit markets are not functioning, that jobs will be lost, the unemployment rate will rise, more houses will be foreclosed upon, GDP will contract, that the economy will just not be able to recover," Bernanke told the Senate Banking Committee today. "My interest is solely for the strength and recovery of the U.S. economy."
The Fed chair seems unable to accept that there are no good outcomes from where are are now, only bad and worse ones. And his final comment, which suggests that he is not self-interested, is odd, to say the least.
Moreover, even with this magnitude of program, it isn't clear if the amount purchased will in fact restore confidence. We still have the massive overhang of credit default swaps. Bridgewater Associates estimated that banks (as opposed to securities firms) would need over $500 bilion in new equity to recapitalize themselves and had raised only roughly $160 billion. The amount of recapitalization is the amount of overpayment for assets, not the gross amount of purchases. Thus if the Treasury overpays by, say, 25%, that is tantamount to only $175 billion of recapitalization, short of what is needed.
We have said before that this program is an inefficient, covert way to recapitalize the financial system. If I were a foreign central bank, I'd have a lot more confidence if the US imposed regulatory reform, took over dud banks, got rid of top management, and then did the good bank/bad bank split. That's a model that has worked and could be modified and improved. But for some unknown, the powers that be are refusing to employ formulas that have worked and prefer their own home-cooked brew.
Update 4:15 PM It turns out we are in good company. Bank analyst Meredith Whitney, who has been the most accurate in her cohort in calling the credit crisis, says the bailout bill will do little to help. From Reuters (hat tip reader Dwight):
The credit crisis that began last summer has intensified so much that any U.S. government bailout plan has "little hope" of improving core fundamentals over the near and medium term, said analyst Meredith Whitney.

The Oppenheimer & Co analyst cut her outlook for U.S. banks and forecast further dividend cuts and capital raises at banks. She projected a quarterly loss for Citigroup Inc

"Since the onset of the credit crisis, over $2 trillion less liquidity has flown through the U.S. domestic capital markets than during…a year prior," Whitney said.

"With that much less available capital, both consumers and corporations have and will spend less," she added.

As the consumer comes under more pressure in the difficult economy, credit card debt may grow, Whitney wrote in a note to clients.

Whitney, however, noted that tighter credit standards and credit line reductions have already strained more consumers into defaulting across the spectrum of lending products.

"Credit market disruption has had underappreciated consequences on the economy… what started last summer has accelerated and intensified so much so that we believe any government bailout plan has little hope of improving core fundamentals over the near and medium term," Whitney said.