The people I know in IT (even though they are in New York. they are doing bleeding-edge work) all professed that they were not affected by the stomach-churning market gyrations of the last six weeks: clients were moving ahead with projects underway, prospects still were keen to meet, contracts were being signed. However, if you pushed them a bit harder, they'd fess up that the checks weren't arriving as punctually as they had in the past.
They may be unusually lucky, for it seems that the gravity-defying tech sector is starting to come to earth. I don't have any intelligence on the film industry, but the Wall Street Journal reports that it is cutting back on production (amazing when you consider that movies did well in the Depression, although both costs and ticket pricing were far more modest then than now).
Update 3:45 AM Reader CrocodileChuck provided a link to an apparently-infamous Sequoia Capital slide show mentioned in the FT article below from the original post. A picture is indeed worth a thousand words: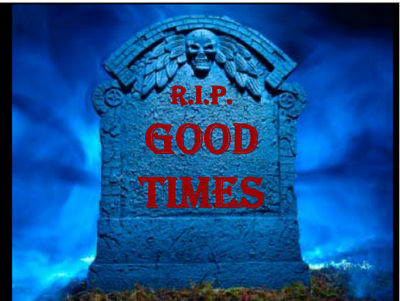 From the Financial Times:
A wave of job losses has started to spread across California's Silicon Valley as the trademark optimism of the region's technology start-ups has turned to pessimism amid the financial market rout.

The rapid reversal in mood has reawakened memories of the dotcom bust in 2001.

The entrepreneurs making the cuts, however, claim a much greater sense of realism than was shown during the first great internet shake-out, when many web companies reacted too late to the downturn.

"It's the need to get profitable immediately. We're heading for some tough times," said Iggy Fanlo, chief executive of AdBrite, an online advertising network that made 40 of its 100 employees redundant last week.

"I made the decision to go very deep, very quickly so we won't have to do it again."

The change in mood in Silicon Valley was highlighted at a private meeting called this month by Sequoia Capital, one of California's blue-chip venture capital firms, for the bosses of all the companies it has backed. Entrepreneurs attending the meeting were greeted with a presentation that began with a slide showing a gravestone and the words "RIP good times" and were told to treat every dollar they spent as though it was their last…

Fears of a deep economic downturn have hit as members of a new generation of web companies, created in a start-up boom since 2004, have only just started to try to make money, with most still a long way from profitability.

"I think the situation is very, very serious," said Loic Le Meur, founder of Seesmic, a video blogging site, who has made 10 of his 24 workers redundant during the past month. "From my network of entrepreneur friends, half are in a critical situation for the next six to 12 months."

Cyan Banister, co-founder of Zivity, an adult entertainment website that last week cut eight of its 22 staff, said: "We needed to clamp down and weather whatever storm is about to hit."

Other experienced start-up investors have been spreading the same warning as Sequoia, telling companies to cut back in anticipation of a severe downturn.
From the Wall Street Journal:
Paramount Pictures' abrupt decision to delay two major holiday films — including one with Oscar aspirations — may be an early sign of Hollywood's retrenchment in the midst of the U.S. economic crisis.

Paramount late last week said it would delay "The Soloist" — a Los Angeles drama about a homeless violin player and the newspaper columnist who intervenes in his life — until next March…

The studio also delayed the limited release of "Defiance" — a war picture with Daniel Craig from its Paramount Vantage specialty unit — until the end of 2008, meaning the film won't be in wide release until January.

Paramount, a unit of Viacom Inc., announced the delays as part of a new business strategy in which it is cutting costs by reducing the number of films released each year from about 25 to 20. To start cutting back in 2008, the studio delayed a couple of films, which puts off most of the cost of marketing and distributing the movies until next year.

Including other reductions the studio has made this year, Paramount will wind up saving about $60 million in overhead in 2009….

The new plan "is definitely responsive to the current economic climate," Mr. Moore said. …

The film industry has long argued that it is recession-proof, able to attract audiences during down times because moviegoing is cheaper than some other forms of entertainment such as sports and travel. Paramount's cutbacks signal that Hollywood is nonetheless bracing for the impact from the current economic turmoil.

Hollywood already made a round of reductions this year. Most of the major studios shuttered or downsized their "specialty" divisions — which release small, indie-like films — in reaction to a crowded marketplace that has made it more expensive to compete for audiences.
I have been very disappointed in the movies this year, and now they are pushing some of the holiday releases, which are usually the pick of the crop, into next year? Aargh.