Oh boy, will give you details when they show up in the media. Here is the screenshot courtesy reader Rob (click to enlarge):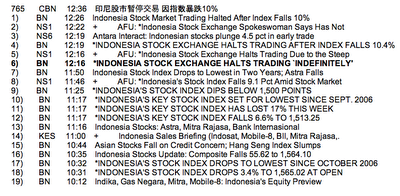 Update 2:00AM. From Bloomberg:
Indonesia's stock exchange halted share-market trading for the first time in eight years after a 10 percent plunge in the benchmark index.

Trading will remain suspended until further notice, the exchange said in an e-mailed statement. Trading was last halted in September 2000 when a car bomb damaged the exchange building and killed 15 people. Exchange President Erry Firmansyah couldn't be immediately reached on his mobile phone to comment.

"People are panicking," said Suherman Santikno, head of research at Jakarta-based PT Batavia Prosperindo Sekuritas which manages about $573 million in assets. "With uncertainty in the global economy, it's best to hold cash."

The Jakarta Composite index was down 10 percent when the suspension came into effect. The measure is down 21 percent this week, the worst weekly drop since at least April 1983, data compiled by Bloomberg showed. The rupiah declined 0.4 percent to 9,603 per dollar, trading near its lowest level in three years.

Credit-default swaps on Indonesia's government debt widened 75 basis points from Oct. 6 to 525 in morning trade today, ICAP Plc prices show. That means it costs $75,000 more a year to protect $10 million of the country's debt from default for five years.