Well, this is starting to get the feel of a bad soap opera, which is not helpful to Citi (never a good sign when I leave my computer on a Sunday afternoon and find multiple news updates when I return. This may not be full crisis mode, but it is certainly not a good sign).
It speaks of a badly organized process, which makes perfect sense, given the fact set. Citi has apparently gone from denying anything is amiss to talking with the government about assistance. That was predictable. But despite the fact that Citi clearly cannot be permitted to go under (not that we are there yet, mind you, but the longer Citi flails about, the more concerns start to escalate), the reaction from DC to Ciit's appeals appears less than enthusiastic. That in turn is probably due to mixed messages from Citi and lack of clarity as to how much it might need and why.
Of course, if you are Vikram Pandit and in denial that real trouble is possible, you are probably going to have difficulty coming up with a realistic figure as to how bad bad could get. And the very last thing the officialdom wants is another AIG, where an initial commitment turns into a black hole.
Felix Salmon and Econompic (hat tip reader ndk) summarizes the fundamental risk to the bank, text from Felix, chart from Econompic:
As of June 30, Citigroup had a whopping $820 billion in total deposits — but its estimated insured deposits were only $126 billion, and fully $554 billion — yes, well over half a trillion dollars — was held abroad.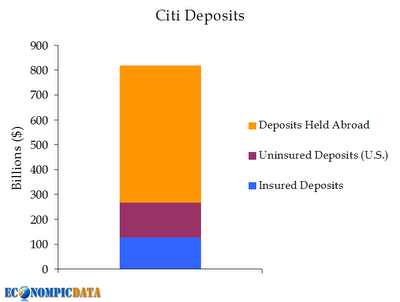 So we have depositors who are at risk if anything bad happens, and a bank with a $2.2 trillion balance sheet with an additional $1.2 trillion of off balance sheet exposures. The typical big firm l problem of lack of transparency is amplified by the global nature of Citi's business and the OBS component.
According to the Wall Street Journal, talks with the Treasury Department had focused on creating a bad bank for dodgy Citi assets:
Citigroup Inc. is nearing agreement with U.S. government officials to create a structure that would house some of the financial giant's risky assets, according to people familiar with the situation.

While the discussions remain fluid and might not result in an agreement, talks were progressing Sunday toward creation of what would essentially be a "bad bank." That structure would help Citigroup cleanse its balance sheet of billions of dollars in potentially toxic assets, these people said.

The bad bank also might absorb assets from Citigroup's off-balance-sheet entities, which hold $1.23 trillion…

Under the terms being discussed, Citigroup would agree to absorb losses on assets covered by the agreement up to a certain threshold. The federal government would cover losses beyond that level, people familiar with the matter said. One person said the new entity is expected to hold about $50 billion of assets…..

One rescue structure under consideration would resemble part of the $150 billion bailout plan that the government struck with AIG in November as part of a restructuring of the previous bailout. Two vehicles, funded largely by as much as $52.5 billion in government money, were created to take on risks from some of AIG's souring assets, including exposure to credit derivatives.
$50 billion of dud assets is smaller than some observers had thought the bank might need to clean up.
But CNBC (hat tip reader Dwight via Calculated Risk) reported in the afternoon that the government it not exactly keen:
Sources with knowledge of the deal say government officials are now getting cold feet over the plan to buy the troubled assets from Citigroup.

Situation is still fluid and people close to the company say some sort of a deal will likely be worked out tonight. one other option being considered now is for the government to put money into citigroup.

The problem with buying the assets from citi is political: people close to the deal know that other firms will line up and ask the government to purchase their troubled assets as well knowing that all brokerage stocks got crushed when treasury secretary hank paulson reversed his plan on the tarp to direct capital infusions to the banks and away from buying troubled assets.
And why are we having such trouble with coming up with a deal? One way to characterize it is that the Administration is not willing to nationalize banks, out of both ideological sqeamisheness and the reluctance to consolidate debt.
But the real problem is more basic. Why does the Administration need to be fair? This is a one-off, emergency measure. The fact that it is worrying about other banks demanding the same deal suggests the terms are not sufficiently punitive to Citi management (note the stress on the impact on the key actors). But even if it is not as nasty as it ought to be to Citi, people in power have the right to be capricious. Citi is unique on so many dimensions that it is easy to argue that a deal for Citi need not apply to anyone else.
This does not add up. There may be another "real" reason, but the stated reason for reluctance makes no sense. Are the powers that be trying to see if they can push this back beyond the decision point on the auto industry rescue? If Citi is bailed out, it becomes politically untenable not to help Big Auto. Paulson's initial strategy on Fannie and Freddie was to try to see if his bazooka bluff would work. It didn't but it kept matters in play for a couple of additional months.
Also note the latest Bloomberg report suggests the amount of dud assets under consideration is $100 billion.