The Wall Street Journal Economics Blog today featured an update of a chart prepared by Alexis de Tocqueville, author of Democracy in America, comparing the compensation of French and American civil servants, with an update (click to enlarge):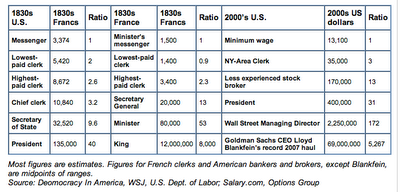 The problem is that this comparison is misleading. The intent is to illustrate pay disparities over time.
However, while the President and the King were indeed the highest paid "civil servants", the President than as now was almost certainly not the highest paid individual, while the King most certainly was. And that's before we get into the royal perks: the castles, staff, stables, artwork, the list goes on). Plus the idea of a king as civil servant is a bit strained too. However, this was the Bourbon Restoration, so kings were a bit more mindful of the citizens than in pre-Revolutionary times.
But the King was almost certainly the richest and best paid individual in France. He made 8,000 times the most menial civil worker. Our disparity (minimum wage versus Lloyd Blankfein) at a mere 5,000+ isn't quite as bad, right?
But Blankfein was far from the best paid American. Forbes told us that the 400 highest earning taxpayers reported $105 billion in adjusted gross income. That averages $262.5 million. $262 million versus the minimum wage level of $13,100 gives a ratio of over 20,000 to one.
Now some will protest that the $105 billion probably includes one time windfalls, like the sale of major businesses. Doesn't wash. We are looking for the disparity top to bottom. I haven't seen any estimates for 2008 yet, and hedge funds had a rougher year, but the Institutional Investor ranking of top hedge fund managers for 2007 showed John Paulson at $3.7 billion, George Soros at $2.9 billion, and James Simons at $2.8 billion.
So the popular perception is right. The super wealthy today are better off than royalty of old. And it's not due to indoor plumbing, either.