Submitted by Rolfe Winkler, publisher of OptionARMageddon
Much has been said here and elsewhere about the stress test's lack of credibility, especially after word emerged about "intense bargaining"over the results. Not to belabor the point, but some data may be of use.
Of the more promising developments early in the process, the Fed articulated the importance of tangible common equity as the proper measure of bank capital. Being the most stringent measure of its kind, use of TCE stood to give the tests more credibility.
But in the end, the Fed switched to a more favorable metric: "Tier 1 Common Capital"
Click to enlarge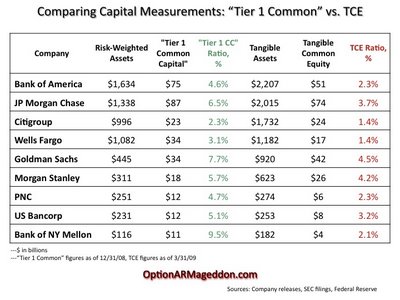 This was just another of the administration's many games to make banks look healthier than they really are.
It's a shame regulators didn't use the tests as an opportunity to reassert their control. Instead, they demonstrated yet again that banks have them totally captured…