Submitted by Leo Kolivakis, publisher of Pension Pulse.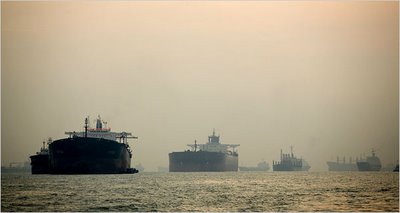 Roughly once a quarter, I get together with some leftist professors at Alep restaurant in Montreal. As always, the food was delicious but Tom Naylor forgot to order the lamb dish, one of my favorites. He did make sure the wine kept flowing so I will forgive him.
It was a full house tonight. Even Robin Rowley, my econometrics and history of economic thought professor at McGill University, showed up and so did Jonathan Nitzan who just finished writing Contours of Crisis II: Fiction and Reality with Shimson Bichler.
There were many other distinguished guests tonight, including Sam Noumoff who will soon leave us to enjoy his retirement somewhere on the coast of Spain (I am so jealous). Presiding over tonight's festivities was our esteemed President, George Archer, a man who knows how to say a lot with few words. El Presidente was at his best tonight, making sure his loyal servants were obedient. He allowed Naylor to have a few of his classic outbursts but nothing too anti-capitalistic.
A long time ago, I use to work with Jonathan and George at the Bank Credit Analyst, a private macroeconomic forecast firm based here in Montreal. Unfortunately, both Jonathan and George are not neo-classical economists so their views were too off course for traditional macroeconomic forecast firms who believe in the religion of economics.
As for Tom Naylor, well, he has long given up on economic theory saying "it's all a fraud." I think he has given up on humanity as well stating that the "real swine are humans as they took a perfectly clean animal like the pig and mistreated it. Now it's the pigs' revenge."
Tom also took swipes at me for believing in President Obama and his message of change. "His administration is basically the extension of the previous Republican administration pandering to the banksters on Wall Street."
When I asked him whether he believes real change is possible, he replied: "How can it happen when 99% of the population is electronically lobotomized and beyond redemption?"
A classic Tom Naylor response. Tom made a career writing on international money laundering, white collar fraud, and all sorts of economic crimes in between. His current interest is the ecology and he is getting ready to publish a satirical book on class warfare. He is an economist with an excellent grasp of history.
Now, if you would like to be part of the Men's Club, you have to submit an application to El Presidente. You have to be a man (sorry, we do not accept women in our private club, recognizing they are far superior to men) and you have to repudiate all traditional economic theories you were taught in university.
The second criteria really limits our membership because most people accept neo-classical economic theory and all its precepts as religion. Interests rates cannot be negative and profits are the only measure of progress in society.
But no matter how exclusive our club sounds, we are nothing compared to the shadowy Bilderberg Group which is reportedly meeting in Athens tomorrow. The Guardian's Charlie Skelton has been busy pursuing the world's most powerful cabal, but so far with the annual secret meeting of the global elite only hours away, the shadowy corporatocracy remains tantalizingly elusive.
So what is on the agenda for the world's rich and powerful? According to Daniel Estulin, author of the book, The True Story of the Bilderberg Group, elitists are divided on whether to quickly sink economy and replace it with new world order, or set in motion a long, agonizing depression:
On the eve of the 2009 Bilderberg Group conference, which is due to be held May 14-17 at the 5 star Nafsika Astir Palace Hotel in Vouliagmeni, Greece, investigative reporter Daniel Estulin has uncovered shocking details of what the elitists plan to do with the economy over the course of the next year.

The Bilderberg Group meeting is an annual confab of around 150 of the world' s most influential powerbrokers in government, industry, banking, media, academia and the military-industrial complex. The secretive group operates under "Chatham House rules," meaning that no details of what is discussed can ever be leaked to the media, despite editors of the world's biggest newspapers, the Washington Post, the New York Times and the Financial Times, being present at the meeting.

According to Estulin's sources, which have been proven highly accurate in the past, Bilderberg is divided on whether to put into motion, "Either a prolonged, agonizing depression that dooms the world to decades of stagnation, decline and poverty … or an intense-but-shorter depression that paves the way for a new sustainable economic world order, with less sovereignty but more efficiency."

The information takes on added weight when one considers the fact that Estulin's previous economic forecasts, which were based on leaks from the same sources, have proven deadly accurate. Estulin correctly predicted the housing crash and the 2008 financial meltdown as a result of what his sources inside Bilderberg told him the elite were planning based on what was said at their 2006 meeting in Canada and the 2007 conference in Turkey.

Details of the economic agenda were contained in a pre-meeting booklet being handed out to Bilderberg members. On a more specific note, Estulin warns that Bilderberg are fostering a false picture of economic recovery, suckering investors into ploughing their money back into the stock market again only to later unleash another massive downturn which will create "massive losses and searing financial pain in the months ahead," according to a Canada Free Press report.

According to Estulin, Bilderberg is assuming that U.S. unemployment figures will reach around 14% by the end of the year, almost doubling the current official figure of 8.1 per cent.

Estulin's sources also tell him that Bilderberg will again attempt to push for the enactment of the Lisbon Treaty, a key centerpiece of the agenda to fully entrench a federal EU superstate, by forcing the Irish to vote again on the document in September/October despite having rejected it already, along with other European nations, in national referendums.

"One of their concerns is addressing and neutralizing the anti-Lisbon treaty movement called "Libertas" led by Declan Ganley. One of the Bilderberger planned moves is to use a whispering campaign in the US media suggested that Ganley is being funded by arms dealers in the US linked to the US military,"reports CFP.

Daniel Estulin, Jim Tucker, and other sources who have infiltrated Bilderberg meetings in the past have routinely provided information about the Bilderberg agenda that later plays out on the world stage, proving that the organization is not merely a "talking shop" as debunkers claim, but an integral planning forum for the new world order agenda.

Indeed, just last month Belgian viscount and current Bilderberg-chairman Étienne Davignon bragged that Bilderberg helped create the Euro by first introducing the policy agenda for a single currency in the early 1990's. Bilderberg's agenda for a European federal superstate and a single currency likely goes back even further. A BBC investigation uncovered documents from the early Bilderberg meetings which confirmed that the European Union was a brainchild of Bilderberg.

In spring 2002, when war hawks in the Bush administration were pushing for a summer invasion of Iraq, Bilderbergers expressed their desire for a delay and the attack was not launched until March the following year.

In 2006, Estulin predicted that the U.S. housing market would be allowed to soar before the bubble was cruelly popped, which is exactly what transpired.

In 2008, Estulin predicted that Bilderberg were creating the conditions for a financial calamity, which is exactly what began a few months later with the collapse of Lehman Brothers.

Bilderberg has routinely flexed its muscles in establishing its role as kingmaker. The organization routinely selects presidential candidates as well as running mates and prime ministers.

Bill Clinton and Tony Blair were both groomed by the secretive organization in the early 1990's before rising to prominence.

Barack Obama's running mate Joe Biden was selected by Bilderberg luminary James A. Johnson, and John Kerry's 2004 running mate John Edwards was also anointed by the group after he gave a glowing speech at the conference in 2004. Bilderberg attendees even broke house rules to applaud Edwards at the end of a speech he gave to the elitists about American politics. The choice of Edwards was shocking to media pundits who had fully expected Dick Gephardt to secure the position. The New York Post even reported that Gephardt had been chosen and "Kerry-Gephardt" stickers were being placed on campaign vehicles before being removed when Edwards was announced as Kerry's number two.

A 2008 Portuguese newspaper report highlighted the fact that Pedro Santana Lopes and Jose Socrates attended the 2004 meeting in Stresa, Italy before both going on to become Prime Minster of Portugal.

Several key geopolitical decisions were made at last year's Bilderberg meeting in Washington DC, again emphasizing the fact that the confab is far more than an informal get-together.

As we reported at the time, Bilderberg were concerned that the price of oil was accelerating too fast after it hit $150 a barrel and wanted to ensure that "oil prices would probably begin to decline". This is exactly what happened in the latter half of 2008 as oil again sunk below $50 a barrel. We were initially able to predict the rapid rise in oil prices in 2005 when oil was at $40, because Bilderberg had called for prices to rise during that year's meeting in Munich. During the conference in Germany, Henry Kissinger told his fellow attendees that the elite had resolved to ensure that oil prices would double over the course of the next 12-24 months, which is
exactly what happened.

Also at last year's meeting, former U.S. Secretary of State Condoleezza Rice formalized plans to sign a treaty on installing a U.S. radar base in the Czech Republic with Czech Foreign Minister Karel Schwarzenberg.

Rice was joined at the meeting by Defense Secretary Robert Gates, who reportedly encouraged EU globalists to get behind an attack on Iran. Low and behold, days later the EU threatened Iran with sanctions if it did not suspend its nuclear enrichment program.

There was also widespread speculation that Hillary Clinton and Barack Obama's "secret meeting," which was accomplished with the aid of cloak and dagger tactics like locking journalists on an airplane to keep them from tracking the two down, took place at the Bilderberg meeting in DC.

It remains to be seen what kind of mainstream media press coverage Bilderberg 2009 will be afforded because, despite the proven track record of Bilderberg having a central role in influencing subsequent geopolitical and financial world events, and despite last year's meeting being held in Washington DC, the U.S. corporate media oversaw an almost universal blackout of reporting on the conference, its attendees, and what was discussed.

Once again, it will be left to the alternative media to fill the vacuum and educate the people on exactly what the globalists have planned for us over the coming year.
Wow, this is exciting stuff – the conspiracy theorists must be having a field day! It's too bad I didn't make the cut because I would have enjoyed a cigar, fine wine and grilled octopus at the beautiful Astir Palace Resort with the likes of Bill Gates, Warren Buffett, Carlos Slim and Bill Clinton (a true cigar aficionado!).
I would listen to them complain about how they lost billions in the stock market last year and then remind them that there are more pressing issues like global pension tension.
I would then ask them to listen to the Greek shipping magnates who probably own some of those cargo ships treading water off Singapore, waiting for work:
To go out in a small boat along Singapore's coast now is to feel like a mouse tiptoeing through an endless herd of slumbering elephants.

One of the largest fleets of ships ever gathered idles here just outside one of the world's busiest ports, marooned by the receding tide of global trade. There may be tentative signs of economic recovery in spots around the globe, but few here.

Hundreds of cargo ships — some up to 300,000 tons, with many weighing more than the entire 130-ship Spanish Armada — seem to perch on top of the water rather than in it, their red rudders and bulbous noses, submerged when the vessels are loaded, sticking a dozen feet out of the water.

So many ships have congregated here — 735, according to AIS Live ship tracking service of Lloyd's Register-Fairplay in Redhill, Britain — that shipping lines are becoming concerned about near misses and collisions in one of the world's most congested waterways, the straits that separate Malaysia and Singapore from Indonesia.

The root of the problem lies in an unusually steep slump in global trade, confirmed by trade statistics announced on Tuesday.

China said that its exports nose-dived 22.6 percent in April from a year earlier, while the Philippines said that its exports in March were down 30.9 percent from a year earlier. The United States announced on Tuesday that its exports had declined 2.4 percent in March.

"The March 2009 trade data reiterates the current challenges in our global economy," said Ron Kirk, the United States trade representative.

More worrisome, despite some positive signs like a Wall Street rally and slower job losses in the United States, is that the current level of trade does not suggest a recovery soon, many in the shipping business say.

"A lot of the orders for the retail season are being placed now, and compared to recent years, they are weak," said Chris Woodward, the vice president for container services at Ryder System, the big logistics company.

Western consumers still adjusting to losses in value of their stocks and homes are in little mood to start spending again on nonessential imports, said Joshua Felman, the assistant director of the Asia and Pacific division of the International Monetary Fund. "For trade to pick up, demand has to pick up," he said. "It's very difficult to see that happening any time soon."

So badly battered is the shipping industry that the daily rate to charter a large bulk freighter suitable for carrying, say, iron ore, plummeted from close to $300,000 last summer to a low of $10,000 early this year, according to H. Clarkson & Company, a London ship brokerage.

The rate has rebounded to nearly $25,000 in the last several weeks, and some bulk carriers have left Singapore. But ship owners say this recovery may be short-lived because it mostly reflects a rush by Chinese steel makers to import iron ore before a possible price increase next month.

Container shipping is also showing faint signs of revival, but remains deeply depressed. And more empty tankers are showing up here.

The cost of shipping a 40-foot steel container full of merchandise from southern China to northern Europe tumbled from $1,400 plus fuel charges a year ago to as little as $150 early this year, before rebounding to around $300, which is still below the cost of providing the service, said Neil Dekker, a container industry forecaster at Drewry Shipping Consultants in London.

Eight small companies in the industry have gone bankrupt in the last year and at least one of the major carriers is likely to fail this year, he said.

Vessels have flocked to Singapore because it has few storms, excellent ship repair teams, cheap fuel from its own refinery and, most important, proximity to Asian ports that might eventually have cargo to ship.

The gathering of so many freighters "is extraordinary," said Christopher Pålsson, a senior consultant at Lloyd's Register-Fairplay Research, the consulting division of Lloyd's Register-Fairplay. "We have probably not witnessed anything like this since the early 1980s," during the last big bust in the global shipping industry.

The world's fleet has nearly doubled since the early 1980s, so the tonnage of vessels in and around Singapore's waters this spring may be the highest ever, he said, cautioning that detailed worldwide ship tracking data has been available only for the last five years.

These vessels total more than 41 million tons, according to the AIS Live tracking service. That is nearly equal to the entire world's merchant fleet at the end of World War I, and represents almost 4 percent of the world's fleet today.

Investment trusts have poured billions of dollars over the last five years into buying ships and leasing them for a year at a time to shipping lines. As the leases expire and many of these vessels are returned, losses will be heavy at these trusts and the mainly European banks that lent to them, said Stephen Fletcher, the commercial director for AXS Marine, a consulting firm based in Paris.

In previous shipping downturns, vessels anchored for months at a time in Norwegian fjords and other cold-weather locations. But stringent environmental regulations in practically every cold-weather country are forcing idle ships to warmer anchorages.

But that raises security concerns. Plants grow much faster on the undersides of vessels in warm water. "You end up with the hanging gardens of Babylon on the bottom and that affects your speed," said Tim Huxley, the chief executive of Wah Kwong Maritime Transport, a shipping line based in Hong Kong.

One of the company's freighters became so overgrown that it was barely able to outrun pirates off Somalia recently, Mr. Huxley said. The freighter escaped with 91 bullet holes in it.

Another of the company's freighters close to Singapore was hit last December by a chemical tanker that could not make a tight enough turn in a crowded anchorage; neither vessel was seriously damaged.

Capt. M. Segar, the group director for the hub port of the Maritime and Port Authority of Singapore, said in a written reply to questions that many vessels were staying just outside the port's limits. They do not have to pay port fees there.

Singapore has reported to the countries of registry for administrative action about 10 to 15 ships that have anchored in sea lanes in violation of international rules in the last two weeks, Captain Segar said.

Ships are anchoring at other ports around the world, too. There were 150 vessels in and around the Straits of Gibraltar on Monday, and 300 around Rotterdam, the Netherlands, according to the AIS Live tracking service.

But Singapore, close to Asian markets, has attracted far more.

"It is a sign of the times," said AIS Martin Stopford, the managing director of Clarkson Research Service in London, "that Asia is the place you want to hang around this time in case things turn around."
So will Asia lead us out of this global downturn? I doubt it. I also agree with my friend Tom Naylor that the Bilderberg Group are nothing but a "bunch of arrogant self-promoters" who think they are powerful.
Jonathan Nitzan reminded me that the power elite do not need to meet in Athens or anywhere else in the world. "They continuously talk to each other, go to the same clubs, talk the same economic lingo and they've already screwed up the world for a very long time."
Postscript: Read this Haaretz article and keep up-to-date by reading Charlie Skelton's latest Bilderberg files.