Submitted by Leo Kolivakis, publisher of Pension Pulse.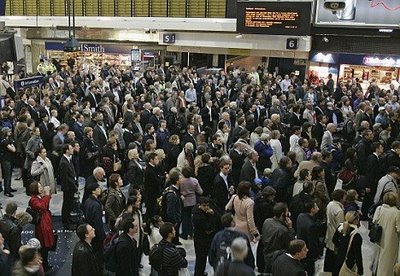 It's time to revisit global pension tension. Here are some of the stories covering the global assault on pensions:
CPP reforms will squeeze early retirees: Big changes to Canada Pension Plan benefits, announced last week, were overshadowed by news of a larger-than-expected federal deficit.
N..B. Investment Management Corp. reports pension funds fall 18.3%: The province's pension plans suffered an 18.3 per cent loss last year due to the dramatic decline in global equity markets, according to the New Brunswick Investment Management Corp. The value of net assets under management shrank by $1.6 billion in fiscal 2008-09, finishing the year with $7 billion.
Air Canada unions may seek stake in pension talks: Air Canada's unions will be looking for some concrete financial guarantees to backstop their pensions, including the possibility of taking a stake in the airline, when they collectively meet with management later this week to determine whether they will support a moratorium on their pension payments.
Iberia says BA pension very important to merger: Iberia and British Airways have no pre-determined deadline to complete merger talks, the Spanish carrier said on Wednesday, but added it was closely watching what burden BA's pension fund would impose as part of the merger process.
BP and Barclays Propose Pension Restrictions to Cut Expenses: BP, Europe's second-largest oil company, will close its final-salary pension plan to new U.K. workers, and Barclays Plc may ask 18,000 employees to give up similar benefits that the bank says have become too costly.
Crunch 'an excuse to cut pensions': The joint leader of the UK's biggest trade union has accused employers of using the recession as an excuse to permanently cut pensions. Derek Simpson of Unite said the union would back workers if they decided to stand up to firms which were "hell bent" on eroding pension benefits. Mr Simpson expressed "outrage" at a series of announcements in recent days, including a move by Barclays to shut its final salary pension scheme to further contributions from existing members.
Paterson Vetoes Pension Guarantee for N.Y. Police, Firefighter: New York Governor David Paterson vetoed a bill that would prevent newly hired police and firefighters from getting less generous pension benefits than their senior colleagues, ending a guarantee the Legislature had extended for almost 30 years.
Delphi Salaried Retirees To Lose Pension Benefits: For these salaried retirees — and thousands more like them — the latest news from Delphi only adds more insult to injury. The bankrupt parts-maker now wants to get rid of its under-funded pension plan for former white-collar workers — meaning the federal Pension Benefit Guarantee Corporation will take it over.
Hungary struggles to rein in runaway pension costs: The country's poor demographics, failed reform, heavy and ineffective taxation, a skewed labour market and heavy debt burden all threaten the system with collapse and require quick action, analysts say.
Network Rail pension deficit swells by 80%: The owner of Britain's rail system has seen its pension deficit nearly double after a 25 per cent fall in the value of its assets.
ECB Staff Plan Strike Over Pay, Pension Terms: European Central Bank union staff are planning the first labor action in the ECB's 10-year history by walking off their jobs for 90 minutes on Wednesday. Union leaders warn that unless they get more of a say over how pensions and pay are set, there could be more.
UK faces 'lost generation' of pension savers: Many young people are failing to understand how much they need to save to maintain their standard of living in retirement – and are just choosing not to retire.
Another watershed for final salary pensions: Dr Ros Altmann is a former adviser to No. 10 on pensions. Here she explains that while private sector

final salary

schemes are finished, public sector schemes remain underwritten by the taxpayer.
Finally, McGuinty says he can't understand Harper's refusal to talk pension reform: Prime Minister Stephen Harper's refusal to hold a national summit on pension reform is baffling, Ontario Premier Dalton McGuinty said Tuesday as he predicted the issue would be intensely debated at the annual premiers' meeting in Regina this summer.
The global pension crisis is really a crisis of modern day capitalism. If we don't figure out a long-term solution to this crisis, we risk having a new class of elderly poor who were cheated out of their pensions.
Global pension tension will not vanish. We are better off holding a summit to look into pensions and think of ways of bolstering retirement plans for future generations. Waiting for the 'markets' to rectify this crisis is like waiting to win the lottery. You might be lucky but who wants to gamble away the retirement dreams of millions of workers?